By Will Dabbs, M.D.
Fix It Sticks offers a bewildering array of maintenance and support equipment for both shooting and cycling applications. Brilliantly conceived and ruggedly executed, these adorable little tool kits are designed to be used in the field and on the go. Once you paw over these things it becomes obvious that this stuff was contrived by folks who like to shoot.
I'm not the only guy in the world to feel this way. Fix It Sticks is the official tool kit provider for Uncle Sam's M110A1 Squad Designated Marksman Rifle. The M110A1 is a militarized version of the 7.62x51mm Heckler and Koch G28/HK417 autoloading rifle. Topped with the superlative SIG Sauer TANGO6 variable-power optic, the M110A1 addresses the 300- to 600-meter gap that our warfighters discovered during combat in the arid wastes of Afghanistan. Fix It Sticks, despite its quirky name, is obviously hearty enough to venture downrange.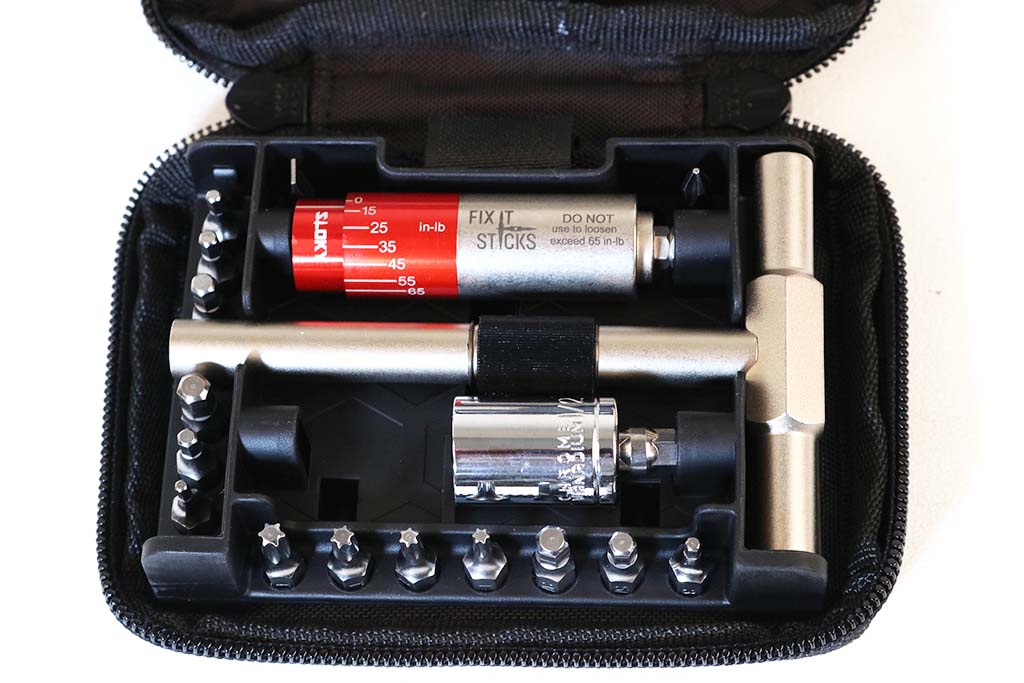 While Fix It Sticks offers an extensive catalog of gun gear, I was most taken by the All-in-One Torque Driver and the radically simple Scope Jack. The Torque Driver takes all the guesswork out of properly mounting up your optical sights. The Scope Jack mechanically eliminates cant to true the optic to the top of the weapon. Both tools are designed to provide decades of reliable service.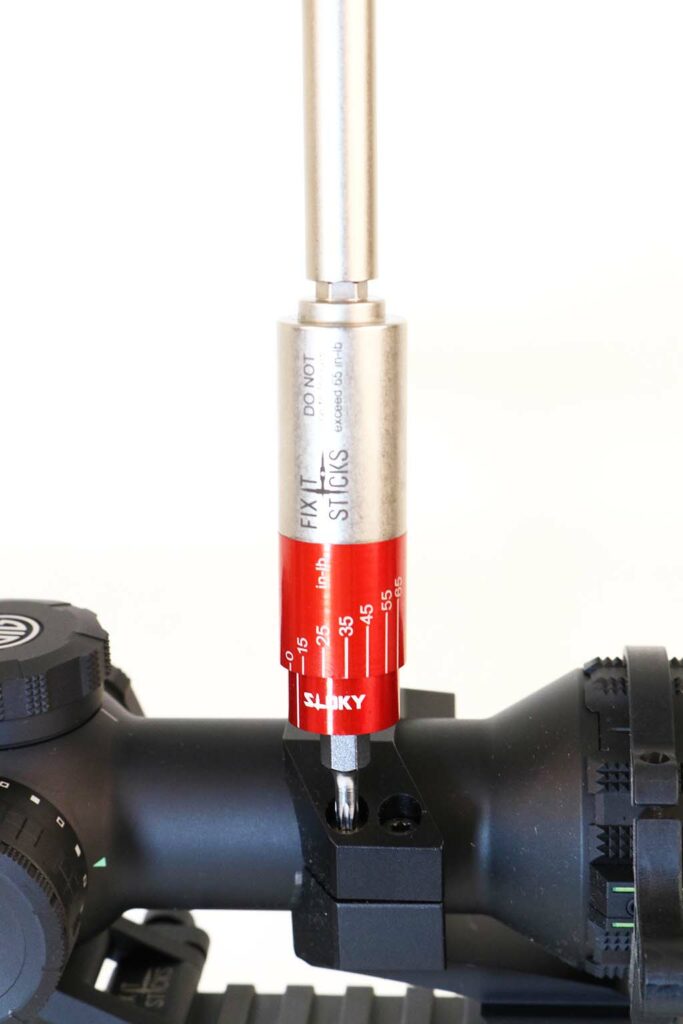 Philosophy
After more than half a century on this planet, I have found that most human pursuits can be done well or they can be done poorly. Modern life demands a certain degree of precision perhaps not found in generations past. In few other human endeavors is this axiom made more profoundly manifest than in the shooting sports.
A great example is mounting optics on a firearm. If you ever bother to read the documentation that comes with your sparkly new toys (most Real Men don't, by the way), you will find that the manufacturer often stipulates copious dicta concerning just how things should be executed. Mounting screws are to be torqued to a certain standard, and things should be both squared up and true.
This is where the real world typically intervenes. Money spent on dedicated scope mounting tools is cash that isn't buying ammo. Like a dog after a squirrel, I most often just embraced the distraction and landed that extra case of Russian steel-cased blasting bullets. I then proceeded to mount up my combat glass using "the Force" (an oblique "Star Wars" reference). That means grabbing a screwdriver or similar ape-tool and tightening everything up "until it feels right." However, trust me when I tell you, that approach is not without risk.
War Story
My farm and my wife are the only two good investments I have ever made (the two transferable machine guns I bought in 1987 on my 21st birthday would also qualify, should I ever consider selling them, which I won't). When we finally finished medical training and moved out into the sticks, I used the last of my savings to construct an earthen dam across a modest creek. Three months and a few decent rains later our backyard was now several acres of sparkling fresh farm pond.
That modest body of water helped raise our children. As a homeschool family, it served as our swimming pool, science lab, and recreational space through the next 10 joyous years as we raised our kids. It was also my shooting range.
I know, I know. Never, ever shoot into the water. I understand, I get it, and I agree. However, this particular lake is also surrounded by a 65-foot ridgeline that curves around the back like an amphitheater. It is indeed one of the few safe, wet targets to be found in the continental U.S.
You do something long enough, and mischief invariably ensues. My new optic was brand new and calling my name when it arrived during a busy Friday at the clinic. I couldn't wait to get home, mount that puppy up and start channeling my inner John Wick. However, in haste there be chaos.
I slapped everything in place and gave the mounting screws an imprecise twist all around. The next morning I dragged out my spanking new range machine along with ample cheap Russian ammo and went to town. Maybe half an hour later tragedy struck.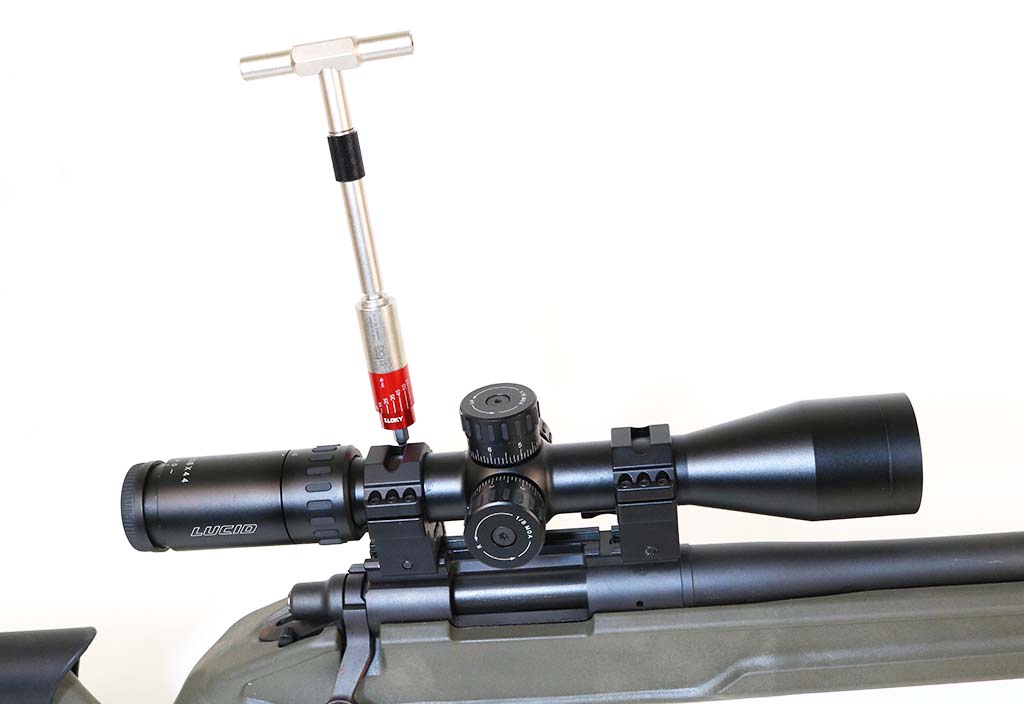 Mid-burst, I noticed something was amiss just in time to see my new optical sight shake loose, take a hard, unfortunate bounce and drop ignominiously into the lake. The water in this spot is maybe 12 feet deep. I had gotten less than an hour out of my nifty new trinket before irrevocably donating it to Old Hob. I have a big honking magnet, but these newfangled sights are non-ferrous. My cool new toy was gone forever.
I wish I could say this tale has a happy ending. It doesn't. This same approximate spot also claimed the drum from a PPSh-41 submachine gun (which I did eventually recover with the magnet) and, I'm embarrassed to admit, a sound suppressor. (The flash hider mount failed. The can remains entombed on the bottom of the lake as I type these very words.)
So what's the moral of this sordid tale? Drop a C-note on the right tools from Fix It Sticks, and you become a better, more precise shooter. You also never again run the risk of donating an expensive tactical gun sight to Davy Jones.
Pertinent Particulars
Torque is the rotational equivalent of linear force. Synonyms include turning effect, moment, rotational force, and moment of force. The legendary ancient Greek savant Archimedes first explored the concept through the study of levers. Smarter folk than I use pseudovectors and cross products of position and force vectors to define such stuff.
To mount up your optics properly, you should use a torque wrench. These nifty mechanical trinkets come in a bewildering array of sizes and disparate capabilities. Auto mechanics use them all the time. These tools apply precise amounts of rotational force to a variety of fasteners. The All-in-One Torque Driver from Fix It Sticks is purpose-designed for gun applications. It makes short work of your optical mounting chores.
This nifty rig comes complete in a padded zipper pouch not much bigger than your smartphone. It contains a T-handle wrench along with 15 different bits, a ½-inch socket and a ¼-inch bit holder. The beating heart of the thing, however, is the All-in-One Torque Driver itself.
This compact beastie is a spring-loaded cylinder that interfaces between the T-handle and the screw or bolt to be driven. Calibrated from 15- to 65-inch-pounds, the All-in-One Torque Driver really couldn't be simpler. Assemble the thing, tighten your mounting screws to the torque specified in your operator's manual, and the sight remains in place until the sun burns out. If you are smart enough to wield a screwdriver, you can successfully use the All-in-One Torque Driver.
The whole shebang is small enough to lose in your range bag and weighs about nothing. As a result you can keep it with you wherever you shoot. There's really no excuse for not doing those simple mounting chores up right with one of these puppies handy.
Maintaining the Right Balance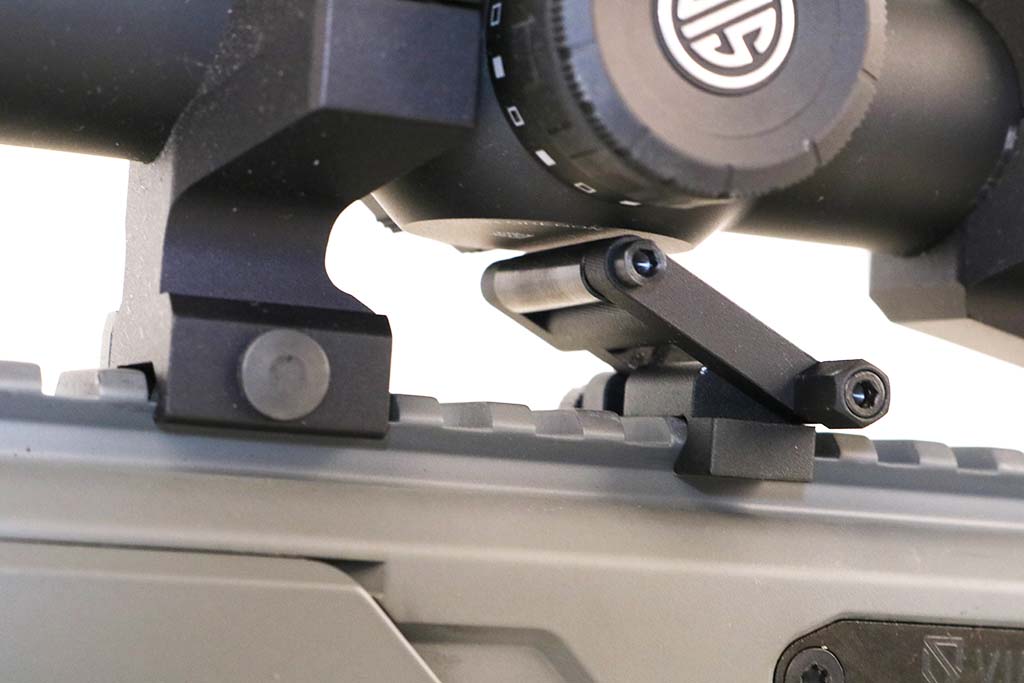 One of the more common rookie mistakes when it comes to tactical shooting is mounting up your optic at a cant to the host weapon. I have for four decades typically just eyeballed these things. Sometimes I use a small level, but it is always nonetheless fairly imprecise. Perhaps that's the reason I still kind of suck at long-distance precision shooting. At least that's the excuse I'm using. With the Fix It Sticks Scope Jack, however, annoying scope cant is a thing of the past.
The Scope Jack is brilliantly, lyrically elegant. Pick a flat spot underneath your optic and slip the Scope Jack in place, tightening it down on the underlying Picatinny rail. You'll need a minimum of ¼-inch clearance underneath the optic to get the Scope Jack positioned. If things are tight you can remove the mounting clamp and thumb screw from the jack and reassemble it from the other side once it is in place. You'll also obviously need to have a spare bit of rail underneath the scope.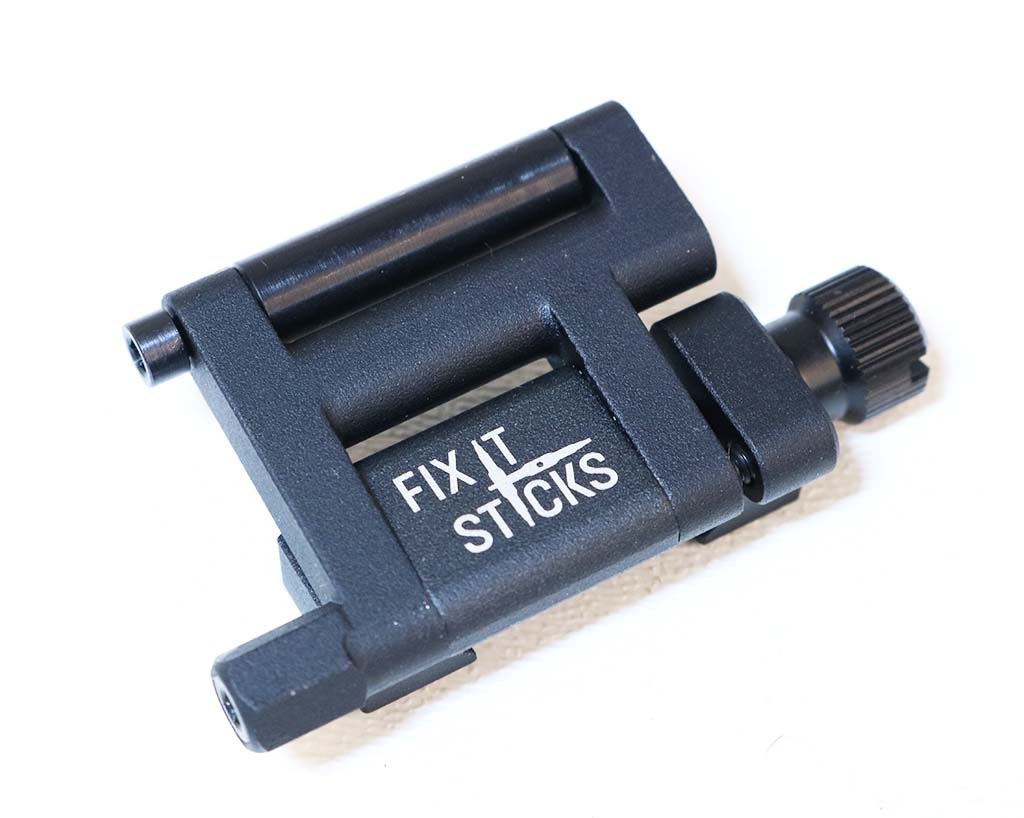 Now loosen the scope mounting screws just enough to let the scope tube rotate freely in the rings. Once everything is nicely situated, you affix a standard ¼-inch driver to the Scope Jack and apply a little pressure. This raises the flat side of the jack against the flat part of the scope and mechanically squares everything to the rail. Once the Scope Jack gets everything in place, you tighten the mounting screws with your All-in-One Torque Driver and then remove the jack. Now the job is done perfectly. The downside is that you no longer have that handy excuse for poor performance on the range.
Practical Tactical
For starters I addressed my primary counter-zombie rifle. This is a superlative piston-driven SIG Sauer MCX in 5.56mm nicely accessorized with both a SIG sound suppressor and a SIG TANGO6 combat optic. I slipped the Scope Jack in place, loosened the mounting screws slightly and proceeded to square the glass up perfectly.
The whole project took maybe two minutes. It also turned out that the thing had been very slightly out of true for as long as I have been using it. Snugging everything down with the All-in-One Torque Driver completed the upgrade. And, adding a scant drop of blue, medium-strength thread locking compound means not having to say you're sorry … ever. As an aside, understand that once thread locking compound is cured, you shouldn't ever confirm the torque of a fastener by re-torquing it with a torque driver. Think of the compound as, essentially, glue. With this in mind, realize that re-torquing the fastener can snap that glue, freeing the fastener to turn. Instead, if you want to be sure your fasteners haven't moved, use witness marks.
What followed was a veritable typhoon of unfettered optical gunsight maintenance. I dragged out everything in the collection that mounted tactical glass so I could torque the mounting screws to spec. In each case, I squared the scope and properly snugged the mounts in less than five minutes per gun. Shockingly, about a third of the mounting screws I investigated were loose to varying degrees. Before you could say, "Where have you been all my life?" the job was done. Not really, but it seriously doesn't take very long.
Final Thoughts
If the scope of your shooting endeavors is dragging out grandad's old .22 once a year and ventilating a few disused beverage containers then you likely don't need a whole lot of dedicated shooting support equipment. If you shoot half a dozen rounds per annum out of your deer rifle then just take the gun to a gunsmith and have him mount your scope up right.
However, if you shoot a lot and take your range performance seriously, then dropping a hundred bucks or so on some dedicated support gear might not be particularly intimidating. Should that indeed be the case, then Fix It Sticks has a bunch of cool tools to make good shooting even better. Cleaning gear, optics mounting equipment and sundry nifty widgets liberally populate their website. Surf on over and check it out.