Story & Photography By Todd Burgreen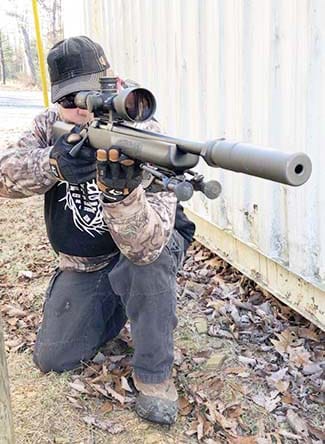 The trend towards urbanization of conflict with non-state actors growing in preponderance is hard to argue against based on current patterns. Similarly the increasing occurrence of random entities making war on civilian populations is also increasing. It only makes sense to tailor a rifle to meet this. Remember law enforcement (LE) and military are not the only lens to view discussions of tactics and weaponry. The proverbial boat anchor, 17-pound, precision rifle fitted out will not be a friend if one is scoot-ing around urban settings. The same can be said if moving around in a rural setting scouting or patrolling. Just too damn heavy. Yes, it can hit a gnat at 500 yards; however, more pressing things such as survival and carrying basic subsistence items have to be taken into account. More emphasis on portability and versatility will pay dividends. Sometimes going against the grain provides food for thought. Let's discuss a counterintuitive approach gaining momentum in certain communities that we will label "compact sniper rifle."
Our analysis will not be based on the military or law enforcement logistical chain; rather, think more along the lines of guerrilla operations or even survival/end-of-the-world scenarios. Let us define the goal of the discrete sniper rifle as capable of accurate fire out to 300 plus yards standard velocity loads with the ability to utilize subsonic ammunition. Obviously, choice of suitable caliber is just as important as the rifle, if not more so. The same can be said of choosing a suppressor.
This is where the .300 Blackout (.300BLK) comes into the story. The .300BLK was introduced in response to a US special operation military forces request. Anecdotal information compares standard velocity .300BLK 115-125 grain ammunition as exceeding the ballistics of the 7.62x39mm and eclipses 5.56mm both in ballistics and terminal punch. At 300 yards, the .300BLK has approximately 17 percent more energy than the 7.62x39mm thanks to superior ballistic coefficient bullets.
One interesting twist with the .300BLK is the ability to choose factory loaded subsonic cartridges; perfect for use with a sound suppressor. The ability to access a plethora of either super-sonic or subsonic factory ammunition offers great flexibility to the .300BLK user. Compact, lightweight bolt-action rifles with threaded barrels are ideal candidates for use by irregular personas. Why bolt action? A bolt-action .300BLK rifle is capable of "Hollywood" quiet performance with a suppressor mounted using subsonic ammunition.
I will issue a caveat that a .308Win/7.62NATO bolt action could still be considered for our described role if configured properly in terms of compactness/weight. While subsonic .308Win ammunition is not as widely available as .300BLK, it is out there from COR®BON, Engel Ballistic Research, Inc. (EBR), Lapua and other manufacturers. A compact .308Win would offer more ballistic "oomph"/range than a .300BLK while still allowing for subsonic, if the situation required. This is sort of a role reversal compared to the .300BLK.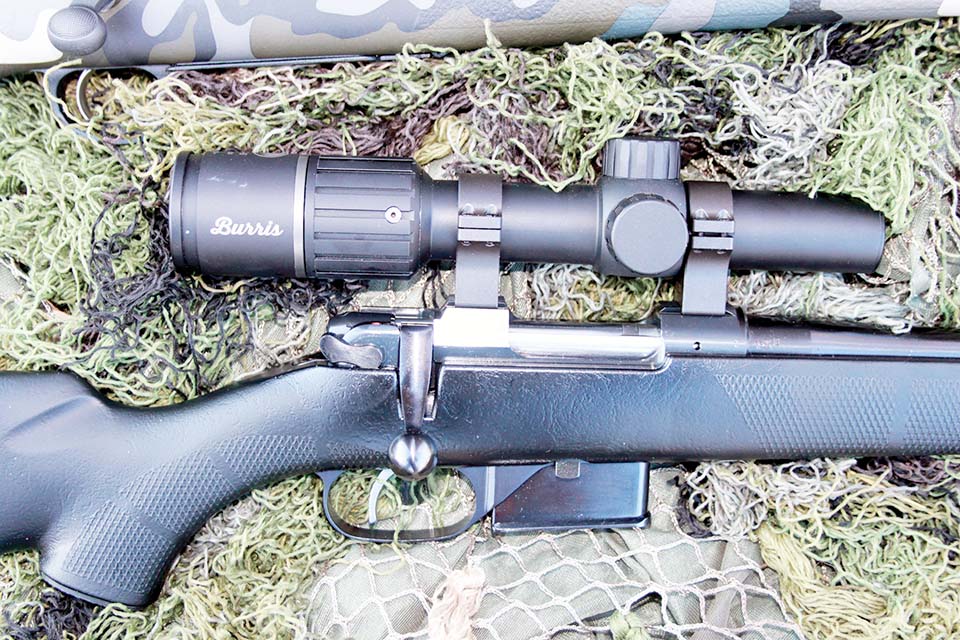 Urban conflict produces a need for rifles with shorter barrels and streamlined stocks for non-typical positional shooting. Weight of the rifle is critical as users are required to carry their rifles for extended periods of time. A way of proofing this is to attend any sort of MOUT assault course with a classic 15-plus pound sniper rifle sporting a 26-inch barrel. Never mind navigating walls and windows— just pounding down the street or up multiple stair cases to get set up in a hasty firing position will make my point. Further proof will be taking quick off-hand shots braced on a doorway or window opening. Classic sniper operations do not fit this mode. However, the type of tactical scenario alluded to at the beginning of this article is anything but typical and more a "regular guy" experience than pure sniper role.
The CZ 527 American SR and CZ 557 UCS
Practical examples of gear will better illustrate concept points. .300BLK is no longer confined to ARs. Most major manufacturers chamber a bolt action in the caliber. I turned to CZ-USA for an example in the form of the CZ 527 American Synthetic SR (Suppressor-Ready). As a nod to the .308Win option, the CZ 557 Urban Counter-Sniper (UCS) was chosen. CZ-USA, based in Kansas City, is the importer of CZ rifles. CZ's company history dates back to the mid-1930s. CZ is based in the Czech Republic. In 1991, it was one of the first Eastern European corporations to emerge from the post-Soviet era to compete in the West. CZ is one of the world's largest firearms manufacturers, employing over 2,000 people and selling its wares in over 60 countries. CZ products include handguns, shotguns, sporting rifles, suppressors and military weapons.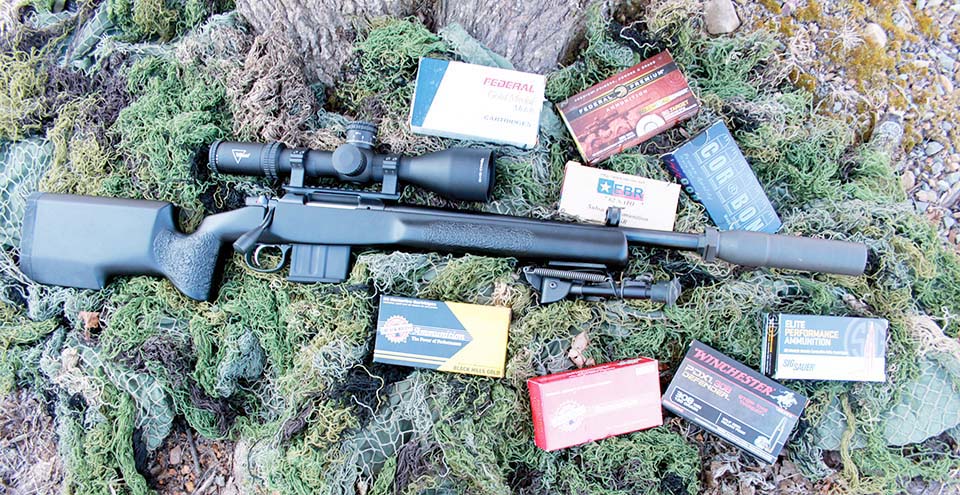 The CZ 527 SR has a classic sporter appearance taking full advantage of the CZ micro-Mauser action to create a lightweight great handling rifle. Truly a shortened profile, the CZ 527's Mauser action is only 6 inches long and saves at least 1 pound over a standard Mauser bolt action. Positive functioning was never an issue. CZ has fitted the 527 SR with a 16.5-inch, hammer-forged barrel with threaded muzzle. CZ barrels are of excellent quality as evident by enclosed test group consistency and ease of cleaning. The barrel is free-floated. Sling swivels are standard feature with the CZ 527. The CZ 527 American SR features an American-style synthetic pattern stock, a sporter profile ham-mer-forged barrel, a set trigger and a threaded muzzle. The CZ 527 SR rifle is fed from a detachable 5-round magazine. Credit must be given to CZ for coming up with this for the American market; CZ was one of the first to offer .300BLK in a bolt-action-rifle format let alone with a 5 / 8×24 threaded barrel ready to accommodate mounting a suppressor.
What role is the CZ 527 SR intended to satisfy? As with most things related to firearms, the answer depends on the individual situation. Factors such as mindset, personal preference, skill level, training, need to fulfill multiple roles and even legal requirements all come into play regarding rifle selection. The CZ 527 SR, with its Mauser action, is definitely at home in a hunting role. The CZ decision to offer a suppressor-ready, bolt-action .300BLK opens up multiple use considerations. The CZ 527 SR and .300BLK were made for each other.
The last entry for our purposes is the CZ 557 Urban Counter-Sniper (UCS). Compared to the CZ 527 SR, the CZ 557 UCS more closely resembles a bolt-action sniper rifle. Built on the CZ 557 action rifle platform, the rifle is design-built for precision shooting within 400 yards. This allowed for a 16-inch barrel to minimize footprint. Velocity drop-off compared to a 20-inch barrel is approximately 150 fps. The CZ 557 is fed from a detachable, 10-round box magazine. CZ uses an oversized bolt handle for better control of operation even when under pressure and wearing gloves. The Manners stock is designed with ruggedness, stability, accuracy and ergonomics in mind. Stiffness-to-weight ratio is an important Manners consideration. The outer shells are made with 35% aircraft grade carbon fiber and 65% fiberglass in multiple layers. Unloaded, the CZ 557 weighs about 8.5 pounds without a scope. The weight should not be a turn off as it seems less due to its compact size while still somehow maintaining balance. The top of the receiver has a Picatinny-type rail for the easy addition of glass.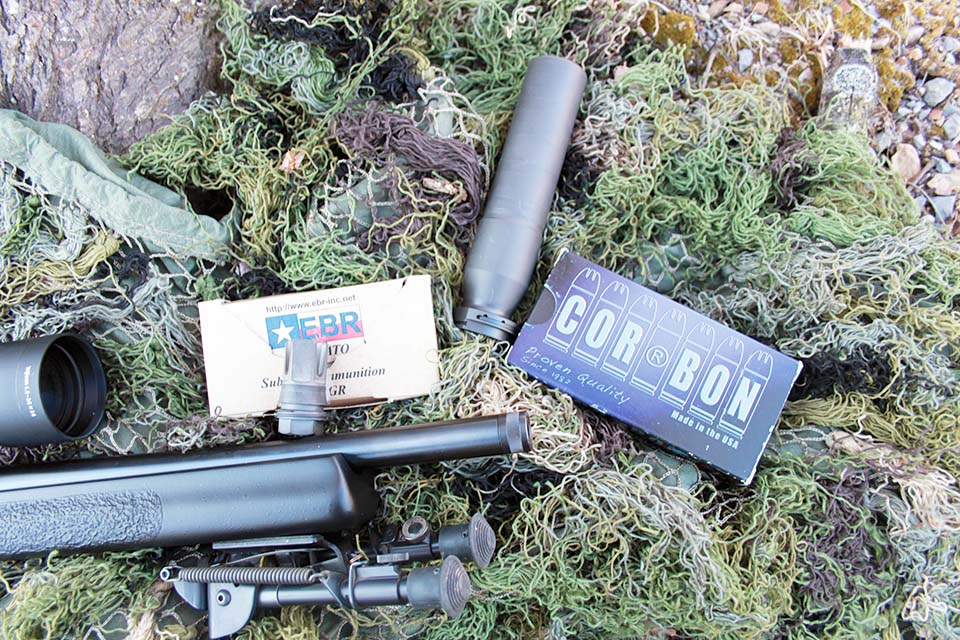 Suppression
The ability to suppress is an important aspect of the compact sniper rifle concept. While the sonic crack of a standard supersonic bullet is noticeable, the use of a suppressor combined with a proper firing position will mask the firing position. Subsonic rounds are downright spooky in their arrival. Yes, range is limited, but when discretion is necessary nothing can rival a subsonic bullet with a quality suppressor out of a bolt-action rifle. It does not take a drastic imagination to visualize what roles a rifle fitted with a suppressor would fill. Anything from sentry removal (canine or other), light fixture neutralization and stealthy operations in general come to mind. Another benefit of suppressors is serving as one of the most efficient flash hiders available. Suppressors from SIG SAUER and CZ-USA were mated up to the CZ 527 SR and CZ 557 UCS.
The SIG SAUER SRD762-QD suppressor was mounted via a Taper-Lok mounting system. SIG SAUER created the Taper-Lok Fast-Attach System to enable quick and simple installation of a muzzle adapter device while eliminating the need for shims. The SIG SAUER design optimizes alignment, improving accuracy and greatly reducing point-of-impact (POI) shift, even after multiple install/removal cycles. The Taper-Lok system allows users to access a variety of muzzle brakes and flash hiders for their rifles; all the while enabling SIG rifle suppressors to attach when needed.
CZ-USA's entry into the suppressor market for this review is the Ti Reflex. It is direct thread and offers a reflex chamber option if a barrel profile allows. To shave ounces, each Titanium baffle is turned down on a lathe until it possesses just the right amount of material to withstand the pressures of full-auto use. The swirled shape of the internal baffle structure is reflected in its exterior, and each baffle is welded to the next until the stack exhibits a very unique silhouette. Not only does this eliminate extra material that would simply add weight, it also increases surface area for heat dissipation.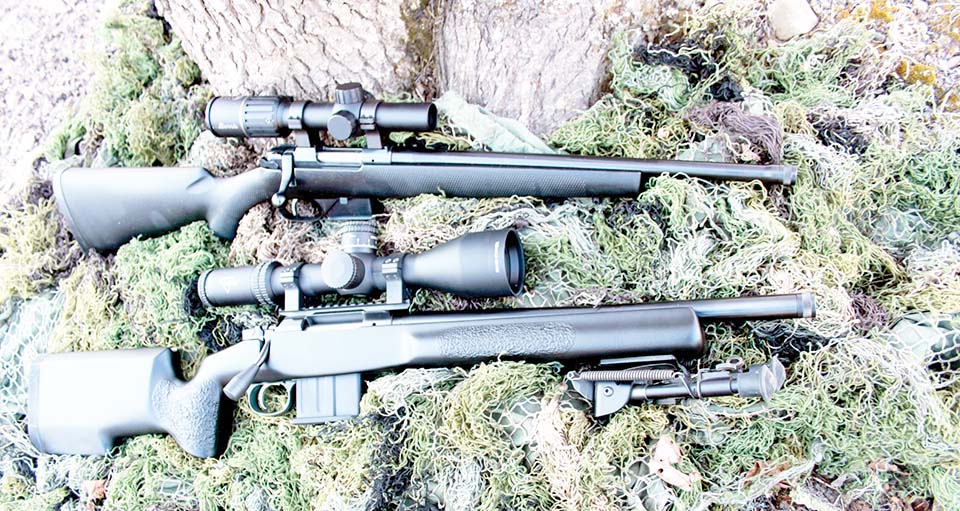 Handling and Performance
The CZ 527 SR and 557 UCS were tested from the bench for accuracy and around barricades and other obstacles to get a better appreciation of handling and performance. As expected, the CZ 557 UCS held the edge for innate accuracy with half-inch groups at 100 yards—not untypical. The CZ 527 SR was the easier handling package with its 3-pound lighter weight. This could have been minimized, but the Trijicon AccuPower 4.5–30×56 on the 557 UCS could not be resisted. Suppressors were mounted for the majority of use. Steel targets were smacked with ease out to 300 yards using field expedient rests. While by no means rivaling a semiautomatic for fire power, the detachable magazines were handy to recharge the CZ rifles after the last round. As expected from a bolt action, no malfunctions were experienced. The safeties made no audible noise when manipulating it; an important consideration for hunting or defense. Recoil was not a factor with nearly 150 rounds fired each with no issues experienced or detriment to accuracy experienced.
The advantage of a portable rifle should not be casually dismissed considering carrying the weapon would be constant compared to actual use or other tasks being required afield. A review focused only on range performance too easily misses this point. Ancillary items can assist. The Eberlestock X31 LoDrag II pack serves as an excellent example of this. Eberlestock strives to design a pack so items are easy to find as well as making them easy to attach to the outside of it. There's no digging and wrestling with your pack to free an item—it's quick at hand.
Eberlestock founder, Glen Eberlestock, learned via biathlon experience that if you carry your weapon on your back, you're much more agile and effective than if it's stuck in your hands or on a shoulder sling all of the time; there's simply no better way to move about in an organized fashion. By having the pack carry the rifle, your hands are free for all of the things you need them for when you are traversing terrain. Furthermore, Eberlestock makes it so that you can get your weapons out of the pack without having to unstrap everything that you're wearing. Most importantly the pack must be comfortable considering all the time spent with it out in the field. The X31 has all these characteristics.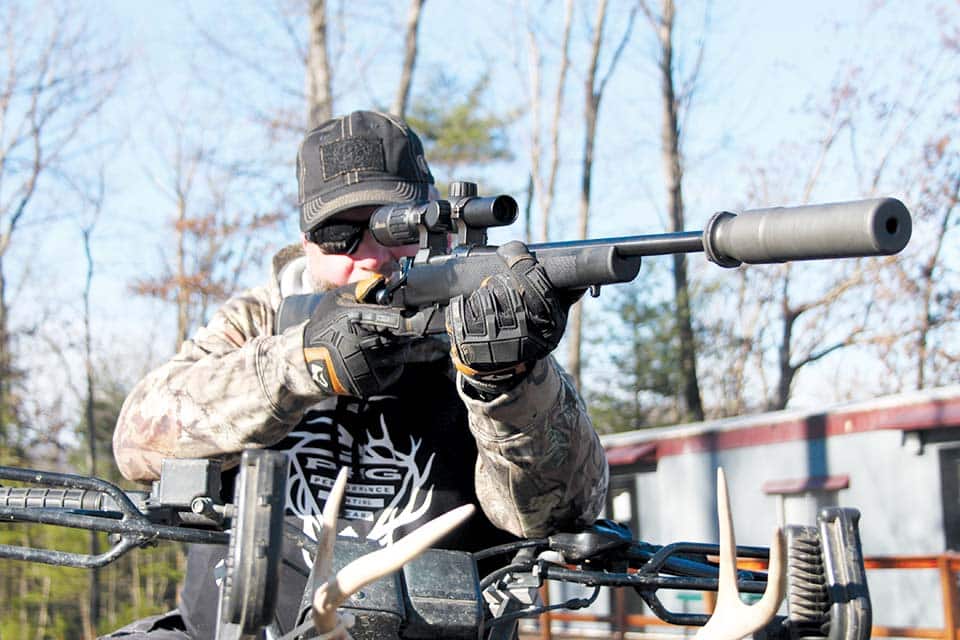 The X31 LoDrag II is the latest evolution of the Eberlestock LoDrag series. The X31 incorporates a tactical weapon-sized scab bard. It has a unique contour shape that tapers at both the top and the bottom, giving the pack an excellent close-to-the-body ride. The packs are fully compressible with pairs of side-mounted compression straps that draw the load upward to optimally position the pack's contents over the wearer's center of gravity. The X31 LoDrag II has two new generously sized, form-follow-ing pockets on the exterior of the upper and lower front flaps. MOLLE-10 lightweight webbing is used, to which you can attach conventional 25mm MOLLE accessories.
A weaker force can take advantage of urban sniping as it can be devastating not only materially but also against morale. The price in terms of equipment is modest, especially if the cost-to-effectiveness ratio is considered. Sup-pressed bolt-action rifles are not just for urban settings or personal defense. The lack of noise is a huge plus on many levels. An obnoxious rifle shot could ruin many endeavors where discretion is the better part of valor. Being able to maintain "stealthiness" is an important aspect of tactics, hunting and/or survival. A typical rifle shot is sure to attract what could be unwanted attention both by two- and four-legged entities.
The CZ 527 SR and CZ 557 UCS are rifles that can serve in multiple roles albeit sport, hunting, survival and/or defense. The suppressibility (I think that is a word. Either way readers get the idea!) of the CZ rifles makes them ideal for urban or rural environment sniping. 50 yards out, fire-suppressed with subsonic loads are nearly undetectable. A mounted suppressor not only limits noise but eliminates muzzle blast signature so as not to give away position. With the ability to attract users from a variety of backgrounds, the CZ 527 American Suppres-sor-Ready and CZ 557 Urban Counter-Sniper merit serious consideration.

FOR MORE INFORMATION
This article first appeared in Small Arms Review V23N7 (AUG/SEPT 2019)