Reviewed by Dean Roxby
Author Anthony Vanderlinden has definitely set a high standard for firearms reference books with his latest release. One glance at the new expanded two-volume set of books titled FN Browning Pistols, Sidearms That Shaped World History is enough to see this has been a true labor of love for Vanderlinden.
Vanderlinden's publishing company, Wet Dog Publications, has rightfully earned a solid reputation for high quality books on arms related to the FN firm. I have previously reviewed books covering FN Mauser rifles, the FN-49 rifle, the Polish VIS Radom pistol, and the earlier 2nd edition of FN Browning pistols. (This second edition was reviewed in V21N3, April 2017.) All these have been fine books, combining solid research with beautiful photography and layout. And yet, this new third edition goes above and beyond even Wet Dog's high standards.
With the third edition having over double the material as compared to the second edition, it should come at no surprise that each book is oversize at 9.25 x 12.25 inches (235 x 310mm). The total page count is 840 pages. It also features 2790 color and period (B&W) photos.
Upon opening, the first thing you notice is that the pages are color-coded. The chapters are broken down by color, and the top of each page is colored accordingly.
Volume I begins with a long detailed section on history, then biographies of important people tied to FN, followed by production, sales network, and accessories.
Volume II covers the pistols themselves, with chapters on John M. Browning prototypes, the Models 1899, 1900, 1903, 1907, 1905, 1910, 1910 Grand Browning, 1922, Baby Browning, Le Grand Rendement (High Efficiency), High Power, the 100 Series, and an Engraving Gallery. The entire table of contents is repeated in both volumes. The page numbering runs continuously through both volumes, as does the color-coded pages.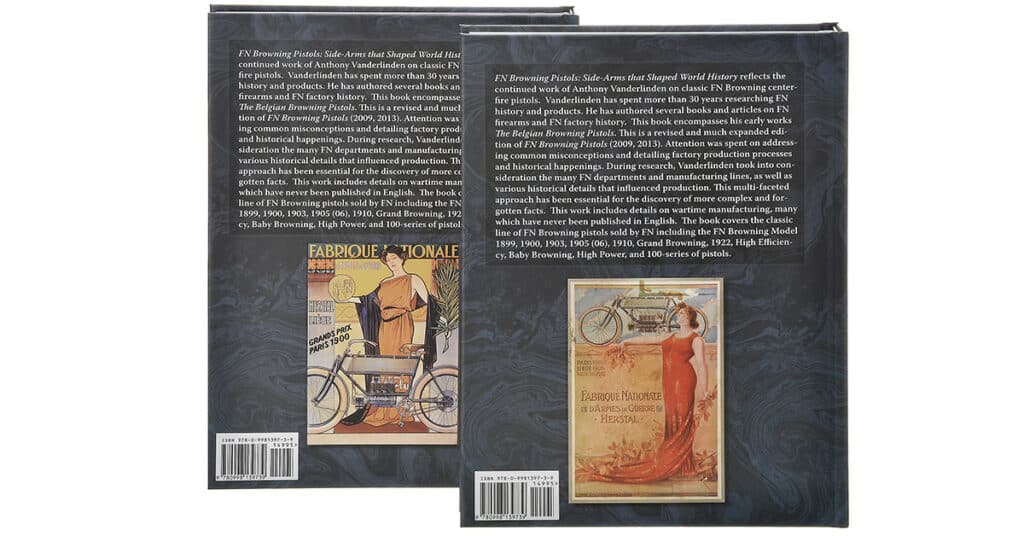 Chapter 1 delves into the rich history of gun-making in Liege, Belgium, the Industrial Revolution as it applied to Liege, and the formation of FN to build the 1889 Mauser rifle under licence. During the early years, FN also built bicycles, motorcycles, and cars, as well. This is all documented in detail. The Sarajevo Affair covers the assassination of Archduke Franz Ferdinand and his wife Duchess Sophie Chotek that caused WWI. The pistol that the killer used was an FN Browning Model 1910.
Following this, chapter 1B covers The Great War: 1914-1918. Chapter 1C looks at the interwar years in Interbellum: 1919-1940. More cars, motorcycles, and even buses and typewriters are mentioned. Of course, small arms are covered, as are licence-built Bofors 40mm anti-aircraft cannons. Additional sub-chapters cover WWII including the takeover of the factory by the German army, the liberation of the factory in late 1944, and the postwar era. The entire History chapter is approximately 140 pages and covers a lot of ground.
Starting with master firearms designer John M. Browning, chapter 2 introduces us to various members of the FN team. Besides Browning's son Val Browning, and assistant Dieudonne Saive, others such as Felix Funken, head of the engraving shop, and Auguste Benard, the artist behind much of the advertising posters and catalogs are introduced.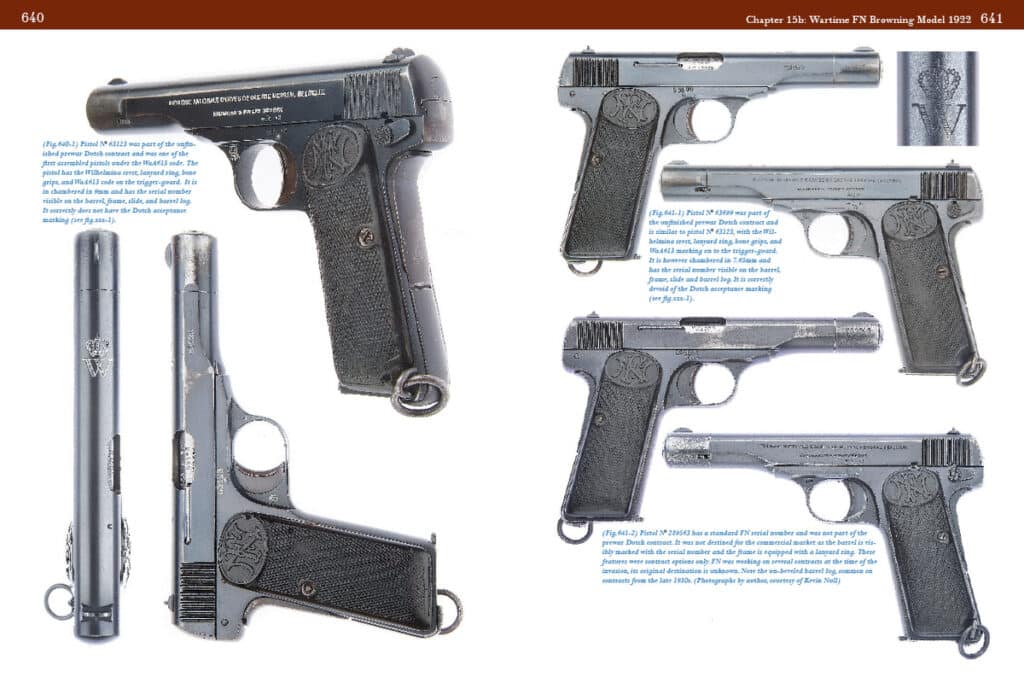 Chapter 3, Proofs and Markings, is a short, just 16 pages, but detailed look at proof marks, acceptance marks, and German occupation marks. Before spending a lot on a pistol, a thorough study of markings would be a very good idea.
Next is FN Production Processes. This is broken down into finishes, slide legends, serial and contract numbers, production years by model and serial number, and grips. There are many varieties of grips shown in full color, and quite a few have a counterfeit alert notation along side. Forgeries exist! Be warned.
Chapter 5, FN's Sales Network, starts with the participation of FN in various World's Fairs in the late 1800s and early 1900s. These fairs were a great way for companies and countries to show off their products. The book features a wonderful assortment of old sepia tone (B&W with a brown tinge) photos of FN-built cars, bikes, motorcycles, and pistols. Also shown are various presentation gifts like keychains and gold-plated cufflinks with small pistols attached, ashtrays and matches with the FN logo… and even cigars!
Volume I ends with Chapter 6, Accessories. This is broken down to include prewar FN catalogs, manuals, factory boxes, factory presentation cases, magazines, tools and cleaning rods, shoulder-stocks, pocket holsters, and finally belt and shoulder holsters. This section has an astonishing number of items featured, enough to make serious FN collectors envious.
Volume II is entirely focused on the firearms. Chapter 7 examines the prototypes of JMB. Many of these hand-made guns can be seen at the John M. Browning Firearms Museum in Ogden, UT. (While this book deals with entirely pistols, the museum also displays long arms and several early full autos as well.)
I found it amazing that the earliest of these early prototypes (1894 dated) is fast approaching 130 years old. Over a dozen models are shown, most photographed from three views (left, right, and top). (A few models have an extra close-up view of a particular detail). All are arranged in chronological order. This is to allow you to see the progression of improvements through the years. Unfortunately, none are disassembled to show the innards.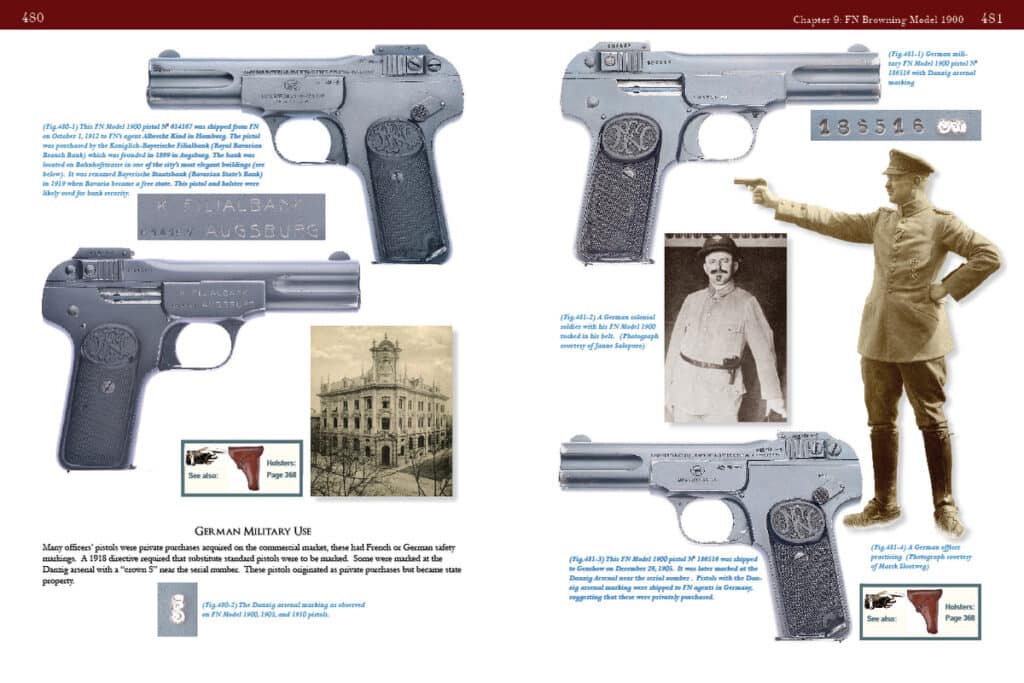 The following chapters discuss the development process, serial number sequences, various slide markings, international orders, and many other points of interest relating to the many models of pistols produced over the years.
A nice idea that has been included is a "see also" notation that directs you to various accessories, etc. I think of this as a manual "hotlink."
The High Power chapter, at just over 100 pages is divided into three sub-chapters. These are prewar, Wartime, and Postwar. Incidentally, there is a sidebar that clarifies the correct terminology of the High Power. Belgian FN made, and Canadian made John Inglis marked pistols are always spelled High. Only the post-war American made, by Browning Arms Company are marked Hi-Power.
At first, I was surprised to note that there is almost nothing on the Colt M1911. However, this does make sense as the main subject is FN Browning, not Colt products. There is a chapter on the FN Modéle 1910 Grand Browning, however, which is the immediate predecessor to the M1911.
The final chapter is a gallery of finely engraved pistols. There are some fantastic examples of the engraver's art shown. These are often factory presentation models or sales samples. Many have either ivory or mother-of-pearl grips, and several have gold inlay. This looks very impressive when contrasted against deep dark blueing.
As I have noted in previous reviews, all of Wet Dog's titles are proudly printed and bound in the United States. Vanderlinden feels very strongly about this, even if it does add to the cost. Speaking of cost, yes, this set is certainly is getting up in price. However, it must be noted that high quality, limited printing reference books hold their value and often gain value once they sell out. A look online for other respected gun books shows they often double or even triple in cost. As well, by consulting this book prior to buying an expensive firearm or accessory, you might well avoid the pain of getting burned by a forgery. This may well pay for this set right there.
If you are fan of FN guns, especially sidearms, this 2-volume set is HIGHLY recommended.
Final thoughts… With the closing down of Collector Grade Publications in early 2022, their 3-volume set on the FN-FAL rifle is not likely to be reprinted. It is my hope that Wet Dog will consider filling the void and publish a top quality, highly researched book about the FAL rifle.
| | |
| --- | --- |
| Title: | FN Browning Pistols – Sidearms That Shaped World History – 3rd Edition, Volumes I and II (Expanded two volume set) |
| Author: | Anthony Vanderlinden |
| ISBN: | 978-0-9981397-3-9 |
| Copyright Date: | 2022 |
| Binding: | Hardcover, color front and back |
| Size: | Oversize, 9.25 x 12.25 inches (235 x 310mm) |
| Pages: | 840 pages total |
| Color/B&W photos: | 2790 color and period (B&W) photos |
| Publisher: | Wet Dog Publications, 5603-B West Friendly Avenue, Suite 166, Greensboro, NC 27410 |
| URL: | www.fnbrowning.com |
| Available: | Directly from Wet Dog Publications |
| Cover price: | $149.95 |