By Robert Bruce
"The Lightweight Small Arms Technologies program has made tremendous progress, which includes a fully functioning dynamic model of the weapons system, a working weapon prototype, and hundreds of cased telescopic rounds fired to date." Kori Spiegel, US Army ARDEC, Joint Service Small Arms Program
Ms. Spiegel's presentation during the symposium part of NDIA's annual gathering of infantry weaponry innovators should be of particular interest to SAW gunners and others who stand to benefit from scientific advances that are cutting the weight of weapons and ammunition. Sharing the rostrum with AAI's Paul Shipley, her briefing detailed ongoing developments in JSSAP's multi-million dollar Light Weight Machine Gun and Ammunition program.
AAI is particularly well suited to head up the effort, bringing decades of experience with innovative concepts such as the Vietnam era SPIW, ACR ca. 1990, and the run-up to today's OICW. They have assembled a similarly distinguished team of companies for the program including ARES, Alliant Techsystems, Battelle Institute, St. Marks Powder, and Omega Training Group.
Recognizing that an alternative to traditional brass cased and steel linked ammunition represents the most productive avenue to meaningful reduction in overall system weight, two alternatives are being simultaneously explored, both featuring projectiles that are "telescoped" in a cavity in the propellant.
The CTA (Cased Telescoped Ammunition) employs conventional powder, primer and projectile, but packaged in polymer casings with synthetic links. This approach is said to be a "low risk" option, yielding significant weight reduction at acceptable levels of cost, complexity and weapon performance.
Fully caseless configuration is the second alternative, using advanced propellant technology where each round is fully consumed on firing so no case extraction and ejection action is necessary. This remarkable cartridge concept was developed to a high degree by Dynamit Nobel back in 1990 for HK's G11 rifle and is said to promise a greater degree of weight reduction.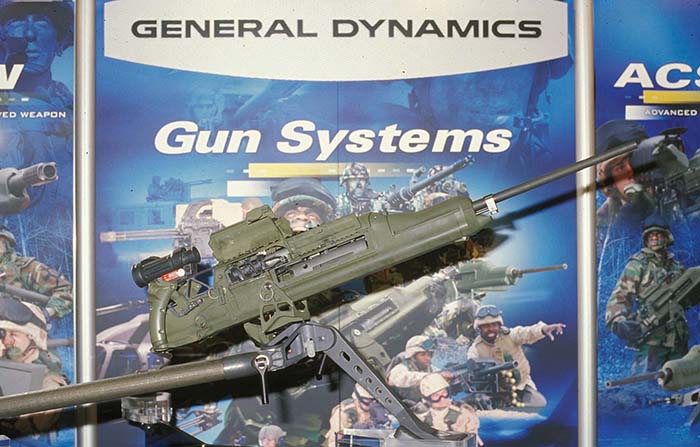 AAI has been successfully burst firing CTA in a prototype weapon that is evolving based on engineering refinement and application of advances in materials technology. Concept drawings show the gun as having a rotating chamber with in-line push-through feed and ejection. A fluted, quick change barrel gives high stiffness and heat exchange. Right now the configuration and construction are very conventional with extensive use of alloys and polymers.
Program goals call for successful demonstration firing next year, then transition to Program Manager Soldier Weapons by 2010.

While a standout for this correspondent, the JSSAP/AAI briefing was only one of more than three dozen compelling presentations given during the period 16 to 18 May in Albuquerque's impressive Convention Center. Other topics of interest included updates on weapons and equipment for Special Operations Forces, NATO research and development, a status report from Program Manager Soldier Weapons, and representatives of each of the US Armed Services charting near term plans for small arms upgrades and replacements. A few morsels from this banquet: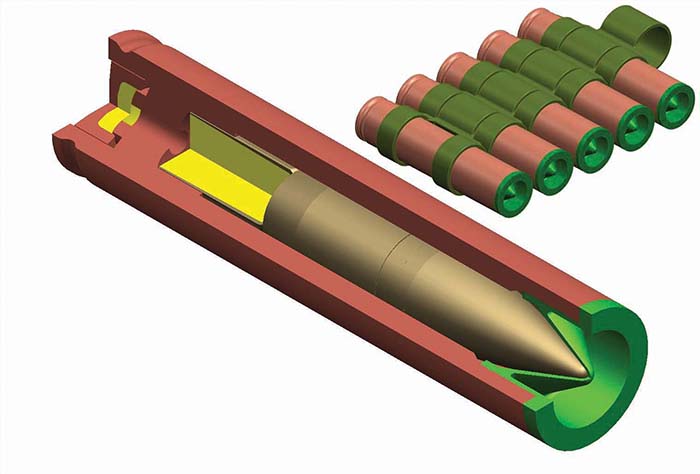 Marine Corps Systems Command is looking for something beyond the SAW, but needs it sooner than 2010. "The Infantry Automatic Rifle… a light weight, magazine fed, 5.56mm, individual weapon," sounds something like the CIS ULTIMAX.
Suppressors are big with all the services seeking noise and flash reduction for everything from Barrett fifties to pistol poppers. Opportunities abound for designers and manufacturers.
While USSOCOM is moving at flank speed to field the SCAR family, it is not neglecting those current operators still carrying M4 type carbines. NSWC Crane is closing in fast with the Miniature Day/Night Sight program to upgrade capabilities beyond the current hodgepodge of clamp-ons.
The Coast Guard – and probably Navy Mobile Security – will be getting a reduced range 7.62mm round, developed by ARDEC, with standard velocity and penetration at moderate distance, but quick fall off after that to minimize collateral damage in crowded ports and narrow waterways.
Remotely aimed weapon systems for a variety of platforms continue to gain favor. The robo turret on STRYKER vehicles will probably be the first to get General Dynamics' XM307.
USSOCOM's MK47 Advanced Lightweight Grenade Launcher is on a parallel track with "Big Army's" XM312/XM307.
Knight's is a big winner with the Army's recent selection of their modified SR-25/MK 11 as the M110 SASS (Semiautomatic Sniper System).
Countersniper technologies are getting lots of attention, but existing solutions tend to be complex and expensive. M2 Technologies and the Univ. of Kentucky have partnered to develop an infrared system using COTS components.
ARDEC has a Rapid Design branch for urgent projects like the Afghan National Army's need to mount their Russian-type DShK machine guns on American-supplied M113 APCs.
Along with continued development of Barrett's 25mm XM109, FN has a shoulder-fired high velocity 40mm launcher in JSSAP's efforts to enhance anti-materiel capabilities.
Everybody but the Coast Guard (they have the new SIG P229 in .40 caliber) wants a .45 ACP pistol. SOCOM and Big Army are, once again, conducting separate programs to this common goal.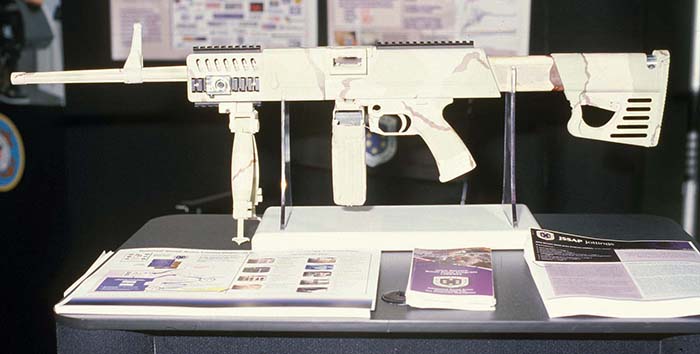 Go online to get briefings for all of these topics and much more at www.dtic.mil/ndia/2006smallarms/2006smallarms.html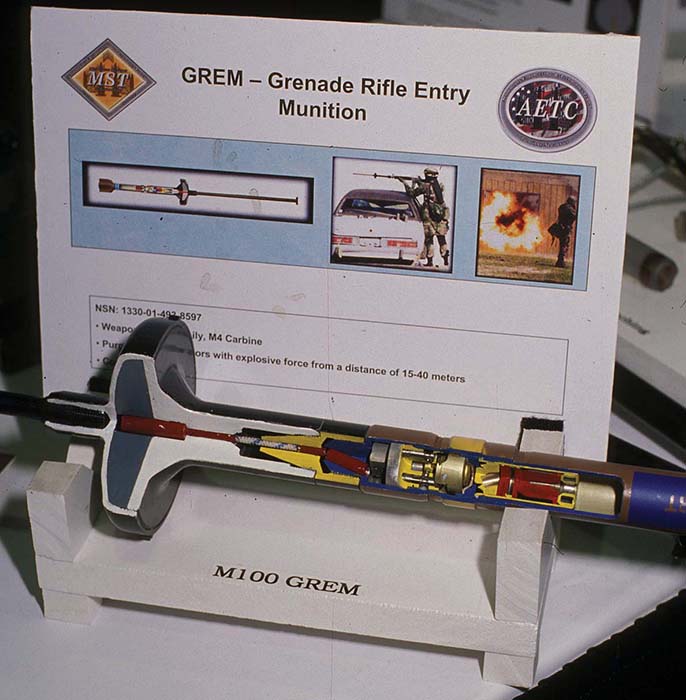 It's a Small World
Once again this year the Awards Luncheon was enhanced immeasurably by a thoughtful presentation from JSSAP's Dr. Stephen Small, who can always be counted upon to put current trials and tribulations into historical perspective. This time reaching back to 1326 A.D. and the dawn of gunpowder warfare, his "First Three Hundred Years of Small Arms" had an appreciative audience alternately chuckling and shaking their heads in recognition. Was some distant ancestor of Ronnie Barrett responsible for the 41 pound, carriage mounted, 27mm wheel lock "anti-materiel rifle" developed in Germany so long ago?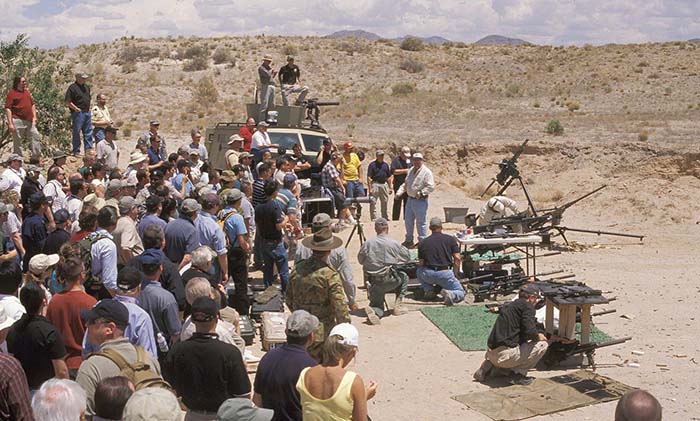 Small was honored immediately afterward with an NDIA Professional Service Award, as were Simunition's Brian Berger, Aberdeen Test Center's Marvin Maule, Broden Resources' Dave Broden, and USMC Lieutenant Colonel Richard Adams.
This year's George M. Chinn award was presented to Richard Swan of A.R.M.S. and the Carlos Hathcock award went to USMC Major Allen Bootby.
Hardware Show
Numerous breaks from scholarly proceedings in the auditorium gave attendees welcome opportunity to visit the large exhibit hall where more than sixty commercial firms and government entities showed their wares. There, many of the concepts and much of the hardware from dry technical papers could be found, along with knowledgeable reps to answer questions and discuss advantages that come with items on display.
ARDEC, JSSAP and Program Manager Small Arms held the biggest section of exhibit booths, a necessary and fitting situation for this giant of the military small arms community. We spoke at some length with engineers and others directly responsible for weapons and ammunition under development as well as those seeking and fielding COTS (commercial off-the-shelf) items to meet immediate needs of troops in harm's way. From high tech "smart" weapons to Otis cleaning kits, this is the team that gets the good stuff for the good guys.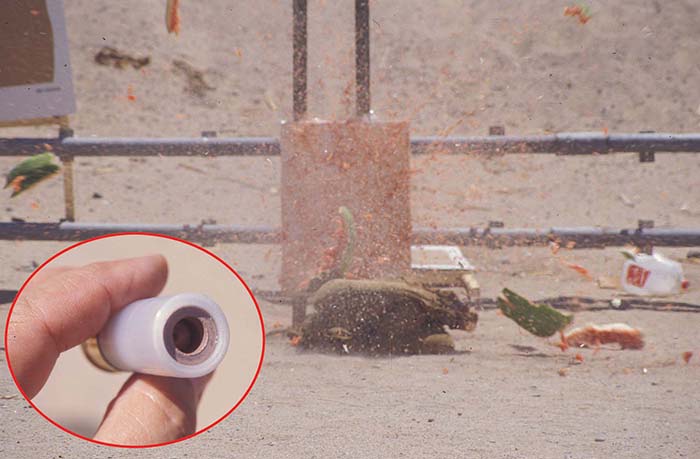 Several of JSSAP's industry partners also had a large presence. General Dynamics was on hand with their convertible XM307 to XM312 Advanced Crew Served Weapon. AAI showed its concept mockup of the future light machine gun and its innovative cartridges. ATK had the amazing programmable airbursting ammo for the XM307 and the shoulder-fired XM25.
Long Mountain Outfitters and Defense Munitions combined their considerable assets to provide a billboard-sized display of old and new weapons from around the world, providing an engineering, reference and sales resource for the widest range of attendees. Suppressed pistols, submachine guns, assault rifles, belt guns, grenade chunkers, and antitank rockets snared enthusiasts of all types, sparking innumerable technical discussions and historical anecdotes with this walk-up-and-touch product catalog.
Other real gun guys were also much in evidence including ArmaLite, Barrett, Beretta, Colt, FN, Glock, HK, Knight's, Remington, S&W, and Taurus.
Barrett is working with JSSAP to lighten the .50 cal M107 and to get the 25mm XM109 ready for fielding. Then there's the exciting new bullpup XM500 in .416 caliber.
Colt Defense was showing a push-rod M16 called the Advanced Law Enforcement Carbine and a side-opening grenade launcher. Both were apparently developed as entries in recent Army and SOCOM trials. A prototype light machine gun also attracted interest, featuring quick change barrel, open and closed bolt operation, and a push-rod.
FNH USA proudly displayed several new variants of USSOCOM's tough SCAR (Special Operations Combat Assault Rifle) including a 5.56mm version for sharpshooting, a SCAR Heavy in 7.62mm, and the clever left or right side opening Enhanced Grenade Launcher Module.
HK Defense, after fielding the push-rod HK416 in 5.56mm, has just added the 7.62mm HK417. Also on the table was the handy and hardy MG4, a 5.56mm SAW/LMG.
Knight's has plenty of reason to crow with the Army's recent selection of its candidate as the new M110 Semiautomatic Sniper Rifle System, but something much smaller took center stage at their booth. Weighing just 4.5 pounds and measuring only 19.5 inches with stock folded, the brand new 6x35mm PDW (Personal Defense Weapon) was a show stopper for those in the know. The unique high-performance ammo and its diminutive launch platform were developed with requirements and funding from Technical Support Working Group, a little known US Government counter-terrorism organization with direct links to the CIA, FBI and more than seventy other agencies.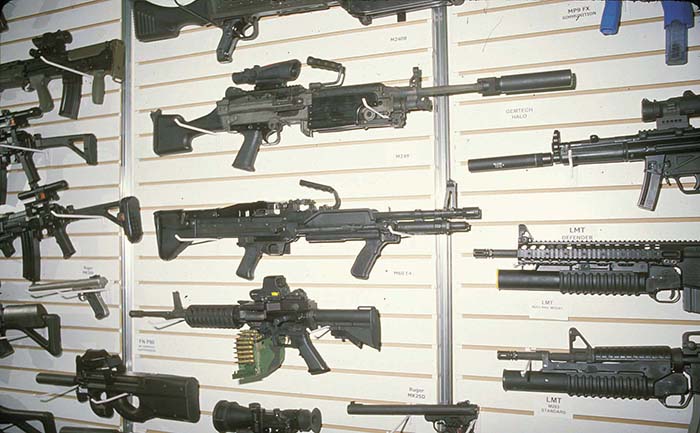 Optimizing existing guns and ammo is the job of those who specialize in accessories and add-ons. Specific needs are met mostly by entrepreneurs with companies outside "the system" but well known in the tightly knit world of combat soldiers.
Some precision shooters from CENTCOM's area of operations asked LaRue Tactical for a special mounting system and soon got the "S.T.O.M.P." The Sniper's Total Optic Mounting Package for Remington 700 actions consists of a suitable length of Picatinny Rail, quick-detach rings and inserts, and a quick-detach overarm for positioning night vision optics like the PVS-22 in front and in line with whatever day optic is preferred.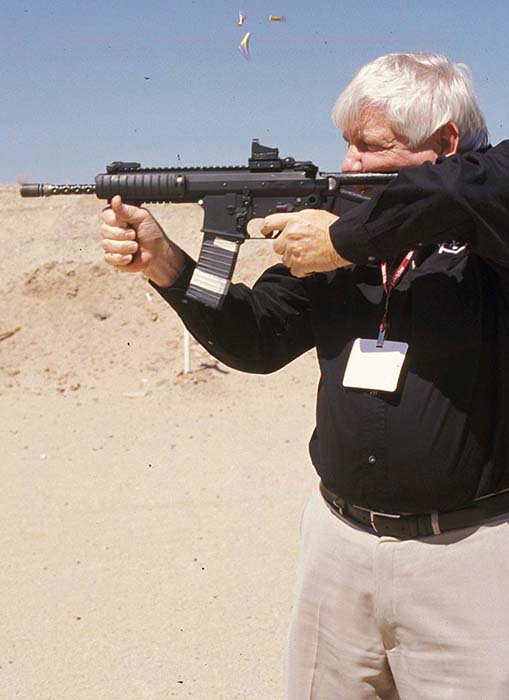 In the same vein, urban warrior shotgunners punished by the heavy recoil of slugs and breaching rounds asked for and got a special buffer from Enidine. The unit we saw was the "ShotShock," neatly housed in the telescoping tubular stock with grip that Mesa Tactical makes for the Remington 870.
De-ranged
For whatever reason, L3's Sal Fanelli keeps volunteering to coordinate and conduct the Small Arms Symposium's traditional government and industry live fire demonstrations. Never an easy task under the best conditions, but heartened that this time wasn't in the Peoples Republic of New Jersey; Fanelli got everything set up with the Department of Energy's Central Training Academy to use their superb range facilities on nearby Kirtland Air Force Base.
This became a no-go a few days before the event when those in charge of base entry security clearances realized that busloads of civilians including plenty of foreign attendees would be rolling up. An official case of the vapors ensued, leaving Sal scrambling to find another venue.
Fortunately the good-guy network kicked in and the Albuquerque Police Department cleared its scheduled training to make way for the day's demos, apparently recognizing that real "national security" should take priority over bureaucratic BS. A big thanks to APD and Range Master Dave Bartram!
Crossed SWORDS
We got out there early on range day to have plenty of time to examine and photograph the weapons and ammo that would be in action later on. This paid off handsomely when the Army's SWORDS team arrived with two of their mean little battle 'bots. As ARDEC's Mike Zecca, along with his team from Foster-Miller, went about their preparations, we watched closely, took pictures and asked a few questions.
Zecca's planned demonstration, he said, would show how the armed mini-crawler was radio remote controlled by an operator using video link to navigate, acquire targets and then take them out with bursts of machine gun fire.
The first order of business was to swap out the demilled display gun for a real M240, a process that takes only a few minutes when the right tools are on hand. Then, with Deguire at the hardened laptop style computerized OCU (operator control unit), the battery powered rock 'n roll robot cruised around a few obstacles and pulled up on the firing line. It was time for some test firing so the range went "hot" and a belt of 7.62mm ball got loaded in the 240.
Peering intently at crosshatches on the display screen, Deguire did some fine tuning with the aiming joystick then flipped up the red firing safety cover. The M240 roared to life with the first burst hitting high. Additional fine finger pressure sent a movement signal by radio link and the muzzle lowered almost imperceptibly. The next burst was right on target and a series of quick traverse signals moved the muzzle leftward to quickly engage each silhouette in turn. Satisfied with its practice run, the team powered down SWORDS in place and manually cleared its machine gun.
Most everyone is aware of the cruel truth of "Murphy's Law" which states, "Anything that can go wrong will, and at the worst possible time." Keep this in mind as we jump ahead a couple of hours and pick up the story when it was SWORDS' turn for a live fire demo in front of a crowd including some of the most influential persons in the world of infantry weaponry.
In an unfortunate incident that may have taken its place ahead of all such others in the lore of NDIA Small Arms Demonstrations, the armed robot violated the most basic range safety rule. Our narrative continues with a statement from the Army's official after action review, presented verbatim:
"SWORDS #5 was equipped with a M240B Machine Gun and flawlessly test fired on the range prior to the opening of the event. At the time that SWORDS was to start its demo, the vehicle started backing up in a counterclockwise arc without any input from the operator. At this time the weapon had loaded ammo but the safety was on, none of the redundant arming steps had been initiated, and because the robot was moving, no firing signals could be accepted (SWORDS cannot fire on the move) by the fire control. The robot was powered down and cleared. No one was injured. An immediate formal investigation of SWORDS #5 revealed that one wire in the operator control unit had broken and was causing a rearward command string to be sent to the tracks. The wiring has now been redesigned to reduce the chance of broken wires and to add wiring redundancy so that these wires have a backup signal."
(Editor's Note: Robert Bruce's in-depth report on SWORDS may be found in SAR's Vol. 8, No. 5, September 2005 issue.)
Blastin' With the Big Boys
The ill-fated SWORDS demo took place on the APD range's rifle lane, a facility that allows even .50 caliber BMGs to be fired safely when reasonable care is taken. Defense Munitions kicked off the firepower show with John Browning's masterpiece, in this case a new Ohio Ordnance M2HB on the light and versatile Vinghog 12.7 soft mount with the Vingfoot high-low tripod. This was followed by some serious double tapping from LMO's twin M240 right/left mount that gives over 1500 rpm of 7.62x51mm firepower with superb accuracy.
Then, US Ordnance showed some sustained Sixty shooting with long bursts from their M60E4/MK43, an improved version of a long time favorite of the Navy SEALs.
Others took a turn in demonstrating their wares which included several suppressors. SRT Arms has the Typhoon can for the M4 that quick couples to standard GI birdcages, and Surefire has a nice new addition to its Fast Attach High Endurance line with one for the M249 SAW. Knight's Dave Lutz showed the dramatic reduction in signature that comes when the M110's suppressor is in place.
Lewis Machine has a unique recoil compensator and flash suppressor that looks akin to a SKOL can welded under the barrel but is said to significantly reduce muzzle rise and signature. Karl Lewis also showed the easy one minute conversion on his special upper from 5.56mm to 6.8 by swapping out the bolt, barrel and magazine.
The last demo on the big range was a seriously long belt of Simunition's new 7.62mm "ShortStop" reduced range training ammo, spectacularly sprayed from an M134 Minigun positioned atop an armored car. This rig was thoughtfully provided by the Department of Energy from those now in use by Nuclear Facility Security teams.
PDWs, Pistols, Pumps, Pistons, and Pumice
Live fire action moved a couple ranges over to the pistol lanes where some other interesting weapons awaited.
Earlier that morning we had gotten our hands on Knight's 6mm PDW, including the chance to handle and strip it. Confidence must be kept but it is permissible to say that lead engineer Doug Olsen's mechanical action is strongly influenced by a certain designer named Kalashnikov. We also got to fire a mag in semi and full, confirming the controllability and quick handling of this clever weapon/cartridge combo. SAR looks forward to the chance to do an in-depth feature in the near future.
Taurus fired its prototype .45 ACP that is intended for the upcoming military trials, and then Glock went one by one through a table full of their variants including the ever-popular Glock 18 full auto model.
Ammo guru Whit Engel wowed the crowd with a spectacular watermelon-busting shot. Designed for breaching with minimal overpenetration, his 12 gauge hollow point "Entry Frangible Safety Slug" pulverized the hapless melon without even denting the cardboard witness plate two feet behind it.
Colt's team put the piston-powered Advanced Law Enforcement Carbine through its paces, shooting mag after mag in quick order without incident. This was a tough act to follow for the next presenter, intending to demonstrate the effectiveness of his proprietary metal finish formula and process. Common courtesy dictates that he will not be identified here. "It eliminates the need for lubrication," he said, pouring handfuls of APD range sand down the barrel and into the receiver of an M16 type rifle just before firing. Painfully, one pop was all he got and no amount of pulling on the charging handle would help. Damn that Murphy…
Once the last round had been fired in formal demonstrations the line opened up for event attendees to come forward and put a few rounds downrange. Sadly, the Minigun had left the range.
National Defense Industrial Association's Small Arms Systems Division
Small Arms Review strongly supports the work of NDIA. Make plans now to be at the 2007 Small Arms event in Virginia Beach, Virginia, 7 to 10 May. For membership categories and other information contact:
National Defense Industrial Association
"Strength Through Industry and
Technology"
2111 Wilson Boulevard, Suite 400
Arlington, VA 22201
www.ndia.org
This article first appeared in Small Arms Review V10N1 (October 2006)