Small Armes Review Editorial Staff
TangoDown
Vickers Tactical GLOCK 9mm/.40 Double Stack Magazine Pouch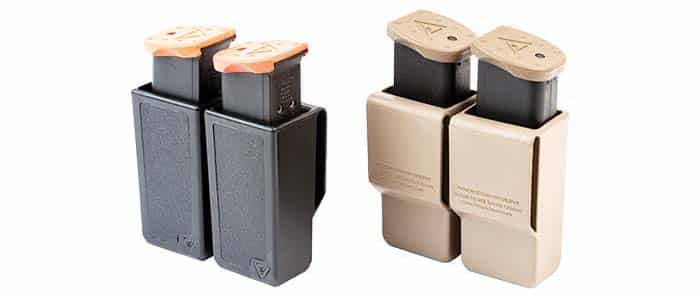 While on active duty, Larry Vickers was heavily impressed with Milt Spark's magazine pouches for the 1911 and now TangoDown brings to life a version for Glock mags, the Vickers Tactical GLOCK 9mm/.40 Double Stack Magazine Pouch (VTGMP-01). With the approval of the team at Milt Spark's Holsters, the original design features were updated to accommodate double stack 9mm/.40 magazines. The goal was to make a product that was incredibly durable, but comfortable for daily use. The pouch fits 1.75-inch wide pistol belts and features tough, injection molded DuPont Hytrel for superior impact resistance and wear, a smooth exterior with large radiused corners for user comfort. And, the double pouch can be separated into two single pouches
MSRP: $24.95 | tangodown.com
CHIPOTLE PUBLISHING
Small Arms Review & Small Arms Defense Journal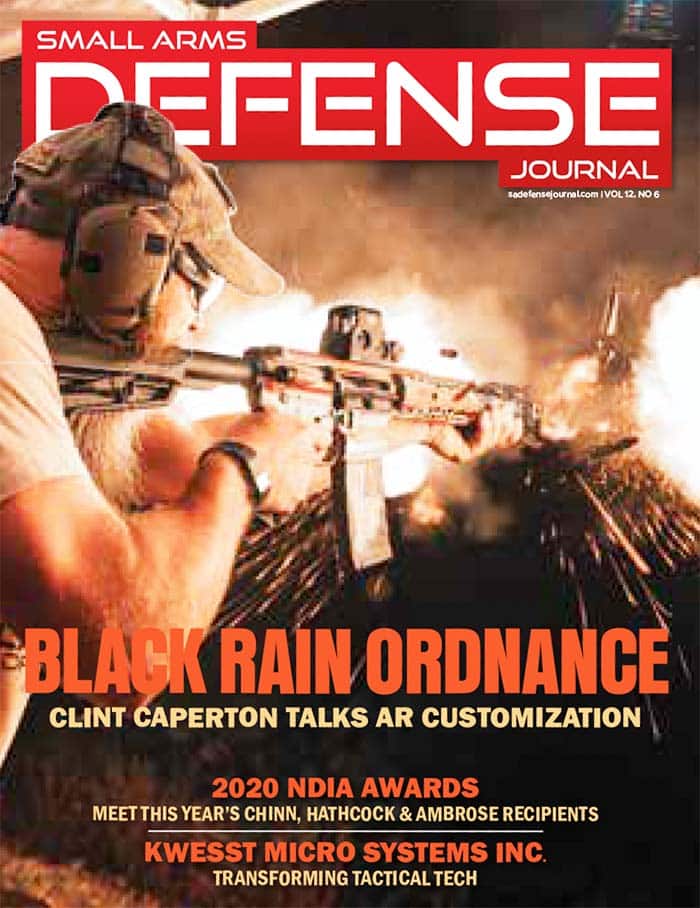 Chipotle Publishing, LLC, is pleased to offer two printed publications for firearm enthusiasts: Small Arms Review, which covers all aspects of current and collectible small arms with an emphasis on the US commercial market; and Small Arms Defense Journal, a technical journal providing in-depth reviews, news and analysis of military small-arms, with a global perspective.
MSRP: 1-year SAR or SADJ subscription: (US) $39.95 / (INTL) $69.95 | chipotlepublishing.com
TangoDown
TD M-LOK Compatible Vertical Grip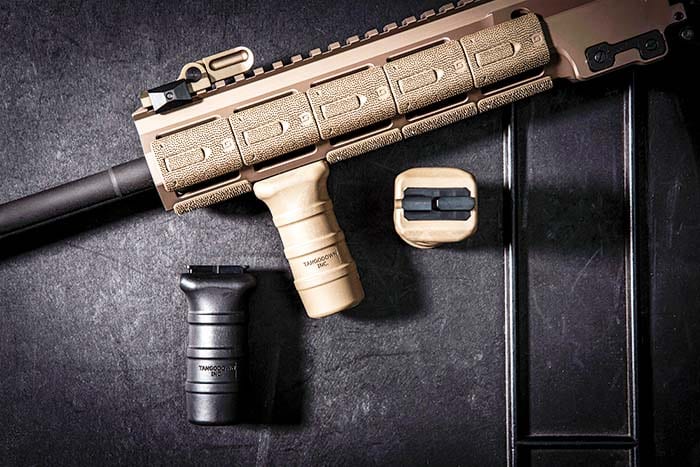 TangoDown is excited to announce the arrival of its newest vertical grip: the TD M-LOK Compatible Stubby Vertical Grip (BGV-ML1). It's patented mounting interface easily attaches to slotted rail systems and only requires one set screw for quick installation. The BGV-ML1 is made of the same durable material as the company's other vertical and will provide years of use. Notable features include needing only one set screw for installation, stainless-steel fasteners with pre-applied Vibra-Tite thread locker, aircraft grade aluminum construction, and a type III hard coat anodized finish.
MSRP: $41.95 | tangodown.com
Faxon Firearms
Modular Magazine Extensions for Glock 19 and Faxon FX-19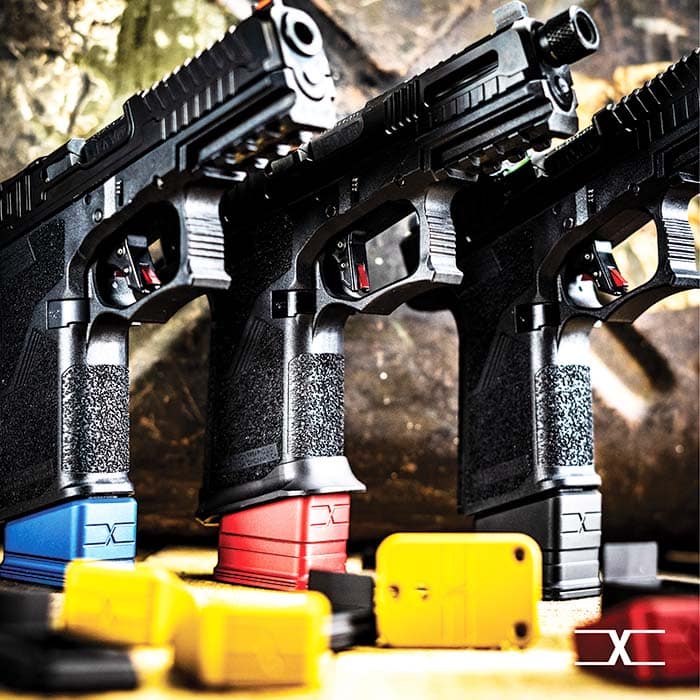 Faxon Firearms Modular Magazine Extensions are rigorously tested with and engineered for the Glock 19 and Faxon FX-19 handgun platform. Machined from 6061 T6 aluminum with a type II anodized finish, the unique modularity of these extensions allows users to choose from a number of setups and finishes for their Glock 19 pistol or Faxon FX-19 pistol. Available in +3, +5, and combo kits.
MSRP: $50 | faxonfirearms.com
Hiding Hilda
Pistol Wear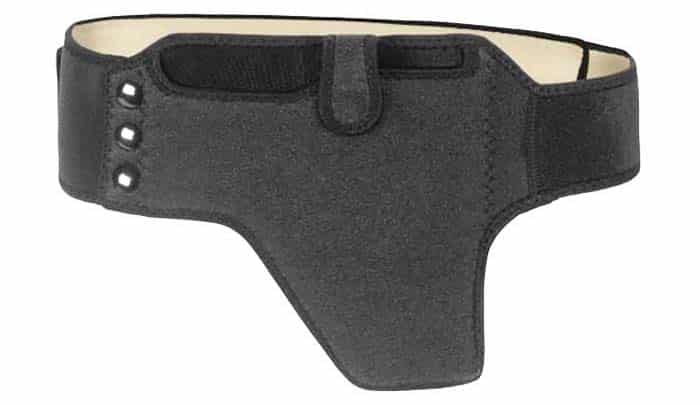 Pistol Wear is Hiding Hilda's most comfortable holster. This versatile, unisex holster was designed for casual, athletic or professional dress attire. It has a soft, cushioned holster body designed for under arm, IWB or OWB carry. Great with yoga pants! Pistol Wear concealment holsters are comfortable and include an adjustable support strap that can be placed anywhere to achieve the most comfortable fit.
MSRP: $50.00 | hidinghilda.com
Aero Precision
Aero Precision Adjustable Gas Block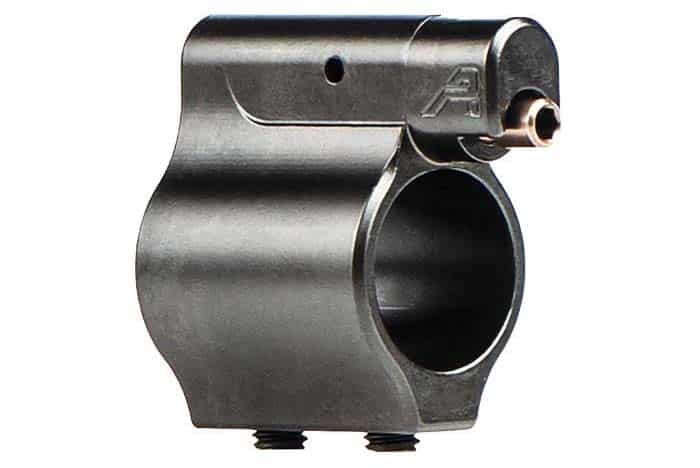 The Aero Precision Adjustable Gas Block is a detent-locking, adjustable gas block providing 15 adjustment settings, allowing shooters to finely tune the gas system on their AR15- and AR308-pattern firearms. Designed with a sacrificial chamber to mitigate carbon-locking, and to help with cleaning if it does occur, this part works to remedy the traditional pitfalls of adjustable gas blocks. A perfect upgrade for competitive and casual shooters!
MSRP: $64.99 | aeroprecisionusa.com
Aero Precision
BREACH Ambidextrous Charging Handle

The Aero Precision BREACH is a rugged, ambidextrous charging handle for the AR15 and AR308 platforms. Built from the ground up with durability in mind, the BREACH provides an upgrade in both performance and quality. Featuring a reinforced body, gas deflection shelf, and ambidextrous controls, this charging handle is a perfect addition to new builds and a great upgrade for an existing one!
MSRP: $79.99 | aeroprecisionusa.com
Faxon Firearms
EXOS Pistol Compensators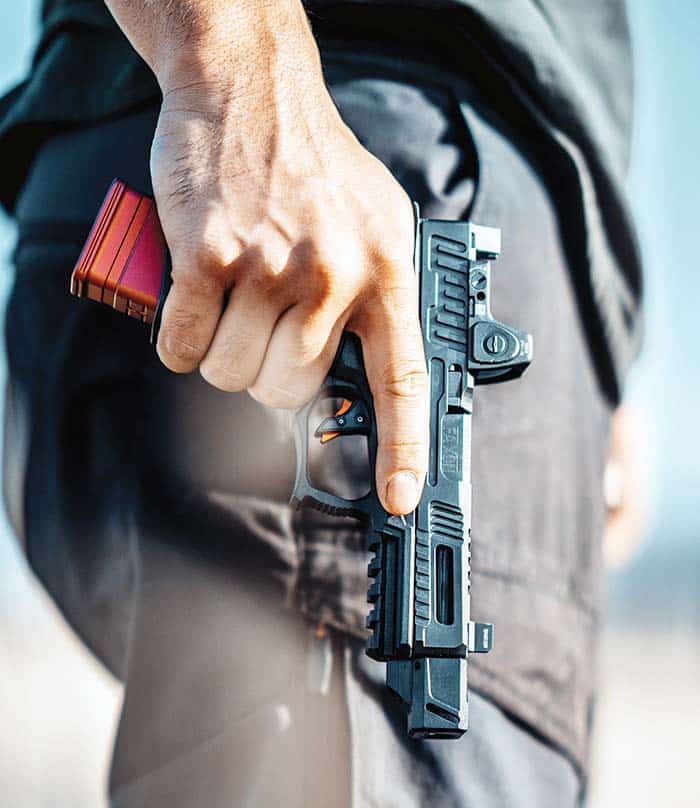 Faxon's new line of EXOS Pistol comps (for Glock, SIG, M&P, and FX-19) are made of black anodized 6061 aluminum. They feature a uniquely angled front-port, single-chamber design enabling the compensator to improve consistency while reducing muzzle climb and recoil. The angled side ports allow gas to deflect upwards, as opposed to only deflecting sideways, reducing up and down muzzle movement and improving reliability.
MSRP: $85 | faxonfirearms.com
Hiding Hilda
Rhonda Concealed Carry Mini Backpack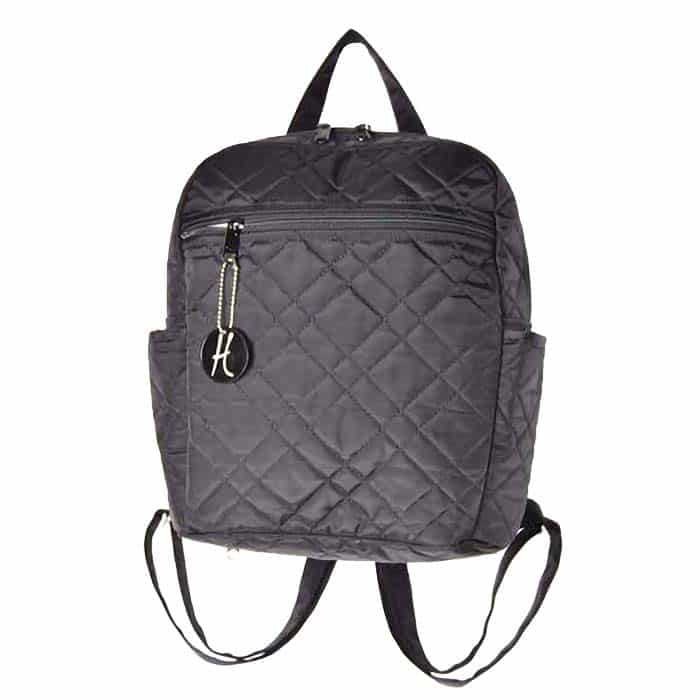 Hiding Hilda is excited to introduce Rhonda—its new Concealed Carry Mini Backpack! Rhonda is made in America and perfect when you're on the go! Plenty of room for full-sized wallets. Lots of outside pockets make finding your essentials easy. Lightweight and machine washable, with the ability to lock the concealment pocket (locks not included). Includes removable leather holster. Fits most firearms.
MSRP $109.00 | hidinghilda.com
Occam Defense
Four Prong Flash Hider
The Occam Defense 4 prong ODS-FH Flash Hider is effective at flash hiding through rapid dispersal of exhaust gases so they cannot ignite. The ODS-FH accepts Dead Air Keymount cans (Sandman, Nomad, etc.), along with Energetic, Silencerco, Aklys, and others through the use of the KYMO adapter on the can itself. The ODS-FH is available in 14-1L, 1/2-28, and 5/8-24 threads. The bore is sized for .30 caliber (7.62mm) AND smaller bores.
MSRP: $109.95 | occamdefense.com
CHIPOTLE PUBLISHING
The Vickers Machine Gun: Pride of the Emma Gees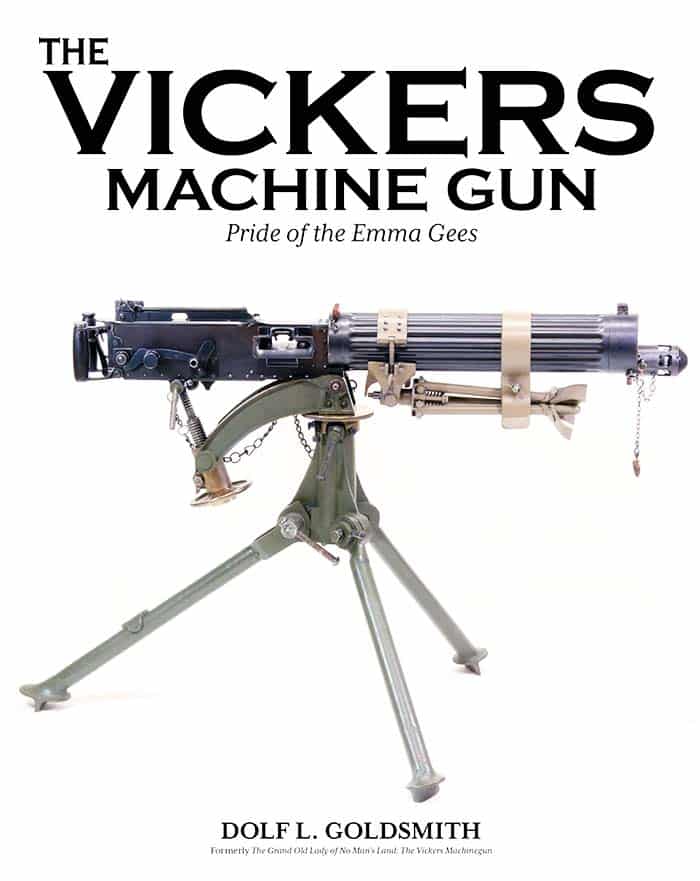 The Vickers machine gun was such an integral part of 20th century history that it's embedded in almost every history book of the two Great Wars. Historian and machine gunner Dolf L. Goldsmith's 1994 classic, The Grand Old Lady of No Man's Land, is updated with more than 270 pages of new information, color photos and research completed by Dolf and three more Vickers historians, Richard Fisher, Robert G. Segel and Dan Shea. This is the ultimate collectors' book for Vickers machine gun enthusiasts, historians, collectors, and scholars alike!
MSRP: $129.95 | chipotlepublishing.com
Spyderco
Endura 4 Lightweight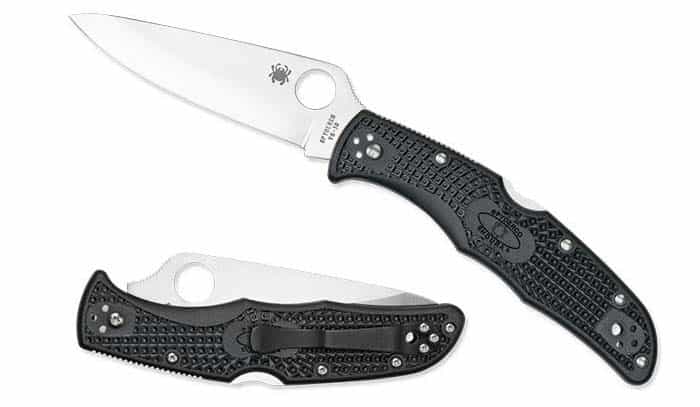 Over 30 years ago, Spyderco's original Endura revolutionized the knife industry as one of the first clip-carried lightweight folders. The fourth generation Endura 4 continues this proud tradition, offering a sturdy, saber-ground VG-10 stainless steel blade, a stout back lock mechanism, skeletonized stainless steel liners, and lightweight, injection-molded handle scales. The glass-filled-nylon scales are Bi-Directional Textured for a secure grip and are home to a four-position pocket clip that supports all possible carry positions.
MSRP: $130.00 | spyderco.com
Elite Survival Systems
Guardian Backpack
The unique design of the Guardian EDC Concealed Carry Laptop Bag combines the versatility of a modular pack with the internal features of a daily carry CCW pack, complete with a dedicated concealed carry compartment. The zippered concealment compartment, with internal holster, is accessed from either side of CCW backpack for ambidextrous carry. There's also a zippered eyewear pocket with a soft interior lining on top of the bag. The yoked carry system has a vented mesh back panel and padded grab handle.
MSRP: $139.95 | elitesurvival.com
Streamlight, Inc.
Wedge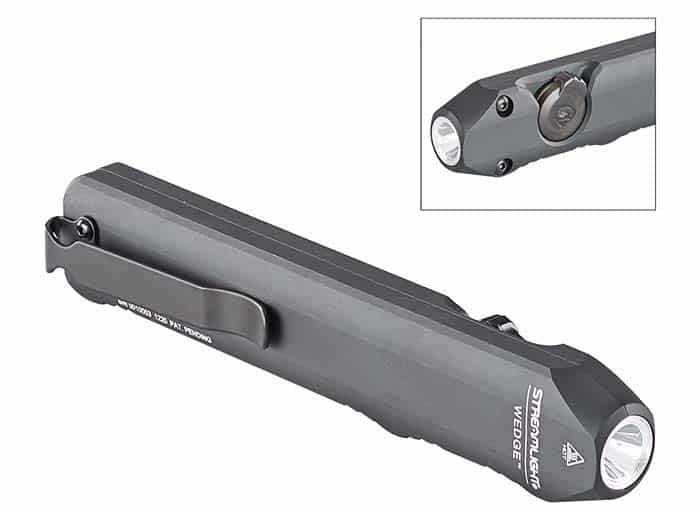 The Wedge is a USB-C rechargeable, everyday carry flashlight with a thin, compact design for deep pocket carry. Featuring an intuitive rotating thumb switch, the Wedge provides two modes: 300 lumen constant-on mode and 1,000-lumen momentary THRO (Temporarily Heightened Regulated Output) mode. It's both slim and flat so that it can be carried comfortably, features a reversible pocket clip and allows for full concealment in a pants pocket. Available in black and coyote.
MSRP: $149.95 | streamlight.com
Meprolight
Mepro FT Bullseye Front Sight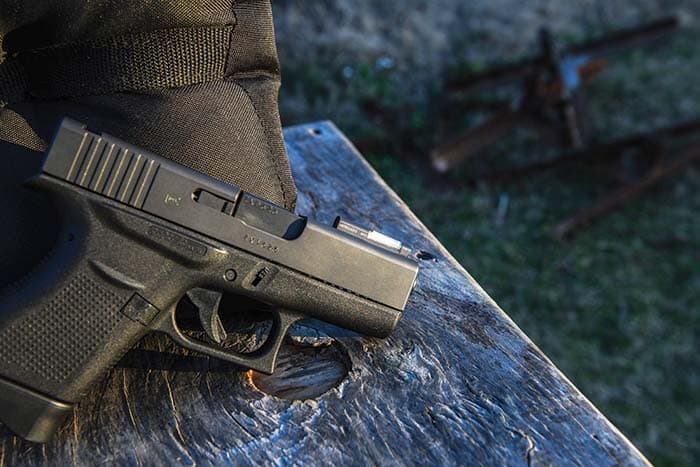 Mepro FT Bullseye Front Sight is possibly the world's brightest and smallest reflex-style optic for today's pistols. It's designed to be so intuitive that it will make you a much faster and accurate marksman. This sight offers one serious advantage over other sights in its category, it's always on, always ready are designed to make contact with everything you aim for!
MSRP: $149.99 | meprolight.com
Primary Arms Optics
Primary Arms SLx Advanced Push Button Micro Red Dot Sight – Gen I
The Primary Arms SLx MD-20 Micro Red Dot Sight is Primary Arms Optics' newest version of their trusted micro red dot. The redesigned body features an aggressive style with low-profile, shielded adjustment turrets to minimize the risk of snagging in rifle cases or the bush. The high-power emitter provides true daylight brightness yet retains both night vision compatibility and long battery life. It also comes with a lifetime warranty.
MSRP: $149.99 | primaryarms.com
Timney Triggers
CZ457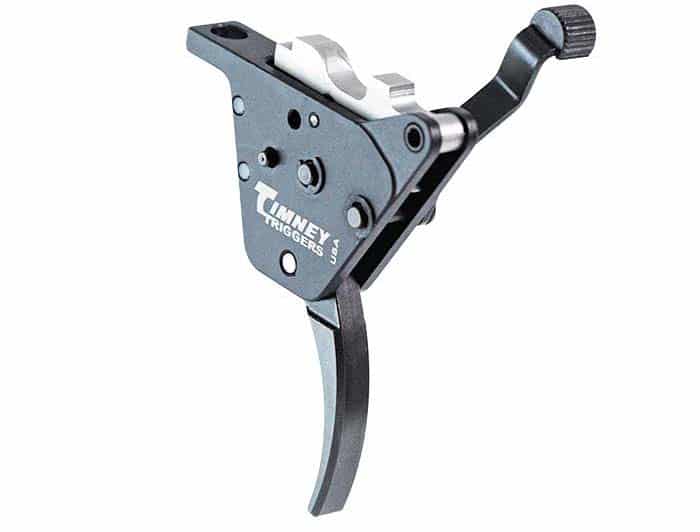 Designed to be robust, user-friendly, and adjustable for pull weight and over travel, yet delicate enough to be set with a pull weight as low as 10 ounces or up to 2 pounds. Every part of the trigger is machined using state-of-the-art technology ­—no skimping with metal injection molding or stamped, old-school parts. The CZ 457 replacement trigger features Timney's new Sear Engagement Adjustment Lock designed, (SEAL'd) that ensures a user-friendly experience. Fits all CZ 457 actions.
MSRP: $174.99 | timneytriggers.com
Timney Triggers
Glock Alpha Competition Series Gen 3-4
The Timney Alpha Competition trigger answers the long-standing call for a trigger that offers custom-grade feel and performance that matches the reliability of the Glock Safe-Action system. The Alpha Competition trigger provides an improved trigger design that does not sacrifice any part of the host Glock's reliability. Timney Alpha Competition trigger for Glock Gen 3-4 features a factory pull weight of 3 pounds, and keeping up with Timney's commitment to listen to their customers, the trigger can be installed easily without a gunsmith's assistance.
MSRP: $164.99 | timneytriggers.com
Occam Defense
Hex 2.0 Folding Stock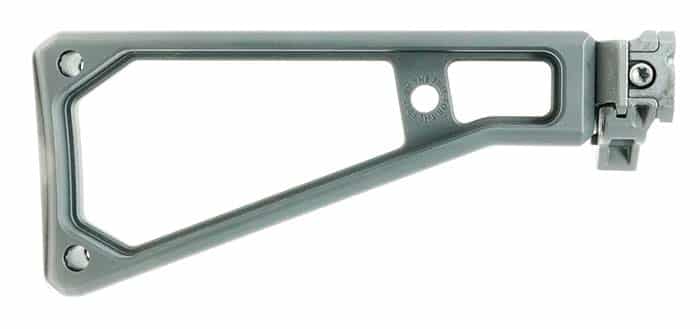 The Occam Defense Hex 2.0 FOLDER is machined at its family run factory in Moscow, Idaho, and is crafted for comfort, ergonomics, and rigidity (the hinge is made by SIG Sauer). The Hex 2.0 Folder fits any rifle or SBR with a 1913 rear stock adapter. Examples of compatible firearms are the Brownell's BRN180, SIG-Sauer MPX, MCX, HK MP5 with 1913 adapter, CZ EVO, some AKs, Ruger PC Charger (if SBR'd). Not legal for installation on pistols.
MSRP: $199.95 | occamdefense.com
Streamlight, Inc.
TLR-7 Sub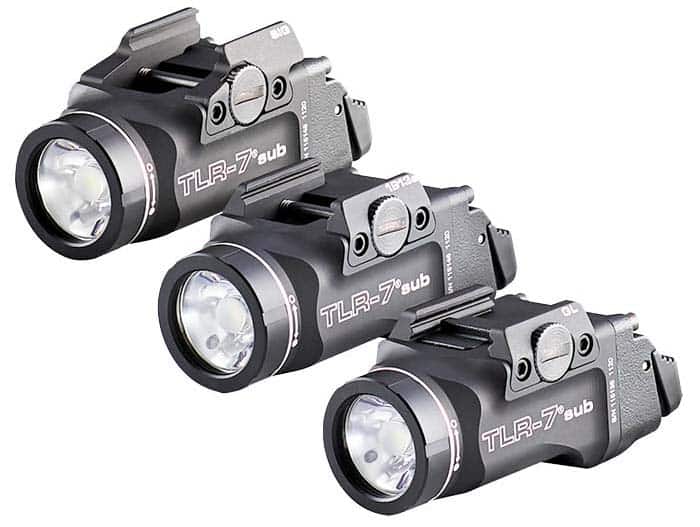 The ultra-compact, low profile TLR-7 Sub is a weapon-mounted tactical light with an ergonomic on/off position rear switch, designed to fit select GLOCK, SIG Sauer, Smith & Wesson, Beretta, Springfield Armory and Heckler & Koch railed subcompact handguns. It features an LED that delivers 5,000 candela and 500 lumens and offers two lighting modes, LED only or LED strobe, each with a runtime of 1.5 hours. It uses a single 3 Volt CR123A lithium battery.
MSRP: $225.95 | streamlight.com
Elite Survival Systems
Stealth Backpack
With its inconspicuous sports-pack styling and robust construction, the Stealth Backpack was designed for discreet storage and transport of a rifle and accessories. The discreet rifle backpack with a handgun compartment is ideally sized to conceal a broken-down or short-barreled rifle with plenty of room for mission-critical gear. The modular, adjustable tie-down system of this quick-release rifle backpack allows the operator to configure the rifle for quick access or secure storage, while the low-profile pistol compartment provides rapid access to a handgun. This concealed weapon backpack for AR rifles & pistols includes a large accessory compartment with attachment options for Velcro or MOLLE pouches, and has ample room for magazines and accessories.
MSRP: $229.95 | elitesurvival.com
Primary Arms Optics
Primary Arms SLx 1X MicroPrism with Red Illuminated ACSS Cyclops Gen 2 Reticle
The Primary Arms SLx 1x MicroPrism is an advanced CQB optical system with an ultra-compact housing, compatible with backup iron sights and magnifiers. Combining the best features of red dot sights and prism scopes, the SLx 1x MicroPrism is fast, lightweight, and highly durable. With its adjustable diopter, daylight-bright illumination, and updated ACSS Cyclops G2 reticle, the new 1x MicroPrism offers greater precision than a basic red dot while accommodating even severe astigmatism.
MSRP: $249.99 | primaryarms.com
Spyderco
YoJumbo Black Blade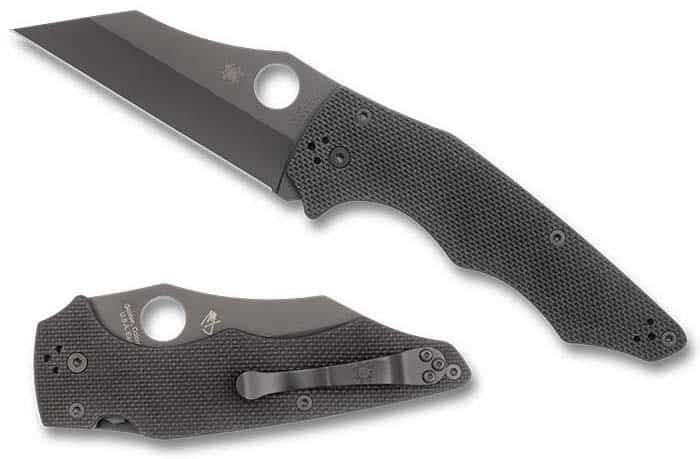 Designed by personal-defense expert Michael Janich, the YoJumbo is a supersized folding knife that offers the extreme cutting power of a straight-edged Wharncliffe blade profile. The hollow-ground CPM S30V blade of this version features a stealthy, diamond-like carbon (DLC) coating complemented by matching black-coated handle hardware and a black, four-position pocket clip. The handle's nested stainless-steel liners support coarse-textured G-10 scales and serve as the foundation of its high-strength "Compression Lock" mechanism.
MSRP: $285.00 | spyderco.com
Yankee Hill Machine
The Phantom .22
The Phantom .22 provides superior sound reduction thanks to a newly designed baffle system, and the rear of the blast chamber serves as the takedown tool for the muzzle cap. Features include a shielded, interlocking baffle stack made from heat-treated 17-4 stainless-steel and a two-part outer assembly with an aluminum blast chamber and tube which houses the baffle stack. The Phantom .22 can handle rounds up to 5.7x28mm while only weighing 4 ounces.
MSRP: $388 | yhm.net
Kestrel Ballistics
Kestrel HUD Heads Up Display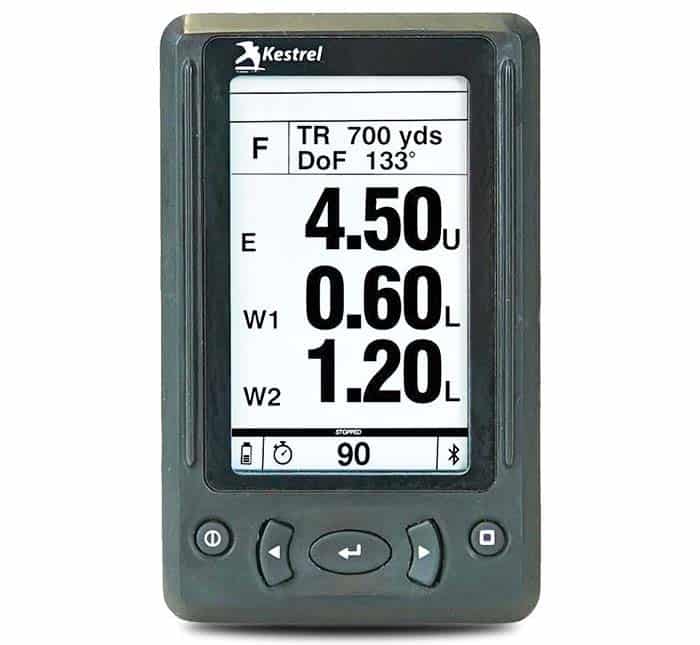 View critical target data and information without ever breaking out of the scope. The Kestrel HUD is a gun-mounted display that gives you instant access to real-time shooting solutions from your Kestrel 5700. The 2.5-inch screen puts bold, sunlight-readable numbers right in your line of sight – maximizing your focus for effective rapid engagement of multiple targets.
MSRP: $399| kestrelballistics.com
Yankee Hill Machine
R9 9mm

When YHM set out to make the R9, its goal was a 9mm suppressor capable of handling high volumes of fire and able to run other calibers such as .300 Blackout and .308 Winchester. Primarily focused on suppressing 9mm (specifically, sub-machine guns and SBRs,) it was made at a budget-friendly price while maintaining the durability one expects from YHM. The R9 is capable of being used on a handgun in conjunction with YHM's Nielsen booster assembly.
MSRP: $494 | yhm.net
CZ-USA
CZ-USA P-10 M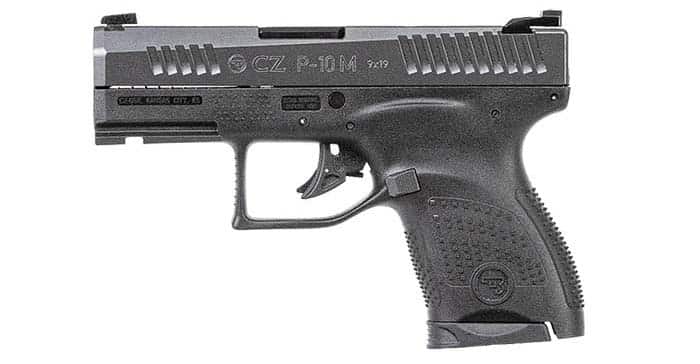 CZ-USA has announced a new era in concealed carry pistols with the its micro-compact P-10 M pistol release. This gun has everything people love about CZ pistols while being engineered explicitly for flawless concealed carry. The first thing most people notice about the P-10 M is its completely smooth appearance. There are no controls or levers on either side of the gun other than the magazine release.
MSRP: $499 | cz-usa.com
Mossberg
MC2sc 9mm Subcompact Pistol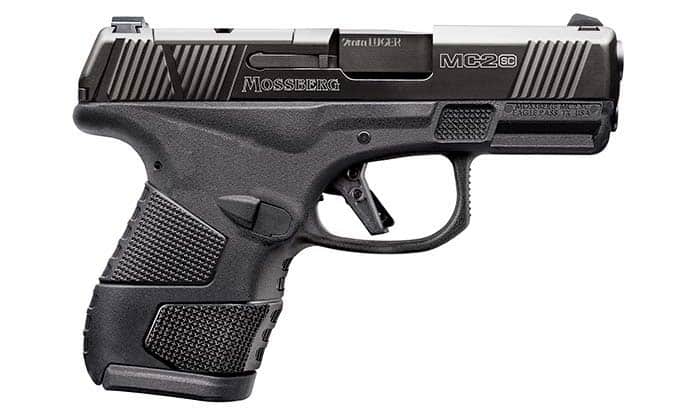 Mossberg has expanded its popular MC2 9mm pistol line-up with a new subcompact – the MC2sc. Double-stack magazines provide a slim profile with 11+1 or 14+1 capacity and an optics-ready slide allows for direct mounting of micro dot optics. Standard features include glass-reinforced, polymer frame; stainless steel slide; dovetailed-mounted, white dot sights; flat-profile trigger; and Mossberg's Safe Takedown System which allows for disassembly, unlike competitive products, that does not require the user to pull the trigger.
MSRP: $555 – $663 (Tritium Night Sights)| mossberg.com
Meprolight
Mepro RDS PRO V2 with Green or Red Reticle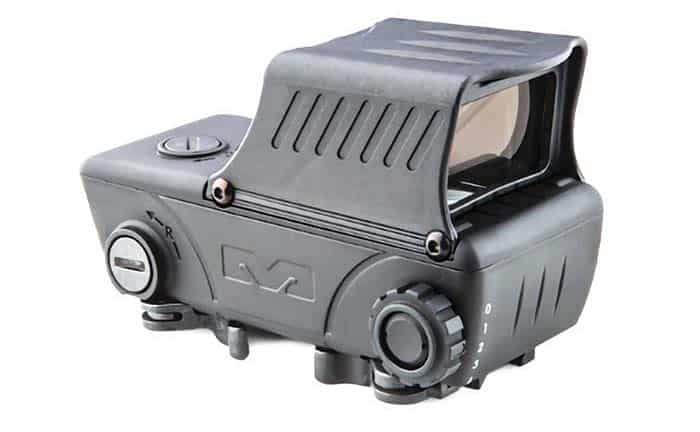 The Mepro RDS Pro V2 is the civilian counterpart to the battle sight that's trusted by the Israel Defense Force. It features a 2 MOA red dot, 16 brightness settings for any lighting conditions, and reticle patterns available in either red or green. Powered by a AA battery that will last for thousands of hours, its efficient LED power consumption, auto-shutoff, and motion sensor conserve power so the sight is ready when you need it most.
MSRP: $599.99 | meprolight.com
Mossberg
590S Pump-action Shotgun 12-Gauge

Mossberg continues its legacy of industry firsts with the introduction of the 590S Series of 12-gauge pump-actions; capable of cycling 1.75, 2.75 and 3-inch shotshells interchangeably without the use of an adaptor. Two full-length stock options and two versions of the bird's head-gripped Shockwave are available. Key design changes include redesigned elevator, bolt slide and energy-absorbing bumper. Load the type of shotshells for your specific shooting needs in any combination, or simply increase the overall capacity with use of shorter shell lengths.
MSRP: $605 – $708 | mossberg.com
Trijicon
Trijicon Ascent Riflescope

The Trijicon Ascent riflescope is ideal for elevating shooter performance among tactical applications and is available as a 1-4×24 or 3-12×40. The Ascent delivers fully multi-coated broadband anti-reflective glass for excellent light transmission and brilliant edge-to-edge clarity. With a mid-range price point, these models are a lightweight addition to any tactical platform and come with a matte finish and tactical knurling. An easy focus-eyepiece and extra-wide field of view allow for maximum situational awareness and engagement of targets.
MSRP: $650-$699| trijicon.com
Trijicon
Trijicon RMRcc

Born from the legendary Trijicon RMR, the thinner, lower profile RMRcc provides fast, both-eyes-open target acquisition, accurate aiming, and proven reliability. Weighing a mere 1-ounce with battery installed and measuring less than 1-inch in width and height, the RMRcc is ready to pair with any concealed carry pistol. The RMRcc features easy-to-use buttons, a common 2032 battery with up to 4 years of illumination and is available in either a 3.25 or 6.5 MOA dot size that provides a bright aiming point under any condition. The RMRcc is parallax-free, meaning simple "point and shoot" operation with superior accuracy.
MSRP: $699| trijicon.com
EOTECH
EXPS3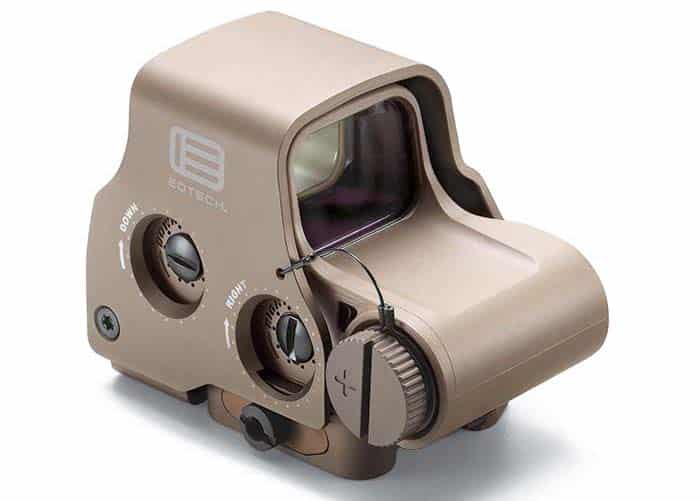 The EXPS3 weapon sight is an excellent choice for professionals. The EXPS3 offers true two eyes open shooting for fast target acquisition, night vision compatible settings, and a 7mm raised, quick detach base for lower 1/3 iron sight co-witness.
MSRP: $725 | eotechinc.com
Kestrel Ballistics
Kestrel 5700X Elite Weather Meter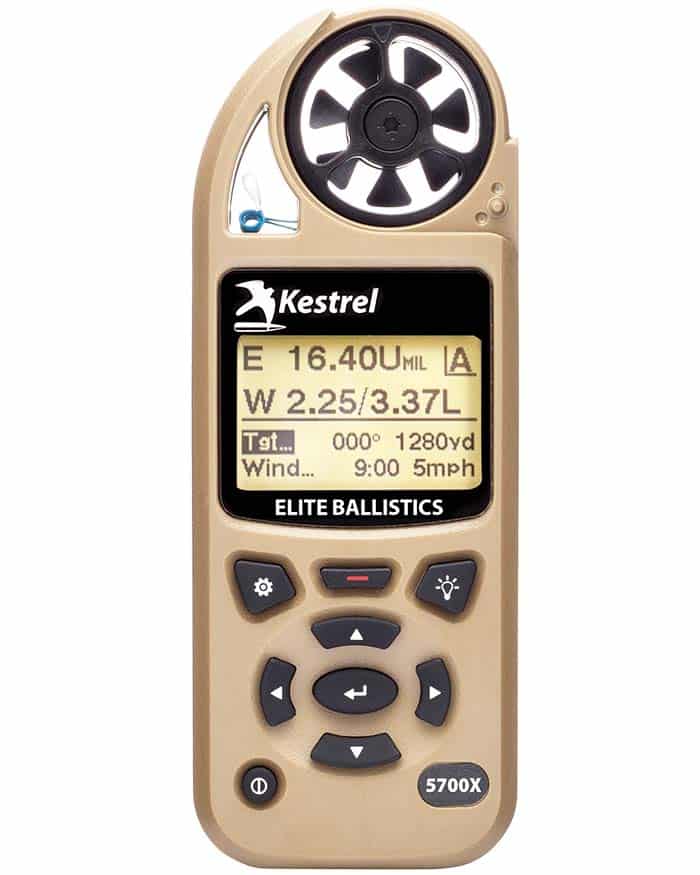 Featuring the same accuracy and reliability as the industry gold-standard 5700 Elite, the 5700X packs more performance and processing power to deliver faster firing solutions in the field for multiple, extreme long-range targets.
MSRP: $849 | kestrelballistics.com
CZ-USA
CZ Scorpion EVO 3 S1 Pistol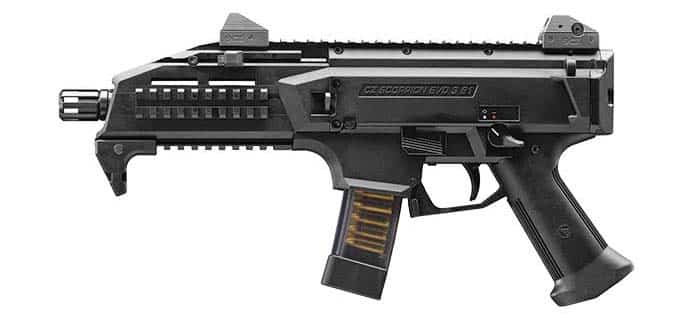 The CZ Scorpion EVO 3 S1 9mm pistol is a highly customizable sub-gun with a blowback-operated semi-auto action. With smooth performance and enhanced customizability, the CZ Scorpion EVO 3 S1 9mm pistol offers dependability and comfort perfect for the range.
MSRP: $995 | cz-usa.com
TacSol / Tactical Solutions
Owyhee Takedown Rifle

The OWYHEE TAKEDOWN BOLT ACTION .22 RIFLE is a lightweight (3.9 pounds), compact, highly accurate, and collapsible rifle designed with the highest level of quality engineering and craftsmanship. Tactical Solutions says its Owyhee Takedown rifle is the only takedown bolt-action .22 rifle available on the market.
MSRP: $1,065 | tacticalsol.com
TacSol / Tactical Solutions
X-RING VR Rifle

The Tactical Solutions X-RING VR .22LR semi-automatic rifle is manufactured with the highest level of innovative engineering and craftsmanship. This .22 rifle has proven its durability in the field every day with hunters and plinkers and has also won numerous competitive world championship titles, which is a testament to its inherent accuracy and reliability. The lightweight and durable X-RING VR comes standard with features and benefits far above any other .22 rifle.
MSRP: $1,100 | tacticalsol.com
Zastava Arms USA
PAP M90 5.56 Rifle

The PAP M90 is the perfect rifle for someone looking for the ruggedness of an AK, but still wants to use the ever-popular 5.56 round. It's the perfect fit for the first time AK owner, as well as the biggest AK enthusiast.
MSRP: $1,279.99 | zastavaarmsusa.com
EOTECH
Vudu 1-8×24 SFP Riflescope

Like other Vudu scopes, the 1-8X24 Second Focal Plane features aircraft-grade aluminum construction and bright XC High-Density glass, surgically precise turrets, and intuitive push-button reticle illumination controls. The HC3 quad-level BDC reticle features a daylight bright, 0.5 MOA illuminated center dot and 2-, 5-, 8.5- and 12.5-MOA subtensions on the vertical axis (at 8X power). The scope's field of view at 100 yards is 105.8 feet at 1x and 13.2 feet at 8x.
MSRP: $1399 | eotechinc.com
FK BRNO US
FK BRNO PSD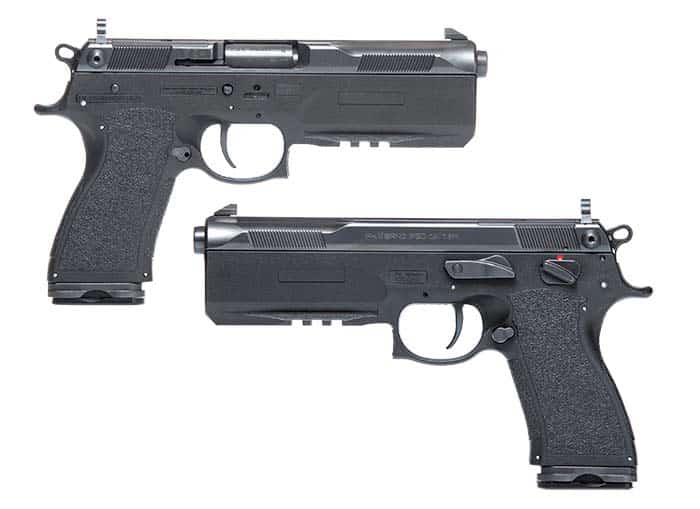 The FK BRNO PSD pistol is a single action, tilting barrel, positive-lock mechanism pistol with a patented recoil attenuating system developed specifically to handle the potent and highly terminal 7.5 FK cartridge. The PSD pistol comes standard with an extra dual-caliber barrel in 10mm/.40 S&W or 9mm NATO and uses standard 7.5 FK multi-caliber magazine. Whether being used for hunting or as a personal defensive firearm, the FK BRNO PSD is a potent partner.
MSRP: $1,650.00 | fkbrnous.com
Armalite
Armalite M-15 18-inch Tactical Rifle

The M15TAC18 blends rugged durability with exacting precision. With its 18-inch stainless steel, black nitride barrel at the heart of its design, the TAC18 is great for a wide range of target engagements. The adjustable gas block allows the user to tune the rifle for optimal efficiency with or without a suppressor.
MSRP: $1,727 | armalite.com
IWI US
Galil ACE GEN II Pistol and ACE GEN II Rifle

The Galil ACE GEN II models in 5.56 NATO are a continuation of the fan favorite Galil ACE. The GEN II Pistol is 7.9 pounds, and the GEN II Rifle is 8.8 pounds. Both feature a shorter safety profile and throw angle, free floating MLOK rail forearm, 30-round capacity, and an updated trigger profile. The GEN II Pistol's barrel is 13 inches with an overall length of 24 inches with the brace collapsed. The GEN II Rifle has a 16-inch barrel and an overall length of 36 inches with the stock collapsed.
MSRP: $1,849 (Pistol), $1,899 (Rifle)| iwi.us
Schmidt & Bender
3-20×50 PMII Ultra Short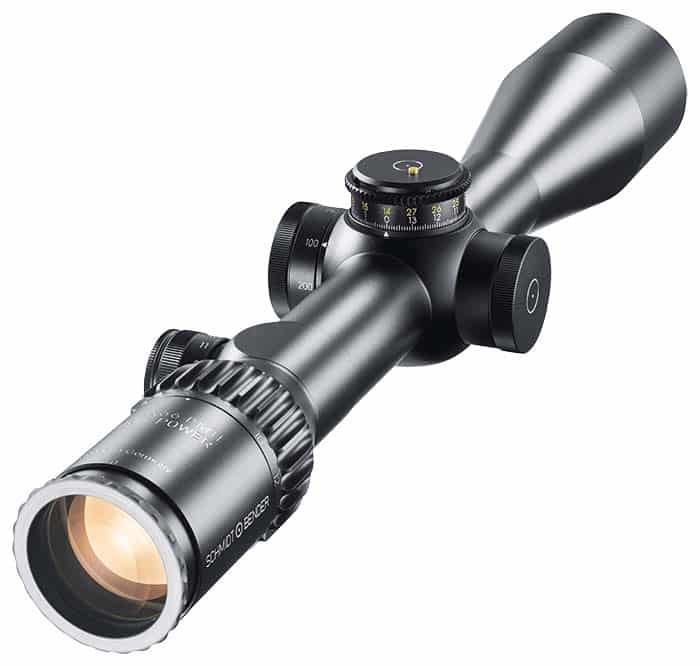 The 3-20×50 PMII Ultra Short is in use by military, police, and competition shooters around the world. The extremely compact and powerful 6.7x zoom scope is rugged and lightweight and therefore ideal for compact weapon systems. Low-profile turrets with an outstanding elevation adjustment of 35 MIL/84 MOA make this riflescope a compact powerhouse which doesn't compromise a millimeter on mechanical reliability or optical performance.
MSRP: $3,495 | schmidtundbender.de/en
Schmidt & Bender
5-45×56 PMII High Power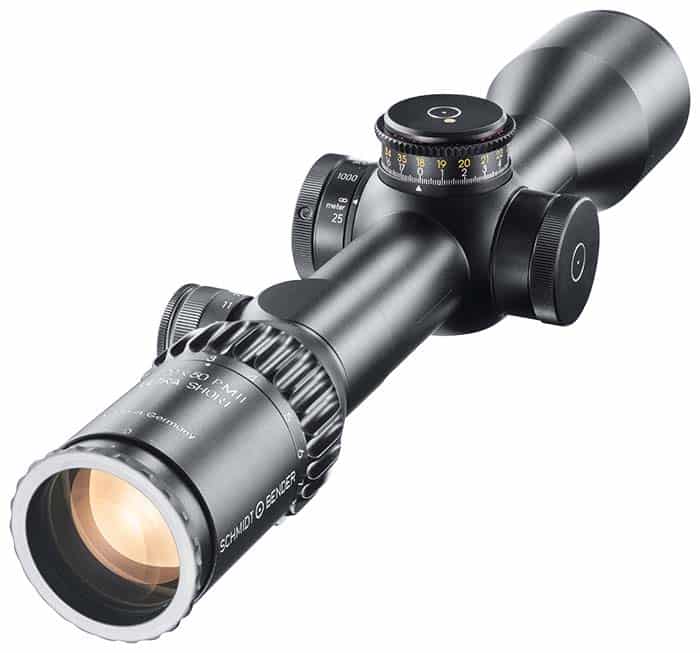 The 5-45×56 PMII High Power has outstanding optical performance over its entire magnification range which is ideal for identifying small targets or spotting your results. Due to solid construction and the use of the highest quality optics, it's designed to cope with the toughest conditions. It is available with Double Turn (DT) turrets with 0.1 MRAD click value or Multi Turn II (MT II) turrets with fine 0.5cm/100m click value for precise zeroing and more accurate shooting.
MSRP: $4,995 | schmidtundbender.de/en
Zastava Arms USA
M93 Black Arrow .50 BMG

The M93 Black Arrow is the rifle you want for long range accuracy. Based on the famous Mauser action, it's a tough, easy to use and reliable rifle for hitting those targets that are normally out of reach.
MSRP: $7,949.99 | zastavaarmsusa.com
This article first appeared in Small Arms Review V25N10 (December 2021)