By Robert Bruce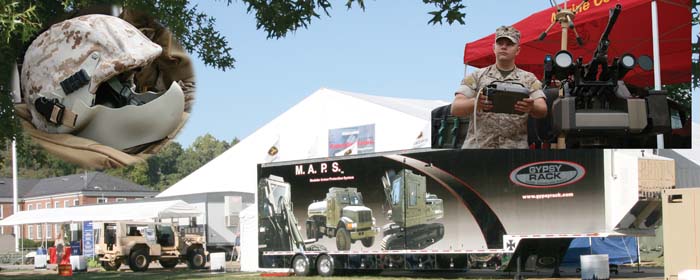 (Editor's note: An "Expo" by definition puts products on display. This one – billed as the world's largest trade show for expeditionary warriors – featured nearly four hundred display booths offering everything a Marine could want from waterproof socks to robotic amphibious scout platforms. SAR dispatched Military Affairs Editor Robert Bruce to find and photograph what's new and interesting. He came back with more than enough photos to fill a whole issue. We've carefully selected a number to bring our readers some highlights of this unique annual event.)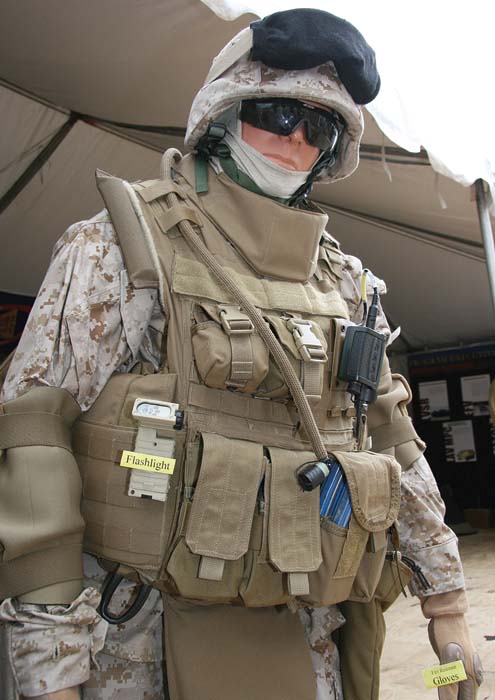 "The history of this exposition reflects one in which displayed items, themes, concepts, and ideas have been developed into fielded systems that ultimately enhanced the performance and warfighting effectiveness of our Corps. As Commandant, I am charged with the training and fielding of Marines, but we rely on industry to provide the technical muscle that makes Marines an effective fighting force. While our immediate focus is on combat operations in Iraq and Afghanistan we must also look to our force for the future, keep our roots tied to the Navy and over-the-horizon warfare in 'every clime and time zone.'" General James T. Conway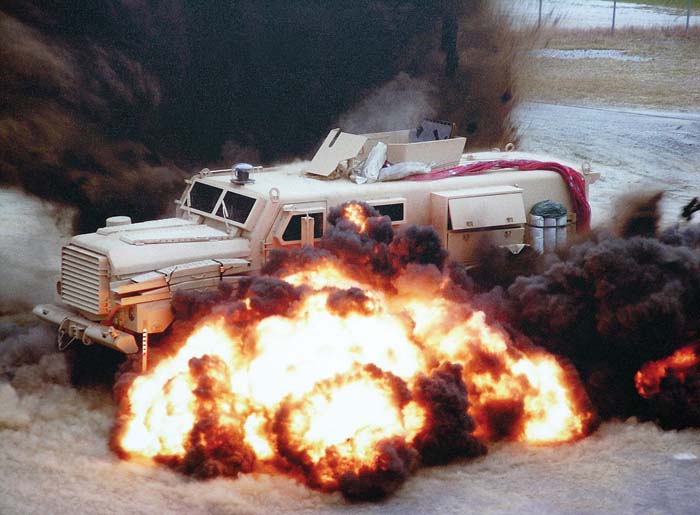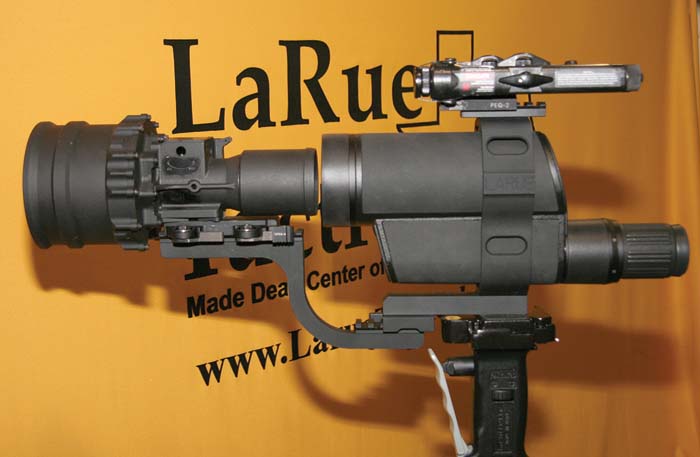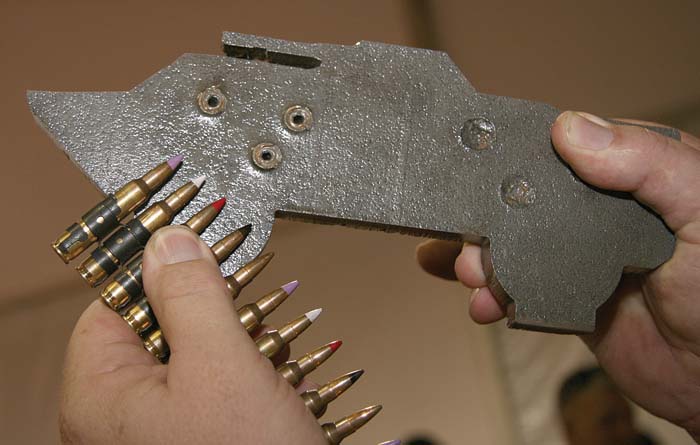 Strategically located less than an hour's drive from the Nation's Capitol, Marine Corps Base Quantico, Virginia, is an ideal venue for the world's largest showcase of products and concepts for expeditionary warfare. This enormous, historic base is known as the "Crossroads of the Marine Corps," home to many of the Corps' most important components.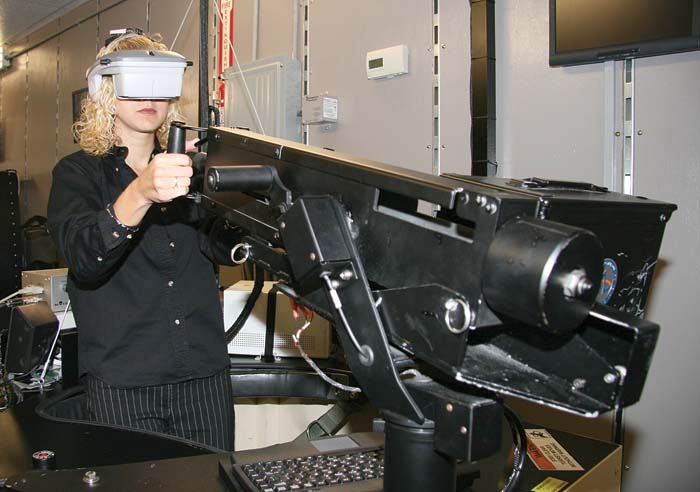 Notable among these is the Marine Corps Combat Development Command, which develops Marine warfighting concepts and determines the Corps' capability requirements for doctrine, equipment, organization, training, education and support.
Additionally, the Marine Corps Warfighting Laboratory, a part of the Development Command responsible for improving current and future naval expeditionary warfare capabilities, is also located aboard the base.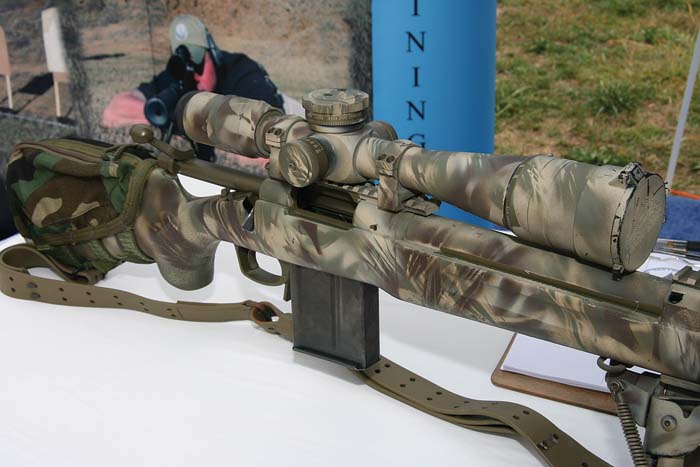 The Marine Corps Systems Command, the Corps' principal agency for acquisition and sustainment of systems and equipment for the Marines' warfighting mission, and a co-sponsor of the 2007 exposition, is located at Quantico.
Many of the personnel assigned to those organizations, along with Congressional leaders, personnel from all the US Armed Forces, high ranking foreign military officers from Washington's many embassies, and of course rank-and-file Marines, visited the exhibit halls during the three day event in October. All of these present exhibitors the widest spectrum of opportunity for effective promotion of their products and services.

Co-sponsored by Marine Corps Systems Command and the Marine Corps League, the exposition occupied a cluster of enormous tents set up on the front lawn of the Marine Corps Base's headquarters building, Lejeune Hall. Additionally, larger pieces of equipment – heavy artillery, hulking mine-resistant armored vehicles, high-technology exhibit trailers, and such – were parked outside in every available bit of lawn.
Evolving Threats
A special pavilion dedicated to equipment for countering improvised explosive devices (IEDs), inaugurated at the 2006 exposition, was once again a featured part of the exposition. With urgency and attention obviously driven by the increased sophistication of "roadside bombs" and escalation in frequency of use, the IED pavilion was a focal point for many attendees. Security for this was particularly tight with every individual subject to metal detector sweep.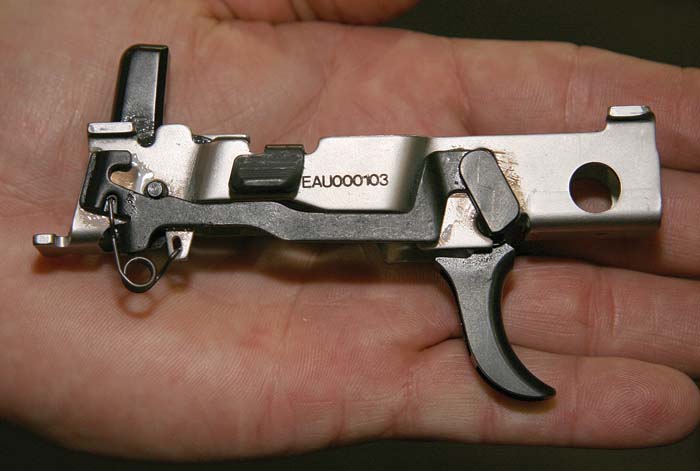 Much of the equipment now being used by U.S. Marines and other U.S. and allied forces in Iraq, Afghanistan, and around the world in the war on terrorism, was first displayed before military leaders, operations planners and acquisition managers at the exposition in past years.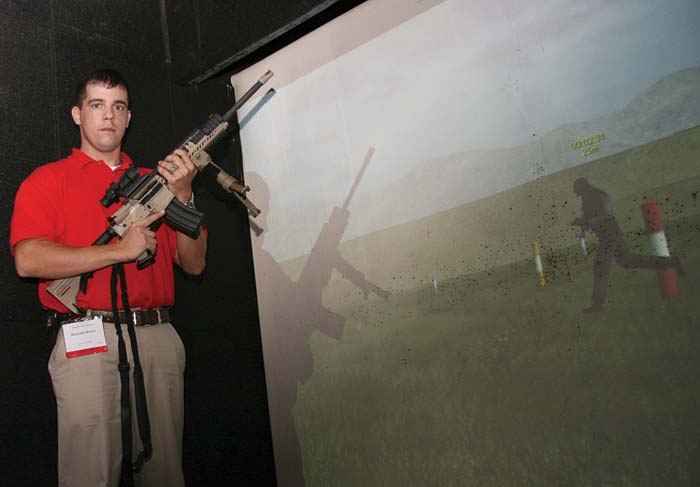 Visitors saw the latest in equipment and technology now in service as well as video presentations, models or prototypes of items soon to become available for use in combat and combat support operations. Defense contractors from around the world presented their companies' products and services.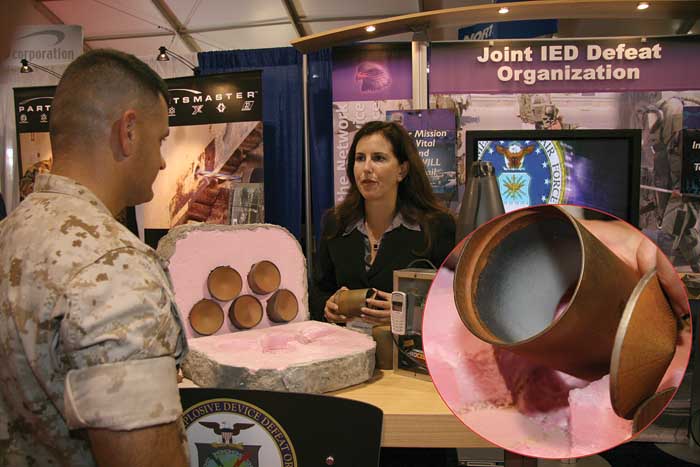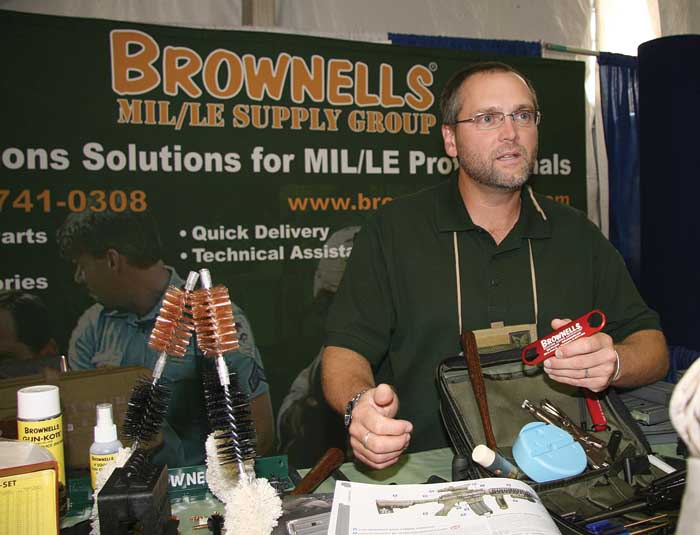 The exposition provides first-hand exposure of the latest in defense manufacturing, science and technology to the users – the men and women who employ, or will soon be employing, many of the products on display in training and combat operations. Just stand to one side at exhibit after exhibit and listen as obviously combat-experienced Marines talk with their buddies about the guns and gear they "wish they'd get" for the next deployment.
Gripes and Grins
The event also gives the users opportunities to convey personal input, including examples of their own combat experiences, and to extend both feedback and suggestions directly to the people who design and produce the world's leading defense-related equipment, systems and services. This was particularly evident at Marine Corps Warfighting Laboratory's interactive exhibit where the actual program managers were on hand to talk with Marines about the new flashlights, body armor, hydration systems and more that are soon to be fielded.
While guns, sighting systems and ammunition were our first choice for examination, SAR also takes interest in other aspects of expeditionary warfare. As such, we have included in this photo report a few things that might seem a bit unusual. Keep in mind Napoleon's sage observation that "An army travels on its stomach." And it also needs to be warm in the winter, dry in the rain, alert after many hours, see in the dark, etc. Marines who aren't terminally miserable will move, shoot and communicate far more effectively.
Inside Track
Several special activities are held in conjunction with the Modern Day Marine Exposition. One of the most important is a special by-invitation-only Report to Industry presented by senior Marine officers closely associated with all aspects of the Corps' equipment and systems research, development, testing and acquisition programs and policies.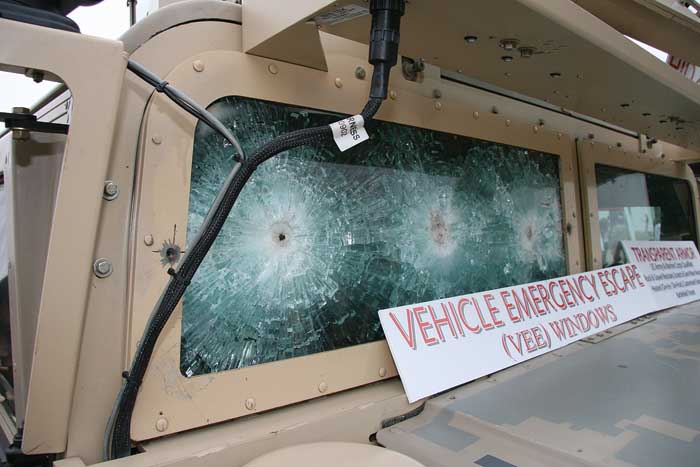 This was followed by Marine Corps Systems Command Program Group Director Briefings in which members of the defense industry were able to learn, directly, from the men and women who manage the programs through which Marines acquire and field weapons and equipment for the Corps' expeditionary missions on the ground, in the air and at sea.
Marines on Parade
Another of the exposition's special activities is the Enlisted Awards Parade, showcasing the incomparable Marine Corps Silent Drill Platoon against the dramatic background of historic Lejeune Hall. In that colorful event, the Commandant of the Marine Corps presented awards for superior service to Marines and Sailors serving with Marine Corps units from around the world.
Find Out More
Modern Day Marine Expo 2008 is scheduled for Sept. 30th – Oct. 2nd, 2008. Information available on the web at www.marinemilitaryexpos.com In addition to its largest annual event in October at Quantico, impressive Modern Day Marine Military Expositions are also held at Camp Pendleton, California, and Camp Lejeune, North Carolina. For more information, contact Modern Day Marine Expositions, 14685 Avion Parkway, Suite 400, Chantilly, VA 20151. Phone: (703) 488-2785; Fax: (703) 488-2725; e-mail: militaryexpo@nielsen.com.
This article first appeared in Small Arms Review V11N10 (July 2008)