John Storie with an FN-FAL in .308 Win.
By Clyde H. Morgan
It would seen to be the perfect marriage: Master skydivers who are also master shootists. At least, that was our plan. All of us were master skydivers because our United States Parachute Association Class D Master Parachutist License said that we were. But most of us must have been master shooters only in our own minds, because many of the would-be reactive targets never had to react. They survived the day relatively unscathed. The same could not be said of our egos.
The Third Annual Chute 'N Shoot at Sherman Hill Public Shooting Center near Forest, Mississippi is now history. It was held in between a few showers on Saturday afternoon, March 20, 1999.
Jumpers came from Texas, Alabama, and Mississippi, but only those with a USPA Class D license were allowed to compete. From 10am until competition began at noon, the sky was filled with fun jumpers. Some competitors used the time to hone their marksmanship skills making sure their rifle scopes had not lost their zero and that their special handloads would knock over the steel targets.
All five competitive events were timed. The maximum time allowed in each event was three minutes. The Winner and Runner-Up trophies were awarded to the two competitors who completed all five events in the least amount of time.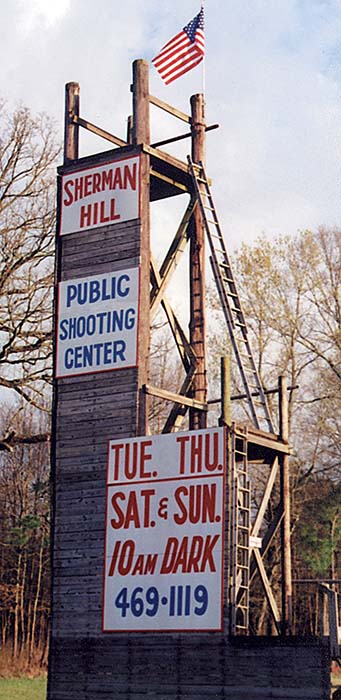 The following is a synopsis of each event:
PARACHUTING: The skydiving event was one jump, judged on accuracy. The judge's stopwatch started when a jumper touched the ground and stopped when he or she touched the 3" center of the 10' ground panel.
PISTOL: The competitors then moved to the Pistol Range. Each, in turn after a one-minute preparation period, was told to load six rounds into a centerfire handgun with iron sights. On the command of "FIRE", the stopwatch was punched and not stopped until six steel pepper poppers, each about 3' tall and shaped like a dip of ice cream on a cone, clanged to the ground. The pepper poppers were staggered from 10 to 25 yards from the shooter. In case of misses, reloads were allowed, but only from loose rounds, not with magazines or speedloaders. The competitors had to shoot from a standing, unsupported position.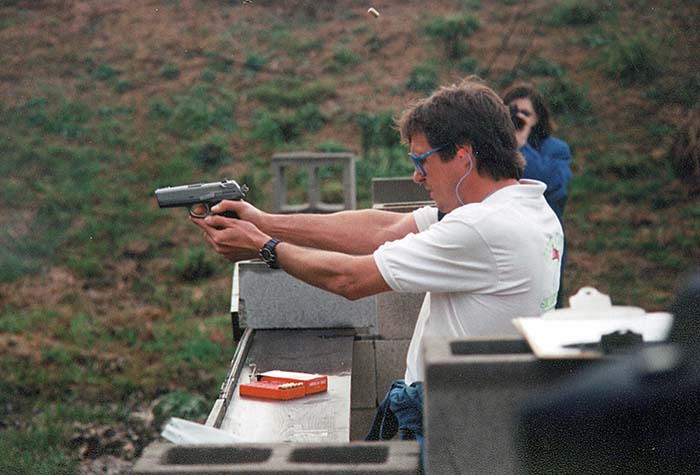 RIFLE: On the Rifle Range the competitors were again given the obligatory one-minute preparation period. Each, in turn, then loaded four rounds into a centerfire rifle with either iron sights or scope. On the command of "FIRE", the competitor had to hit three one-gallon milk jugs filled with water, one each at 40, 80 and 120 yards. When the third jug exploded in an impressive liquid spray, a reactive silhouette target popped-up at 140 yards. When it was hit and fell, the shooter's time was recorded. Again, the competitors fired from a standing, unsupported position and were allowed to reload.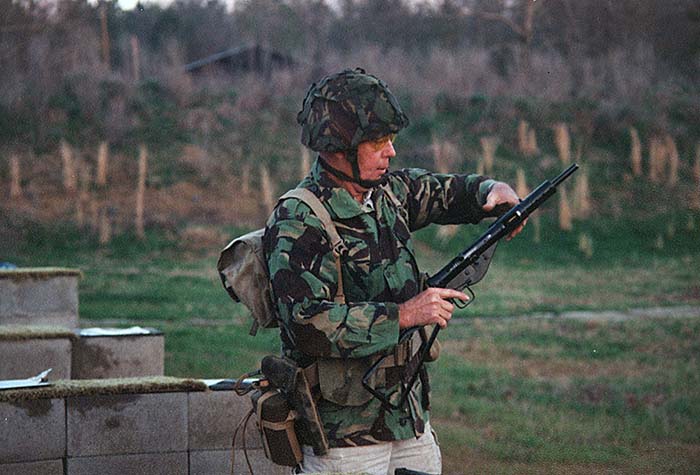 SHOTGUN: Moving to the Shotgun Range, and following the one-minute preparation, the competitors had to break three clay targets thrown across their front. A shooter was allowed to load three shotgun shells with extra shells nearby. Once the shotgun was loaded with muzzle held high, butt low, and safety on, the shooter yelled "PULL". One single clay was thrown, followed, on the shooter's command, by a double. When both a single and a double had been broken, the shooter's time was recorded. Reloads were allowed. Clays were only thrown at the shooter's command and only when the shotgun was held muzzle high and butt low.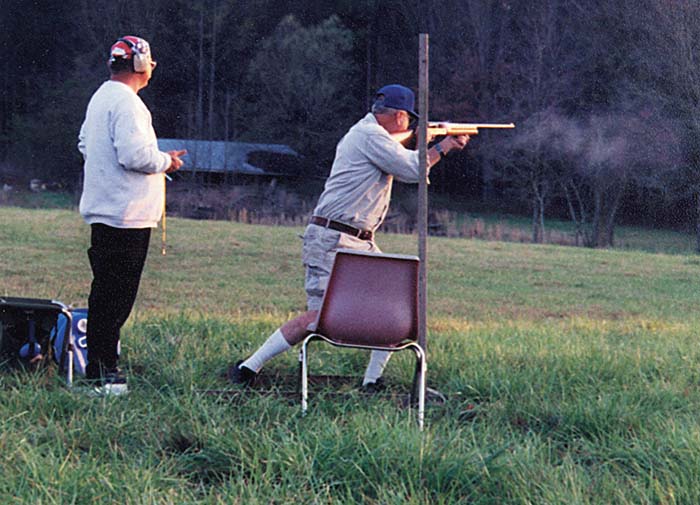 SUB-MACHINEGUN: This was the final event. Shooters were allowed to load one 30-round magazine with two loaded magazines as spares. The targets were once again those apparently armor-plated milk jugs, one each at 10, 15, 20, 25, and 30 yards followed by that pesky, pop-up silhouette target at 50 yards. Competitors were required to fire full auto from a standing, unsupported position. Hits from single shots were not counted. Lots of roar, smoke, dust, and flying brass, but not an awful lot of hits. Embarrassing!
Most of us must be better accuracy jumpers than shooters, but winners always emerge. This time history repeated itself for the third time. For three years in a row the Chute 'N Shoot was won by Chuck Davis, D 7489, from Jackson, Mississippi with an elapsed time of 194 seconds for all five events.
In Second Place was Clyde H. Morgan, D 20882, from Brandon, Mississippi with a total elapsed time of 217 seconds.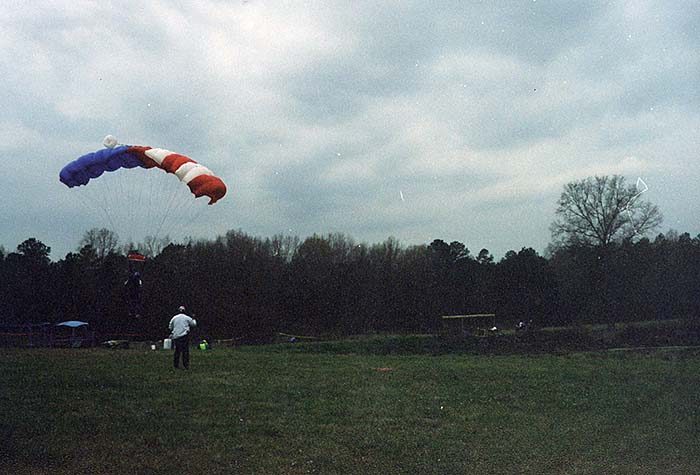 In Third Place was Bill Wasser, D 18153, from Madison, Mississippi with a total elapsed time of 252 seconds.
Storrie Parachute Works, 215 East Hickory Street, Denton, Texas 76201, 800-928-0157, and Cazer Para Loft, 589 East lake Hill Drive, Talladega, Alabama 35160 256-268-9843, provided the following seven prizes which went to the competitors by choice according to their ranking:
1. The Pro-Dytter from Storrie Parachute Works was selected by Chuck Davis.
2. A Gift Certificate of 35% off the purchase of a new canopy from Storries Parachute Works was selected by Clyde Morgan.
3. The FT-50 Altimaster altimeter from Storries Parachute Works was selected by Bill Wasser.
4. The Time Out from Stories Parachute Works was selected by Al Alexander, D 10936, from Allen, Texas.
5. The Set of Risers from Cazer Para Loft was selected by Jim Cazer, D 1887, from Tallageda, Alabama.
6. The Kill Line Pilot Chute from Cazer Para Loft was selected by Glyn Johnson, D 20855, from Oxford, Mississippi.
7. A Gift Certificate of 35% off the purchase of a new canopy from Storries Parachute Works was selected by Larry Stapleston, D 17796, from Flowood, Mississippi.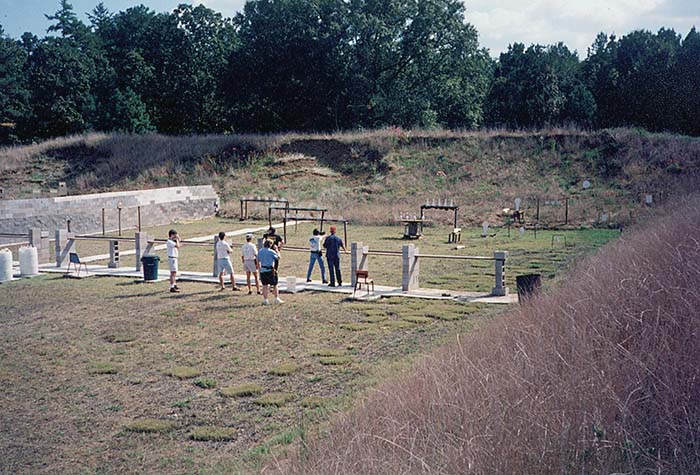 The Thompson and British Sten sub-machineguns were provided by Storrie Parachute Works.
A British uniform and equipment worn by one of the competitors was provided by Dave's Military Store and Collectibles, 2605 Hwy 80, Pearl, Mississippi 39208, 601-939-2713
A cookout of hamburgers and hotdogs provided a good ending to a fun day. Now to go home, repack our chutes, reload our empty cases, and get read for next year's competition.
This article first appeared in Small Arms Review V3N2 (November 1999)