By Robert M. Hausman

Phoenix, Arizona, is known to most people as a winter vacation spot. Warm and sunny all year, it provides an escape from the harsh winter weather experienced in other areas of the country. But to readers of SAR, it also provides an escape from the harsh gun laws of other areas as well. Phoenix is a gun town, not just from the standpoint of its Old West history, in which the town abounds, but also in the profusion of Class 3 firearms dealers it contains.

Being a "free" state, in the sense that machine gun ownership is not prohibited, it makes fertile hunting ground for the Class 3 enthusiast. Here is a look at some of the area's firearms related businesses. Since the Small Arms Review 2001 Show is in Phoenix this December, we thought it an opportune time to review the firearms and Class 3 opportunities in the area.

Caswell Shooting Range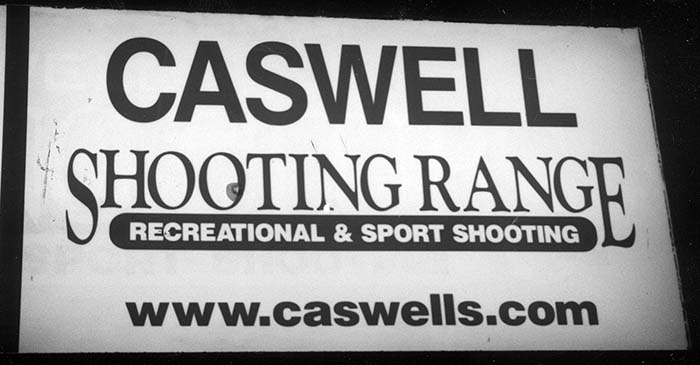 Located in Mesa, AZ, about an hour's drive from downtown Phoenix, Caswell's is not a machine gun dealer and does not rent submachine guns, but does allow their use on its modern, eleven lane, 25-meter indoor shooting range. There is also a full-service gunsmith shop on the premises and a complete retail firearm store specializing in defensive firearms and accessories. Caswell's is an authorized Glock law enforcement distributor, a Wilson Combat and Kimber master dealer and carries such top brands as SIG Arms and Heckler & Koch.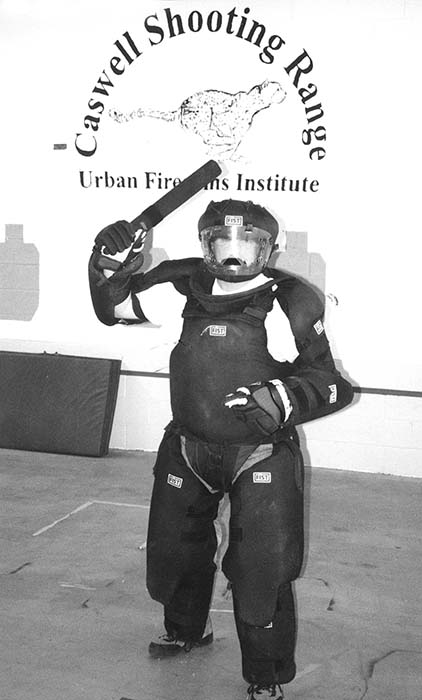 Owned by Kenny Woodward, the business boasts of being the first state-of-the-art indoor shooting range in the Valley area. Built by Caswell Detroit Armor Companies (thus the name used for the store and range) the trap system provides a clean and safe environment for users by capturing spent rounds intact, minimizing air pollution. Each shooting lane has an automated target setting and retrieval system, allowing users to shoot at their own pace and their own pre-determined distances. The backstop can handle any bullet travelling under 2,000 fps.

A unique service offered is that of short and long term firearm storage in a secure, insured and climate-controlled environment. For residents of other areas with restrictive firearm regulations, such as California, keeping a firearm at the Caswell facility, where they can also fire it, might be a viable option. This service is, of course, not available for Class 3 firearms.

Firearm courses are conducted at the range under the moniker of the "Urban Firearms Institute" (UFI). The goal is to provide the most advanced training possible. To this end, instructors continually attend courses at other schools around the country to seek new ideas and teaching methods. There is a staff of nine instructors, and in addition to Caswell's range, there are two classrooms within the building.

UFI's instructors are expected to maintain their firearm proficiency skills and increase their knowledge base to allow them to impart to the student instruction from a teacher with a deep knowledge base who won't just "parrot" what someone has told them is the best method. Their attendance at other schools is thought to give them first-hand experience in employing the techniques they teach. UFI also maintains a low instructor-to-student ratio so every student gets individual attention.

A growing trend is for law enforcement agencies to conduct their training and qualification firing at private ranges. That way the departments avoid some legal liability if they have a private firm (such as UFI) conduct their training. Caswell's has benefited from this trend as it has provided training for nearly a dozen police and sheriff departments in Arizona and other states.

Course Offerings

Caswells, through UFI, offers a wide range of courses, including the required state course to obtain a concealed weapons permit. This course goes well beyond state requirements to insure graduates learn the concepts of personal protection, justified use of force and gun-handling skills. Students are placed in situations requiring them to make shoot or no-shoot decisions using the facility's FATS and/or Range 2000 simulators.

More advanced courses include: Tactical Skills Development, which addresses the tactical skills needed to dominate a gunfight. Emphasis is placed on extreme close-range fighting skills, such as movement off the line of force, shooting on the move, and gun retention. Additional topics covered are use of cover, low light shooting and search techniques.

Since most shootings occur at night, the Low Light Force-on-Force class is all about dominating the night environment. Conducted on a darkened range, students are taught the techniques that work and how to adapt them during force-on-force situations and drills.

The Advanced Tactics class has as its goal the advancement of the skills learned in the Tactical Skills Development course to include ground-fighting, one-handed gunhandling, advanced movement skills with multiple threat identification, and extensive force-on-force simulations, both indoors and out. The 20-hours of instruction also include a night-time block of low-light shooting force-on-force and live-fire.

Combined Combatives is a unique course offering divided into 70% of hand-to-hand fighting skills and 30% improvised weapons use to teach students how to survive a fight when a firearm is not available. The class bridges the gap between verbal and shooting confrontations. It develops movement patterns that stem from the startle response into a viable fighting platform, though it is not a martial arts class. Since the program is physical, it includes extensive use of the F.I.S.T. padded, protective suit.

Women's Personal Protection is a class growing in popularity. Not a watered-down martial arts class for girls, students are promised a 100% no-holds barred experience to not only bolster their self-confidence, but to begin the programming of critical survival skills to allow them to become winners in a violent attack. Exercises include full-power applications of fighting techniques against live "attackers" in F.I.S.T. protective suits and live-fire handgun shooting.

Other courses are Defensive Shotgun, Basic Pistol and Defensive Rifle. The Glock Pistol and AR-15 Rifle classes are 4-hour programs giving hands-on training in detail stripping. Since many students are interested in lowering their ammunition costs, a 4-hour reloading clinic is offered, imparting basic reloading skills.

For more information: Caswell Shooting Range, 856 East Isabella, Mesa, AZ 85204. Tel: (480) 497-5141. FAX: (480) 497-5761. Web site: www.caswells.com.

Machine Gun Kelly's

Named after the infamous Depression-era kidnapper, George "Machine Gun" Kelly, this storefront retailer has been in business since 1997. Owners Steve and Rick Bond say they do as many as 300 Class 3 transfers yearly.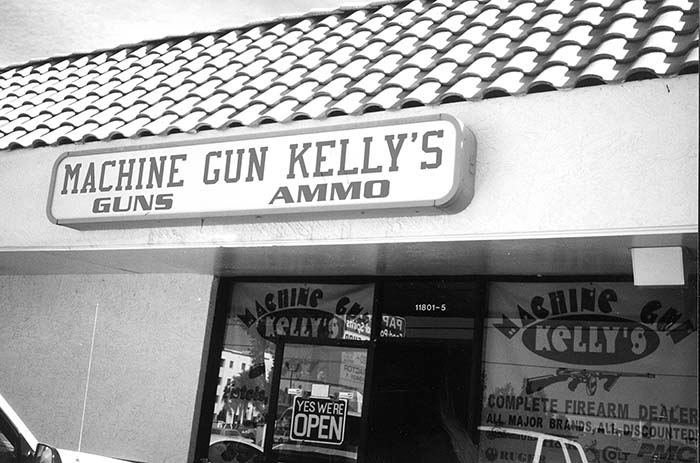 "We don't fall in love with this stuff (meaning their gun inventory), we just try to sell it as fast as possible," Steve Bond says, adding he usually turns over his store's inventory three times a year. The store does a lot of business with area law enforcement agencies and receives many used law enforcement guns in trades. To promote inventory turnover, pricing is kept reasonable and competitive. About 90% of the Bond's Class 3 sales are to other dealers.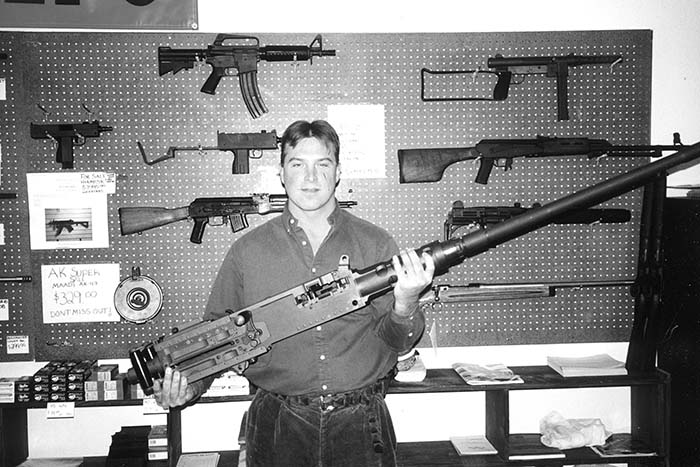 Interest is not waning in the machine gun field on the part of the shooting public, as it is in other firearm categories. Some Class 3 guns double in value from the time they come into the store's stock until the transfer papers are approved and the gun is sold. The Bonds say interest in Class 3 firearms is very strong, describing it as a "seller's market." The store is also an importer of ammunition and does a fairly brisk trade particularly in imported military calibers.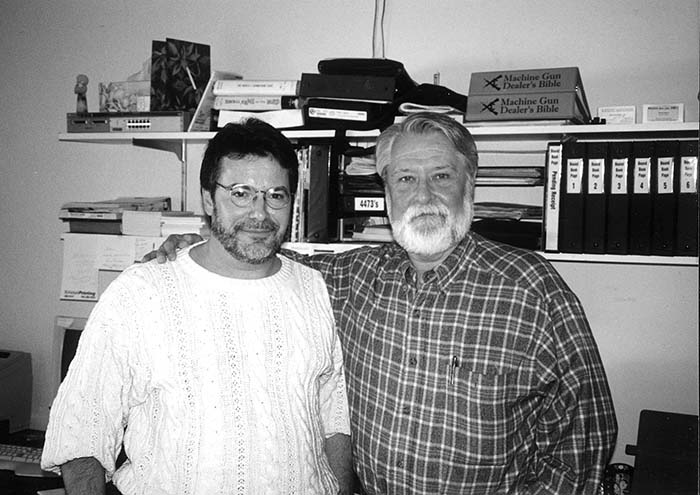 For those interested in firearms training, Machine Gun Kelley's offers tactical carbine and handgun classes, combat shotgun, intermediate handgun and the required class for obtaining an Arizona concealed weapons permit.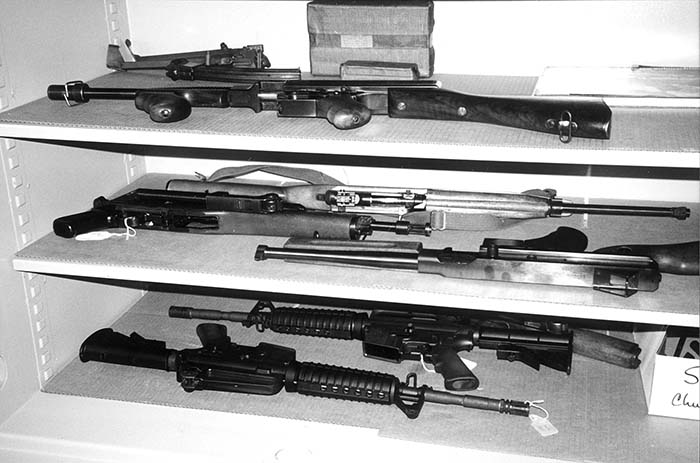 On a side note, when the brothers are not selling guns, they travel the pro-angler's circuit, as both are professional bass tournament fisherman. Their father Terry formerly operated Terry's Wholesale House, a major Smith & Wesson distributor in the Buffalo, New York area for many years.

For more information: Machine Gun Kelly's, 11801 North 19th Avenue #5, Phoenix, AZ 85029. Tel: (602) 395-9093. FAX: (602) 395-9130.

Machine Gun Ltd.

Machine Gun Ltd. is a part-time dealership established about four years ago in Central Phoenix. Situated within a print shop, owner Randy Myers says he sells about 100 Class 3 guns annually, ranging in price from about $1,000 to $6,000. At the time of the author's visit, a Reising, a full-auto MK 760, various MAC's, an M16, M14 and an M2 carbine were in stock, along with several AOW's. About half of the business' clients are first-time machine gun buyers.

Since Arizona still offers plenty of outdoor places where one can shoot full-auto, belt fed machineguns tend to sell for higher prices, Myers said.

Myers see clients by appointment only and has a separate sales room within his printing business where he shows his firearm inventory. For more information: Machine Gun Ltd., 14 West Camelback Road, Phoenix, AZ 85013. Tel: (602) 279-9150 FAX: (602) 266-4354.

R.Thomas Spengel

In business since 1976, the jovial Spengel recalls he got into the Class 3 business after meeting the area's most prolific machine gun dealer, the late J. Curtis Earl and realizing the large potential profit to be made.

Spengel specializes in Colt-manufactured Thompsons and does most of his business with local collectors. His regular clientele supplies him with want lists and he tries to match this up with guns for sale. Most of his customers seek Colt Thompsons with little or no wear or rare guns that saw limited production.

"As long as I can get a gun for my customers at a fair price, they can usually expect the gun to grow in value at about 10% per year at a minimum. Where else can you get a 10% return on your investment and have fun with it at the same time?" Spengel asked.

Spengel usually keeps 45 to 50 guns in stock. At the time of the author's visit, the inventory included an M60E3, a Spanish Alpha (one of only two such guns in the U.S.), a Thompson submachine gun chambered for 9mm bearing serial number 1 (only 3 such 9mm Thompsons were ever made, according to Spengel), an 8mm Bren Gun (instead of the usual .303 chambering and made for the Bay of Pigs invasion).

Spengel, who did not wish to give out his address, sees customers strictly by appointment in his Scottsdale location. He may be reached by telephone at: (480) 948-0175. He also can be contacted through the following two web sites: www.subuns.com and www.sturmgewehr.com.

Mandall's Shooting Supplies

Starting his first firearms business in the back of his father's Brooklyn, New York floor covering store, Martin Mandall has been in the firearms business for over 55 years. He later opened his first retail store, also called "Mandall's Shooting Supplies," at 9 New Montrose Avenue in the Williamsburg section of Brooklyn. In 1974, Mandall relocated to his present location in Scottsdale, AZ. The store also includes an indoor shooting range.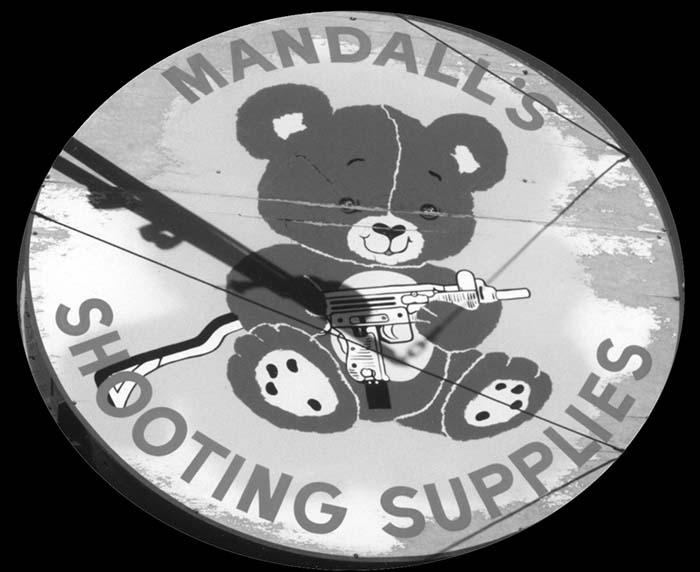 Situated in the "old town" section of Scottsdale, the store and range are in an upper-income area. Customers often come in at the same time as the United Parcel Service delivery truck. "They are curious to see what goodies came in," Mandall says fondly. Since many tourists frequent the area, the store promotes itself as offering a "best-in-the-West" selection of firearms, including machine guns.

A store brochure notes, "From the moment battling cops and robbers adopted the 'Tommy gun' in the roaring '20's, submachine guns have captured the public's imagination. Ever since, they have been celebrated as the arm of choice for men of action – paratroopers, commandos, guerillas and Special Forces of every description. One of the finest and most popular submachine guns in the world today is the UZI, a compact dramatically styled arm renowned for its use by the crack Israeli armed forces in combat.

"Mandall's has the UZI – along with an international selection of automatic arms – ready for you to inspect, fire and enjoy in the safety of our indoor range. Come in and find out for yourself what all the excitement is about."

Mandall's usually keeps 50 to 60 machine guns in stock. At the time of the author's visit, the following guns were for sale: H&K MP5, H&K G3 .308, M-16, Mac 10, MAC 11, Swedish K 9mm, a variety of Thompsons, a B.A.R., several UZI's, Walther MPL 9mm, Astra 9mm, Stey AUG .223, H&R Reising .45 ACP, Steyr 9mm, AK-47's, American 180 .22LR, H&K 33 in .223, S&W M-76 9mm, M2 .50 caliber Heavy barrel, Browning M1919 belt-fed, Star Z70 9mm, Sten Mark II and Mark III, both in 9mm, M-2, French MAS, Danish Madsen 9mm, Ruger AC 556, and a Beretta PM12S 9mm.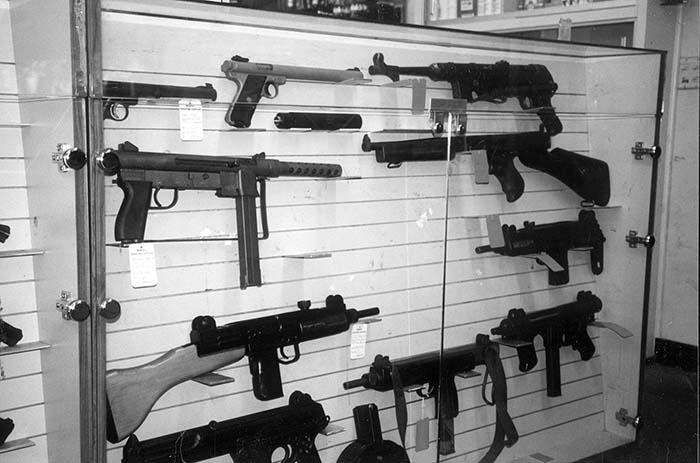 A large number of the visitors to the range are Japanese tourists. Although Japan essentially bans civilian firearm ownership, a large segment of the Japanese population has a great interest in firearms. The range is composed of five lanes with a maximum distance to target of 25 yards. The basement range is unique in that firing is done inside concrete-reinforced metal tubes with a dirt backstop.

The firing lanes are rated to handle up to .30 caliber, belt-fed machine gun fire. The range was designed and built by Mandall's son, Michael, who is a designer of bullet-resistant lighting and glass doors for the nuclear energy industry. Range supervision is provided and private instruction is offered. The required 16-hour class for obtaining an Arizona concealed firearms permit is given regularly, as well as combat shooting classes.

Aside from his activities in the sale and rental of sub- and machine guns, Mandall's is also renowned for having one of the largest general firearm part inventories around. As an example, over 3,000 assorted firearm magazines are kept on hand. In fact, Mandall's has more money invested in parts, than in complete firearms. So, chances are if you need a part, they will have it.

For more information: Mandall's Shooting Supplies, 3616 North Scottsdale Road, Scottsdale, AZ 85251. Tel: (480) 945-2553. FAX: (480) 949-0734. Web site: www.mandallshooting.com.
This article first appeared in Small Arms Review V5N2 (November 2001)