Auctioneer and CEO James D. Julia works the podium at the 2008 Spring Firearms Auction.
by Jeff W. Zimba
On March 10-11, 2008, the James D. Julia, Inc. auction house held their Spring Firearms Auction at their facility in Fairfield, Maine. With this auction grossing $12.7 million in sales, it beat their previous world record of $11.235 million established just this past October 2007. Well known in the high-end firearms auction business, this was Julia's first offering of Class III firearms. The 2-day event consisted of 1,270 lots and included 100 Class III pieces from the amazing military firearms collection of Bruce E. Stern. In all, 350 lots were offered from the Stern estate at this event with an additional 1,600 lots offered at the adjoining Poulin Auction Company in the two days prior to the James D. Julia, Inc auction. Several more pieces from the Stern estate will also be offered in the Poulin and Julia Fall 2008 Firearms Auctions.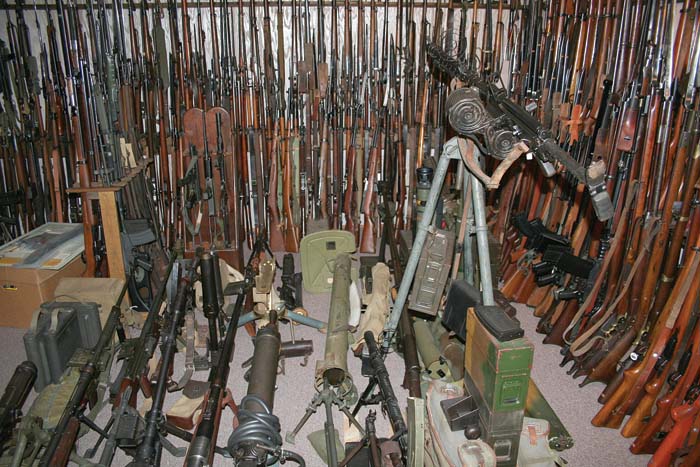 We don't have room to list every firearm offered considered incredibly rare or interesting, but the following are some of the favorites that generated a lot of attention. The firearm that raised the most interest was an excellent specimen of a Second Model German FG42, complete with an original pedigree. The bidding was fast and furious with the final sell price of $149,500. An extremely rare Johnson Arms M1944 LMG brought $74,750. There were actually several Johnson examples in the Stern collection, including a Pre-86 Dealer Sample Israeli "DROR" chambered in 7.92. Some of the rarer pieces in this collection included a German MK36-III, and an original German MP3008 SMG. The MK36-III is a 9mm Parabellum Machine Carbine that was developed in the mid 1930s. According to records and historical notes, it is said to have never been a production piece, quickly stopping at the prototype phase due to a patent infringement of the Vollmer designed operating spring. It is very possible that this gun is the only known example in the United States, and since no other examples could be readily located, possibly the world. The MP3008 is another extremely rare and seldom seen example of a German SMG. These were said to have been produced by Mauser as well as six other firms with production not beginning until very close to the end of WWII. Looking like a very crude Sten with a magazine-well placement at the 6 o'clock position instead of the standard 9 o'clock position, it could easily be overlooked. Another terrific find in the Stern collection was an original Chi-Com RPD. According to the records of the owner, it was said to have been damaged by US supplied fragmentation, to the peril of the Chi-Com soldier unfortunate enough to be carrying it at the time. There were quite a number of special and extremely interesting firearms in this collection and they can all be viewed at the James D. Julia website cited at the end of this article.
Such extraordinary and rare firearms brought out the "Who's Who" in the Class III community – either in person, on phone or in absentee bidding. To anyone who attends the larger C3 events such as Knob Creek, SAR Show, or any of the many other machine gun shoots, it looked like a family gathering – in a little colder climate.
Some of the firearms sold for much higher prices than expected. This seems to be due to several factors including the Stern provenance and the teamwork of the James D. Julia Auction Company and Poulin Auction Company. The advertising and promotion was enormous and the people drawn to this event had specific firearms in mind to fill voids in their collection. This allowed some lesser-known gems to slip through almost unnoticed. A few pieces sold well under value; proving that if you pay attention, there is still a bargain to be found.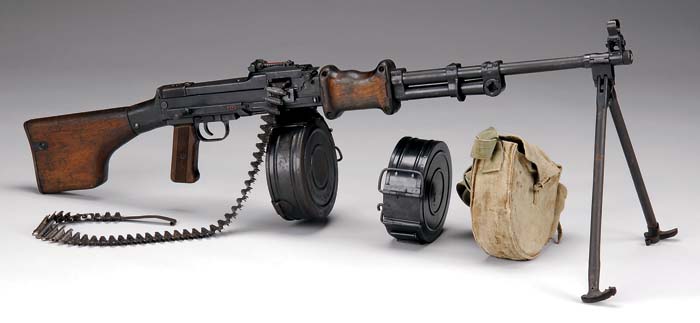 A Friend of the Firearms Community
During the opening of the auction, CEO and Auctioneer James D. Julia gave a passionate speech about the necessity of fighting for our gun rights and the importance of everyone doing their part at every opportunity. In honor of Bruce Sterns' lifetime dedication to the preservation firearms ownership, Julia offered to personally match every donation, up to $5 each that those in attendance wished to make to the NRA Foundation. Through his generosity and the generosity of those in attendance, $2,100 was raised for the NRA Foundation during the auction.

Financial support for the preservation of the Second Amendment is nothing new to James Julia. In the Fall of 2004, Julia pledged $100,000 to the NRA Foundation with the funds earmarked for the sole purpose of educating youth in firearms skills and safety.

We have already been assured that there will be more Class III offerings in future auctions as they become available. Anyone wishing to inquire about selling their collection by auction or wishes to be included in future mailings pertaining to upcoming auctions can contact them directly at:
Who was Bruce E. Stern?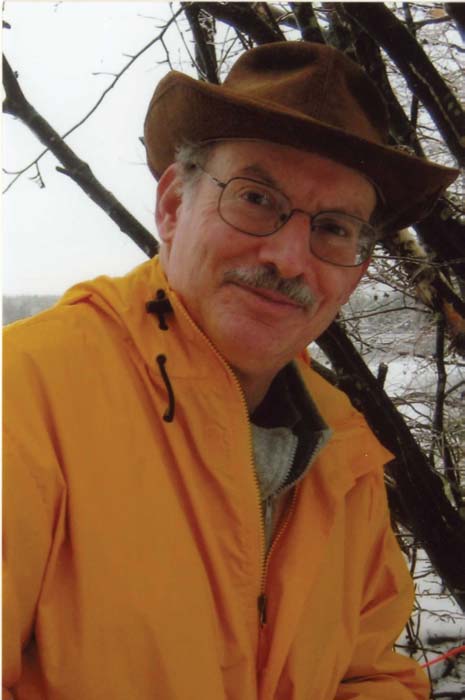 With such an amazing collection of modern military firearms, the most frequent question asked during the event by those who did not know Mr. Stern was, "Who was Bruce Stern?" It isn't a question that can be answered, and do justice to, in such a small space; but here is short synopsis.
Bruce E. Stern of Trumbull Connecticut passed away on July 18, 2007 at the age of 64 years old. A devoted husband of 36 years, he is survived by his wife Judi and children Marin and Gregory. Although Bruce was a practicing attorney for almost 40 years he made time for his passion of collecting modern military firearms and serving as a Director of the National Rifle Association for 11 years. He was a Benefactor Life Member of the NRA and a life member of several other 2nd Amendment organizations.
I had the pleasure to meet Bruce, and work for him in a small capacity, several years ago at one of the NRA Annual Conventions. A mutual friend, NRA Director Michael Lee, handed me a stack of flyers and said, "Here, go hand these out." When I asked what I was handing out he replied that a "friend of ours" was running for a position on the NRA Board called the 76th Director and he was someone I would want representing my interests within the organization. I handed out the flyers and spent a little time talking with Mr. Stern later that day where we chatted about our C3 interests. He said he had a little Class III collection and had been interested in them for several years. We never got into specifics and parted ways as Bruce went on to win that position on the Board of Directors.
Bruce and I never spoke about the details of our respective collections and when I saw the contents of his collection after his passing, I was absolutely in awe. I have had the opportunity to view some of the most extensive collections in the United States, and very few can match either the volume or rarity of the contents in Mr. Stern's collection. It is an absolute blessing for our community that his wife Judi brought this amazing collection to auction so that it will stay in private hands instead of simply making a high-level museum donation. Through her thoughtful actions, the entire Stern collection will now stay in private hands, thousands of them, to be passed down for our future generations to enjoy, utilize and learn about. We should all be very thankful for her decision.
James D. Julia, Inc.
Dept. SAR
P.O. Box 830
Fairfield, Maine 04937
Phone: (207) 453-7125
Fax: (207) 453-2502
www.juliaauctions.net
This article first appeared in Small Arms Review V11N10 (August 2008)