By David Lake
To be frank, there really is not much "new" coming to the gun market. The "new models" are frequently just re-packaged "old models." We see new colors, new caliber choices, new textures and new camouflage patterns all too often. Granted, the manufactures of firearms and accessories for such are in the business of selling us product. It is an industry that fuels our hobby and profession and we consumers value our freedom to choose.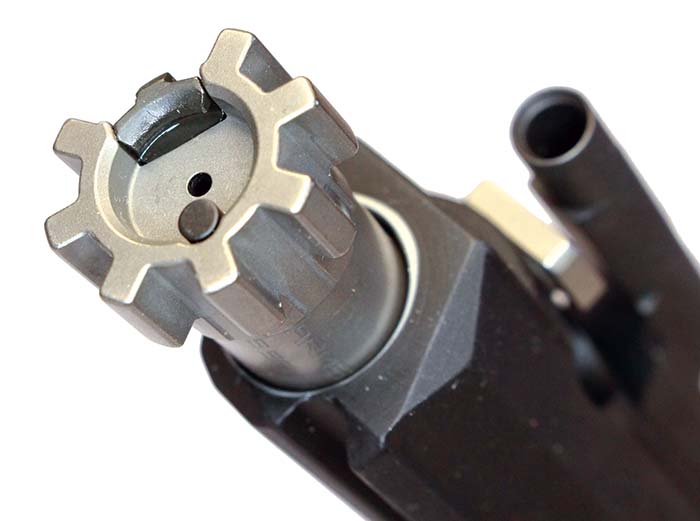 The AR-15 rifle is certainly not new. Though our generation has put it through the grinder, we have replaced and reengineered every part of the original system. This proliferation and variation has produced a fault to the original idea of the AR-15: parts compatibility. Too many companies are taking liberties with the design and function of the AR-15 and the components made for it. Much of what we have today is not reverse compatible with the AR-15 of old. Much of what we have to choose from on the accessory market is not compatible with current production AR-15s. This goes directly against the central idea and focus of the original designers, Stoner and Sullivan. The AR was created to be a modular system; a rifle that could be assembled without the need for any tuning or adjustment or fitting between parts. The gun would be infinitely repairable. This basic design rule is what has fostered the explosion of aftermarket upgrades and bolt-on enhancements.
Make no mistake, there needs to be constant advances and continual progress in technology and application. There is a company called American Built Arms (ABA) that has found the balance. They are able to maintain very strict standards of quality and consistency while carefully incorporating modern ideas and technology into their product, without compromising utility or purpose. A prime example of ABA's abilities would be their artfully crafted Bolt Carrier Group. Its back to basics execution is actually held to original Mil-Spec dimensions but with more stringent tolerances. Tolerances today can be held to higher level of precision due to premium machinery and manufacturing processes. The surface coatings meet or exceed wear and abrasion and failure callouts from the old M16's requirements. In fact, the high performance coating used on the bolt and cam pin, called Nickel Boron, has been used in aerospace and auto racing applications on high heat and high wear componentry. It's more lubricious than hard chrome, and can be applied to very exact tolerances. Nickel Boron will also allow a rifle to be used without lubrication (this claim is neither supported nor denied by Small Arms Review). The bolt carrier itself has been given a smooth phosphate coating. One other point of interest is that ABA had chosen to add some weight to the carrier. This is a welcome improvement. The AR-15 of late has become an imbalanced system as we continue to change barrel length and gas port location, surface treatment, dimensional tolerance and caliber variation. One remedy for many of these problems we ourselves have created is the use of increasingly heavy buffers. In order to suit the needs of the many, ABA has made the carrier slightly heavier to improve function in the modern AR-15. It makes sense that if you know your customers have to buy H and H2 buffers, give them the weight they need.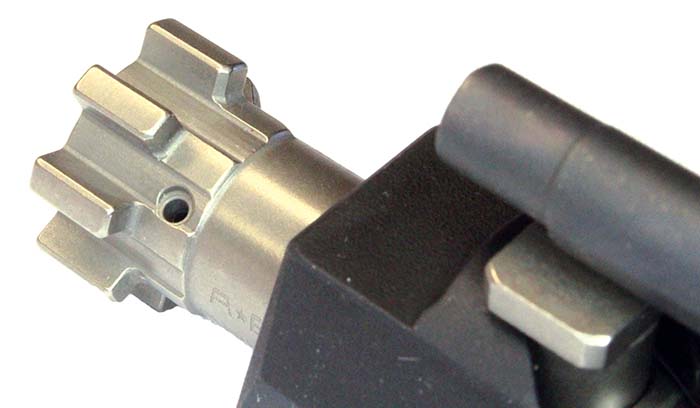 The bolt group given us by American Built Arms spent 4 months in a rental M4 at a local training range. This rifle got used and abused. It was properly mistreated and rarely cleaned, if ever. Over a service span of an estimated 6,000 rounds, we have nothing to report. No news is good news.
The American Built Arms bolt group should be on your list of necessary upgrades to the AR-15. Without taking away from the genius of the original, ABA has truly improved the AR-15. Individuals and manufacturers alike should put this bolt group in their rifle.
Bolt
Carpenter 158 steel
Heat treated per Mil-Spec requirements
Shot Peened per Mil-Spec requirements
MPI tested material
Nickel Boron coated
Bolt Carrier
8620 Steel
Phosphate coated
Chrome lined bore
M16 style with more mass for better
functioning in semi or full auto rifles
Extractor
Aircraft quality E4140 steel
Heat treated per Mil-Spec requirements
Shot peened per Mil-Spec requirements
Manganese Phosphate Coated per
Mil-Spec requirements
Gas Key
4130 steel
Black Nitride
Gas Key Screws – 4140 steel properly staked per Mil-Spec requirements
Firing Pin
AISI 8740 steel
Chrome coated
Cam Pin
4340 steel
Heat treated per Mil-Spec requirements
Nickel Boron coated
This article first appeared in Small Arms Review V19N8 (October 2015)