By Frank Iannamico
During the pre-internet days, the selling and purchasing of machine guns was a completely different process than today. Both buyers and sellers looked to the printed classified and display ads in periodicals like Gun List, Shotgun News (now Firearm News) and the back pages of the defunct Machine Gun News magazine.
Printed ads required a couple weeks lead time to appear and could be expensive. Usually, there were no means of adding photographs. Communication between the seller and potential buyers was done by speaking on a telephone, the kind that was attached to a building with wires and could not take photographs.
When the internet became mainstream, buying and selling Class III items changed dramatically. Often transactions occur without the parties ever speaking to one another; communication is primarily by email or texting. One other phenomenon took place—as more and more people discovered the Class III world they became aware they could have a full-auto M16 instead of a semi-auto AR-15. Soon values skyrocketed, bringing prices that would be unimaginable in the early 1980s. This was due to a growing interest in machine guns and an ever-shrinking supply, due to the May 19, 1986 ban, which stopped any new registration of transferable guns. Many of the transferable guns disappeared into collections and would not surface again until their owners passed away.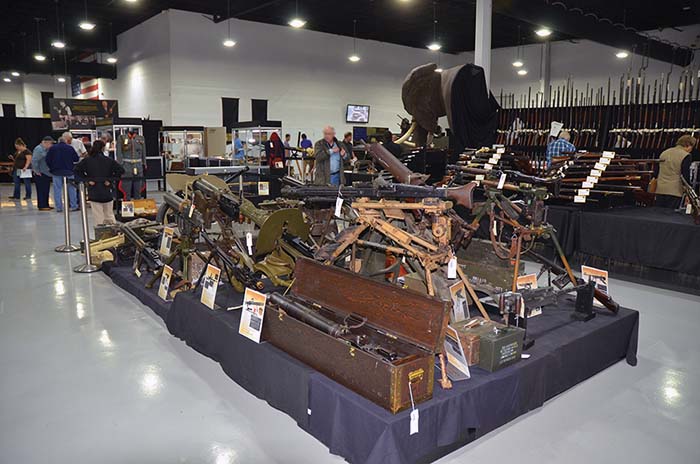 However, it wasn't long until the scammers of the world discovered the websites advertising Class III, and soon buying online became a somewhat risky proposition. The scammers are often operating from outside the U.S. and have become proficient at copying existing and older internet ads and reposting them. Often, they will lower the asking price to a level that would entice a potential "buyer" to jump on the purchase without any investigation into the seller. Due to the relatively long processing time for the "transfer" to take place, the buyer would be unaware he had been duped out of a large sum of money for months. All communication ceases once scammers receive the funds, and they vanish.

Before long, the only secure way to make a Class III purchase was from a well-known individual seller, a dealer with a good reputation or at an auction.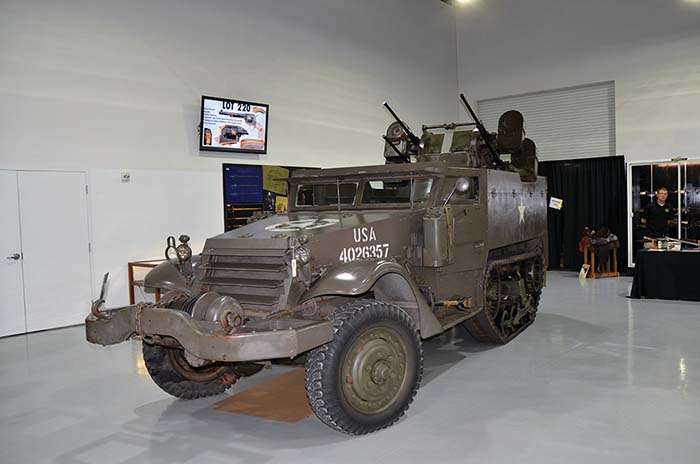 Auction Benefits
An alternate way to purchase a big-ticket Class III item is at an auction. An auction has become a good option that benefits both the buyer and seller. Many large collections of firearms are relegated to the auction houses by heirs of owners who have passed away. Usually, the heirs are not familiar with the protocols of Class III transfers and do not want to part out large collections piecemeal and waste their time dealing with buyer's remorse, tire kickers or picture collectors. Buying at an auction assures the potential buyer that the merchandise does exist, and the item will be submitted for legal transfer and shipped in a timely manner.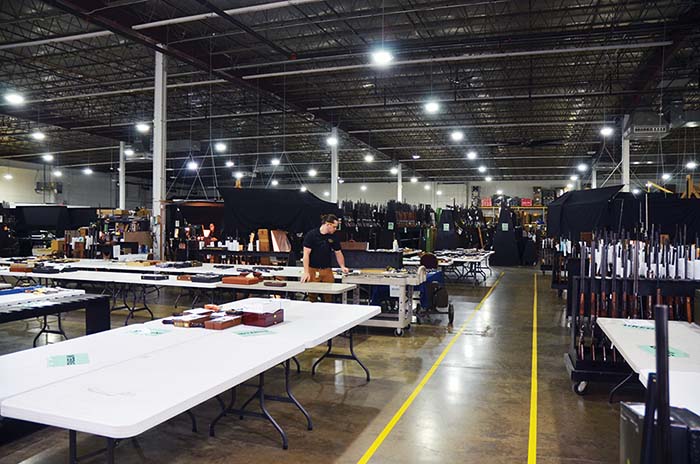 The Rock Island Auction Company
Since 2003, one of the largest auction houses specializing in firearms is the Rock Island Auction Company (RIAC), located in Rock Island, Illinois, along the Mississippi River. The company has an 86,000-square-foot facility, with a schedule to host 11 firearms auctions in 2019; five are open to the public, and the remaining are Online Auctions with no bidders present on site.
Premiere Gun Auction
The Rock Island Auction House Premiere Auctions take place three times a year, each over a three-day period. A Preview Day is held on the preceding Thursday, and the items are put up for bid on Friday, Saturday and Sunday. A Premiere Auction consists of approximately 2,700 antique and collectible lots. Each of these auctions is made up of rare, unusual, mint and highly collectible pieces. RIAC produces a full-color, 3-volume catalog set featuring each lot with in-depth descriptions, a high and low estimate and multiple high-resolution color photos. Each volume of the catalog corresponds to a day of the auction. The Premiere Auctions are typically held in April, September and December. Each auction routinely covers the main genres of collecting from antique to modern Winchesters, Colts, U.S. and European Military and Sporting. Premiere Auctions also offer swords, bayonets, military artifacts and other related material.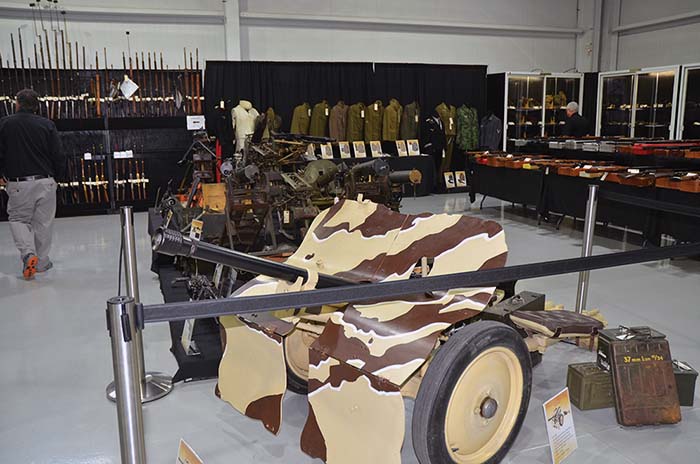 Regional Gun Auction
Regional Auctions are made up of affordable antiques, beginning collectors' items, usable sporting arms, modern firearms and many non-firearms lots. A majority of the lots have multiple firearms. A Regional Auction has routinely consisted of approximately 3,000 lots with as many as 10,000 firearms in those lots. There are two Regional Auctions per year—one in the summer and one in the winter. The Regional Auction also has a Preview Day which is held all day on the Thursday prior to the auction, and the items are sold Friday, Saturday, and Sunday; same as the Premiere Auctions. Recently, Regional Auctions have become 4-day events, with the Preview Day on the preceding Wednesday, and the items offered Thursday through Sunday. The concept of the Regional Sale was initiated by the demand that customers developed for the "everyday collector" type guns.
Online-Only Gun Auction
Rock Island Auction Company features an additional platform for selling: online auctions. Guns listed in online auctions are sold in the same manner as the other auctions, except there is no live bidding audience in the facility. Bids are accepted absentee, telephone and live on the internet during the day of the auction. The online auctions are held three to four times a year and are comprised of a myriad of firearms and related materials. Typically, items in the Online-Only auctions are placed there as they do not meet the minimum lot value to earn a spot in a Premiere or Regional Auction. The RIAC website features the entire Online-Only Auction catalog of items and is searchable by model, serial number, manufacturer, lot number, keyword and more. All items are viewable in color online, and all guns have both sides displayed.
Auction Protocol
Firearms consigned for the auction are shipped to the Rock Island Auction House; upon receipt weapons are checked to ensure they are not loaded. To remain in compliance with ATF, Class III guns are required to be transferred to the auction house. The guns and any accessories are then inventoried. A contingent of "describers" is assigned to research details and any historical significance and then write up a description for the catalog and website. The item then goes to a team of photographers who use high-end equipment to take sharp, detailed photographs. The item is then cataloged and prepared to be put up for bid.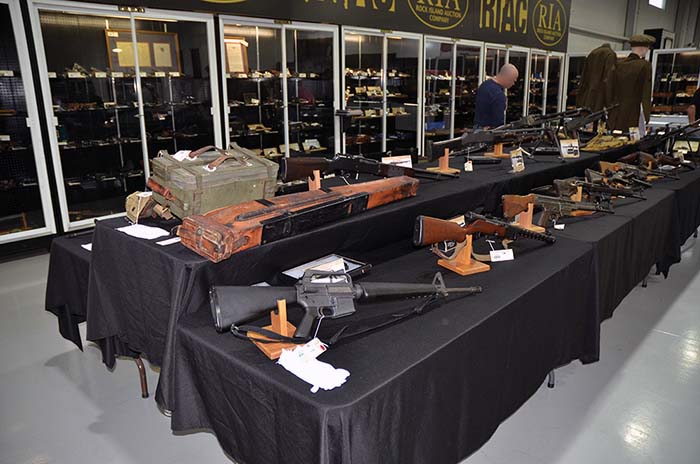 The period from consignment to auction depends on the auction type. Premiere auctions are planned 3 months ahead of time; typically it is a 6-month process for consignors. It can be longer for regional sales since they only occur twice a year. The Online-Only Auction venue wait time can be as short as 2 to 3 months.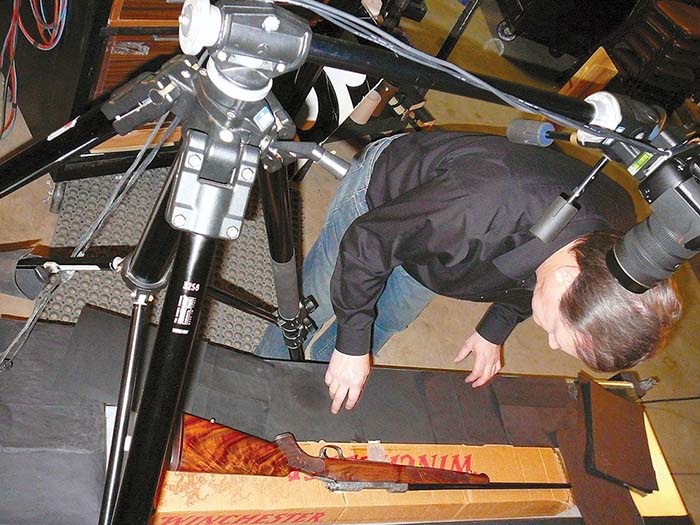 Buyer's Premium
A buyer's premium is a percentage added to a winning bid. It is how auction houses pay their bills. At Rock Island Auction Company, the buyer's premium is 15% if you pay by cash, check or wire transfer. If paying by credit card, the premium is 18.5%.
An Inside Look at the September 2018 Auction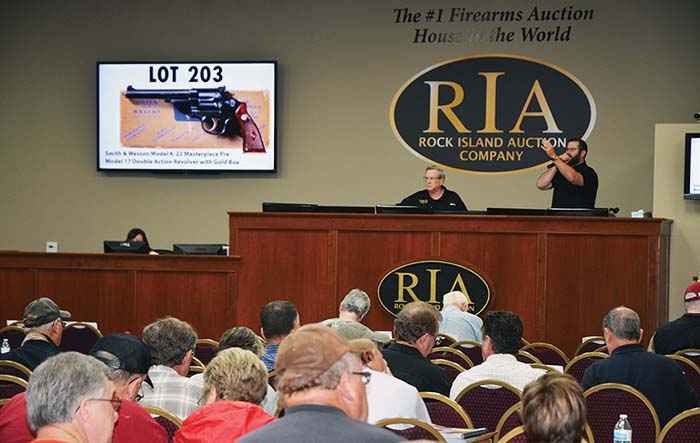 Small Arms Review was invited to attend the September 2018 Premier Auction as a guest of the Rock Island Auction Company to observe how the auction process worked. Featured in the 3-day event were nearly 70 Class III machine guns.
In addition to Class III, there were over 500 significant and historical U.S. military weapons dating from the Civil War, World War I, World War II and Korea. Items offered included one-of-a-kind prototype rifles, sniper rifles, bayonets, sidearms and uniforms. Some of the significant military weapons up for bid included: a presentation-grade M1 Garand rifle, serial number 1000000, which had been presented to the inventor John Garand by the Springfield Armory in 1953; and two rare Singer-manufactured 1911A1 pistols.
Along with many small arms, several military vehicles were up for bid, which included an M41 Walker Bulldog tank, an M15A1 Stuart light tank, a U.S. M3A1 Scout Car and a GMC DUKW Amphibious 6×6 truck. Non-armored offerings included several Jeeps, a BSA motorcycle and a Bofors 40mm Automatic Gun mounted on an M2A1 Anti-aircraft carriage.
Other firearms being offered at the September auction included over 400 collector-grade Winchester rifles, 750 Colt firearms and over 1,000 antique and sporting arms.
The September 2018 Auction Highlights
Bids came in from all 50 states, Puerto Rico and 27 foreign countries.
RIAC's online catalog had been viewed more than 2.8 million times.
The online live bidding platform, RIAC Live, accounted for $1 million of the weekend's sales.
Thursday's Preview Day was well attended. Crews from NRA-TV and Guns.com were present to document and record the highlights of the auction.
Day One
Friday the auction began. Lot 7 contained one of the finest known Winchester 1886 rifles; a stunning John Ulrich masterpiece in excellent condition representing the highest embellishments offered by Winchester at that time. Bidding opened at $300,000 and quickly escalated. Within five minutes, a hammer price of $1.18 MILLION was reached. Not quite a record, because Winchester 1886 serial 1 with ties to Geronimo was sold by RIAC for $1.265 million in May 2016.

Day Two
On Saturday, John Garand's M1 presentation rifle sold for $287,500. The M41A1 Walker Bulldog tank went for $230,000, the M5A1 Stuart light tank for $287,500 and the M3A1 Scout Car for $65,000. Other items sold included: a rare Springfield Armory U.S. 1924 Garand Autoloading rifle sold for $150,000; a Springfield Armory Gas Trap M1-Garand for $50,000; a Smith & Wesson Mark II semi-automatic 9mm light rifle for $8,500; Johnson Automatics 1941 semiautomatic rifle $5,500; and a Colt–Auto Ordnance 1923 prototype semi-automatic rifle for $55,000. One of the Singer M1911A1 pistols sold would have been a world record at $253,000, but Rock Island sold the current world record holder last December for $414,000.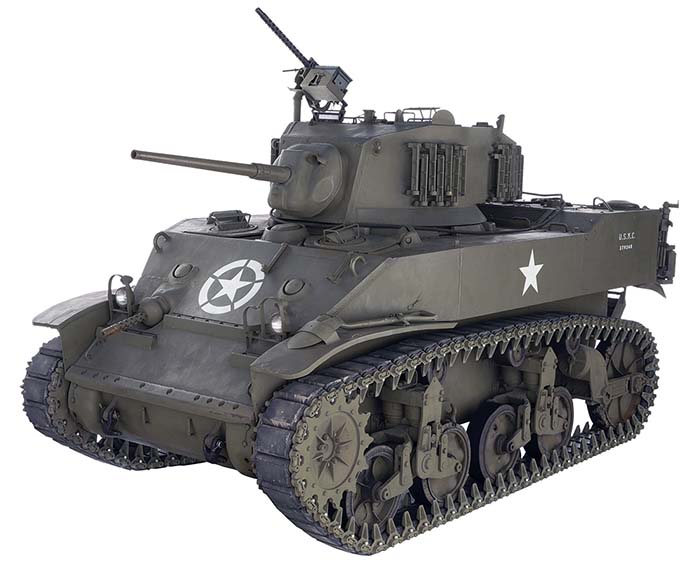 Notable Class III Items Sold
British Lanchester Mk* submachine gun with 3-50 round magazines C&R, $16,000
British MG40 Mk II Browning Machine Gun/Ohio Ordnance Works $14,000
Canadian Inglis—MKI Bren light machine gun C&R, $37,500
Rare Colt Experimental/Prototype BAR, fully automatic 1917-1918 manufacture, C&R $30,000
Colt 1921 Thompson s/n 1852 Columbus, GA PD 97% C&R, $55,000
Colt Thompson 1927 AC s/n 4706 85% finish C&R, $30,000
Colt 1928 over-stamp Navy Thompson submachine gun s/n 11204 85% C&R, $30,000
DWM—Maxim water-cooled MG 08 heavy machine gun WWI C&R, $15,000
German MP40, bnz 43 well-documented personal weapon used by a U.S. Army 776th Tank Destroyer Battalion company commander. C&R, $37,500
H&R Model 50 Reising submachine gun PA State Police C&R, $9,000
Johnson 1941 light machine gun, Cranston Arms C&R, $50,000
M1917A1 Browning water-cooled MG, Erb side-plate gun $17,000
NESA World War II 1918A2 BAR C&R, $35,000
Original Finnish Suomi KP31 submachine gun, transferrable C&R, $17,000
Savage Arms British Contract 1914 Lewis Gun C&R, $17,000
Savage NAC/Numrich Thompson U.S. 1928A1 s/n S-527235 NAC C&R, $22,500
Steyr bnz code, German MP40 serial number 80j,C&R, $17,000
U.S. Army M9A1 "Bazooka," Destructive Device $6,500
United Defense-Marlin UD-42 submachine gun C&R, $20,000
U.S. Winchester M2 carbine, $18,000
World War II STG 44, made by the German firm of C.G. Haenel Waffen- u. Fahrradfabrik Suhl during 1945 C&R, $27,500.
Day Three
Sunday bidding started with a deluxe Winchester Model 1873 from the Mac McCroskie Collection, in immaculate condition, selling for $184,000. A Winchester 1866 with the Henry patent barrel would bring $97,750. Antiques of an earlier era experienced some equally aggressive bidding. A 1743-dated Brown Bess musket doubled its high estimate selling for $54,625. A Revolutionary War-era "Charleville" Model 1763 flintlock quadrupled its high estimate going for $34,500 and a Solingen French sword in lot 3212 presented to the Marquis de Lafayette also doubled its estimate selling for $43,125. An exhibition version of a rare Colt-Burgess carbine, by L.D. Nimschke, reached a high bid of $109,250.
The aggressive bidding at the 3-day RIAC September 2018 auction resulted in total sales of $20 million dollars. At the end of the day, there were a lot of historic and collector firearms passed on to their (smiling) new caretakers.

For More Info
Rock Island Auction
7819 42nd Street West
Rock Island, IL 61201
1-800-238-8022
email: guns@rockislandauction.com
rockislandauction.com
This article first appeared in Small Arms Review V23N2 (February 2019)