By J.M. Ramos

I can still vividly remember that one sunny morning when I arrived at Port Clinton to meet my very special host named Eugene Stoner in the mid 1970s. This was arranged by a very good friend of mine, the late Jack Krcma, a foremost authority in the small arms field, particularly those of Czech manufacture. Jack was also a household name in the forensic investigation field and had lectured countless law enforcement agencies both in the U.S. and Canada for almost three decades. Jack was made aware of my background in firearms design having read some of my books as published by Paladin Press. On one informal visit to his residence, Jack asked me, how would you like to meet the designer of the M16? I laughed and I said, "You're kidding, right?" He said, call me back tomorrow and I will let you know the date he is available for you. With some eagerness and anticipation, I called Jack the following morning and sure enough the date was set for me to meet the inventor of America's most famous battle rifle. Eugene was at the early stage on his Future Assault Rifle (FARC) program when we met. I had brought along some weapon designs (rifles, SMG and machine pistol) that I was working on at the time to show him. He was quite delighted going through the drawings in his drafting board that at the end of our meeting, he hinted that he may be able to use some of my talent and invited me to join his FARC design team. I gladly accepted the offer and further negotiation was conducted between me and his right hand man Dick Hollsinger in the weeks that followed. In addition to a lucrative contract, ARES also agreed to handle all the expenses for my move to the U.S. to join the company. However, even before the company was able make their first move to process the necessary paperwork for the sponsorship, a big hurdle came my way shattering my dream to becoming a player in the Stoner design team a reality. After few months of finalizing the anticipated move, I was informed of the bad news by Dick that the state department denied their sponsorship to me as I did not meet the criteria of being a U.S. resident. ARES was told that the only way the company could offer me the job was that if no American was qualified to fill the position being offered. When Jack heard the news, he was more upset than myself and tried to follow it up with some assistance from his connections, but that was to no avail. Not deterred with the setback, I moved on with greater things ahead as an independent consultant in the industry meeting some of the most talented arms inventors of the 20th century in the likes of Gordon Ingram, Max Atchisson, John Foote, Tom Swearengen and Walther Langendorfer, just to name a few. Langendorfer was the inventor of the Rhino – the first reliable piston conversion kit offered for the AR introduced back in the early 80s.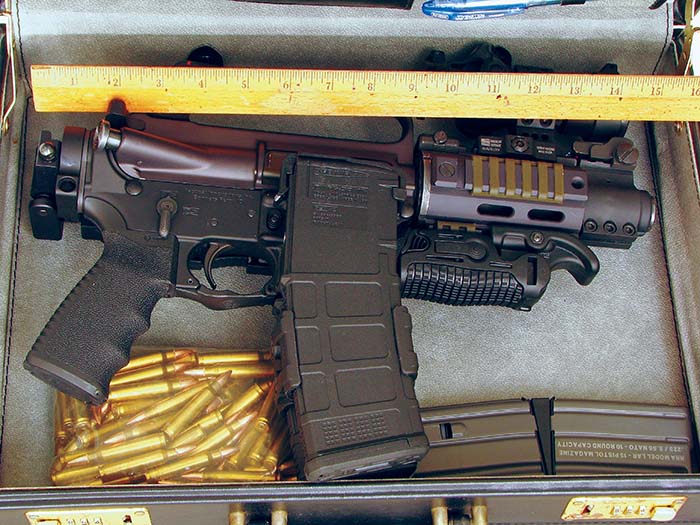 Over the years, the Stoner military M16 rifle has evolved into many weapon configurations, more than any of the current military hardware in its class combined. A Personal Defence Weapon (PDW) is a unique breed of weapon that is both fascinating and intriguing. For decades, many of the leading AR weapon producers created countless variations of the AR in compact configurations, primarily of the CQB/SBR genre. This Personal Defence Weapon is smaller than the CQB type and definitely posed more challenge to the weapon engineer who has to extensively re-design the overall mechanics of the gun to create a functional pocket gun out of an AR platform. The main stumbling block in creating a true micro size AR is the recoil spring being housed inside the butt stock. This obstacle, however, was already solved a decade ago by ZM Weapons with their variation of the AR (LR300) featuring a metal folding stock and a shortened bolt carrier incorporating a forward extension that retains the recoil spring assembly, working in tandem with the original direct gas impingement system. The right to manufacture the LR-300 was acquired by Para-USA sometime in 2008 and lasted only for several years, with Para reverting back to making only their 1911 type pistol in 2013. Current AR PDW/CQB type models utilizing a short receiver extension are the Heckler & Koch 416C and Colt Sub Compact Weapon (SCW). H&K's 416C stock pattern is reminiscent of the vintage M3 SMG dual metal telescoping stock design, while the Colt SCW has a more unique approach by combining a folding to a collapsible stock as a single unit. It is interesting to note that North Eastern Arms Group (NEAG), an AR manufacturer in Canada, also jumped onto the bandwagon in creating their own version of a telescoping style stock that appears to be strikingly similar to that of the H&K design, which they designated as the Compact Carbine Stock (CCS). The CSS stock is sold separately as an option. Ideally, creating a true mini AR-15 PDW would require a light compact folding stock (not telescoping) since you need at least 4 inches of receiver extension for the bolt carrier to recoil past the rear of the receiver. Another interesting recent development of a side folding AR is the Rock River Arms' piston-driven system (PDS) model. The PDS features an ambidextrous cocking handle that is non- reciprocating. This particular design can be tailored to create a micro AR no longer than 16 inches overall with the stock folded with a six inch barrel. Although the Colt SCW stock design is a folding type in a sense, it still incorporated a receiver extension to accommodate the space required for bolt recoil and spring assembly, therefore; it is more likely that it is only about two inches shorter or less than a standard M4 stock when collapsed, really not much to gain.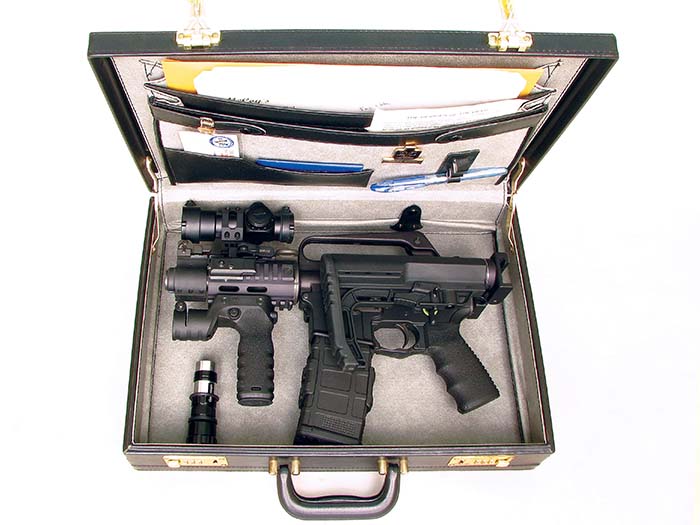 The micro AR concept presented here is a PDW weapon system with emphasis on concealment, ergonomics and user friendliness. As a cal. .223 set-up, it can be employed as a very formidable personal defence weapon for undercover operatives, escorts for VIP's or as a stake out gun for DEA agents. Although the AR platform and its mechanics are very suitable to handle smaller hi-velocity cartridges in the likes of 5.7×28 mm (FN-P90 PDW), 4.6mmx30 (H&K MP7A1 PDW), 6x35mm TSWG (KAC SR-635 PDW), it is best to stay with standard service ammo like the .223 for their accessibility and availability no matter where the mission in the world would be. The shortest .223 AR barrel that is readily available is somewhere between 7 and 7.5 inches and is offered by majority of AR-15 manufacturers. They vary in quality and prices. This also holds true with many brands of AR lower and upper receivers. To achieve the 15-16 inch overall length (stock folded) to fit in a standard size briefcase, a 6 inch barrel is ideal. Obviously, with the barrel being this short, there will be major drawbacks that must be addressed. This will include excessive muzzle blast, noise, flash and loss in velocity. However, this gun is not intended as a long range weapon but a pure close-range PDW. Having closely examined the advantages and disadvantages of the compact stock design features of H&K, Colt and NEAG, I feel that the original ZM Weapon and RRA PDS folding stock ARs still holds the edge when it comes to creating a super compact AR in PDW format in .223 caliber. Ultimately, the piston driven RRA with a 6 inch barrel utilizing an ACE folding mechanism mated to Mission First Tactical Minimalist polymer stock (to keep weight to bare minimum) is definitely as close to what my ideal full bore Micro AR should be. Back in the 70s and 80s, the most sought after battle rifle was not the AR but the M14 or the AK-47. I felt the same way after the M16 had earned a reputation as a jam-a-matic during parts of the Vietnam War. Although I have personally met its creator and almost became a part of ARES legacy, I never did any work on the AR or focused much attention to it, anticipating it would be replaced soon, that even Stoner himself was counting on his new FARC assault rifles as a possible replacement for the M16.

The AR is still here, better, more refined and sophisticated than ever before, thanks to all the gadgets and upgrades it has gone through over the years. As compared to decades ago, designing and building a prototype AR the way one would want it is not only a huge undertaking on the drawing board but a costly one trying to fabricate every part from scratch. Today, you can get virtually anything you need from the internet delivered right to your door step and all you have to do is put them together. If I have to create my ideal AR PDW, it will be extreme in size, really small. It must not exceed 16 inches with the stock folded with a 6 inch barrel. For mechanics, I highly favor the RRA PDS system. It has the AK-47 bolt carrier group working in harmony with the AR trigger group. I also like the ambidextrous side cocking handle that is non- reciprocating but will activate the carrier in the event of a misfire or ejection problem. Now, in order to keep the barrel length within my specs to meet the minimum OAL, the gas block must be made as an integral part of the muzzle device. The DPMS Levang linear compensator system can be incorporated here to address the muzzle blast concern from a very short barrel. This device directs all the noise away from the shooter through its front ports while its large expansion chamber helps control muzzle flip and felt recoil. Of course the choice between opting for the classic or flat top upper in this miniature gun is up to the builder. I choose the classic carry handle type for its originality and nostalgic appeal. Undoubtedly, the flat tops are more versatile with the capability to accommodate more sighting accessories than the vintage type. For the vintage upgrade, the YHM 4-rail mini-lightweight forearm with matching end cap is selected here. It's well made, has a pretty matching end cap and priced accordingly. It's perfect for mounting optics, laser, light and foregrip. The choice of BUIS and optics will depend on the operator and the amount of cash he or she is willing to spend.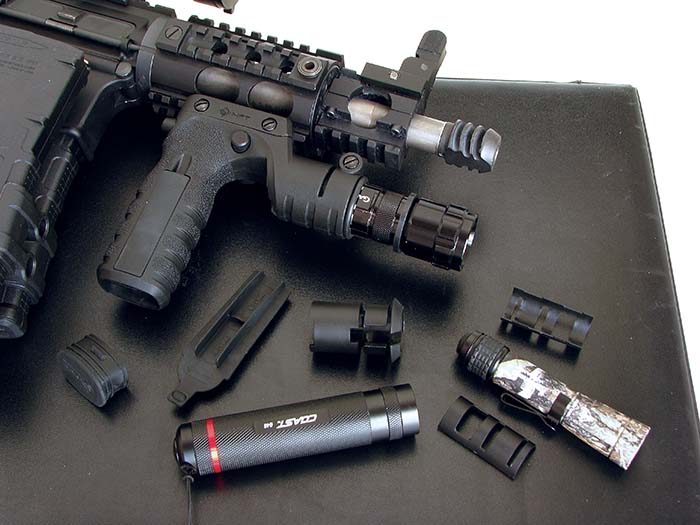 Obviously, everyone has a different opinion when it comes to dressing up their favorite AR or AK. We all know the market is flooded with accessories when it comes to ARs, with no end in sight. A professional tactical gun builder has to have the vision on how to combine the right accessories for the type of weapon being built in order to be effective to the environment it is going to be deployed and must work in harmony with its operator. Prices of accessories always vary, depending on the maker and the quality of the product. Although many would say, the more expensive the part, the better it is. That is not necessarily true. Having seen and tested countless AR accessories over the years, made by some of the biggest names in the industry, I say there are quality products out there that are as good and less complicated than most of the super expensive weapon attire that are less bulky, lighter and simpler to install. I recently acquired several AR accessories from Mission First Tactical (MFT) after surfing the net trying to find other alternatives to the usual brands currently flooding the market. Needless to say, I am very pleased on how efficient and quick my order has arrived. The styling of MFT's product line is quite original and distinctly space age in styling. They have heavy input from professional weapon operators from around the world. These superb accessories are designed and made in the USA. The company currently produces a wide array of accessories for the AR and AK. I picked their latest stock, the Minimalist, along with the MFT Engage pistol grip and React Torch Grip (RTG) for combined forward grip and illumination mount to outfit my PDW Extreme.

The Minimalist stock is being touted as the lightest stock in the market, weighing less than 6 ounces. When installed on the gun, you can hardly tell it's there. The Minimalist is quite strong and can easily take a pounding and hard use. It is made of specially develop re-enforced super tough polyamide from DuPont's military plastic division. The Minimalist is truly an outstanding design. I am particularly impressed with its simplicity, user-friendliness and fit to the extension tube – no rattle, no wiggle, just a perfect fit. Even the locking pin fits snug to the receiver extension index holes, something I found undersize on other brands causing excessive fore-and-aft play of the stock. This is as good as it will ever get, all without any extra fancy tightening gadget that may or may not work due to poor dimensional tolerance. The downward angle of the butt is so perfect that it works in harmony with the operator in super quick target acquisition once the gun is shouldered. The cheek weld is very comfortable with just the perfect width and angle that resulted in its streamlined format and good looks. Other brands with over-emphasized cheek welds are just too wide, bulky and heavy for my taste. Wide cheek welds sometimes can affect the natural aiming posture of the operator causing neck fatigue and slower reaction time aiming with BUIS. The Minimalist stock is available in both Mil-Spec and commercial sizes. The price of this stock is unbeatable at just $59.95 it's a winner hands down. For those who prefer built-in compartment on their stocks, you may want to try their Battle Link Utility Stock (BUS).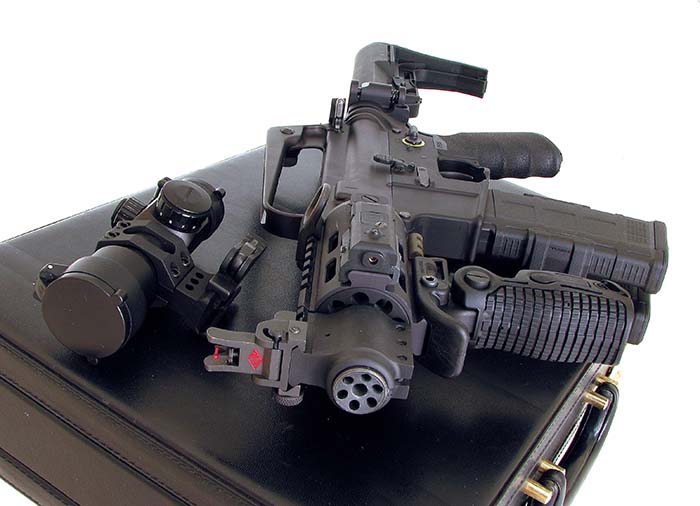 The MFT AR-15/M16 pistol grip features a finger groove grip design that is complemented by an all-around textured surface with deep large serrations at the back assuring a very positive purchase with wet or gloved hands. Inside the grip is a water tight storage compartment with plug retention for one handed storage access. A customizable storage sled with quick access tab diminishes the rattle. The REACT Torch and vertical grip is another excellent innovation from MFT that really enhances the versatility of this micro AR in those shoot-no-shoot situations that may involve hostages being kept in dark rooms or poorly lit areas. I have tested similar accessories made by other big names in the industry that cost a lot more than the RTG but offer little real advantage. In fact, the RTG feels more comfortable in comparison because it is shaped more like a grip, not excessively long and not round like a post. Its front and back has deep groove textured gripping surface that helps eliminate hand slippage in wet conditions. The RTG can accommodate three sizes of light or laser with a diameter of .750, .825 and 1.000. An additional feature of the RTG included is a push button safety switch to prevent unintentional activation of the light source, a side mounted pressure pad well that allows activation for right handed shooters and a thumb activation switch for wireless operation. The quality and fit of these grips are superb and they fit to the gun and forearm perfectly. For those who prefer a folding type forward grip on their PDW, the Fab Defence FGGK-S is a very suitable alternate. It was developed primarily for the Glock pistol but adapts perfectly in this PDW set up. This two-position foregrip can be instantly transformed from vertical to horizontal with a push of a button.

Now, if I can only magically transform this concept gun into a lead breathing infidel tool to join the long list of Stoner inspired AR miniatures, I am quite sure it will serve well in the right hands. (WARNING: building this type of firearm in the United States will require registration as a Short-Barreled Rifle and payment of the $200 tax.)

For complete MFT product line, visit their website at (www.missionfirsttactical.com). Fab Defence products and other related accessories featured in the article are available from Brownell's, Inc. (www.Brownells.com). In Canada from Wolverine Supplies (www.wolverinesupplies.com).
This article first appeared in Small Arms Review V18N2 (April 2014)