By Charles Q. Cutshaw

To say that FN's recently announced Special Police Rifle is outside the ordinary is an understatement! While the rifle superficially appears to be a conventional precision tactical rifle, it is in some ways a very unconventional bolt action precision rifle that seems to break many of the rules for such rifles, but works nonetheless. The Special Police Rifle breaks no new technological ground, but FN's application of existing technologies flies in the face of conventional wisdom as to how a precision tactical (or sniper) rifle is manufactured and how the accuracy necessary for snipers is ensured.

For example, conventional wisdom has it that chrome lined and cold hammer forged barrels are inherently less accurate than unlined barrels and barrels that are hook cut or button rifled. In the face of these cast in stone concepts, FN's engineers use "turned down" chrome lined cold hammer forged M240 (MAG 58) machine gun barrels for the Special Police Rifle! These barrels last some 20,000 rounds under the harsh conditions of machine gun use. FN engineers have yet to fire enough rounds through one of the Special Police rifle barrels to establish a firm estimate as to how long the barrels will last under the relatively benign conditions of sniper use. Are these machine gun barrels sufficiently accurate for sniper use? If half minute of angle (MOA) groups at 100 yards are sufficiently accurate, we believe that other manufacturers might consider buying FN machine gun barrels to use in their precision tactical rifles.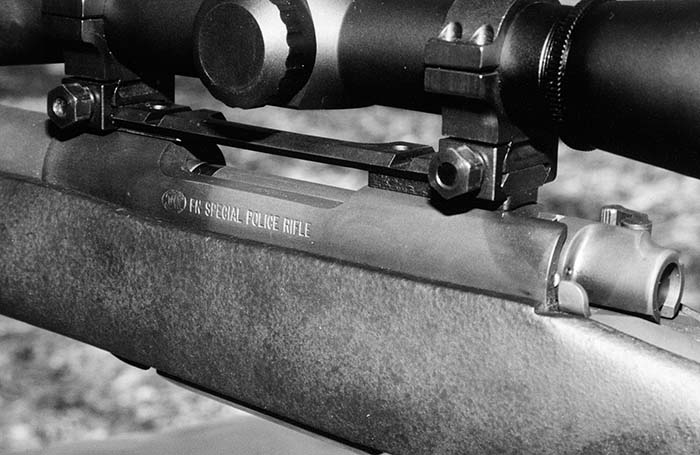 Conventional wisdom also has it that a precision rifle's trigger guard must be a solid steel piece with a hinged steel floor plate to ensure accuracy. FN's Special Police Rifle has a four round detachable box magazine and an aluminum trigger guard. We like the quick reload capability that the box magazine offers, despite the fact that it will be used only upon rare occasion. One can make the argument that in a rifle such as this one, a detachable box magazine really isn't necessary, but if it doesn't detract from accuracy, why not have the capability? Again, is 1/2 MOA 100 yard accuracy good enough? Of course, we have all heard the rumors of detachable box magazines of competitor's rifles dropping out of the magazine well under recoil, but we experienced no such problem with the FN rifle The magazine release is a large spring loaded component that should hold the magazine in place regardless of recoil level.

When FN Manufacturing (FNMI) initially offered us the opportunity to visit their Columbia, South Carolina facility and fire several of their law enforcement and military products, we were skeptical as to the company's capability to manufacture a precision rifle with so many unconventional features at such a low cost. We were especially leery of the claim that the rifle would deliver sub minute of angle accuracy "out of the box." After firing the Special Police Rifle, however, we have become believers.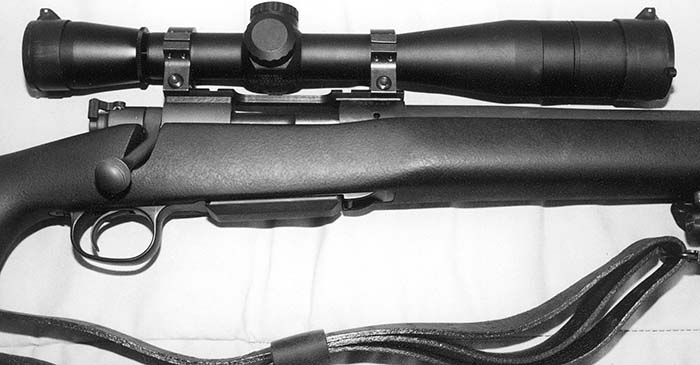 We were unable to evaluate the rifle using different brands of ammunition, so we fired several groups at 100 yards using only Federal Gold Medal 168 grain match ammunition. The results speak for themselves. Our three round groups averaged 0.75 MOA, with the best group through a warm barrel a solid 1/2 MOA.

How does FN accomplish their "magic" with this rifle? FN begins with a "pre 1964" type Winchester action, with Mauser type claw extractor. FN-owned Winchester is once again manufacturing this action due to popular demand. Many shooters feel that the "pre -64" Winchester action is the best available. While we do not wish to touch that "third rail" of shooting belief, the fact is that the "Pre-64" Winchester action has some very desirable features. First is the three-position safety that can be used to lock both the bolt and striker or only the striker, allowing the shooter to manipulate the bolt with the safety engaged. Second, we appreciate the ability to remove the striker mechanism from the bolt body for cleaning and maintenance without the use of tools. Whether or not the Winchester action is superior to its competitors, we will leave to the judgment of the reader, but the fact is that this rifle shoots, despite a factory trigger pull that is far too heavy, as we will presently see.

Although in an innovative way, FN does apply several traditional accuracy techniques to the Special Police Rifle. Barrel, bolt and receiver are hand fitted and individually numbered. Each action is trued to the breech face and chamber and the bolt face squared to the barrel axis. The barreled action is mounted in an H-S Precision Pro Series synthetic stock using aluminum bedding blocks. The barrel is free floated. The Mauser-type extractor is made of stainless steel and is Teflon(r) coated to ensure smooth operation and to prevent binding. This also assists in controlling the cartridge throughout the cycle of operation from feeding through ejecting. The rifle is finished in manganese phosphate.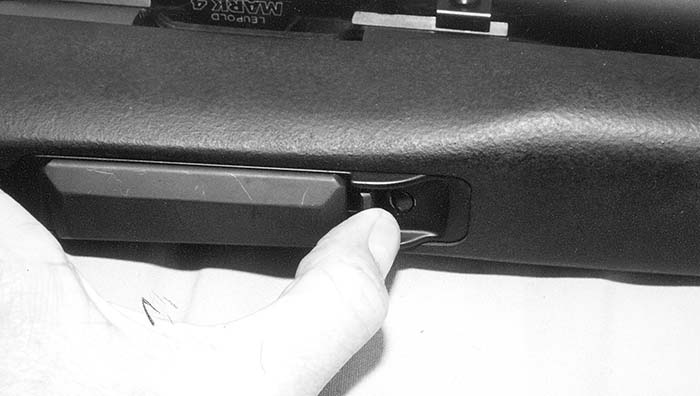 We found the fit and finish of the Special Police Rifle to be essentially flawless. The rifle is not intended for esthetic good looks, but beauty is in the eye of the beholder and this rifle is a functional tool. There are no machining or tooling marks visible and the fit of all components is excellent. The muzzle is deeply crowned and recessed to protect it from inadvertent damage. The test rifle was fitted with an MWG long range MIL-STD-1913 rail mount, MWG military spec rings, a Leupold Mark III 10x fixed power telescope, and a Harris bipod.

Our sole complaint regarding this rifle is its trigger – the only element that detracts from an otherwise excellent rifle. The trigger comes from the factory set at 4 – 5 pounds, which is on the high side for a rifle such as this. The rifle's trigger had no discernable creep or backlash, and the example that we fired had already been reset by FN's gunsmiths to three pounds. Every Special Police Rifle purchaser will probably take the rifle to the nearest gunsmith before he ever heads to the range for the first time to have the trigger readjusted to a more realistic three or so pounds. We believe that manufacturers should provide their rifles with a trigger already set to precision tactical levels, rather than forcing the customer to take his new rifle to a gunsmith before he uses it. Indeed, we have been informed that all law enforcement purchasers of Special Police Rifles so far have done exactly what we have stated herein – reduced the trigger pull to three or 31/2 pounds. Why did FN opt for the heavy trigger? We were informed that it was due to liability considerations, but we believe that if small specialist manufacturers can manufacture their precision rifles with three-pound triggers, so can large manufacturers.

One of the best aspects of FN's new Special Police Rifle is its price – $940 suggested retail, Law Enforcement Officers with Department letterhead $740. As with most rifles of this type, even those costing much more, the Special Police Rifle is sold without mounts or sights. Other than the trigger pull, we could find nothing to complain of on FN's new rifle and can see no "cut corners" on it. Costs are reduced by using "off the shelf" components and by CNC controlled manufacturing processes at FN's Columbia, South Carolina plant. It is difficult to believe that a rifle such as this can be made and sold at such a low price, but the proof is in the shooting, and this rifle shoots! The rifle has already been adopted by several South Carolina law enforcement organizations and if all Special Police Rifles perform up to the standard of the one we fired, it is going to be difficult to keep these rifles on dealer's shelves. What is best is that the Special Police Rifle is available not only to law enforcement officers and agencies, but also to civilians, as its accuracy and rugged construction makes it an ideal competition or hunting rifle. Even when the cost of having a "trigger job" done by a qualified gunsmith is taken into account, FN's Special Police Rifle is a bargain.

FN Special Police Rifle Specifications

Caliber: 0.308 Winchester (7.62x51mm)
Empty Weight: 9.88 lbs. (4.47 kg)
Overall length: 45.75 in. (1116 mm)
Barrel length: 26 in (660mm)
Twist rate: 1:12 in (305mm)
Magazine capacity: 4 (+1) rounds
Stock: H-S Precision Pro Series
Trigger pull: 4 -5 lbs. (1.8 – 2.2 kg)
This article first appeared in Small Arms Review V5N4 (January 2002)