By Jeff Hoffman

SAR is not politically correct. When we received this article, I considered changing all of the "Sniper" phraseology to "Military Marksman" or "Tactical Marksman", but the hell with it. This is the real world and Snipers are Snipers. It is part of our heritage, and part of our modern function- no code words here. Snipers are Snipers. If someone at Handgun Control wants to get their panties in a bunch about "Snipers", SAR is not going to sweat it. – Dan
I recently attended the Chandler Reifinger Sniper course at the Blackwater training facility in Moyock North Carolina. A concise report is that this is an excellent school. The facilities are first rate, the student to teacher ratio is unmatched, the course is challenging, the curriculum is appropriate, the hours are long, and the pace is fast.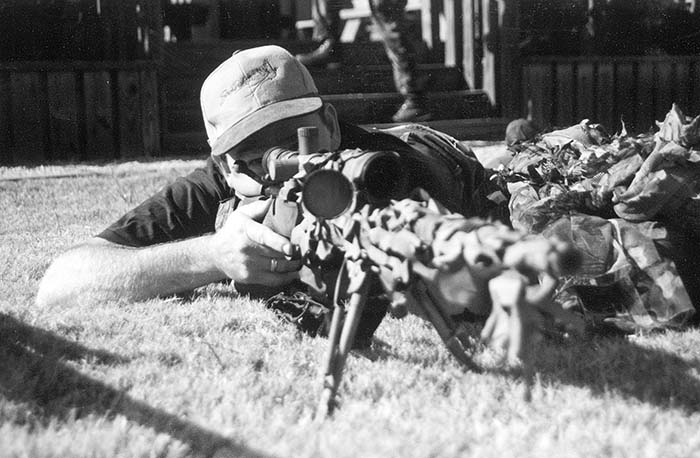 I recommend the school, but provide the caveat that this if not the school you should choose if your agency just issued you your rifle and you thought it a good idea to have someone teach you to shoot it. This school trains snipers, and while they do a good job of accommodating a wide range of skills, you should be competent with your rifle and be mentally prepared for an intense week when you show up for the course. Bring quality gear. A hunting rifle and $100.00 scope will let you down under this type of course, just as they will in real life (with more serious consequences).

This course was developed by Norm Chandler, Lt. Col. USMC, Retired. Norm is the principal of Iron Brigade Armory that builds extremely high quality, hardened precision tactical rifles. Iron Brigade is a source for other necessary and practical, field-tested sniper gear plus a series of Chandler books which are a necessary part of any well- read sniper's library. Jim Reifinger, the course chief instructor, is a retired USMC Sergeant and currently head of the Jacksonville, NC Police Tactical Team.

The nearest commercial airport to Blackwater is at Norfolk, VA., 30 miles to the North. I flew into Norfolk and hooked up with Whit Engel of Engel Ballistic Research and Deputy Jess Tippe of Bastrop Co. Sheriff's Office in Texas, who were also attending the class. Whit, who had attended Blackwater previously, provided our little group with valuable intelligence. Blackwater is an excellent facility tucked discreetly in the backwoods of North Carolina, (a sign encouragingly identifies the area as "Dismal Swamp"). This is an ideal setting for high intensity training but Whit had previously noticed a need for supplemental rations in the way of hydration materials and high calorie meal supplements (pop, beer, luncheon meats, bread and chips). The supplemental rations are consumed during late hour debriefs and team bonding that occurs when you have three dozen men living, shooting, sweating and bunking together for a week. After stocking up on supplies at a late night convenience store, we pulled into the Blackwater Facility. I was impressed to find the bunk facilities were new, clean and comfortable. Breakfast the next morning was at 0700 sharp. Hot meals are provided for breakfast and lunch. (Supper is left to the students. You can jaunt to town for supper or, as we usually did, you retire to the prestashed rations you picked up on your way in and use the extra time to prepare for the evenings training).
Class starts at 0800. Be there. This course provides a good balance of classroom instruction and field time. The instructors have "been there, done that" and have long since worn out the T-shirt.

Material covered in the classroom is put to practical use in the field. As an example, after instruction and discussion on "shoot-don't shoot" topics, students participate in actual field scenarios with role players. These scenarios force the sniper to make decisions quickly, with limited amounts of information, and then articulate why he chose to "shoot" or not. These scenarios are even more challenging than normal law enforcement "shoot-don't shoot" exercises. The law enforcement sniper normally isn't making a decision whether to defend himself, but whether he needs to reach out and kill someone at a distance who doesn't even know he is there. He has to make his decision based on what he has been told and what he sees through the limited field of view of his riflescope, while the situation is evolving. The sniper may have been watching his targets face at 10x magnification for the last 10 minutes or the last 3 hours and now needs to shoot that person. This Chandler Course doesn't neglect the critical thinking and psychological aspects of the training while it teaches the weapons skills.

I had been through three other sniping courses prior to the Chandler Course. All were good but I continue to learn with each course. The Chandler Course improved my skills in several areas, from things as small as building up the stock to provide a more uniform cheekweld, to things as advanced as making consistent hits on 300 yard moving targets, in the dark, and heavy fog. Few law enforcement situations will exist requiring a shot at a 300 yard moving target in the dark, but having the training and skill to do that provides the confidence to make the 75 yard shot under stress. Prior sniper courses I have attended placed a lot of emphasis on shooting groups. That is a necessary skill, not to be neglected in training. You must understand your rifle completely and know your capabilities with it. Range time is the only way to bond with your rifle to the degree necessary to be a competent sniper. I recommend, however, that you get to that level of proficiency before coming to Blackwater. Compared to the other courses I have taken, very little time is dedicated to basic group shooting at the course. The Chandler/Reifinger course, in my opinion, is actually an advanced level course. The shooting at this course had limited 100 yard group shooting, concentrating instead on valuable training on pop up targets and moving targets at 100, 200 and 300 yards, with short time durations for the pop ups and varied speeds for the movers. I appreciated this school's emphasis in moving targets. In real life, your target moves. Reality doesn't care that you may have only practiced on immobile paper targets. Life doesn't adjust to your training; your training must cover what you will face in reality. That means moving targets. The course also included shooting at 400, 500 and 600 yards at allow the students to get their "dope" for those ranges and get experience with wind that always has an effect at those ranges. Again, 600 yards is an extreme range for law enforcement, however it is certainly within the capability of a trained rifleman with good equipment and experience, and the confidence gained at the longer ranges helps at making the "typical" 75 yard shot.

We trained at unknown distances, calculating the distances with mildots. Laser rangefinders are now very prevalent, and I consider them "must have" equipment for a sniper, but one should know how to do the job without them for those inevitable situations when your batteries are dead or someone else has your laser rangefinder. We practiced observation with KIMS observation games (Keep In Memory). In a KIMS game various miscellaneous small objects are assembled for viewing and exposed for a limited amount of time, then covered. The sniper students then must individually recall as much detail as possible about items. This exercise sharpens the snipers eye for detail and tests his ability to remember and accurately relate what he observed. There were also field exercises in observation, field sketching and reporting, glass shooting, night movement and coordinated fire.

As part of the course, students shot eggs suspended on strings. Any hits or misses are immediately obvious to all viewers. This adds a slight amount of stress to the shooter who knows all eyes are on him to produce.

The days are long at Blackwater. They began with breakfast at 0700 and generally did not end until 2200 or later. Rifles were cleaned at night in preparation for the next day. At the end of each day there was a debrief to analyze what was learned by each student and to provide feedback to the instructors to ensure that the course improves and evolves. That is something I had never seen before and I consider it a credit to the quality of instruction. They have a great course and they still actively solicit input on how to make it better! In the evenings, there was time to meet informally with other students and instructors. I took advantage of that, since there were so many colorful, experienced personalities to interact with. I consequently went home with a mild case of sleep deprivation from running on 5 hours of sleep a night but thoroughly satisfied with the time spent at Blackwater. A school can legitimately offer 40 hour weeks of instruction. Blackwater offers over 60 hours of intense training in 4 1/2 days. I consider that a bargain.

Snipers in the real world work in two man teams. Those who attended the course without a departmental team member were paired up. I was fortunate enough to be paired with another long time acquaintance, Charlie Cutshaw, a veteran of Army Intelligence and current editor for Jane's Infantry Weapons and Jane's Ammunition Handbook, as well as being one of SAR's Usual Suspects. It is important to mesh well with someone you have to work that closely with. We worked well together, culminating with Charlie's performance at 600 yards, putting an entire group in a centered cluster on the silhouette that was covered by the 3" spotter plug.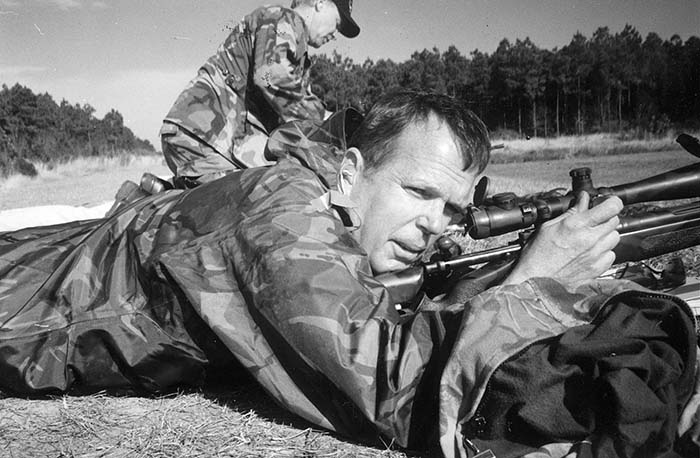 Hershel Davis, one of the staff instructors at Blackwater, who is a retired SEAL with over thirty years of experience, shared a piece of hard earned wisdom with our class. "If you are ever in a fair fight, your tactics suck!" Training of the quality given at Blackwater helps ensure that the criminal element doesn't get to engage in a fair fight with Blackwater Trained Snipers.
SOURCES

Blackwater Training Center
850 Puddin Ridge Road
Moyock, NC 27958
252-435-2488
www.blackwaterlodge.com

Norm Chandler
Iron Brigade Armory
100 Radcliff Circle
Jacksonville, NC 25846
910-435-3834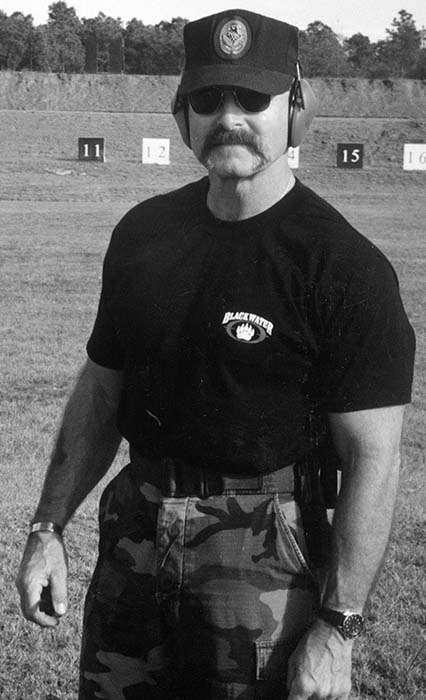 This article first appeared in Small Arms Review V5N2 (November 2001)