By Gabriel Coutinho de Gusmão –
In my last article, Early Bolt-Action Rifle Conversions – Automatic Service Rifles on a Budget, I began exploring the world of bolt-action rifle conversions into self-loading ones. However, as this story continues on after the end of World War I, the SAR team gracefully allowed me to continue on our journey. To recap, semi-automatic rifles were conceptualized in the late 1800s, mainly in Austria-Hungary (Mannlicher & Karel Krnka) and Italy (Cei-Rigotti). Other European powers of the time were also interested in the concept, although military doctrine at the time hindered the progress of this new invention. Nevertheless, trials and tests were carried out. Denmark, being one of those countries, was in the process of renovating their sea fortifications. At the same time, partners Julius Rasmussen & Vilhelm Oluf Madsen presented the Danish military a self-loading rifle of their design. The commission found that it was not suitable for army adoption, however, they saw a potential in arming their newly recommissioned forts with Madsens' rifles, making the M1896 Rekylgevær the first self-loader to be ever adopted by a military power.
Skipping a few years to World War I, the French encountered themselves in a war of attrition and stagnation, where the machine guns of the German Army prevented any kind of frontal assault by allied troops. It was then that a portable, automatic rifle to suppress German machine guns whenever troops would infiltrate the enemy trench was requested by the French army. Chauchat, Paul Ribeyrolles, and Sutter quickly responded with a conversion kit for the old, obsolete stock of Lebel rifles that was permeating French stocks, although not many parts were re-used from the old rifles, the RSC rifle was still a success. After the end of the Great War, most co-belligerent countries were war-weary and therefore not interested in spending or giving attention to new matters and technologies developed during the conflict.
The Sleeping Giant Awakens
Colonel Isaac Lewis, of Lewis Gun fame, reported to the Board of US Ordnance that the United States was behind all the European powers by at least 10 years. During the World War I, the United States certainly came to realize that Lewis's statement was correct. The U.S. Army lacked both machine guns and rifles when it declared war on the Central Powers in 1917, which led to a push for rearmament after the end of the war. Around 1919, the Army set out requirements for this new rifle which included manufacture using Springfield 1903 machinery, it should fire .30-06, and have a maximum weight of 4.3 kilograms (9.5 pounds). Even though the Springfield Arsenal and others considered that the conversion of the 1903 was a moot point, other inventors still threw their hat in the ring for the trials which would soon follow.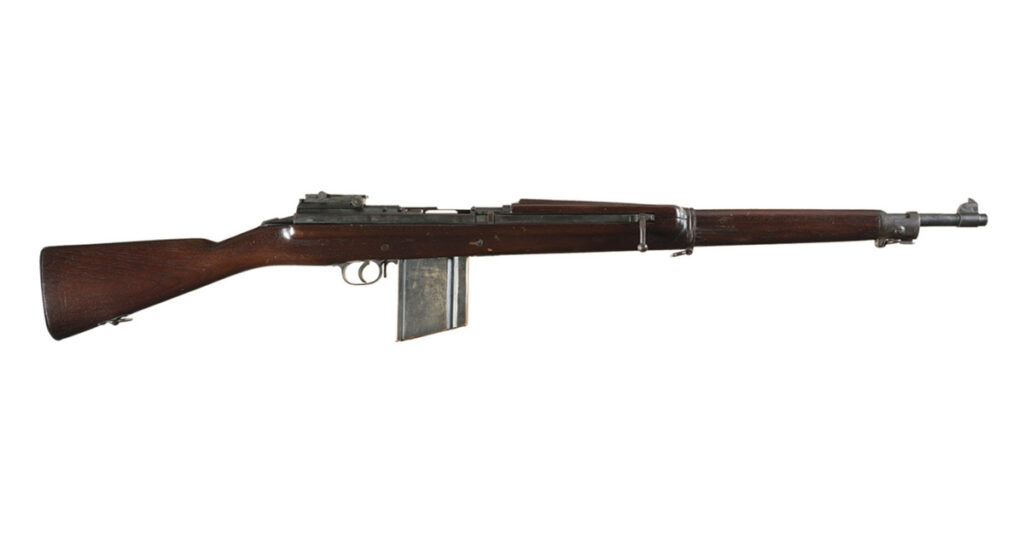 Thompson and Garand, both well-known names nowadays, submitted rifles for trials in the early 1920s, other designers, however, like Franklin Knowles Young (previously discussed in part I) were still attempting to save costs by converting stocks of Springfields which would soon be obsolete. He founded his own firearms company named "Young Gun Company" and got a patent in 1921 which described a gasiInertia operating system applied to a Springfield M1903 rifle. No records of it have surfaced, however, Franklin did not give up. He made one last attempt in a patent filed in 1929, a primer-actuated system that mostly used 1903 parts and a BAR magazine. One example surfaced in 2016 when it was sold by a popular firearm auction website.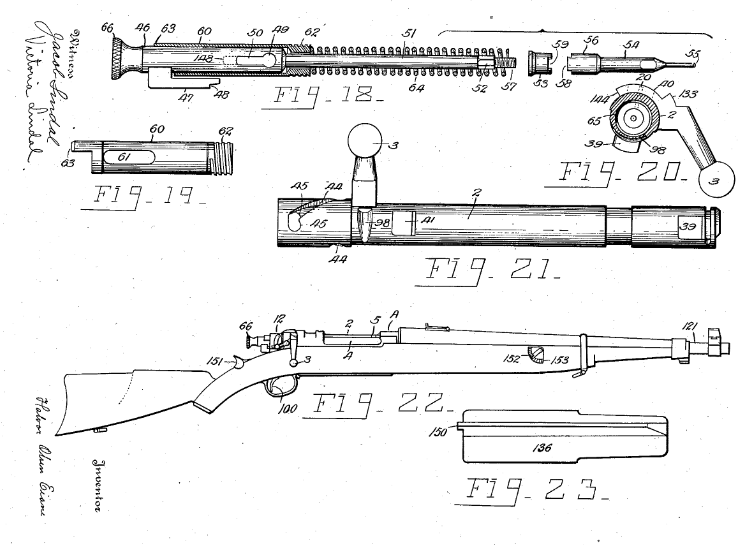 At the same time as Young's first patent, two others were also patenting their conversion systems for the Springfield 1903, Creedy Sheppard, mentioned in the last part, and John Pedersen, of Pedersen device and rifle fame. Pedersen's patent was an underbarrel secondary firearm, closely resembling his 1918 device that allowed the soldier to have both short-range, semi-automatic fire, or 30.06 as a normal Springfield. In 1929, the final competition of semi-automatic rifles for the army would take place, and as its victor, the famous M1 Garand. The cost of tooling and manufacturing of this new rifle would heavily weigh against adopting another rifle, as it happened with the Johnson rifle controversy. However, one last attempt by Halvor Olsen Eiane would be patented in 1938 (. It described an M1903 rifle with two gas pistons attached to both sides of the receiver.

Also of note, a mystery M1903 conversion with a slanted bolt was sold in February of 2021, It's my opinion that said rifle might be the work of either Edmund Browning or David Marshall Williams.
From the Ashes of Empires
After the Great War, many nations, like Poland and Czechoslovakia, were carved out of the German Empire and Austria-Hungary. These new countries had to muster new armies from the remnants left behind by their old overlords, including weaponry and personnel. Lieutenant General Tadeusz Rozwadowski was a distinguished officer in the Austro-Hungarian army during the first world war and in 1918 was made commanding officer of the newly formed Polish Army. In 1920, he recommended the creation of a new self-loading rifle based on old stocks of Mannlicher straight pull rifles, mainly the model of 1890 to be completed by the major state arsenals in Poland, being praised for this endeavor by the then Minister of military affairs, General Kazimierz Sosnkowski. This new rifle was named the Wz. 1921 and nicknamed the DOG after the General Region Command "Lwów" (Dowództwo Okręgu Generalnego "Lwów") who manufactured this prototype, operated with a very simple gas piston attached to the right of the receiver which operated the bolt directly, which could be turned off to return the rifle to manual fire. A wireframe pistol grip was added to make handling better while retaining the 5-round magazine which still used Mannlicher clips.

Czechoslovakia, also gaining independence from the Austro-Hungarian empire, had the same problem as Poland, with large quantities of outdated Mannlicher rifles which they tried to replace as soon as they became a state in 1918. Following trials of rifles submitted by Josef Netsch and Rudolf Jelen, a reserve lieutenant by the name of Josef Holub presented a Mannlicher M1888 operated by a gas piston on the right side of the receiver, with a front grip and a pistol grip attached to the magazine which retained the old five en-bloc clip design but now sported a cartridge counter mechanism. The rifle could be operated either as semi-automatic or fully automatic, hampered, of course, by the lackluster capacity of the Mannlicher clips. It was tested in 1921 but rejected in 1923 by the Minister of National Defense František Udržal.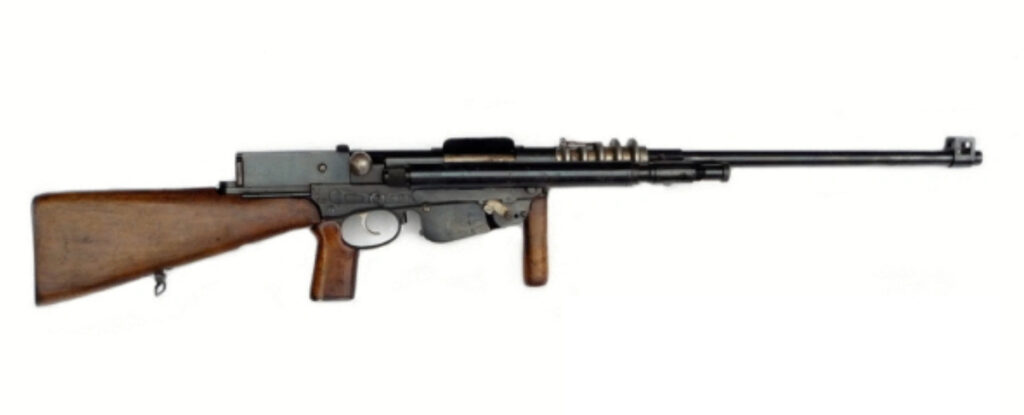 A Hungarian inventor by the name of C. Bessemer offered a conversion system for the later Mannlicher rifle, the model 1895. However, the Czech army at that point was less interested in adopting a self-loader. Also in Hungary, a patent in 1939 by Karolý Wolff consisted of a conversion system similar to the Holub rifle, however, applied to an M1895 rather than the older M1888.
The Italian Job
Italy, being one of the few countries which recognized the importance of submachine guns as a way to give more firepower to their assault troops, decided to experiment with the predecessor of the assault rifle concept in 1921. Another article written for this same magazine has gone more in-depth about these guns, however, they are important for our subject today because Marco Morin, one of the most important authors about Italian firearms, described the Terni model 1921 automatic rifle as being a Mannlicher-Carcano conversion. It's my opinion that this is a very far-fetched claim, however, Morin examined an example of this rifle closely and came to this conclusion, so it is difficult to determine the veracity of this claim.
Nevertheless, other rifles are worth talking about within this subject, those being the Scotti, the Castelli rifle, and Maefassi carbine.

Alfredo Scotti-Douglas, a descendant of Scottish and Italian nobility, was a firearms inventor in the interwar period. He designed machine guns, aircraft-mounted cannons, and, most importantly, self-loading rifles. His Model T.S. Carbine, dated to the tenth year of Mussolini's fascist regime, was developed as a response to Italian requirements for a 6.5mm semi-automatic rifle that used as many Carcano parts as possible; utilizing the barrel, sights, and magazine housing of a standard Carcano bolt-action but with the caveat of having the bolt, receiver, trigger mechanism, and stock being all brand-new parts. He followed his carbine with the Scotti Model X, which also tried using as many common parts as possible with the Carcano. Outside of Italy, Alfredo would offer to three other countries his rifle system as a means of the conversion of their bolt-action rifles, those being Germany in 1934, the United Kingdom in 1938, and Switzerland at an unknown date. Recently, more information has surfaced about another conversion, as well. A Swiss archival report describing the Scotti system mentions some rifles that were worked on by Scotti, including the previously mentioned Mauser and Mannlicher, but also a previously unknown Arisaka conversion.

The Maefassi and the Castelli rifles are less documented. Carlo Maefassi was an Italian officer stationed in Addis Ababa after the Second Italo-Ethiopian war. While being posted there, he and a few colleagues designed the Maefassi self-loading rifle, which was a simple modification of the Mannlicher M1895, which now had a gas tube under the barrel. Vittorio Castelli, of Brescia, allegedly presented, in 1930, a rifle of his design to the semi-automatic trials that were happening in Italy. I was not able to locate any drawings or patents of this gun, however, I do have a decent guess on what it might've been. There is a patent under Breda, which Castelli worked for, that contains a possible conversion system.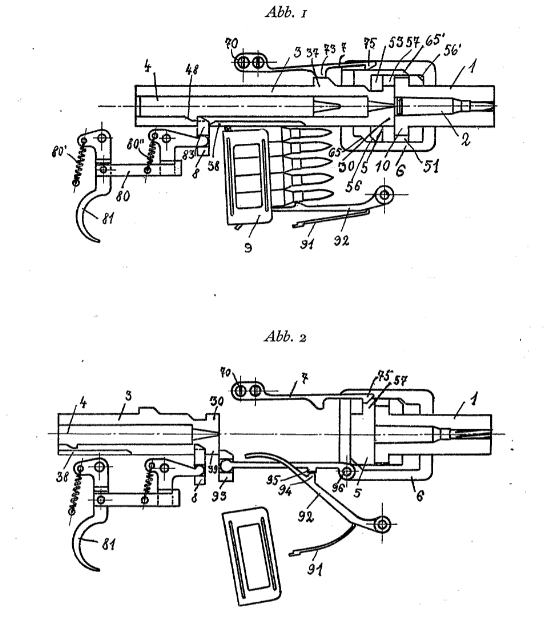 Intermission & Addendums
A fellow researcher, Bas Martens, contacted me about a visit to the St. Petersburg Arsenal Museum in the 1990s where he photographed many unknown rifles, even some conversion systems! Seemingly of German origin, since they use Gewehr 98 parts. Next time, we'll be looking into the emergency conversions developed due to the outbreak of the World War II and other posterior designs.