By Todd Burgreen
Derringers from Bond Arms make for an interesting topic. Derringers were the original pocket pistols dating back to Henry Deringer's muzzle loading percussion cap variant made infamous with Lincoln's assassination. The newspapers misspelled the name of Booth's weapon with two "R"s thus why we have derringer as label. When metallic cartridges arrived, the term "derringer" stuck for any diminutive multiple barrel handgun that did not have an action i.e., revolver, semi-automatic, etc. Metallic cartridges allowed an additional barrel to be added, as opposed to a single barrel muzzle loader style. Size is minimized since rounds are loaded into a break open barrel design, giving access to the chambers.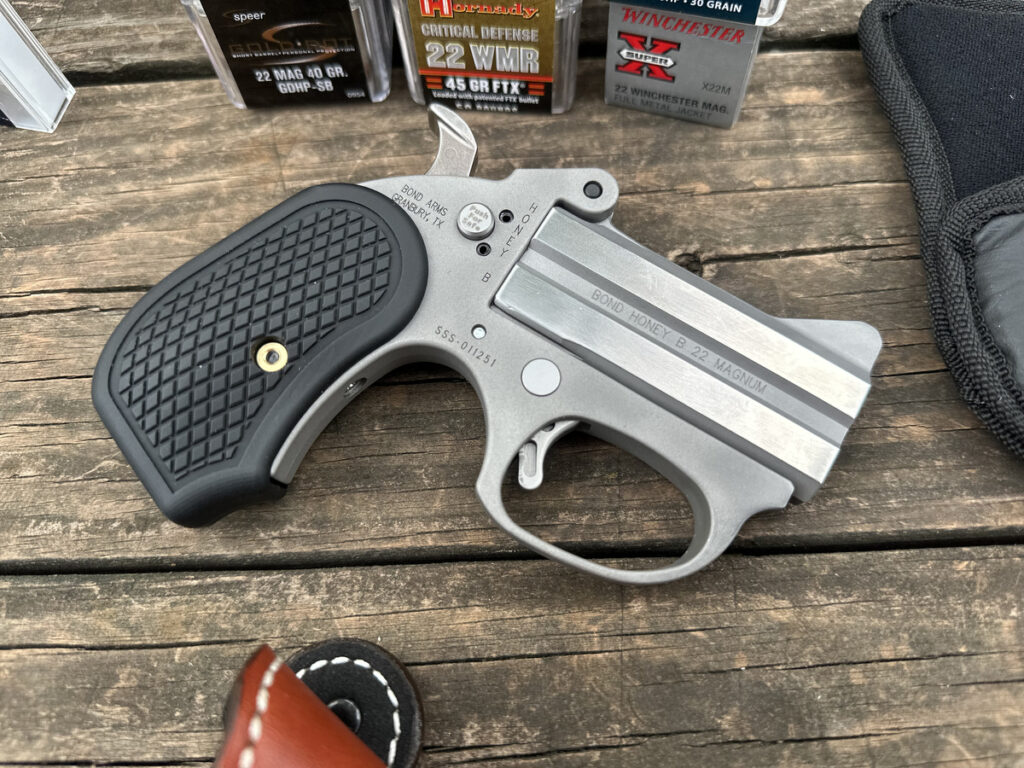 Fast forward…incorporated in 1995, Bond Arms quickly found itself the flag-bearer of the derringer market. Bond Arms is the largest derringer manufacturer in the industry. Bond derringers are U.S.-made. Bond Arms did not merely imitate previous derringers, they innovated along with incorporating premium materials and finishing techniques with their derringers. Bond added a removable trigger guard on many models, a "rebounding hammer" design, retractable firing pins, and a crossbolt safety to modernize the derringer. Most of Bond derringers offer modularity in changing calibers via switching barrels and grip options. Calibers range from 22 LR to 45-70. A 45 LC/.410 shotshell option is also available. The Bond Arms "RS Stinger", chambered in 38 Special, and the "Honey B" 22 Winchester Magnum Rimfire are used in our review to explore what current derringers offer.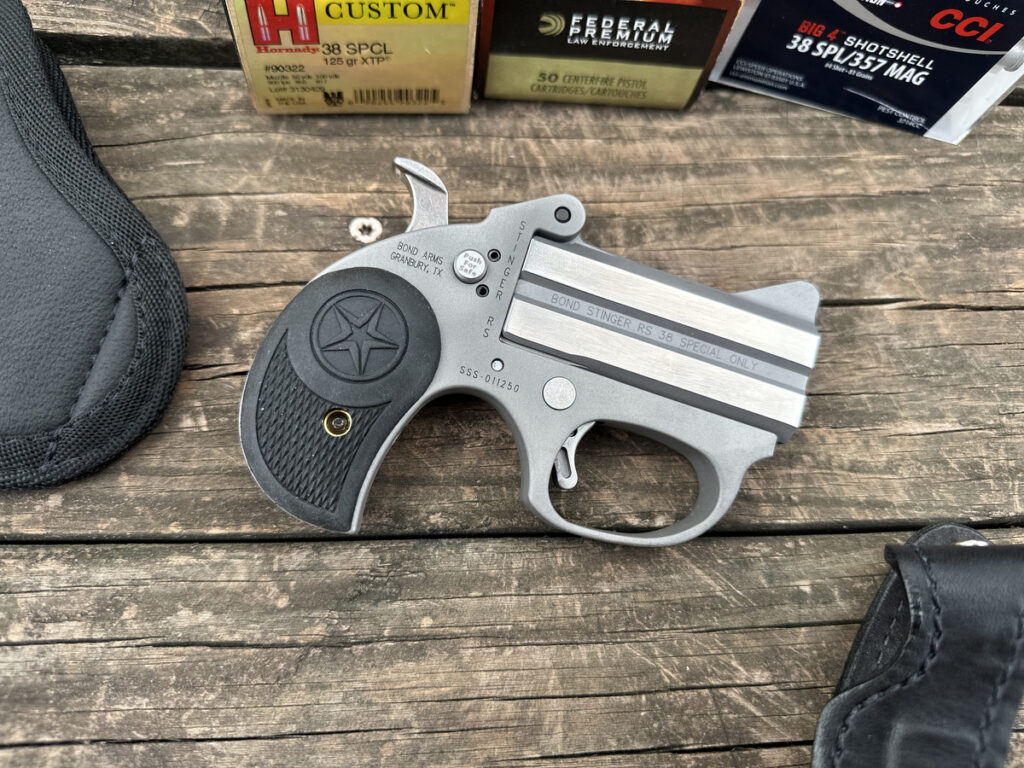 UNICORN
The Bond Arms Stinger RS and Honey B defy easy categorization. The Bond derringers' single action manual of arms, trigger pull, controls, sights, grip angle, and other intangibles have no equivalent in handguns out there you can compare them to. Do not take this to mean derringers have no endearing value as a weapon.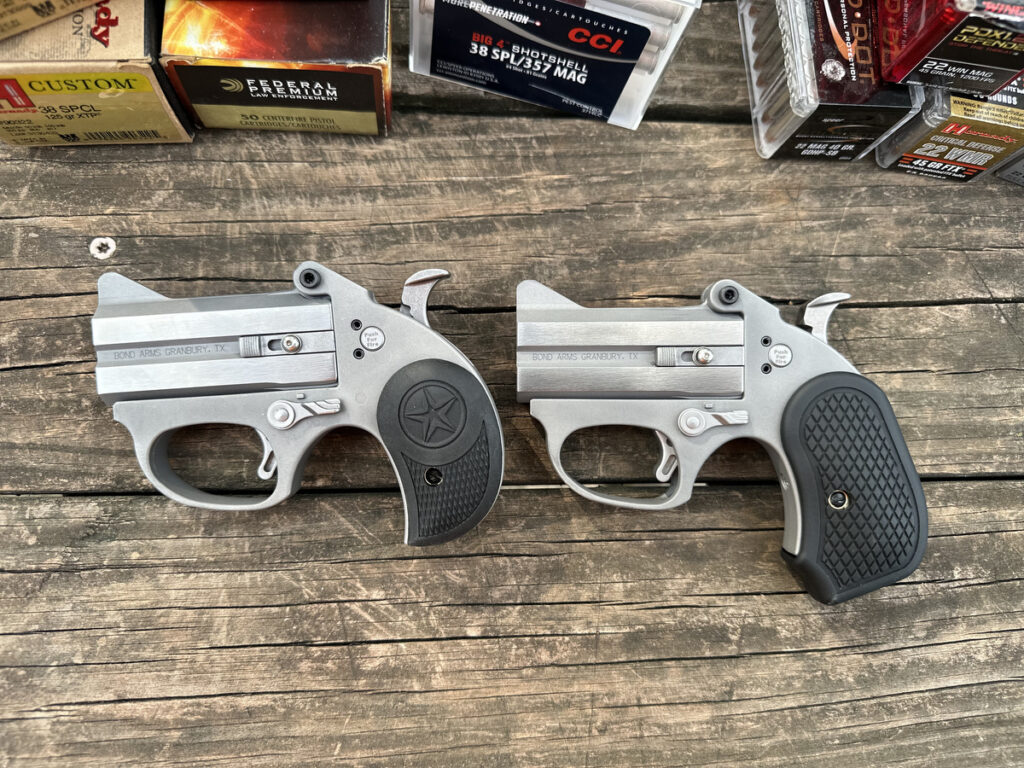 Derringers are a sub-set of pocket pistols. The case could be made derringers defined the genre from their inception. The argument against feasibility of derringers usually starts with derogatory leading questions such as, "what good is that toy pistol at more than three paces?" and "what do you expect to get from a miniature pistol with minimal capacity and crude sights?" The same derringer antagonists would urge getting a 380 ACP (or even 9mm) in one of the emerging ultra-compact semi-auto designs.
We will make a case that Bond Arms derringers are not merely novelties relying on nostalgic appeal. Deep cover concealment and SHTF backup weapon roles are as relevant now as they were on the frontier, albeit wielded by a card shark or a gentleman entrepreneur. Open carry, then as now, was often infringed upon by town ordinances. Card table distances with assurances of two rounds of firepower are the realm of the derringer. The same strong case for close range defensive weapons can still be made today.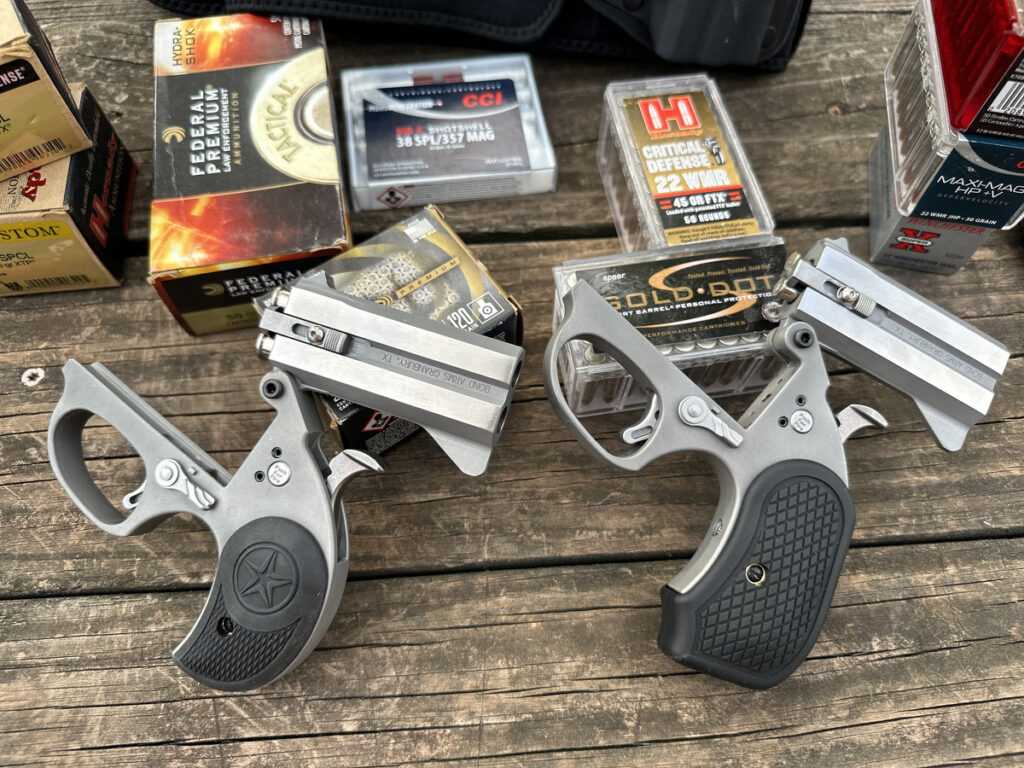 The Stinger RS, introduced in 2022, and Honey B, in 2023, are departures from Bond's typical high polish finished offerings. For Bond Arms' first 20 some years, they were fighting against derringer stereotypes of cheap construction. After getting the brand established, Bond realized less expensive options would be viable. The company recognized that a reduction in width and weight would also be appreciated by the market. There was no compromise on materials—the only expense reduction here is a result of bypassing time-consuming hand finishing. The Stinger RS and Honey B are constructed of 400-series stainless steel. The frames are investment cast. Any burs are knocked off before the frame is bead blasted. The barrels are machined from bar stock. The exterior of the barrel is also bead blasted with the flats receiving a moderate polish. Commensurate with this time savings, pricing is reduced approximately in half for the Stinger RS and Honey B when compared to other Bond models featuring a high degree of hand finishing. Another cost-saving measure, the Stinger RS and Honey B derringers do not have removable trigger guards as found on many of the Bond Arms derringers.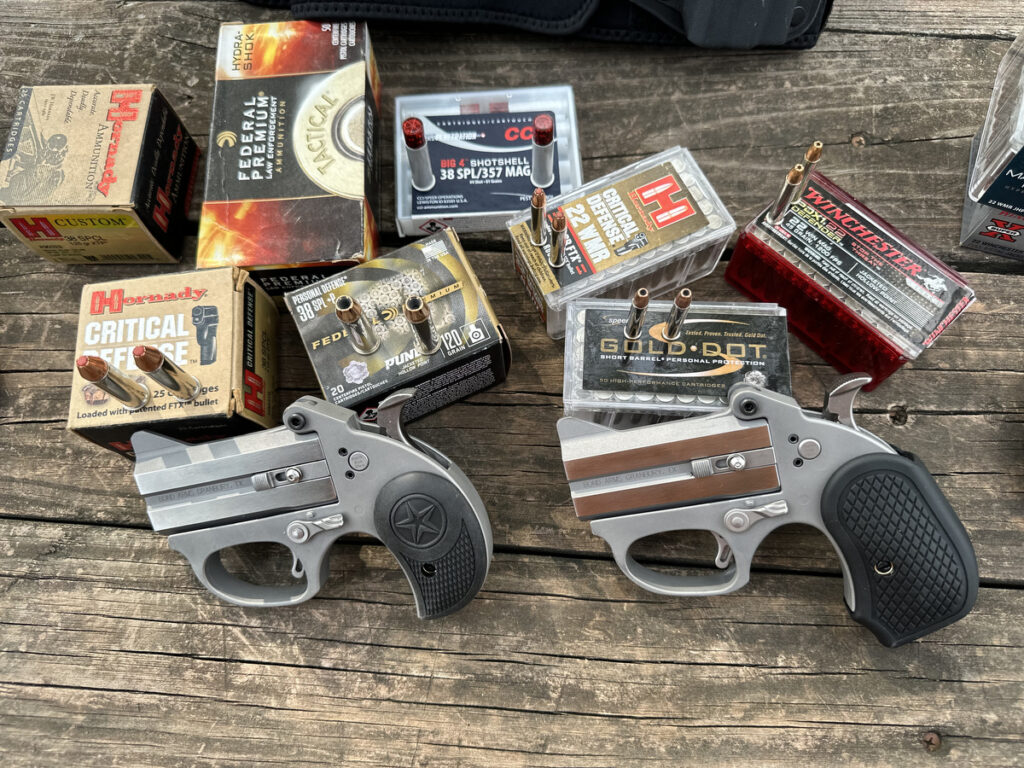 The Stinger RS combines handgun chamberings such 38 Special (tested here) 380 ACP and 9mm, in a squat, compact package. The Stinger RS weighs 16 ounces and measures 5 inches long. The twin 3-inch barrels are its defining aesthetic. The fixed sights are purposely minimal to reduce snagging for a handgun destined mainly for pocket or other types of deep concealed carry. The Honey B's salient feature is the B6 grip. The B6 grip allows much more purchase on the Bond frame along with a palm swell. B6 grips are standard on the Bond Arms behemoths chambered in 45-70 and 45 Colt/.410. The Honey B is chambered in 22 LR, 22 WMR (tested here), 380 ACP, 9mm Luger, and 38 Special Weight for the Honey B is 17.5 ounces, measuring 5.5 inches with 3-inch barrels. Weight reduction is not the only nod to improved concealed carry for the Stinger RS and Honey B; the profile of the frame is significantly thinner than most other Bond Arms offerings.
TIME TO FEEL THE STING
Range evaluation of the Stinger RS and Honey B consisted of establishing reliability first, then getting into relative accuracy and handling characteristics. Several double barrels worth of Hornady, Federal, Winchester, Speer and CCI ammunition was spent engaging paper silhouettes, plate racks and man-sized steel targets with each. Engagement distances were primarily at 3 to 5 yards. More of a point-shooting method was utilized along with a one-handed firing grip. This was found to be a more realistic way of analyzing Bond Arms derringers' capabilities considering the role it was designed for—deep concealment.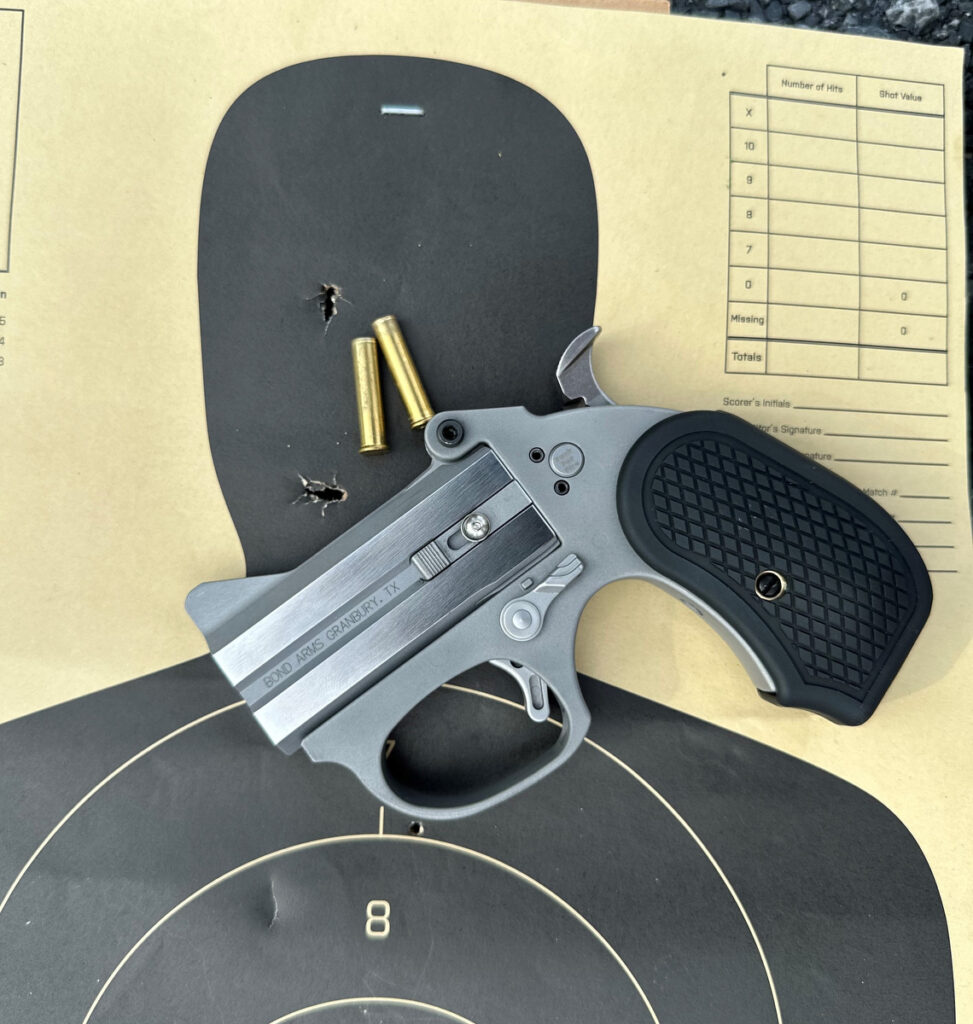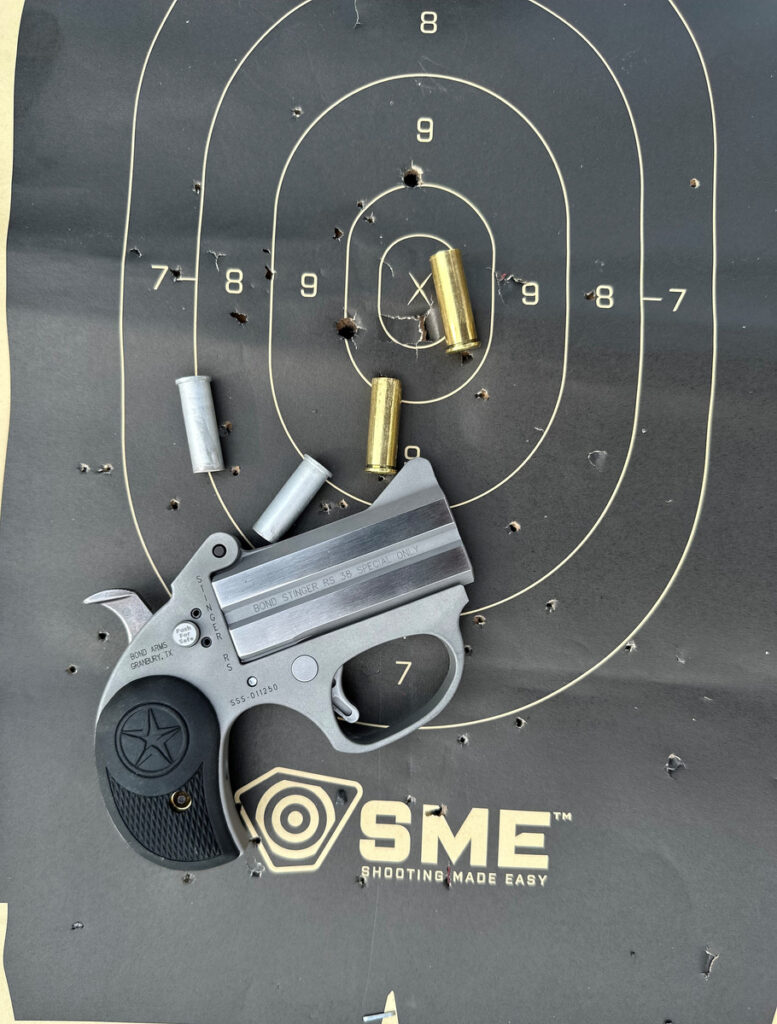 You do not want to grip your Stinger RS too high on the frame for a few reasons. Putting your finger top of the trigger shoe will negatively impact perceived pull weight. Pulling from lower on the trigger is suggested. This less likely to happen with the Honey B due to the B6 grips intuitively guiding your hand to the ideal location. The Bong Arms trigger is pushed or rolled downward toward heel of the butt rather than pulled straight rearward. Lastly, you do not want your hand exerting pressure on the cocked hammer, as this also negatively impacts trigger pull. I read about this during my research and verified this experience during my evaluation. When done properly, trigger pull is in the 6-pound range for each derringer.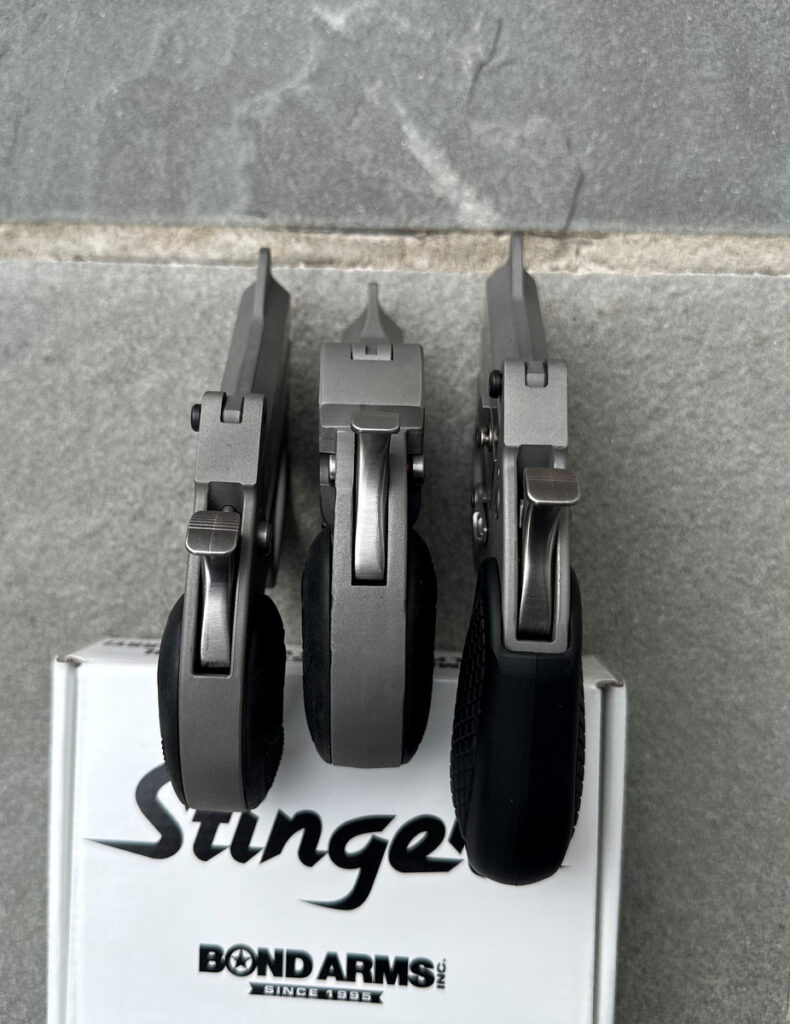 The Honey B 22 WMR's muzzle blast is surprising with a visual signature more typical of a centerfire cartridge than rimfire. This is based on the 22 WMR being primarily chambered in rifle length barrels and thus the use of slower burning powders that do not get consumed in the Honey B's 3-inch barrel. Recoil is minimal, though, and thus manageable for all shooters. The 22 WMR chambering will instantly give it a black mark in terms of terminal ballistic performance. I offer a counterintuitive thought—perhaps the 22 WMR is an asset in such a diminutive package. Let me finish before snorting and scrolling onward.
"Handy to carry" does not translate into "comfortable to fire." A derringer chambered in 22 WMR may be a better or more appropriate option for certain sections of the gun buying public. Increased 22 Mag ammunition performance (not an oxymoron) in the 80's was a major reason why 25 ACP chamberings in pocket pistols fell off. The Honey B was tested with a myriad of 22 WMR ammunition from Hornady, Winchester, Federal Premium, and Speer. It was a surprise to find the number of 22 WMR loads directed towards the personal defense realm. Hornady and Winchester offer prime examples of this in the form of Hornady's 45gr Critical Defense and Winchester's 45gr PDX1 loads. Speer weighs in with 40gr GDHP-SB loads for the 22 WMR.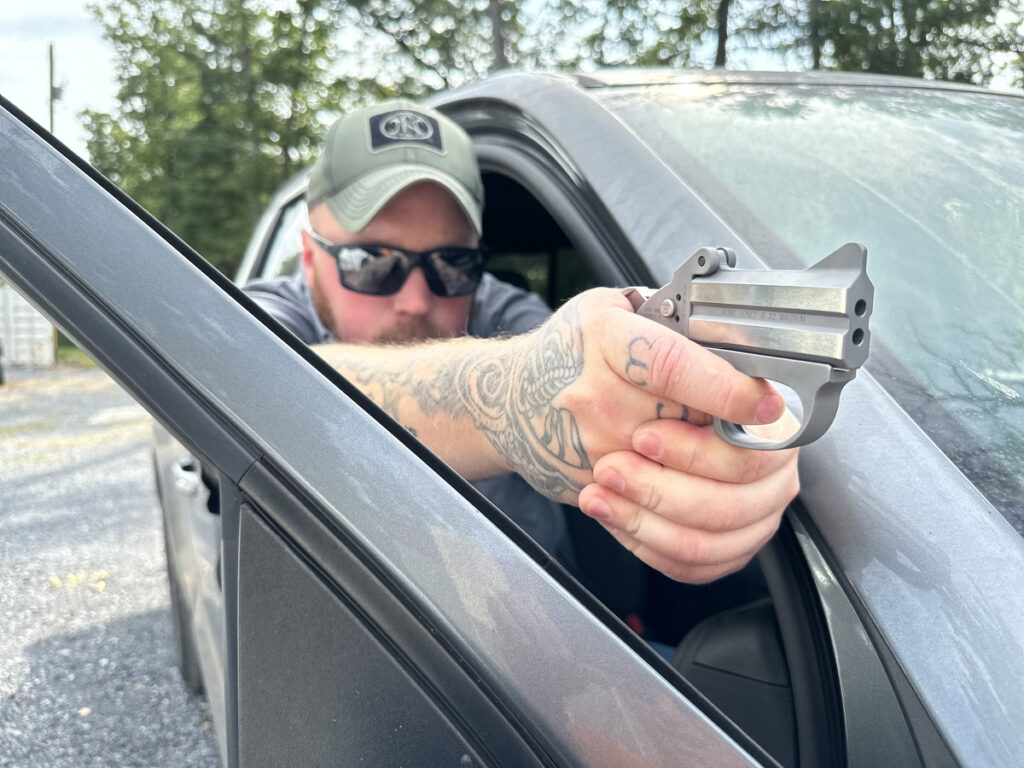 The 22 WMR has been labeled as the "poor man's" 5.7x28mm handgun in reference to the FN FNH introduction. Don't let this mislead—the 22 WMR does not compete with the 5.7×28 in terms of velocity achieved in either a handgun or rifle and was never intended to when it was designed. For example, Hornady 45-grain Critical Defense and Speer 40-grain GDHP-SP clock slightly over 1000 fps out of the Honey B's 3-inch barrel.
The Stinger RS fits the hand better than expected with its diminutive grip. Recoil was more subdued than anticipated with the 38 Spl even with slimmer, lighter Stinger RS frame. One worthy sidenote with the Stinger RS is the ability to access CCI 38 Spl shot shells. This is awful handy when encountering a snake or other vermin unexpectedly. Effective range would be as close as you can get without being attacked by your quarry. It is much easier to hit small target with shot pattern than single projectile. CCI also offers shot shells for the 22 WMR chambering. However, experience has shown the smaller #12 shot and 52-grain weight with the 22 WMR is not as effective as the 38 SPL throwing 100 grains of #9 shot.
Rimmed revolver cartridges are my preference for Bond derringer use. While certainly no speed load, the rims found on the 38 SPL and 22 WMR interact more positively with the manual Bond extractors found on the side of the twin barrels. Bond derringers chambered for rimless cartridges have notched chamber openings for fingernail or a pick of some kind to extract spent casings.
The Bond Arms derringer's twin barrels are not regulated. The top barrel is the closest to the sight picture. The over/under barrels produced approximately 4-inch, two-round groups at 5 yards when using the same point of aim. Once reloaded, the respective upper and lower barrels placed rounds within an inch of each shot fired. Bond Arms literature indicates that firing order automatically swaps from one barrel to the next every time the hammer is pulled back, whether a cartridge is in the chamber or not. If you need to know which barrel is going to fire, look at the position of the hammer head. When the hammer head is close to the hammer, the top barrel will be firing. When the hammer head is further away, the bottom barrel will fire.
FACTS OF LIFE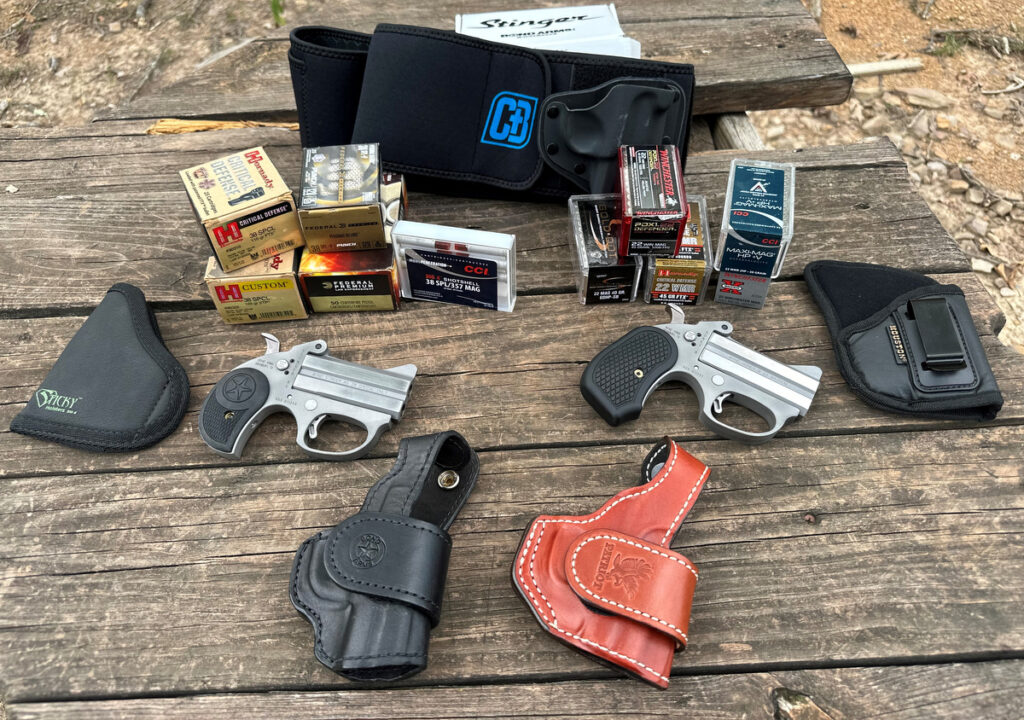 In terms of personal defense, Bond Arms derringers seem anachronistic, especially when compared against polymer-framed, high-capacity semi-automatic pistols that continue to compress in size in response consumer personal defense needs. However, mindset, awareness and making sure you have a weapon when needed is the true goal. The facts of life often intercede making carry of your go-to handgun impractical either by weather, clothing restrictions, non-permissive environment, etc. Handguns, by nature, are accepted as a compromise in terms of lethality traded for portability when compared to rifles or shotguns. Bond Arms' derringers certainly reside on specialized side. Let me be clear—I'm not advocating that a Bond Arms Roughneck be your primary choice for self-defense. However, a Bond Arms derringer could certainly fill a role in your overall defensive plan and posture.
SPECIFICATIONS
| | |
| --- | --- |
| Make: | Bond Arms |
| Model: | Stinger RS |
| Caliber: | 38 Special |
| Weight (empty): | 16 oz. |
| Overall Length: | 5 in. |
| Barrel | 3 in. |
| Capacity | 2 |
| MSRP: | $279 |
| URL: | Bondarms.com |
| | |
| --- | --- |
| Make: | Bond Arms |
| Model: | Honey B |
| Caliber: | 22 WMR (22 Mag) |
| Weight (empty): | 17.5 oz. |
| Overall Length: | 5.5 in. |
| Barrel | 3 in. |
| Capacity | 2 |
| MSRP: | $320 |
| URL: | Bondarms.com |