By Dean Roxby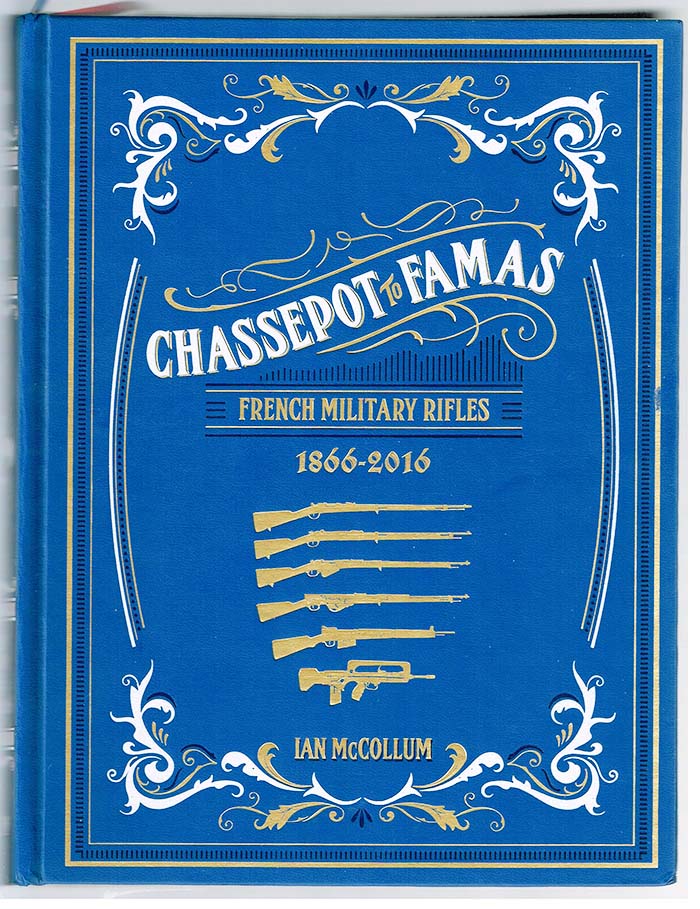 Chassepot to FAMAS French Military Rifles 1866-2016
Author: Ian McCollum
ISBN: 978-1-7334246-0-8
Copyright date: 2019
ePub or .pdf download? Y/N No
Binding: Hardcover, deluxe embossed faux leather with gold foil stamped. Either red or blue, depending on Standard or upgraded editions. Printed and bound in the USA.
Size: Approx 7.75" x 10.25"
Pages: 532 pages
Color/B&W photos: Many color photos including close-up detail photos. Also, some B&W period photos and sketches.
Publisher address: Headstamp Publishing, LLC. P.O. Box 158294, Nashville, TN 37215
Website: HeadstampPublishing.com
Cover price: originally $95 for Standard Edition, now sold out. Possibly a second run soon.
Well, this is a bit awkward. The way a book review is supposed to go is this: a book is released, it gets reviewed, and if the book sounds worthwhile you buy it. However, this title completely sold out almost immediately. So, I find myself saying this is a great reference book, and you should consider purchasing one if you can find one somewhere. The website has a notice that states "Yes, we do plan to reprint; however, no date has been scheduled at this time. We appreciate your patience." As this book was funded by an online Kickstarter campaign, much of the publishing run was pre-sold before it went to print. In fact, this title is the third most successful book on any subject that was funded by Kickstarter. Over 6000 backers pledged over $800,000 to bring this book to life!
Chassepot to FAMAS is the first book published by Headstamp Publishing. They describe themselves as "a specialist publisher producing authoritative books on arms, munitions, and military history". Headstamp was founded by N.R. Jenzen-Jones, Ian McCollum, and James Rupley. You will no doubt recognize the name Ian McCollum from the wildly successful Forgotten Weapons YouTube channel. James Rupley is a Co-Founder and Creative Director of the popular Vickers Guide series of books, and Jenzen-Jones is an arms and munitions intelligence specialist, and the Director of Armament Research Services (ARES).
This book combines the broad knowledge of McCollum with the wonderful photography of Rupley. I have noted Rupley's great skill in previous reviews of books from the Vickers Guide series, by Rupley and Larry Vickers. The two publishing companies, Headstamp, and Vickers Guide share a P.O. Box in Nashville, TN.
As the title suggests, the book covers the evolution of French military rifles, arranged chronologically. It begins with the Chassepot "needle fire" rifle of 1866 and ends with the current issue FAMAS bullpup assault rifle. Separate chapters are also given to the Gras, Kropatschek, Lebel, Berthier, RSC, MAS-36, MAS semi-auto series (MAS-40/44/49/56 variants), and FR series of rifles. Each of these ten chapters starts with an Overview and takes a look at each rifle's development and role in history. Ian excels at blending history and technology matters nicely, and as a result, this book reads very well, managing to cover the subject in great detail without becoming a tedious, painful read. Other sub-chapter subjects include Production & Serial Numbers, Models & Variants, Markings, Mechanics, Accessories, and Service Use.
Additional sidebars deal with various subjects in more detail. The origin of related myths, the meaning of French words and terms, and numerous other details are covered. Of particular value to collectors are the sidebars pointing out forgeries in the marketplace. Guest author Yann Carcaillon contributed three full pages to this volume that examine the history of the St. Étienne, Tulle, and Châtellerault arsenals. Each chapter closes with a few endnotes, usually clarifying something mentioned in the main text.
Following the first ten chapters is a two-page Epilogue. It states that the FAMAS is being replaced by a variant of the HK416 because all three state arsenals are now closed, forcing France to buy her rifles elsewhere. The Epilogue ends with "It is unfortunate that the story of French military rifle design has come to an end after more than two centuries of uniquely French innovation. The rifles themselves, however, and the history that they have made with their users, will continue to be studied and appreciated for centuries to come."
Chassepot to FAMAS also features a glossary a list of French Military Terminology, and six appendices:
"Appendix 1" is a chart listing each model and variant by year of adoption and French designation.
"Appendix 2" is a more detailed look at the ammunition used from 1866 to current.
"Appendix 3" shows the French Script Font in all its glory.
"Appendix 4" lists all the Arsenal Directors through the years for the three arsenals.
"Appendix 5" lists Unit Markings found on Chassepot and Gras rifles.
"Appendix 6" contains Disassembly Instructions for all the rifles covered in the book
This volume fills an important void in military rifles. French rifles were not well covered prior to this book, at least in English language publications. With detailed information not found elsewhere, it earns a solid recommendation for French arms collectors.
A quick heads-up on future Headstamp releases, the next title planned is Thorneycroft to SA80: British Bullpup Firearms, 1901 – 2020, by Jonathon Ferguson. It is expected to release in early 2021.
Hold the press! A post on Headstamp's Facebook page on Feb 10 says: "Don't pay scalper prices. We will be printing another run of Chassepot to FAMAS later this year."
This article first appeared in Small Arms Review V25N5 (May 2021)