By Robert G. Segel
Japanese red lacquer wood sake cup with gold rim and kanji with central image of an early Hotchkiss Model 1900 machine gun on tripod. This cup commemorates going to war with Russia (a reference to the Russo-Japanese War of 1904-1905) with the Imperial Guards Division, 3rd Machine Gun Unit.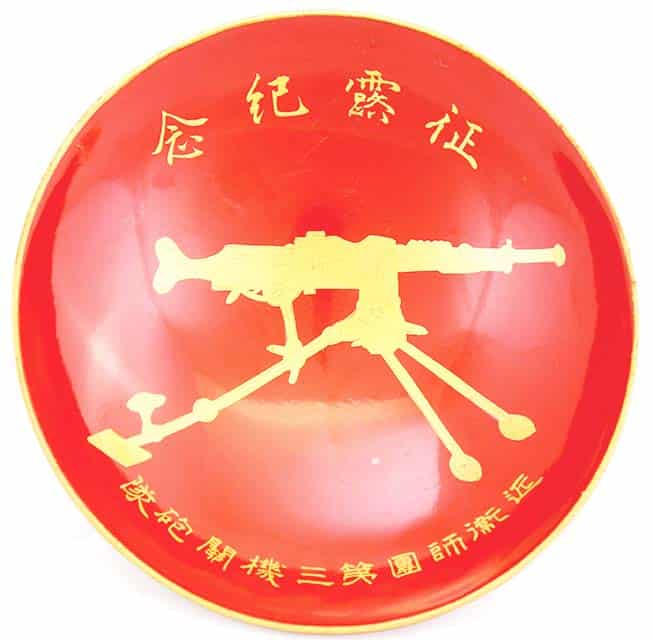 World War I-era shoulder patches for the U.S. 101st Machine Gun Battalion of the 26th Infantry Division (also known as the Yankee Division as most of the units were recruited from the New England area). The Division saw extensive combat service in World War I. The patches denote the headquarters and machine gun companies of the 101st machine gun battalion. Made of green felt material on a paper board backing, the information is stitched in white thread. These were made by a company specializing in military and veteran ribbons intended to be a souvenir patch for families and sweethearts, but many were sent overseas and worn in theater (unofficially) by the soldiers.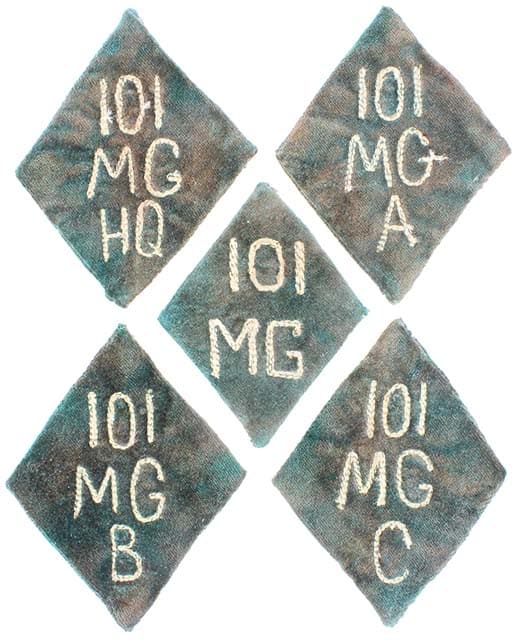 Imperial Russian World War I-era 84 silver cufflinks with image of a Model 1905 Maxim machine gun on a wheeled Sokolov mount with stability legs. The cufflink is attached to a chain that is linked to a rendering of a 7.62x54R cartridge that serves as the opposite holding side of the shirt cuff.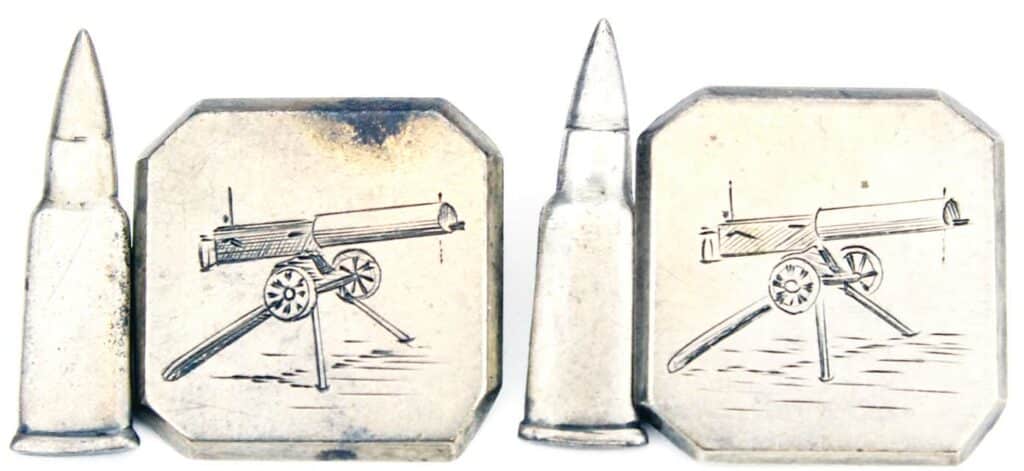 Polish commemorative badge for the World War II 5CKM Kresowy Machine Gun battalion. The badge was numbered on the rear "705" and was worn by Michal Jablonski. Two-piece construction. Three machine gun bullets on belt in center of wreath with "CKM" to center with number "5" at the bottom of the wreath, which is superimposed on a Monte Casino Cross. Full-size about 42mmx42mm. Screw back. The 5th Machine Gun Battalion was a unit of the 5th Kresowy Infantry Division. (Kresowy means coming from the "Kresy" or the "Frontier" meaning specifically the eastern frontier of Poland.) The unit commemorative badge was authorized by the 2nd Polish Corps Commander order No. 108, paragraph 628 of October 7, 1946. The unit existed from 1943 to 1947 and saw action first in the Middle East and then with the 2nd Polish Corps in Italy. Maker marked to the rear, "F.M. Lorioli, Milano-Roma."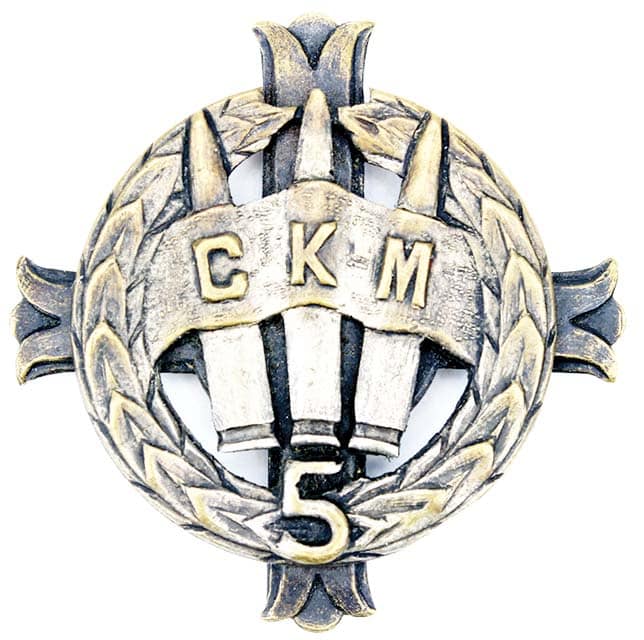 Swedish military army submachine gun shooting award silver level. Colored medal obverse has raised relief image of Swedish soldier kneeling firing an M40 submachine gun. Reverse has laurel wreath with no inscription to center. Medal is hanging on a blue and red vertical striped ribbon with pin back.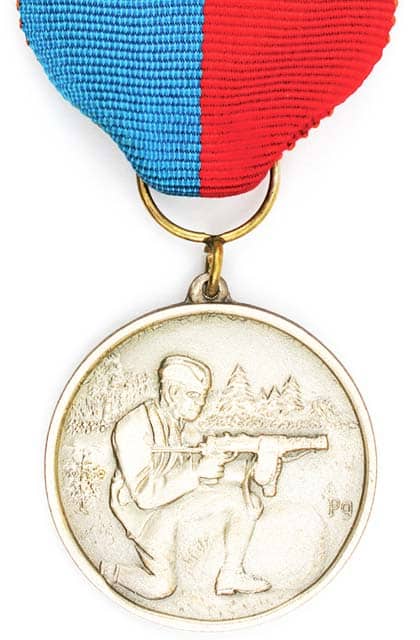 Swiss trench art picture frame consisting of Swiss 7.5mm machine gun cartridges with rims dated 1917-1922. Swiss machine gun regiment shako hat badge affixed to bottom and Swiss cross affixed to top. Cabinet photograph of Swiss officer inside frame.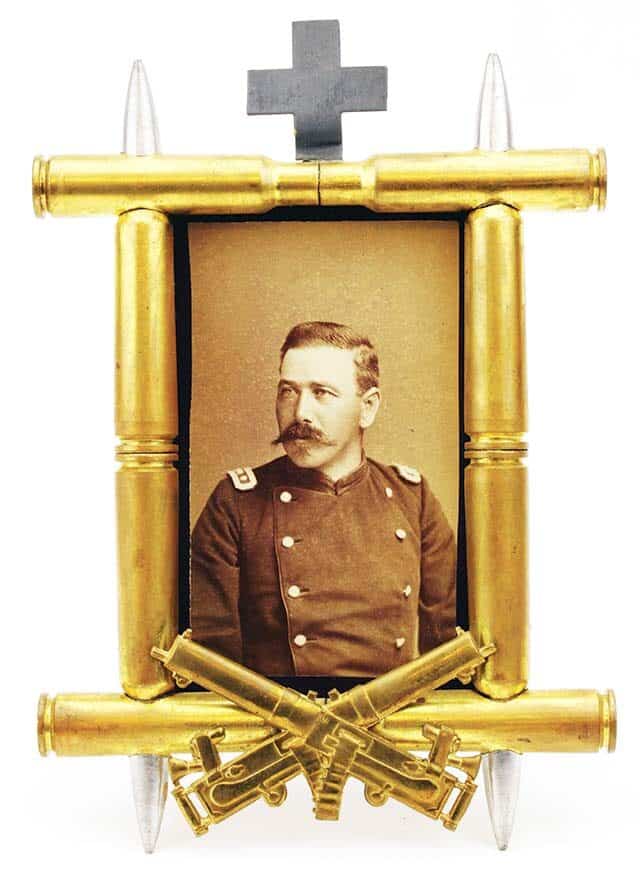 This article first appeared in Small Arms Review V23N6 (JUNE/JULY 2019)