Book reviewed by Jon Miller
Submachine Guns of the United States of America: From the AM-180 Through the ZX-7
Frank Iannamico, 2004
Moose Lake Publishing LLC
Henderson, Nevada 89014
ISBN 0-9742724-0-X
Book reviewed by Jon Miller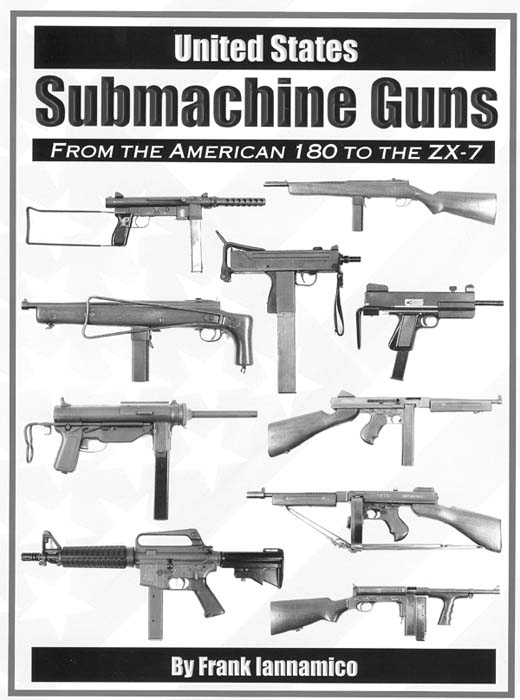 "Prolific publishing pundit, Frank Iannamico, pens powerful primer providing provocative parlance pertinent to our past time."
Appropriately titled, this profusely illustrated 486 page book chronologically catalogues the history and progression of American submachine guns from the 1921 Thompson through the M16.
The author introduces U.S. submachine guns through a review of preceding German, Italian, Russian and Japanese efforts in the first section. He then melds into the WW II U.S. Machine Gun Trials replete with extensive documentation in the second section. Trials included the Atmed, Austen, Hyde, Reising, Smith and Wesson, Soumi, Star, Sten, Woodhull and High Standard machine guns. Illustrations include period photos and field-stripped weapons.
The third section is dedicated to Phase Two of the Ordnance Tests. It includes the above weapons plus the Atlantic, Auto Ordnance T-2, Masco, modified 1911-A1 pistol, German MP40, Olsen, Owen, Turner, UD-1, and Thompson with straight line butt stock machine guns. Machine gun cartridges are discussed and Ordnance testing procedures are explained in this section.
Section five is U.S. Production Guns 1921-1945 from the Thompson through the Grease Gun with emphasis on the Thompson, Grease Gun and UD-42. Section six is one hundred fifty five pages of all the Post WWII U.S. Submachine Guns.
A fifty five page section is devoted to Prototypes and Patents in section seven. This includes intriguing illustrations of prototypes with patent drawings.
The final twenty pages show field-stripping diagrams of Thompson, Reising, UD-42, M2, Grease Gun, Smith and Wesson Model 76, MAC Ingram and M16.
Submachine Guns of the United States of America provides a solid introduction to the submachine gun. It covers each topic well and provides appropriate illustrations. This ambitious work successfully provides a sound source of information and education for the beginner and intermediate level Class III enthusiast.
This article first appeared in Small Arms Review V12N4 (January 2009)