By Stephen Stuart
German Machineguns Revised Edition
By Daniel D. Musgrave
Published by
Ironside International Publishers Inc.
800 Slater Lane,
Alexandria, Virginia 22314
Price $47.50 plus 4.50 s&h
Reviewed by Stephen Stuart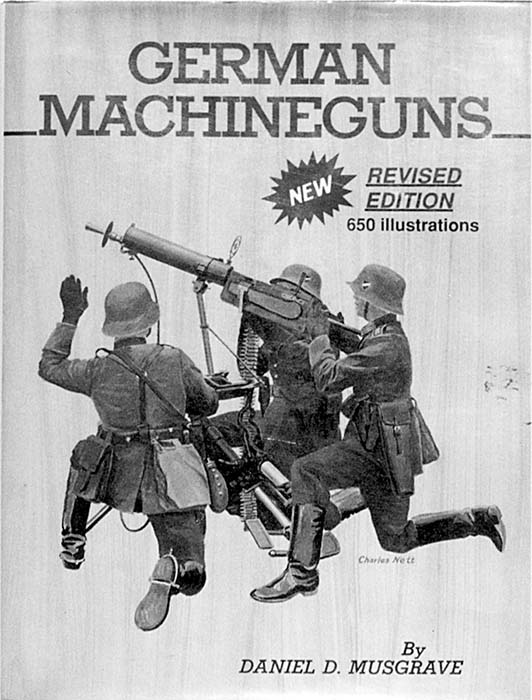 Daniel Musgrave's book, German Machineguns, is an in-depth work detailing the automatic weapons (rifle caliber, magazine and belt feed0 of Germany from the late 1800's though today. This study includes small arm caliber weapons up to the Krupp 10.5 cm machine cannon.
To fully understand how machine guns work, one must first understand how ammunition feeds into the action. Musgrave covers the different belts and magazines for these diverse weapons; the Gurt 34 (for the MG 34 / 42), Gurt 131, Gurt 151, and the Mk 103. Magazines featured are the MG 13 box magazine and the side saddle drum, for example. Loading machines (which are used to load belts) are also featured.
The entire gambit of German weapons are covered: the classic MG 08 with sled,
along with the lighter versions, the MG 08 / 15 and 05/ 15 model for aircraft use. The MG 13 is shown in both ground and anti-aircraft roles. German World War II
machine gun fans will not be disappointed with the coverage of the MG 34 and MG 42 machine guns. Even the updated version of the MG 42 is given coverage, the MG3. People seeking information on modern HK belt fed machine guns do not have to look any further. The HK 11, 12, 13, 21, and 23 are conveniently at the readers finger tips in chapter 13. If one is looking for information on automatic FLAK cannons, this is the text in which to start. The 2 cm FLAK and MG 151 are listed in this book.
In all, there are 587 pages in the text, with the cover boasting there are almost 650 illustrations (line drawings and black and white photos). Many people in the field consider this work not only a classic, but must reading for any student of small arms. I have to agree with them. Some of the information in this book would take years to find, if you were going to start researching this topic today. If you were going to buy one , and only one book alone on German machine guns, this would be that one book. I highly recommend it.

THE GERMAN SNIPER 1914-1945
By Peter R. Senich
Paladin Press
P.O. Box 1307
Boulder, Colorado 80306
1-800-392-2400
ISBN 0-87364-223-6
$60.00 plus S&H
468 pages
Reviewed By David Fortier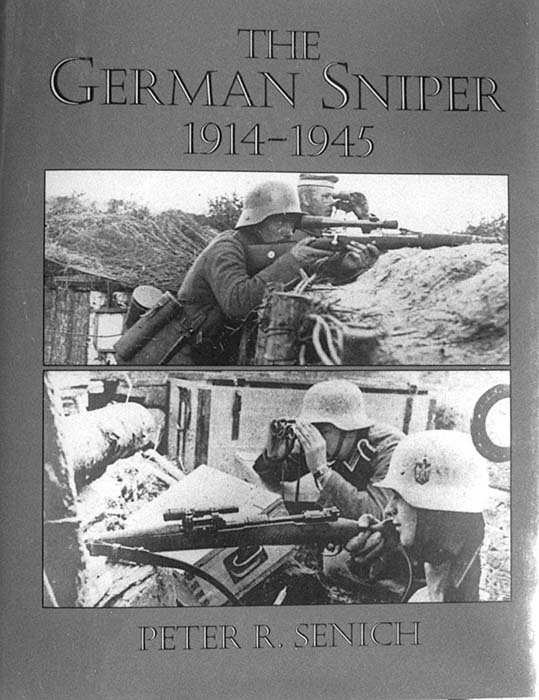 Here is another one of those books that the German, Soviet, Mauser lover, sniping, W.W. I, W.W. II, buff will want for his library. At 468 pages it's a big hefty book whose size makes you feel better when you pull it from its shipping box after spending $60.00 on it (that's a lot of ammo!). Opening it up and leafing through it one is impressed by the huge amount of photographs and the wealth of information suddenly at their fingertips. The book contains over 600 black and photographs, many of them original German Military photographs. They are for the most part very clear and of good quality, the only exceptions being some old original photos that were not quite as clear, but still quite good. This book packs quite a punch. It covers German production marks, the beginning of German Sniping, the weapons used from the Gewehr 98 to the Kar 98, G41, G43, FG 42, StG 44, and literally anything else the Germans mounted a scope on and used for sniping. All the scopes, their different mounts, silencers, accessories, etc. are covered in detail. Information on camouflage, German techniques and tactics are given. An interview with three German snipers with a tally of 666 kills is very informative. A chapter is devoted to the German Sharpshooter Award given to snipers who had made at least 20 confirmed kills. Plus there is an entire chapter on the Soviet approach to sniping and their weapons. Many people do not realize that the Germans played catch up with the Soviets throughout World War II when it came to sniping. The book, like all Mr. Senich's works, is very well written and extremely informative. I personally don't care much for Mausers, yet this book is a truly welcome addition to my library due to its absolute plethora of information on all aspects of sniping. It is well worth the price and a must have for any serious German or sniping buff.

TESTING THE WAR WEAPONS
Rifles and Light Machine Guns From Around The World
By Timothy J. Mullin
Paladin Press
P.O. Box 1307
Boulder, Colorado 80306
1-800-392-2400
ISBN 0-87364-943-5
$45.00 plus S&H
432 pages
Reviewed By David Fortier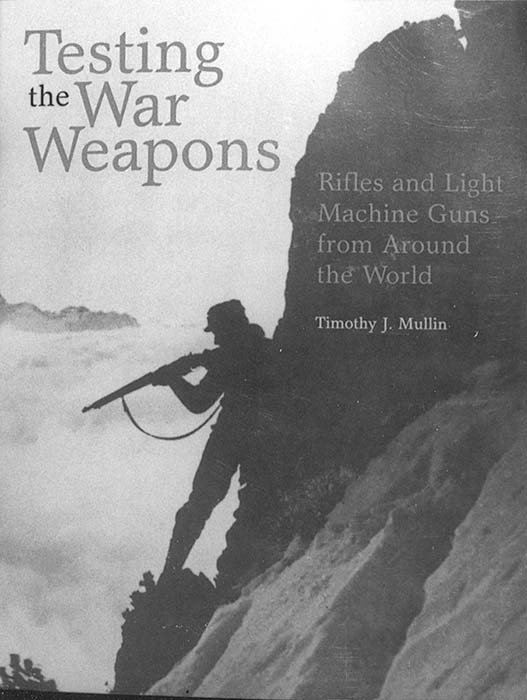 What is the best bolt action combat rifle? The handiest cavalry carbine? The most efficient sniper rifle? The worst light machinegun? Mr. Mullin, an infantry officer with the U.S. Army, takes the reader on a whirlwind ride through the small arms inventories of 32 countries. Over 150 different infantry weapons are personally test fired by him ranging on the time line from the 1873 Trapdoor Springfield used in the Spanish-American War up to our present issue M-4 Carbine. The amount and variety of weapons Mr. Mullins tested is staggering and will turn any military buff green with envy. The author gives a brief history of the weapon being tested and then his comments on it. How the weapon balances, how useful are the sights, how does it carry, how quickly does it heat up, or overheat (or catch the handguard on fire), the usefulness of the safety, it's reliability and combat accuracy. The down side to the book is that it is simply one man's opinion on how one example worked with the ammunition he fed through it. So if a particular model stands out, or falls on its face, it's hard to tell if it's just that rifle is a sterling or poor example of the breed. And like the rest of us, Mr. Mullin is opinionated. There is not one chart in the book, nor graph or any comparison of material. I was hoping for more when I ordered the book. It does give you an idea of what each weapon is like. However it is all to easy to simply dismiss Mr. Mullin's comments on a weapon as simply his 'opinion' if we disagree with him. The book has many black and white photographs, but they tend to be on the dark side. All in all it is a very interesting read, and covers many weapons that we don't normally get a very good look at. I just wish it delivered more information to offset its $45.00 price tag.
The SPIW, The Deadliest Weapon That Never Was.
By R Blake Stevens and Edward Ezell
Published by
Collector Grade Publications Inc.
PO Box 250, Station 'E',
Toronto M6H4E2
Price 29.95 plus 4.50 s&h
Reviewed by Stephen Stuart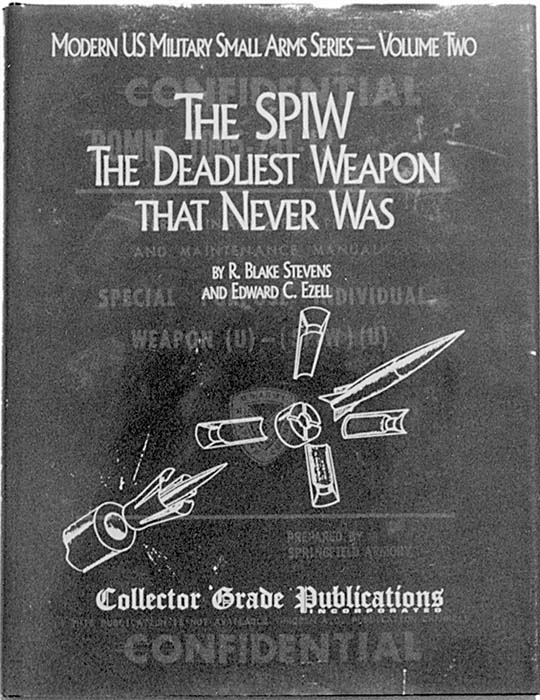 Collector Grade Publications needs no introduction to the serious firearms enthusiast or military collector. Collector Grade books are known for their encyclopedic research quality, excellent photos, and in depth detail that every historian and collector is looking for. The SPIW is the second volume in a series covering U.S. military small arms. The first in the series is the US Rifle M14—From John Garand to the M21 and the third volume is, The Black Rifle—M16 Retrospective. This trilogy covers the time period of US small arms from the 1920's with the Garand rifle to today's M16.
The SPIW is an acronym that stands for Special Purpose Individual Weapon. It was part of Project Salvo in the 1950's and early 1960's. SPIW was conceived to produce a light weight infantry weapon platform that incorporated the point shoot capability of a rifle and the area capability of a grenade launcher, all in one package. Unfortunately, the army ended up with a complex and expensive weapon system that was never produced in significant numbers. Besides the formation of a new weapon system for the infantry, they also produced new ammunition for these rifles, chiefly flechettes. Flechette's are small darts that are designed to be fired from the SPIW weapon system. The only problem was that the wounding ballistics when fired though a rifle firearm was considered insignificant.
This book is a must in understanding rifle and firearm development today in this county. Since most of our new Advanced Combat Rifle program can trace it's roots back to the 1950's and 60's Salvo program. For the enthusiast, there is no other book that I am aware of that covers this field of research so completely at this time. If you are looking for a forgotten era of US small arms development this is the book for you.
This article first appeared in Small Arms Review V3N4 (January 2000)