By Dean Roxby
Osprey Publishing, Weapon Series
PUBLISHER: OSPREY PUBLISHING
www.ospreypublishing.com
SOFT COVER
7.25″ x 9.75″
80 PAGES, B&W AND COLOR PHOTOS THROUGHOUT
The Weapon series of booklets from Osprey Publishing covers a wide range of battle equipment, from longbows (WPN 30) and katana (WPN 5) to current issue weapons, such as the RPG-7 (WPN 2) and the FN Minimi light machine gun (WPN 53). There are currently 54 titles, with additional books regularly added.
While small in size, the various titles in this series contain a lot of information. At 80 pages per title, these books will certainly not rival the massive, encyclopedic reference books available for some guns. However, they do provide a very good start for getting familiar with a new gun. As each title is written by a different subject matter expert, the writing style will vary somewhat. Generally though, the booklet begins with a good bit of history and background to each weapon, and the path of development required to create the specific weapon. From there, a more detailed look at the different variants is given. The five titles reviewed here are typical of the overall series. All are available in multiple formats, namely paperback, ePub and PDF.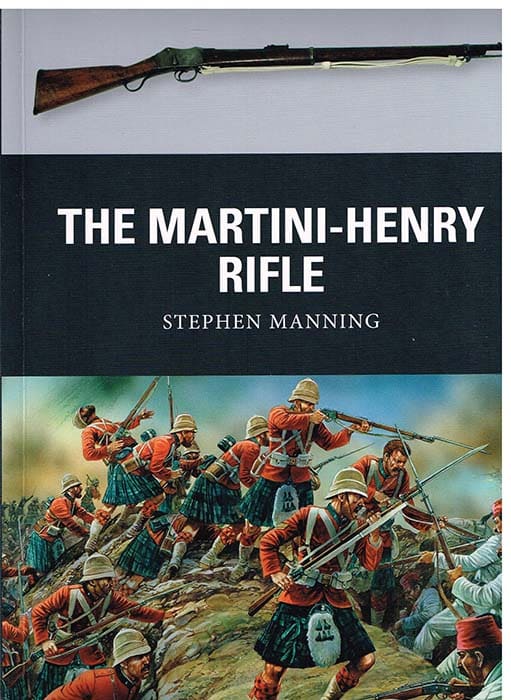 The Martini-Henry Rifle
by Stephen Manning
Copyright 2013
ISBN: 9781780965062 (WPN 26)
I recently wrote an article for another magazine about the legendary British Martini-Henry service rifle. I found myself referencing my copy of the Osprey booklet quite frequently. And I learned details about my own rifle that were previously unknown to me.
Written by Stephen Manning and illustrated by Peter Dennis, this one was released in May 2013. Dr. Manning is an expert in Victorian colonial warfare. He has published several other books on the history of warfare, although this is his first as part of the Osprey Weapon series. Mr. Dennis is a prolific illustrator, having created artwork for much of the Weapon series as well as other Osprey books.
The iconic Martini-Henry served the British Empire well, including in such famous battles as the Anglo-Zulu war of 1879 and skirmishes in Afghanistan, Egypt and the Sudan in the mid-1880s.
Covered in detail are the variants from Mk I to Mk VI and Cavalry Carbines. Also covered are later variants, including the Martini-Metford and Martini-Enfield series. Many of these were re-barreled conversions of old M-H rifles.
Numerous types of bayonets and scabbards are displayed in detail. Also covered are manufacturers' markings (from the five factories that produced the M-H) and variations of proof marks. This information makes the book a valuable resource for collectors. Many period photos are featured. These are in B&W, as expected for the age. In addition, there are several crisp, clear color photos, as well as two paintings from the aforementioned Mr. Dennis. Both illustrations cover two full pages.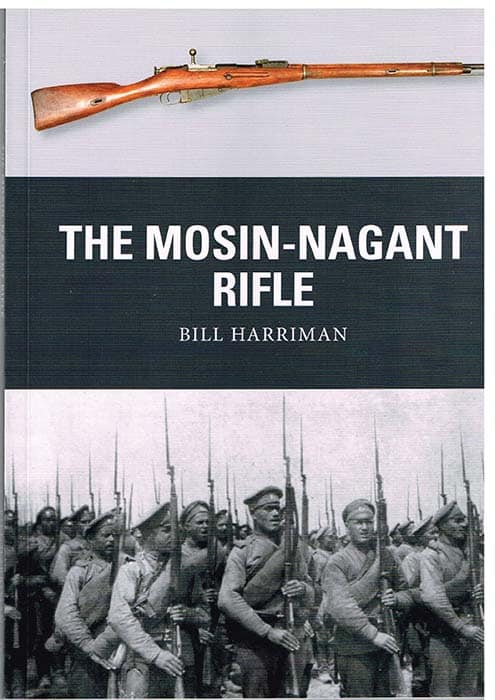 The Mosin-Nagant Rifle
by Bill Harriman
Copyright 2016
ISBN: 9781472814159 (WPN 50)
The Mosin-Nagant rifle is among the world's longest-serving military rifles. Adopted by the Russian Empire in 1891, it saw frontline service in the Russian-Japanese war of 1905 and both World Wars, and continued to serve for some time afterwards. Sniper versions were issued as late as 1968.
Written by Bill Harriman, Director of Firearms at the British Association for Shooting and Conservation, and illustrated by Johnny Shumate and Alan Gilliland, this book covers the subject well. The Introduction begins with Harriman's own awakening to the vast collector potential of a rifle that has played a central role in shaping recent history.
Beyond the various makes and marks of the rifle itself, this book also gives a brief look at various accessories, like bayonets, cleaning kits and the intriguing-looking combination (oil and cleaning solvent) tins. Twelve different tins are shown in a group photo. Also, six variations of the cartridge pouch are presented.
Many early B&W photos are featured, along with newer color photos. A color section view shows the inner workings of the gun, and several color sketches depict it in action. Two of these, by Johnny Shumate, span two full pages.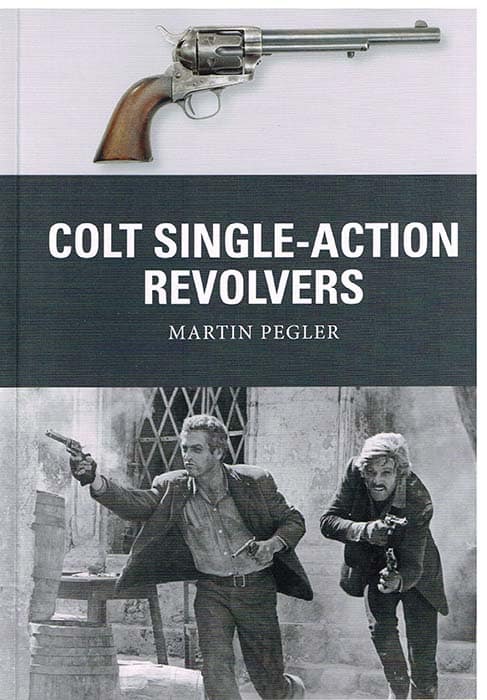 Colt Single-Action Revolvers
by Martin Pegler
Copyright 2017
ISBN: 9781472810984 (WPN 52)
Many fascinating photographs, line engravings and patent office drawings from the mid- to late-1800s add to the interest of this title. Included are actual period photos that show notable "Old West" figures Jesse and Frank James, Apache chief Geronimo, "Wild Bill" Hickok and Gen. George Custer posing with their sidearms.
The Introduction presents Col. Samuel Colt as a brilliant manufacturing and marketing guru, rather than as a great inventor. For while he did not single-handedly invent the revolver or mass production techniques, he did manage to build a name that is still synonymous with revolvers today.
It ends with similar observations. Col. Colt was an early and enthusiastic supporter of the "American system" or armory practice of mass production. By using a production line, machine tools, jigs and gauges, the Colt factory could produce truly interchangeable parts for their firearms. This allowed semi-skilled labor to create far better quality parts in less time.
The chapter titled "Development" profiles many of the early attempts to create a workable revolver. Several different flintlock revolvers that predate Colt's first design are shown.
From there, the first wooden prototype carved by Colt is shown. It was this model that the still-teenage Sam Colt showed to a local gunsmith, Anson Chase. It was a five-shot cap and ball percussion gun. Later collaborations with makers such as Pearson, Paterson and Walker are then covered. Following these are the various cap and ball Army and Navy models, then the early cartridge designs and the so-called conversion guns. It closes with modern day production of the Single Action Army model.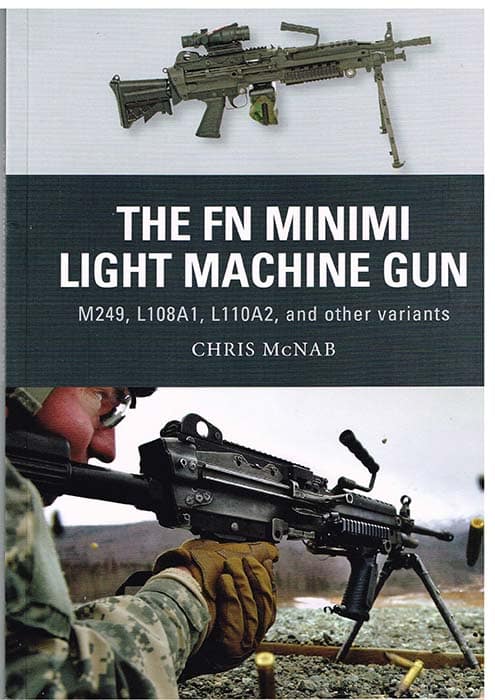 The FN Minimi Light Machine Gun
by Chris McNab
Copyright 2017
ISBN: 9781472816214 (WPN 53)
This booklet has a slightly different writing style. Others in this series start with a long, leisurely historical look at preceding guns and how the evolution of arms led to the featured weapon. With this title, author Chris McNab jumps straight into the role the FN Minimi plays in modern warfare, along with some discussion of the limitations of the associated 5.56 NATO round, with only a brief look back at U.S. military trials. He also makes use of selected quotes from various battle reports, technical and Field manuals, and so on. This approach certainly works; this title just stands apart from other booklets in this series. In fact, as the role of the Minimi evolves in various armies, having these viewpoints to compare is worthwhile.
With the Minimi being adopted by many nations, there is also opportunity to discuss other variations. The book's subtitle hints at this. Besides the U.S. M249, there are photographs and text depicting these variants. Amongst those of other nations, British (L108A1 Standard and L110A2 Para), Canadian (C9A1, C9A2) and Australian (F89) variants are mentioned.
I would have liked to see more emphasis placed on the versions made under license elsewhere. The majority of FN products are made in either Belgium or the FN-America plant in Columbia, SC. However, there are several other nations that produce licensed versions, some that make unlicensed copies, and some that make their own design that look suspiciously similar in various parts. The Israeli IMI Negev and Korean Daewoo K3 come to mind. These are mentioned ever so briefly.
The book features many photographs, almost all in full color. Again, two two-page paintings by illustrator Johnny Shumate are included.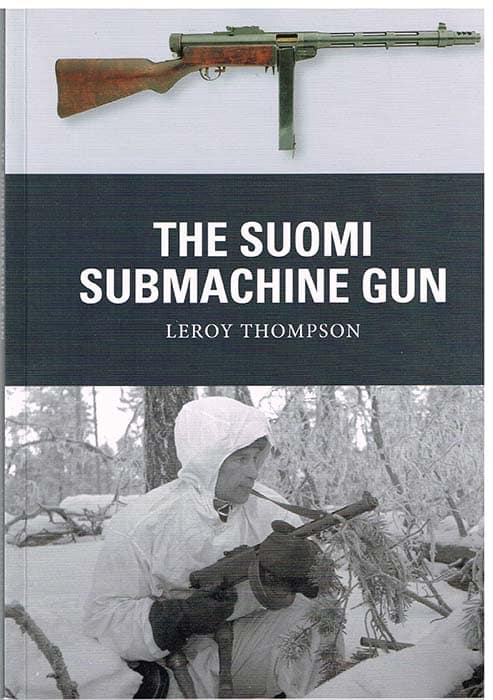 The Suomi Submachine Gun
by Leroy Thompson
Copyright 2017
ISBN: 9781472819642 (WPN 54)
Designed in Finland, the Suomi submachine gun played a huge role in defending the country from Russian invasion during the Winter War (1939–40) and the Continuation War (1941–44). Even famed sniper Simo Hayha used a Suomi for over 200 of his astonishing 705 (reported) kills.
This book does a fine job of describing the gun in detail, as well as its participation in that nasty part of history. The Finnish soldiers used very effective guerrilla warfare hit-and-run type attacks on the Soviet invaders. Although they were badly outnumbered, they caused great damage to the Soviet morale.
By quoting many short battle reports and brief passages from other sources, author Leroy Thompson is able to describe the savageness of the fighting. These quotes are noted in the endnotes/bibliography section. Many are from websites.
Many B&W photos show the Finnish soldiers ready for combat, with their Suomi SMGs. Many of these photos feature ski patrol soldiers, all dressed in white. There are some current color photos of gun details and accessories, etc. Artist Adam Hook created two two-page paintings of battle scenes. The book also features a color cutaway drawing of the gun internals by artist Alan Gilliland.
Author Thompson also contrasts and compares the Suomi with other SMGs of the era, namely the U.S. Thompson, the French MAS-38, the Italian Beretta Modello 1938A and the Soviet PPSh-41. While it is interesting to compare the strengths and weaknesses of the various guns, the text jumps around a bit, making it difficult to follow. Also, I would have liked to see a group photo of all five guns together. This would allow a visual comparison of the sizes.
As noted above, this series covers many types of weapons from all periods of war. It is well researched and written, informative and nicely illustrated. While not the final word on a given firearm, they are certainly a great starting point. The Weapon series is one series of a much larger catalogue of military books from Osprey Publishing.
This article first appeared in Small Arms Review V21N6 (July 2017)