By Robert G. Segel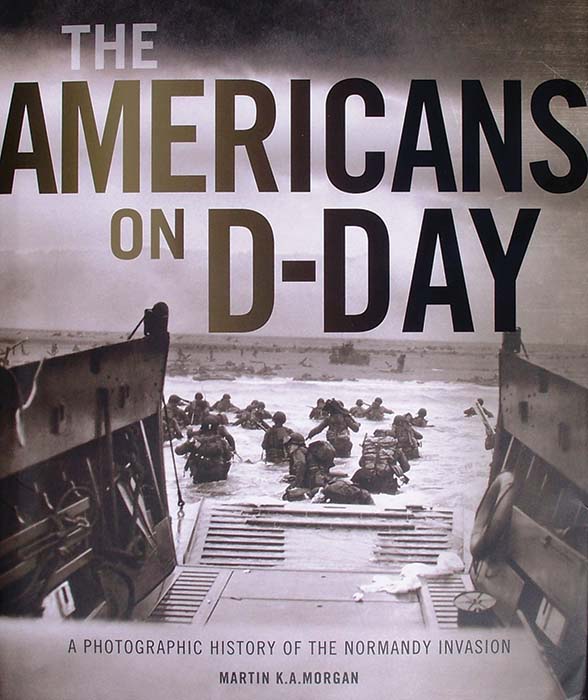 The Americans on D-Day: A Photographic History of the Normandy Invasion
By Martin K. A. Morgan
Hardcover, 240 pages
190 color and 360 b&w photos
Size: 10 x 12.25
Published by Zenith Press, 2014
$45 US, £30 UK, $50 CAN

Reviewed by Robert G. Segel

With 2014 being the 70th anniversary of D-Day, the June 6, 1944 Allied invasion of Europe through Normandy, France, there are numerous media venues being used to commemorate this monumental historic event: television, newspapers, magazines, bloggers, online sites and books. Among the many books published during this 70th anniversary, though visually appealing, most tend to repeat familiar photos and rehash stock story lines. But this book, The Americans on D-Day: A Photographic History of the Normandy Invasion by Martin K. A. Morgan stands out as an exceptional volume both in terms of photographic content and text.

D-Day, June 6, 1944, was the most complicated and pivotal amphibious landing operation of the Second World War. Although it took a multinational coalition to conduct the landings, the U.S. military made a major contribution to the operation that created the mighty American legends and unforgettable heroes. In The Americans on D-Day: A Photographic History of the Normandy Invasion, World War II historian Martin Morgan presents 450 of the most compelling and dramatic photographs captured in northern France during the first day and week of its liberation.

The way that the battle unfolded in the sectors where the U.S. military fought was documented by hundreds of photographs – images that captured the intensity of World War II combat from the landing beaches to the drop zones and hedgerows. Wherever the battle raged, photographers were there to snap still pictures of what was happening and who was fighting. The majority of these images were taken by U.S. Army, Navy and Coast Guard photographers – men who went to war with cameras in their hands. But personal cameras also recorded a more intimate side of the fighting in Normandy and beyond.

With eight chapters of place-setting author introductions, riveting period imagery, and highly detailed explanatory captions, Morgan offers anyone interested in D-Day a fresh look at a campaign that was fought seven decades ago yet remains the object of unwavering interest to this day. While some of these images are familiar, they have been treated anonymously for far too long and haven't been placed within the proper context of time or place. Many others have never been published before. Together, these photographs reveal minute details about weapons, uniforms, and equipment, while simultaneously narrating an intimate human story of triumph, tragedy, and sacrifice. From Omaha Beach to Utah, from Sainte-Mère-Église to Pointe du Hoc, The Americans on D-Day is a striking visual record of the epic air, sea, and land battle that was the Normandy invasion.

The author, Martin K. A. Morgan, is a historian and expert on the American experience in World War II authoring and contributing to a number of publications and appearing regularly on numerous TV programs such as Discovery, National Geographic, History, H2, Outdoor Channel and the History Channel. He has worked as a park ranger and museum professional, worked for the Alabama Historical Commission at Fort Morgan Historic Site, and served as historian-in-residence at the National World War II Museum in New Orleans, Louisiana.
This article first appeared in Small Arms Review V18N6 (December 2014)