Story & Photography by Alton P. Chiu
DS Arms, Inc, provides a one-stop shop for surplus Israeli light-barrelled FALs. They sell both complete rifles and parts kits from which this author assembled his rifle, under supervision of Harold Adams (SBD Arms, Arizona). This piece discusses parts conditions across two kits, 922(r) compliance (18 USC §922) and a brief mechanical comparison with its predecessor: FN-49. 

Parts
The kit contains all necessary parts except barrel and receiver. The wood furniture contained a lot of Cosmoline, and one buttstock featured soldier carvings. Both stock sets are "C-"type with metal flanges and no cleaning compartment. One set of front handguards is cut only for one spacer around the gas tube; another set has two cuts but wear marks show it was only issued with one. 
The kits feature both vertical and horizontal receiver lock levers. Both lower trigger housings feature Hebrew selector markings as well as the distinctive Israeli selector. One kit had copious Hebrew markings across various parts, while the other had less. The finish wear matches service rifle expectations.
The original "4-"marked front sight post proved so tall that the author must use 500m aperture to zero at 25m. DS Arms related that all kits contain similar height posts; thus they produced new posts as a remedy. Although any metric post (including the later "two-hole" style) functions, new production uses "square base" to keep the original look. Of the two new posts examined, one was trapezoidal in keeping with the original (thick base tapering to tip), and the other was uniformly thin.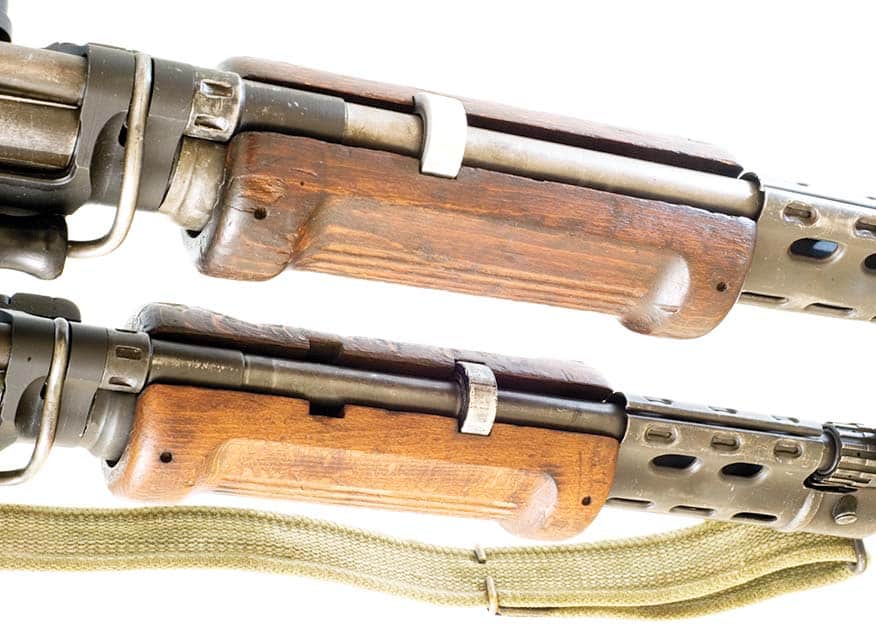 The original barrel was not provided; the supplied original gas block was still pressed onto a cut section of the barrel. DS Arms offers a new, light-profile, U.S.-made barrel with and without gas block installed; this author chose the latter for simplicity. This gas block matches the surplus one in featuring the latter style "closed" type wings. The barrel crown is hardly recessed, and the author covers that with a thread protector from a hardware store for storage and transportation. 
The new production, semi-automatic-only receiver reproduces exterior markings. It lacks the cut that allows the selector to rotate into full-auto position, and the material around the trigger axis pin is not milled to accept a full-auto sear. This unambiguously restricts the rifle to semiauto only.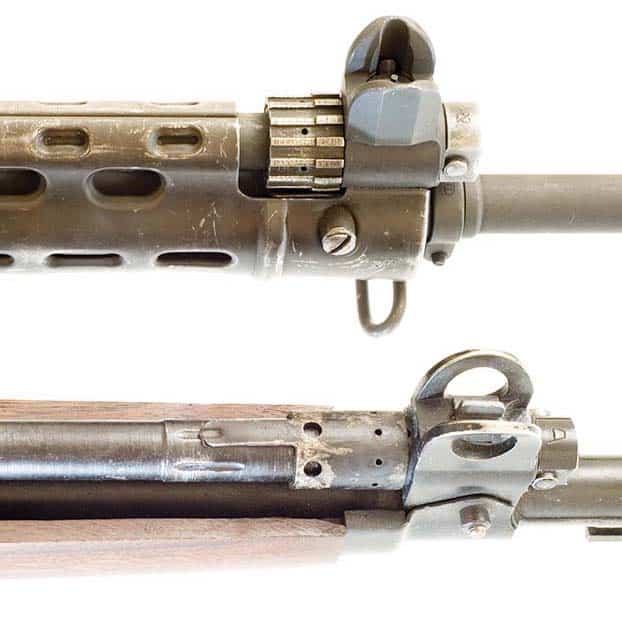 922(r) and Assembly
U.S. Code, Title 18, Part 1, Chapter 44, §922 typically referred to as 922(r), prohibits assembly of a rifle with more than 10 imported parts. As applied to this FAL, one only needs to exchange four imported parts; barrel and receiver are U.S.-made while muzzle attachment is absent. Generally speaking, the cost-effective route utilizes a magazine (3 parts) and pistol grip. On a quest to keep the rifle exterior as original as possible, the author kept his Hebrew-marked trigger (changing hammer and sear), utilized an Israeli-marked magazine with U.S. followers (DSA item #119120-K) and installed a U.S. gas piston (DSA item #019IS). Note that the Israeli gas piston is a special length that is neither in inches nor metric.
To barrel a receiver, metric barrel shoulders are faced down until the gas port clocks correctly; variously sized locking shoulders are available to ensure proper headspace (similar to different sized SMLE bolt heads). This author elected to have DS Arms perform this process as he has no lathe access, and the ancillary equipment (e.g., barrel vice, headspace tools) is not economical to purchase just for one rifle. One must take care to include all required parts, else risk incurring surcharges.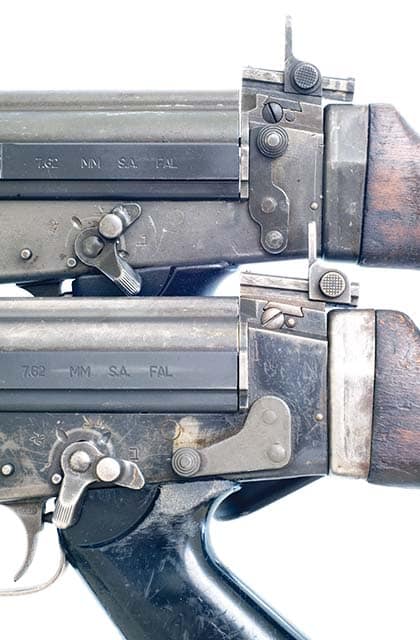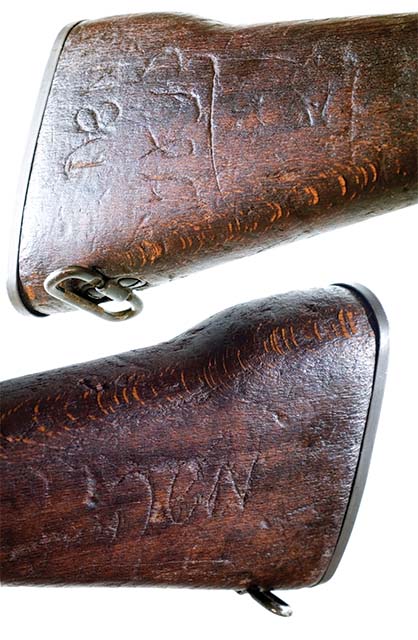 Improved FN-49
FAL directly traces it lineage to the FN-49, a design started pre-WWII, evacuated to Britain and languished till 1949 and used primarily by "non-aligned" nations. The heart of the action remains the same: short-stroke gas piston with tilting bolt. FAL also carried over the same gas plug design: the Columbian FN-49 is marked "A" for semiauto operations, and "R" cuts off gas to launch rifle grenades. The Israeli FAL has Hebrew character markings for semiauto and unmarked for gas cut off. Both rotate 90degs to disassemble.
The FAL exposed the gas adjustment sleeve, while the FN-49 covered its sleeve under the front handguard. While both ostensibly require a special wrench to turn, one could adjust the FAL sleeve with fingers (if loose enough) or with a flat-head screwdriver and mallet (if obstinate) as field expedient measures. The FN-49 sleeve is more difficult to work without the wrench.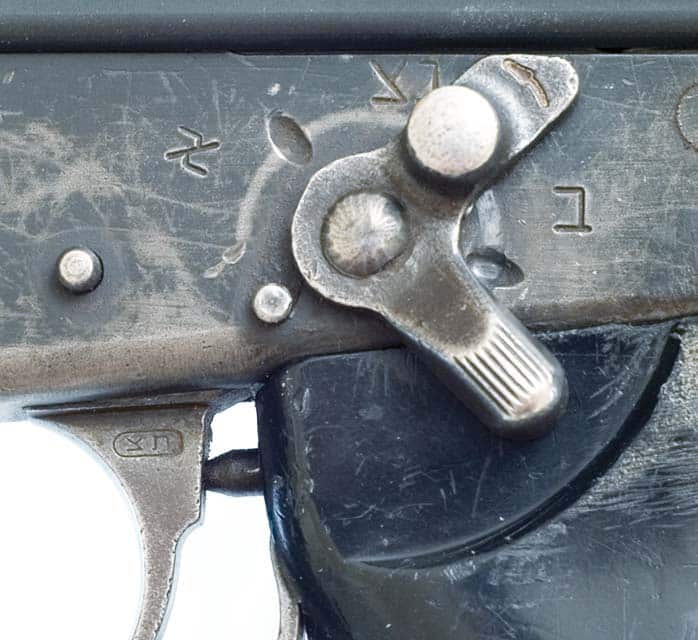 Early FALs, including early Israeli rifles seen in Six-Day War photographs, use "open" front sight wings like the FN-49. The FN-49 rear sight is integral to the action cover while FAL moved it to the lower. Although there is no discernible movement in the FAL upper-to-lower connection, there is considerable wiggle in the rear-sight-to-track fit. FN-49 has some lateral wiggle no worse than that of M1 Garand at high elevations. Both have small rear apertures that are similar in size to the small M16A2 one which the author found to be detrimental for rapid engagements. Both rifles have acceptable "combat" accuracy given the heavy single-stage triggers and non-free-floated barrels.
In addition to reconfiguring the traditional stocked FN-49 to a pistol grip on the FAL, the main spring was also moved into the stock via a captured assembly and connected to the bolt with a "tail." This arrangement is reminiscent of the Johnson 1941 rifle and eliminates the chance of flying springs when disassembling to clean.
These improvements make the FAL easier to maintain while keeping the proven action. It is easy to see why the FAL achieved such success and became the right arm of the free world.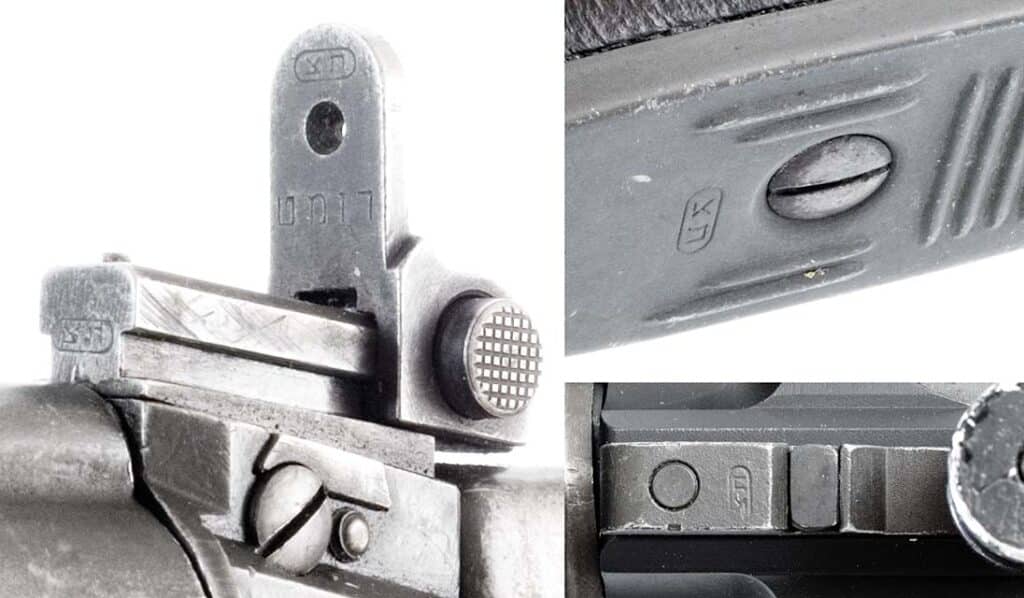 Conclusion
DS Arms provides a one-shop stop for purchasing parts to build or to buy a complete Israeli FAL. Parts were in good service rifle conditions, and they assembled without trouble. The rifle functioned reliably on the firing line. The assembly process gave the author an appreciation of mechanical intricacies and added to the joy of owning a historical piece. 
This article first appeared in Small Arms Review V24N2 (Feb 2020)