By Dan Shea –
The Capel Military Show is promoted as a family-oriented event, and from this attendee's observation, it certainly was. There were many families there, having a weekend outing, and the children were very excited. I was impressed with the atmosphere, and especially the freedom of people to engage and observe the historic reenactors and the weapons.
As a note to readers in the know, the 2022 War & Peace Revival, what we used to call the Beltring show at the Hop Farm in Tonbridge-Wells, UK, was canceled again this year at the last minute. This created a wave of exhibitors and reenactors with a desire to get out and commit to other shows in July, with the Capel Military Show benefitting heavily to the point of running out of space. War & Peace is scheduled for 25-29 July, 2023 but this article is about the excellent Capel show I attended on 2-3 July 2022.
The management is unapologetic about what is at the show- this is military history in a country that has had a thousand years of on-their-territory military events and wars, had fought several desperate, long-term wars for survival in recent memory, and the martial nature of survival is entrenched in the culture. From their website:
PLEASE NOTE:
The Capel Military Show is an event that has exhibits of all nationalities and eras of military history, including uniforms, equipment and symbols from wartime periods on display.
We believe that it is important to learn from past conflicts and not sanitize history by excluding unsavoury elements, but to portray them as accurately as possible whilst acknowledging their harmful impact and sparking conversation so that we learn from it and create a better future together.
We recommend that any persons likely to be upset or offended by such historical accuracy do not enter this wartime themed event.
The Capel Military Show is strictly non-political, it does no support, condone or encourage politics, violence, extremism, racism, historical revisionism or the glorification of war in any form.
I was struck with admiration of the common sense exhibited here, and certainly wish that this example could be followed in my own country.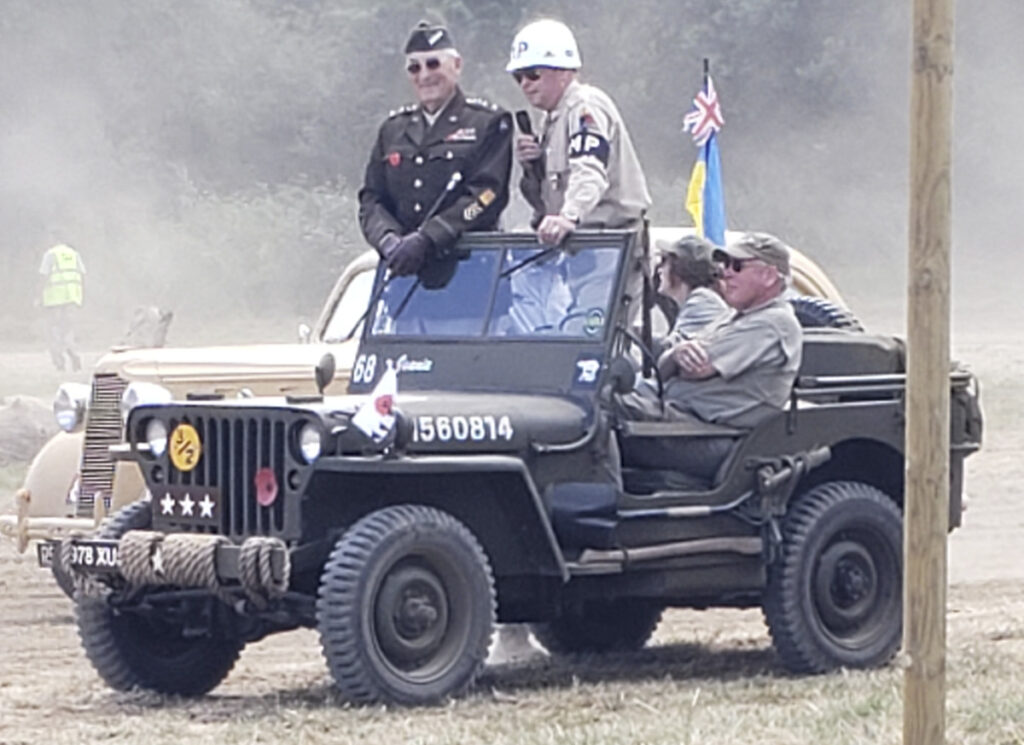 That said, this was an amazing event. A lot of fun was had, and if they didn't have it over the Fourth of July weekend it would be a lot easier to get Americans to attend. Although, we're not the prime target audience, the locals are, and they turned out in huge numbers so, we're not really needed.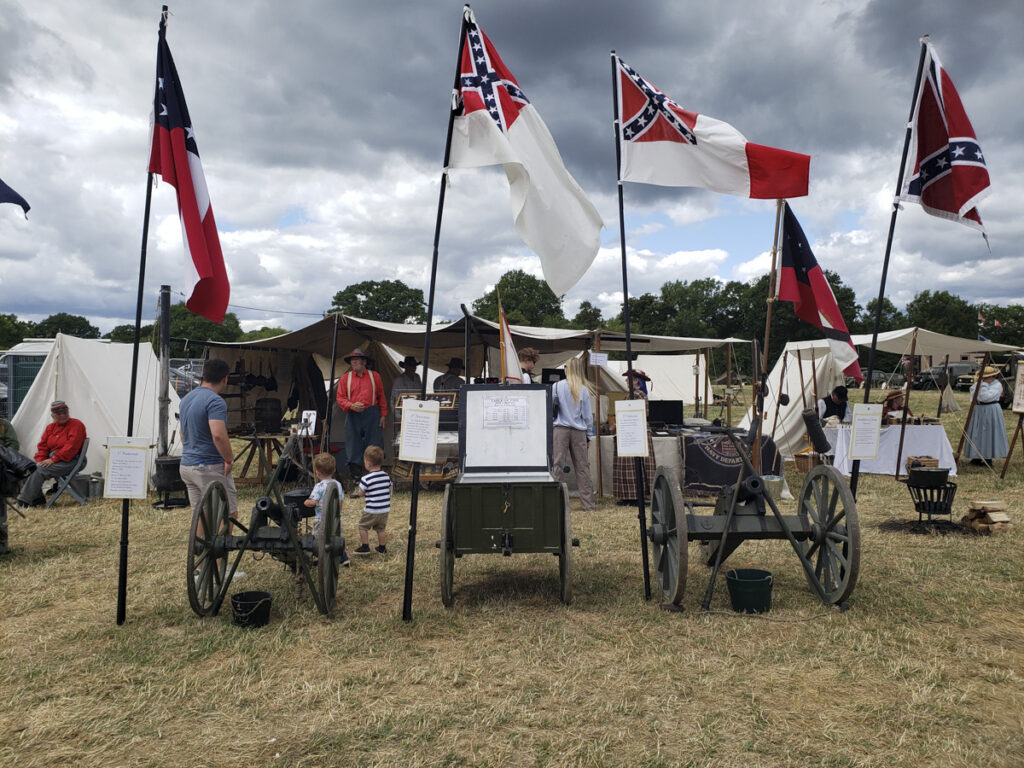 The show was broken up into areas, and a map provided. There were static exhibits of reenactors on display, moving vehicle displays in a large arena, battle reenactments, some museum weapon displays, and a lot of scheduled events that included families in things like tug-of-war and, well, car-crushing. Sounded pretty red-neck to me, so I was right at home with some tank demolition and cheering, awestruck children. Lots of good British-type fair food, very tasty and probably bad for you but, it's a county fair type atmosphere so fried foods must be tried.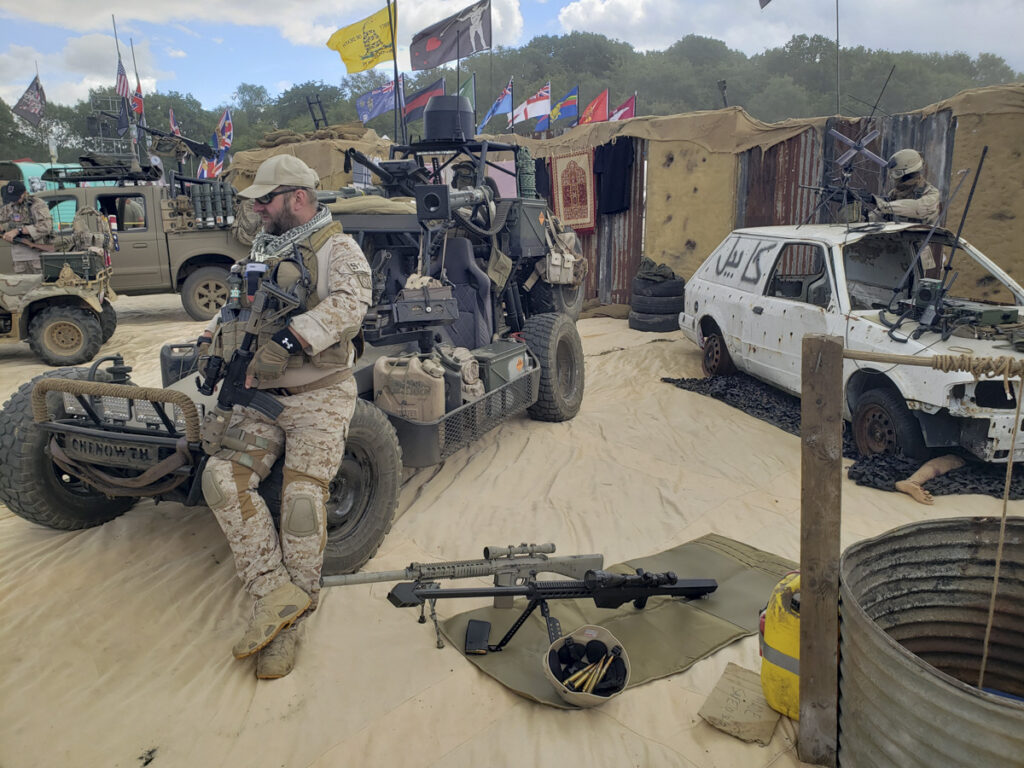 For me, the most important part was the dealer tents. There were quite a few companies displaying, several of them were really nicely done vintage clothing sales that seemed to concentrate on the 1920s through 1950s, and much of that was for the ladies. There was a lot of interest in those tents and quite a few women were walking around in 1920s/1940s type outfits. I think I found 12 tents full of older firearms parts and accessories, quite a bit of army surplus-type displays and the obligatory new items as sort of car boot sale ("flea market" for us Americans) that didn't draw me in, but were popular with family attendees.
Cliff Wilton of Surrey Militaria got more of my money than any of the other vendors, he had some very interesting pieces including Vickers knick-knacks that, like any obsessive collector, I just had to have.
The Capel Military Show was a well-attended, well-run event. On every level, I believe the managers and volunteers knocked it out of the park. The weather was great, the people seemed to be having a great time, there were many events and lots of interesting displays. If you're in the UK on the first of July, 2023, I highly recommend taking a trip down to this show. It's South of London, near Gatwick Airport. 
Check out the rest of our photographs of the show below.
The 2023 show is scheduled for 1-2 July, 2023.
The Capel Military Show
Aldhurst Farm
Temple Lane
Capel
Surrey
RH5 5HJ
Some other UK Militaria Shows:
The next show in the UK was Military Odyssey on 27-28-29 August 2022 at the Kent Showground, but I missed that. We'll cover them next year:
www.military-odyssey.com
Bromley Military Collector's Fairs, Bromley Civic Centre, Kent
www.bromleymilitariafairs.co.uk
Chelmsford Militaria Fair Shenfield High School, Shenfield, Essex
www.chelmsfordmilitaria.com
Chatham Militaria Fairs at the Historic Dockyard, Chatham, Kent
www.chathammilitariafairs.co.uk