The author installed the SST with an M4 collapsible stock on his Remington 870 entry gun. This little gun is very handy for close quarters, but used in conjunction with the SST, the user retains a small package but adds extended range by allowing the use of most types of sights.
by Chris Choat
I recently tested an SST-870 stock on my Remington 870 14-inch barreled entry gun and came away highly impressed.
Adding decent sights or changing the stock on your favorite combat shotgun has always seemed like an exercise in futility. As far as sights go it usually involved replacing receiver or trigger group pins to add a cumbersome mount platform or drilling and tapping the receiver of the gun. Using the first option you eventually were faced with the question "Where did I put the original pins?" when you wanted to remove the sight and go back to the stock configuration. The second option basically was more than most shooters wanted to tackle. I can even remember a shotgun mount that actually used sticky back double-sided foam to attach the mount semi-permanently to the gun! As for the stock issue, the choices were basically a plastic folding type that felt flimsy or a metal behemoth that was sure to leave you with a king-sized blood blister. And for some reason they always seemed to be made to fit several guns but none really well.
Now Cavalry Arms has introduced a solution to both problems. It is a very well built stock/sight mount combination that they call the SST. Made from a billet of T-6 aluminum and anodized a matte black the new stock is actually an adapter that mirrors the rear end of an AR-15/M16 receiver. This adapter allows the use of any stock that will fit the AR-15 series of rifles including either collapsible or fixed versions. The adapter will also accept any grip available for the AR rifle and is shipped with the ErgoGrip, which has found favor with users worldwide. The non-slip rubber compound of the ErgoGrip seems perfect fitted for use on shotguns. Not only does it provide a very "sticky" grip but it also helps to absorb recoil from heavy buckshot loads as well as slugs.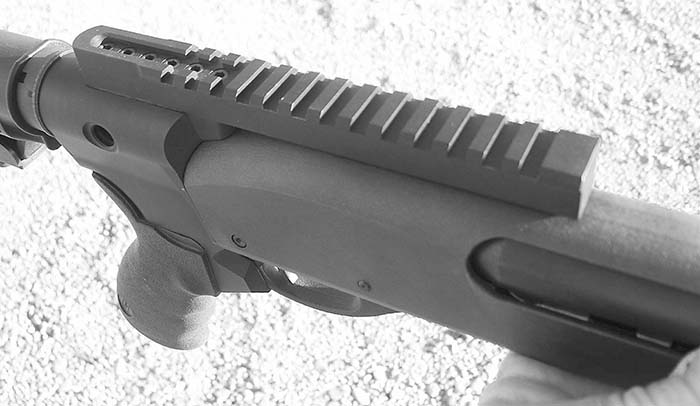 As if being able to add an AR type stock to your shotgun wasn't enough, the SST also comes with a length of MIL-STD-1913 rail fastened to its top. The rail is cantilever-mounted and extends out over the top of the host guns receiver. It is attached to the SST adapter by six Allen head screws that make for a very solid optics platform.
I recently tested an SST-870 stock on my Remington 870 14-inch barreled entry gun and came away highly impressed. To install the new SST all that is needed is to remove the existing stock by first removing two buttpad screws and then taking out a long bolt that reaches from the rear of the stock to the shotguns receiver. Once that is done you install the new SST by bolting it on and installing the type of buttstock that you prefer. I chose an M4 six-position collapsible which is also available from Cavalry Arms. I wanted to keep the Model 870 entry gun to as small a package as possible. The six-position M4 stock also allows the stock to be tailored to fit shooters wearing vests or even heavy hunting clothes.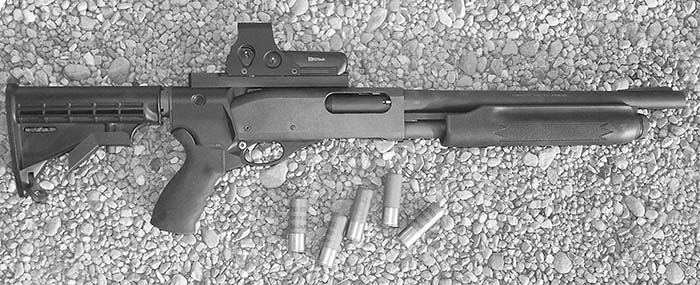 The first thing you notice about the SST is the quality of the machining as well as the fit and finish. The SST adapter fit the Remington like it was molded on it. As far as the finish goes it was a near perfect match. I have several Remington "black" shotguns and their parkerized finish seems to come in several shades of black.
The SST was shipped to me with an ErgoGrip on it. I have to be honest and say that I have never been a fan of this grip. I guess I am a traditionalist but I actually like the original AR-15 grip. But I have to say that after firing several hundred rounds of various 12 gauge loads through the little entry gun I have come away with a whole new perspective on the Ergo Grip. As I said before this sticky grip helps absorb some of the recoil and give the user a positive "hold" on the gun, especially when firing one handed with the stock tucked under your arm. After firing several boxes of slugs through both this gun and another shotgun with a pistol grip, it was fairly dramatic that the Ergo Grip was helping "suck up" the recoil.
In testing I used two different optics. The first was the OKO red dot reflex sight, which is now being imported from Czechoslovakia. This lightweight (only 2.3 ounces) new sight proved very durable as well as accurate. The sight is water/shock resistant and has an emergency notch and post sight set-up in case the sight should fail. I couldn't get it to fail and I tried. It is available in either 4, 6 or 8 MOA dots with variable intensity and uses common 3-volt lithium US batteries. Battery life is said to be 150 hours on the highest intensity level setting and 1,500 hours on the lowest. There are several models available for mounting on just about any gun. Accessories include a protective metal shield, which covers the glass part of the sight and also a remote pressure pad activation switch. With this pressure pad you can set the sight at any intensity level and then just activate it with the remote pad. The OKO sight has 1/4-inch click windage and elevation adjustments.
I also used an EoTech HOLOsight in my testing. This sight proved to be my favorite for shotgun use. The model I used was the EoTech 552, which features a 65 MOA ring with quadrant ticks around the outside at the 12, 3, 6 and 9 o'clock positions. It has a 1 MOA dot in its center. This particular model uses two "AA" batteries and features 20 brightness intensity levels including several night vision settings. Using the 65 MOA ring the sight proved extremely fast when using buckshot loads. At ranges out to 50 yards as long as the target was in the ring you hit it. Switching to slugs and using the center 1 MOA dot you couldn't miss with this sight. The recoil of heavy buckshot or slug loads was no problem for either of these sights.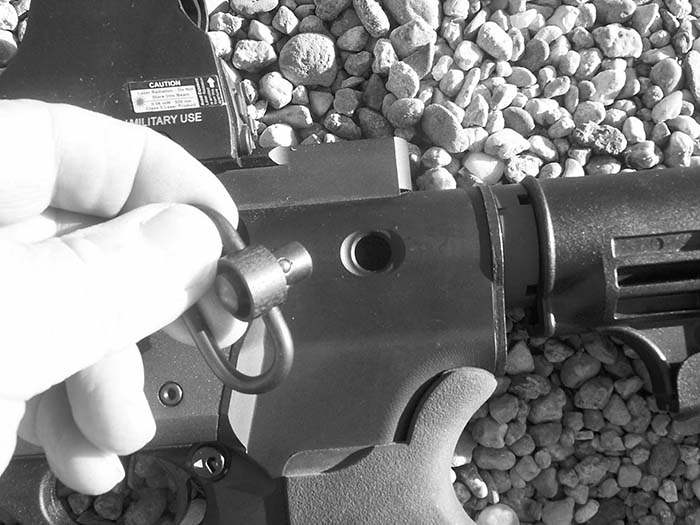 The SST stock has another feature worth mentioning. Milled into either side are recesses that accept the Uncle Mike's type push-button quick release sling swivel. This allows for attaching a single point mount sling to either side of the gun.
The unit that I tested was for the Remington 870 shotgun but Cavalry Arms has other models in the works. One of these is a model to fit the ever-popular Mossberg 590 series of shotguns. I'm sure as time goes by even other models are sure to follow. In addition to versions for other guns another accessory for the SST stock should be available by the time you read this. Cavalry Arms will be producing a set of AR style sights for shotguns to be used in conjunction with their SST stock. These sights will include a rear sight to fit the sight rail on the SST as well as a very innovative AR front sight that will fasten to a shotgun barrel. I saw a prototype at the SHOT Show and even the prototype looked well made so I know the finished product will be first rate. Check out the SST stock from Cavalry Arms, you won't be disappointed.
Cavalry Arms Corporation
Dept. SAR
2213 East Arbor Circle
Mesa, AZ 85204
Phone or Fax: 480-833-9685
Website: www.cavalryarms.com
EoTech
Dept. SAR
3600 Green Court, Suite 400
Ann Arbor, MI 48105
Phone: 734-741-8868
Website: www.eotech-inc.com
This article first appeared in Small Arms Review V7N11 (August 2004)