It was decided to use the Century C39v2 in training scenarios involving team tactics and patrolling to contact through EVTC's 360 and "Jungle Walk" ranges. Firing behind simulated cover was stressed.
By Todd Burgreen
Century Arms has been contributing to the increasing popularity of AK rifles in the U.S. for a long time. This stems from the multitude of AK products offered by Century over the years. The Century C39 Sporter Rifle proved innovative in many ways when it arrived on the U.S. AK scene. Century's decision to maximize the use of U.S. manufactured parts in the C39 made it a true "All-American" AK. This decision, made several years back, now seems clairvoyant considering the recent Executive Order banning Russian-made AKs with no guarantee that other imported AKs or AK parts will not fall victim to the same fate. For years, users have sweated the details of complying with 18 U.S.C. § 922(r) and the potential of even more legislated compliance on the horizon related to allowable imported parts found on a rifle. The Century C39 eliminated this constant looking over the shoulder when it came to AKs. Century decided to follow up on the C39 with the C39v2. The C39v2 incorporates various tweaks/improvements to the original Century AK.
The most significant aspect of the original C39's construction is the U.S.-made milled receiver with the C39v2 maintaining this method. The C39v2's receiver is created from an 11 pound block of 4140 ordnance-quality steel. Stamped receivers are more associated with AK methods of construction in the U.S.. It is ironic in many ways that Century's C39 makes use of a milled receiver. This resembles the experience of the AK's original birth in the Soviet Union. The first mass-produced Soviet-made AKs used milled receivers to take advantage of existing manufacturing capacity the Soviet Union had available in the aftermath of the devastation of World War II. The AK was intended to utilize a stamped receiver to maximize production and minimize cost, but stamping machinery technology and manufacturing methods were relatively new in the Soviet Union in the late 1940s, creating problems with quality control and thus necessitating the use of milled receivers until production issues were solved with the stamped receivers, resulting in the AKM arriving on the scene in 1959. While only a supposition, it is reasonable to assume the U.S. commercial manufacturers with their commitment to CNC machines have no incentive to convert to or make the investment in stamping machinery just to make AKs.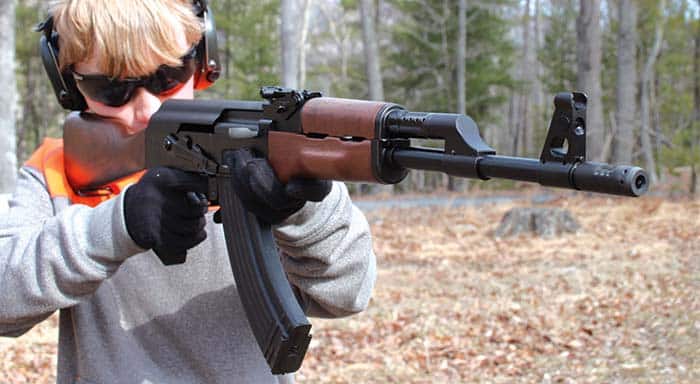 The C39v2's nitride-treated barrel measures 16.5 inches long with a 1:10 twist rate. Overall length of the rifle is 37.25 inches with a weight of 8.2 pounds. The milled receiver adds about a pound of weight to the C39v2 compared to a similarly configured stamped AK. Yes, the con is a heavier rifle, but the pro is reduced felt recoil, allowing for more controllability during rapid strings of fire. Enhancing the C39v2's controllability is the proprietary "V" Chevron Compensator Century has designed and installed via M14x1 LH-threaded muzzle. The Chevron Compensator directs gases upward, mitigating muzzle climb during firing.
The C39v2's wood buttstock and forend strikes one as superior quality compared to other AK furniture encountered. Overall the wood feels and looks denser compared to other furniture experienced. The lower forend piece features a palm swell for more comfortable hand placement. Stock choice is an individual choice. The upper and lower forends can be switched out with aftermarket accessories if desired; with the caveat of having to trim the lower forend for it to fit into the C39v2's receiver recess. The original C39 had a longer-than-normal length of pull buttstock when compared to typical AK rifles. Century felt this would be better, considering its U.S. target audience. It was decided to utilize a shorter, more traditional length AK-like buttstock with the C39v2. The rear buttstock can also be switched out, if it is not what a shooter desires, with the plethora of buttstocks designed for stamped AK receivers. This is a pleasant surprise with the C39v2. Most milled AKs are not so accommodating, including the original Century C39. A milled receiver stock attaches differently than a stamped style stock due to having upper and lower tangs that are integral to the rear of the receiver. The original C39 followed the 1960 milled Polish AK pattern in terms of stock furniture and angle the rear stock sits at in relation to the receiver.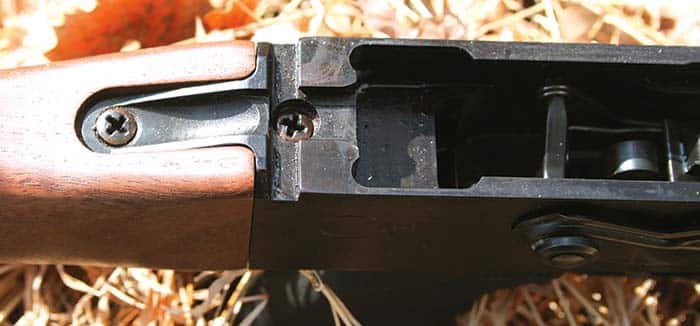 The U.S.-made milled receiver is not the only feature that sets it apart from other AKs on the market. The C39v2 comes with other enhancements in the form of a larger T-shaped magazine release tab, safety lever with bolt hold open notch and bolt carrier lightened via cuts removing material to reduce weight. The bolt carrier is also heat treated. Century uses its own AK trigger with the C39v2, versus the TAPCO G2 trigger found in the original C39 and so many other U.S. AKs. The "Made in the U.S.A." theme is reinforced by the two U.S.-made Magpul 30-round magazines shipped with the C39v2.
New additions to the 7.62x39mm ammunition realm were accessed for testing with the Century C39v2: Century's own Red Army Standard and Elite brands. Red Army Standard and Elite 7.62x39mm ammunition is offered in handy Range Packs (180 rounds) as well as 30-round boxes. This packaging allows the consumer to purchase multiple boxes of ammunition in a convenient, easy to carry and use format. Red Army ammunition is manufactured by the same factories that produced billions of rounds of ammunition for the Warsaw Pact nations. Markings on the Standard and Elite Range Pack boxes indicated Romanian, Bosnia & Herzegovina and Ukrainian manufacturing. While the recent import ban levied against Russian business concerns is sure to impact Russian ammunition, Red Army Standard and Elite Ammunition will help to fill the void. Century's Red Army Standard will be available in many other popular Warsaw Pact rifle calibers such as 7.62x54R (148 grain FMJ) and 5.45×39 (69 grain FMJ).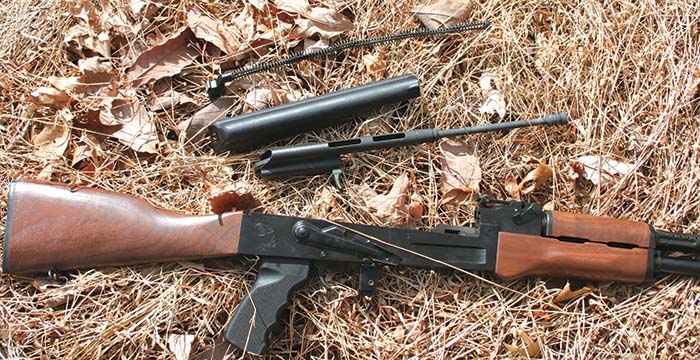 Century incorporates typical AK-style open sights on the C39v2. The C39v2's rear sight is adjustable for engagement distances with the front sight used for windage and elevation corrections during sight in. This return to more traditional AK sight configuration, versus the original C39 sights where windage was adjusted with rear sight and elevation only at the front sight, will be welcomed by most users. After a quick verification of 25-yard sight zero, range evaluation commenced with a function test firing several magazines in rapid succession at clay pigeons scattered along Echo Valley Training Center's berm. The clay pigeons provide instant feedback when fired upon. This makes evaluations simpler versus firing at paper at distance and then viewing results later. While not unique, this is a good way to establish a baseline for reliability. Let's face it, if a weapon such as the C39v2 does not have pristine reliability, its major attribute is nullified. The Century AK arrived with two Magpul PMAG 30 AK/AKM MOE magazines. Different types of AK47 magazines were used to further root out any manufacturing quirks that might exist in the C39v2. Metal and polymer 30-round magazines of various manufacturers performed fine with no issues inserting, removing or feeding the Century AK.
A more comprehensive 100-yard sight zero confirmation took place after functionality was established. Accuracy with the C39v2 was more than acceptable with the open sights producing 1.5-inch groups at 50 yards and 4-inch groups at 100 yards. The C39v2 does not feature an integral side scope rail prohibiting mounting of a magnified optic for more precise accuracy tests. Frankly, it was refreshing to revisit iron sights while conducting drills at EVTC while moving and firing behind simulated cover or vehicles. It was decided to concentrate on using the Century C39v2 in training scenarios involving team tactics and patrolling to contact through EVTC's 360 and "Jungle Walk" ranges. This allowed the C39v2 to shine in terms of potent firepower and combat accuracy. Firing from unorthodox positions while working around range vehicles showed why the AK-pattern rifle is such an effective weapon. Not being a prisoner to a defined eye relief distance offers a certain advantage with the iron sights. Strings of fire ranged from 5 to 75 rounds with target distances measured in feet out to a couple hundred yards. The C39v2 handled great, feeling like a true carbine with perfect reliability. Total rounds fired involving several range visits was over 800 with no maintenance conducted besides initial lubrication of the C39v2 when it arrived.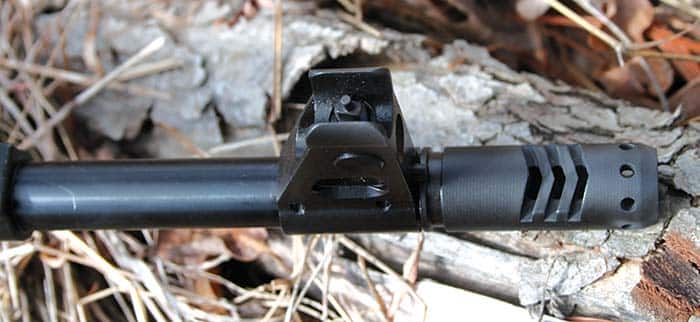 A U.S. PALM AK Attack Rack Gen 1 chest rig was used at the range with the C39v2. U.S. PALM developed the AK Attack Rack to accommodate (and hold securely) 4 AK and four handgun magazines. It is easy to get on quickly. The magazine pockets are lined along the locking-lug end with a heavy polymer material designed to minimize wear. A shock cord retention provides retention for the AK magazines. The Attack Rack is constructed of 500d Cordura nylon and can either be worn over a plate carrier or used as a stand-alone chest rig.
AK-47 models/versions proliferate around the world and have spread across the land of its old Cold War nemesis. Despite the nefarious 1989 Import Ban, now defunct 1994 Assault Weapon Ban, and recent Executive Order, the AK platform has never been as popular in the U.S. as now. This is due to its well-earned reputation for ruggedness, reliability and terminal ballistics compared to the 5.56mm AR. Hard lessons relearned in Iraq and Afghanistan further enhance 7.62x39mm AK credentials. 7.62×39 loads perform very similar to the 30-30 in terms of ballistic performance, with bullet selection ranging from 122-154 grain FMJ, HP and SP. The gaining popularity of .300 Blackout for the AR is further supporting testimony, even if backhanded, of the 7.62×39 cartridge. The Kalashnikov long-stroke gas piston operating system is a long serving benchmark in terms of reliability. A key component in the AK design is the looser tolerances in its moving parts, giving it more latitude to function when dirty from field conditions or hot and grimy after firing numerous rounds over extended periods of time. This translates into reduced sensitivity to debris in the action and ultimately lower maintenance requirements to keep it functioning.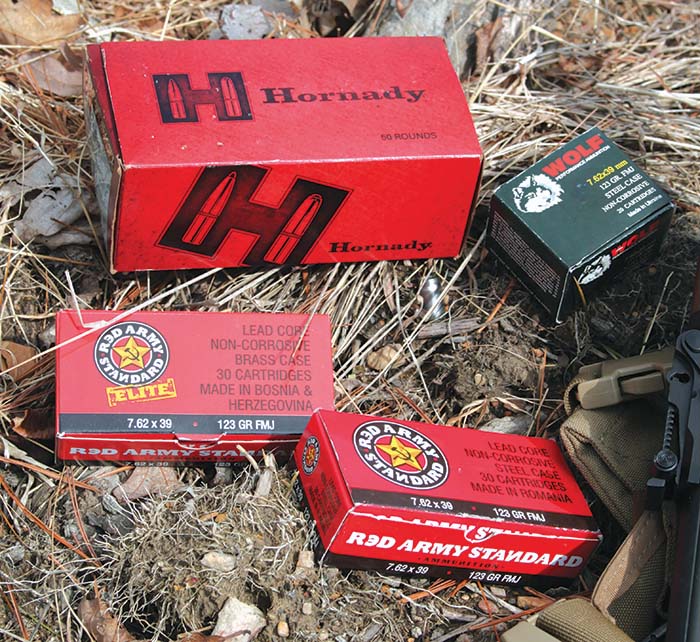 The C39v2 is proof that not all weapons need rails and an array of accessories to be considered viable. While reliability should never be compromised in terms of cost/performance ratios, other items, considered a must for some, may not be high priority or worth it for others. KISS (Keep It Simple Stupid) methodology can pay dividends in terms of budget and allowing for concentration on other priorities, such as training. With that said, the C39v2 could be accessorized via a Texas Weapon Systems dust cover rail, as well as numerous aftermarket railed forends, if magnified or red dot optics are desired.
Century Arms is a polarizing entity within the gun industry among consumers. While often appreciated for being the only access point for many in terms of certain weapons, especially AK types or other foreign types, Century is criticized at times in terms of quality control. All that can be relayed by this author is that over a 20-year period with over a dozen Century rifles and handguns evaluated, no issues have been encountered. Some will scoff at this by claiming receipt of privileged specimens; this is countered that many Century T&E weapons were purchased off the shelf at local dealer Stonewall Arms.
The Century C39v2 proved a reliable, well-handling and accurate rifle for this T&E based on any standard of evaluation—original imported weapon or U.S.-made version. Not much more can be asked of a 1940s Soviet-designed rifle that is now being made in the U.S.A. in 2015.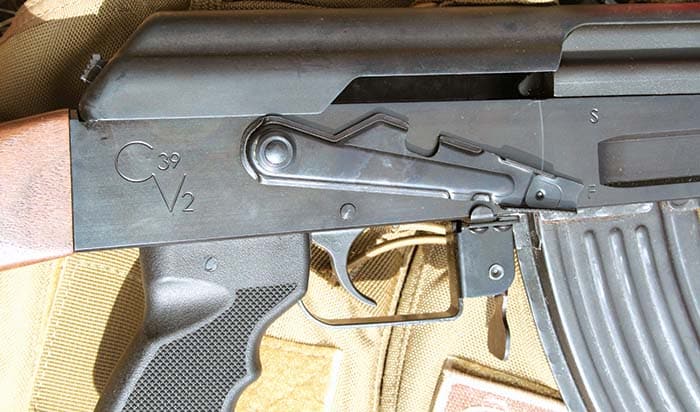 SITES OF INTEREST
Century Arms
www.centuryarms.com
Stonewall Arms, LLC
www.stonewallarms.com
U.S. PALM/SGCUSA
www.uspalm.com
Echo Valley Training Center
www.echovalleytraining.com
This article first appeared in Small Arms Review V19N10 (December 2015)