By Todd Burgreen

Any mention of Christensen Arms inevitably brings forth an association with their precision bolt action hunting rifles featuring carbon fiber wrapped barrels. Various models of Christensen weapons have been brought forward since Dr. Roland Christensen saw a way to apply his career experience to his hobby. He developed and marketed a carbon-fiber wrapped barrel that has significant advantages over solid steel barrels in weight and heat dissipation. Dr. Christensen's doctorate in mechanical engineering led the way to his understanding how to apply carbon fiber to the benefit of shooters. Not resting on previous success, the company now builds a full range of firearms including tactical variants. This brings us to our article topic – the Christensen Arms CA 10 DMR AR variant.

The adage if you want it done right do it yourself might be the unofficial motto for Christensen Arms in terms of 1911 handguns, precision bolt rifles, and lastly AR rifles. This article will feature the Christensen Arms take on the AR platform as embodied by the CA 10 DMR. The same Christensen Arms quality and attention to detail in providing highly accurate, rugged, and reliable bolt action rifles was turned toward improving the AR. In fact, Christensen Arms was so keen to improve the AR platform they went all in with ARs chambered in multiple calibers such as 5.56mm, .223 Wylde (standard), .204 Ruger, 6.8 SPC, 6.5 Grendel, and 300 AAC. An AR-10 frame is also available, the CA 10, for .308 Winchester (standard), 243 Winchester, 7mm-08, and 6.5 Creedmore chamberings. The CA 10 DMR evaluated herein is chambered in .308Win.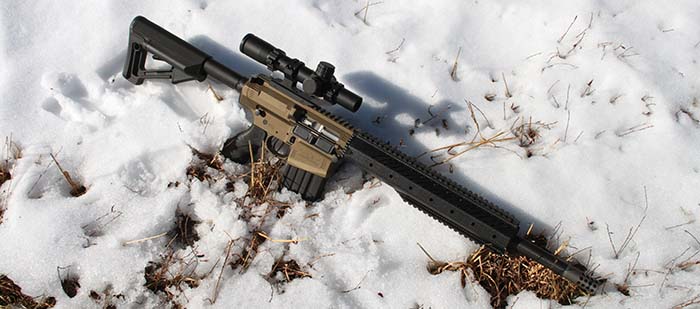 The Christensen Arms CA 10 DMR platform can be considered a custom built AR rifle. Dozens of configurations ensure you have the exact AR you desire. Whether you crave a compact SBR for law enforcement tactical team use or a long-range precision rifle, each Christensen Arms AR is built with the same commitment to excellence. Only top tier components are incorporated such as a Nitride coated bolt carrier group, machined forged custom receivers, Christensen LTM trigger, titanium muzzle brake or flash hider, multiple stock options, various Cerakote and hydro-dip finishes, Match grade carbon wrapped barrel, and carbon fiber handguards. Christensen Arms covers their ARs with a 1 MOA accuracy guarantee. One overarching theme with the Christensen Arms AR stemming from their carbon wrapped barrels is keeping weight down so as to maximize operator efficiency. The CA 10 DMR tested herein weighed slightly over 7 pounds. This is outstanding considering a rail is present as well as other features that are typically avoided in other builder's efforts when attempting a lightweight AR.

It is no secret that the Eugene Stoner's AR platform is the best selling rifle in the U.S. with many manufacturers jumping on the bandwagon in recent years by offering their versions. It seems the ARs adaptability attribute is also its most abused quality with individuals often hanging all sorts of paraphernalia on their ARs. This added weight often negates the inherent AR qualities of handling. Often a more simple approach to a primary weapon such as a rifle makes more sense for all interested users, i.e. military, private security contractor, law enforcement, and/or civilian. Years of experience and dozens of training courses has formed strong opinions as what constitutes an effective fighting rifle; meaning this is a return to AR basics such as lightweight, great handling rifles, with potent firepower. This especially applies for civilians and even most law enforcement personnel outside of specialized tactical teams who do not require the plethora of accessories currently being found on the ARs. Christensen Arms offers such a platform with its CA 10 DMR; with added benefit of it being chambered .308Win. The CA 10 DMR is lighter than some competitors AR-15 style rifles on the market let alone other AR-10 .308Win rifles.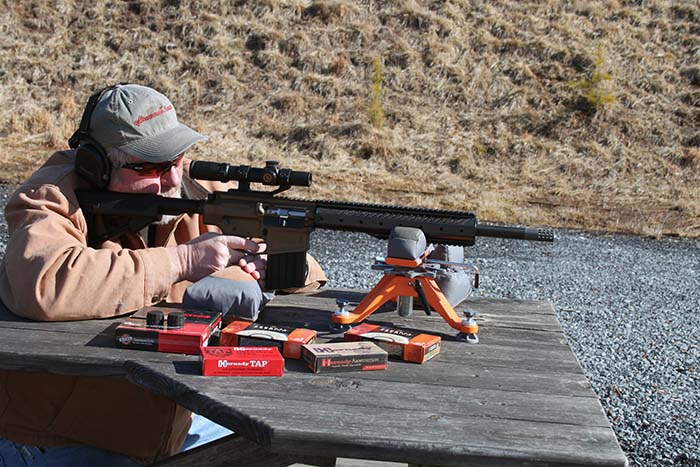 Reports from Afghanistan and Iraq have re-exposed 5.56mm poor performance in putting a distant adversary down quickly with minimal rounds fired. While the basic M16 design is hard to improve upon when it comes to reliably launching bullets downrange accurately, many have lamented the 5.56mm's potency in various scenarios. The last frontier with the AR is caliber expansion that fits within a standard 5.56mm lower receiver. Though the 7.62x51mm/ .308Win AR has been around for quite some time, the .308Win AR's increase in size and weight in terms of necessary AR receiver size, ammunition, and other accessories to accommodate the larger cartridge is a drawback to many. The Christensen Arms CA 10 DMR solves this quandary. The combining of the AR platform with the increased power represented in the .308Win/7.62x51mm cartridge is the key to the CA 10 DMR's appeal. This is speaking in terms of effective range, while still allowing for multiple rounds sent quickly downrange if needed in a close range melee. In training courses experienced involving LE, military and private security contractors the mantra of "one mag one kill" is often repeated in relation to the M16/AR-15. While the 5.56mm round is often chided in terms of that hard to define concept of "lethality," the .308Win/7.62x51mm does not suffer from this reputation. Law enforcement agencies could easily consider using the rifle (not to mention private contractors, and security conscience civilians). With budgets constantly under pressure, the CA 10 DMR could be the answer to fulfilling a multitude of roles – precision rifle, general-purpose patrol rifle, or entry weapon. This is a positive reflection on the rifle's accuracy, reliability, handling and ergonomics.

Christensen Arms' thought process was to create a lightweight, simple to operate AR rifle similar to Eugene Stoner's original concept while accessing the .308Win cartridge's power. Christensen's counter-intuitive approach involved maximizing the AR's effectiveness and potential by simplifying it away from current trends. AR designs consisting of heavy barrels and full-length four-sided Picatinny rails adorned with lights, lasers, vertical forward grips and other accessories were abandoned in favor of simple contemporary components of the highest quality put together by a qualified gunsmith one at a time ensuring maximum quality control. Christensen Arms' experience and industry leading development of carbon fiber barrels and forend rails further lends credence to the CA 10 DMR.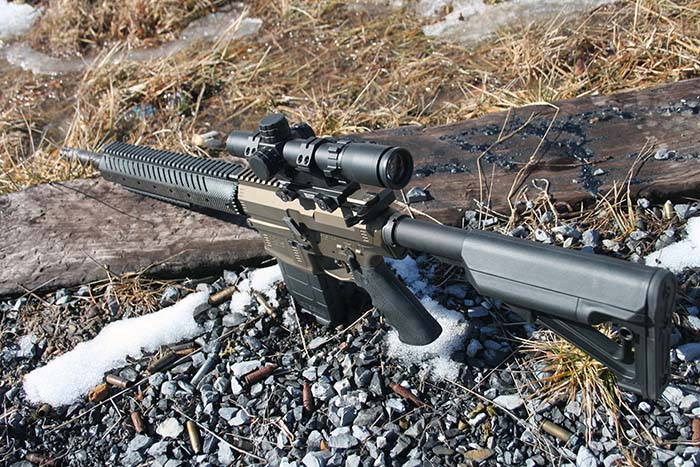 CA 10 DMR's components are of proven quality and performance with cost not serving as the driving force of selection. A Christensen Arms Match carbon wrapped 16 inch barrel featuring 1:10 twist with titanium muzzle brake is mated to a flattop AR receiver. A Nitride coated bolt is used in the CA 10 DMR. An extended charging handle is also featured. The CA 10 DMR's carbon fiber forend is unit finished in a speckled grey with the receiver done in a burnt bronze Cerakote finish. The handguard's carbon fiber material minimizes weight and prevents the CA 10 DMR from being front heavy, especially when combined with the carbon wrapped barrel. This positively impacts handling while allowing for effective cooling of the barrel and secure mounting of sling swivels and flashlight attachment interface. The carbon fiber handguard is textured allowing for positive grip anywhere along its length. A Picatinney rail runs under the forend handguard for mounting of accessories. A Magpul single point mount is placed at the end of the receiver. A LTM trigger group rides in the Christensen Arms CA 10's lower receiver. An over-engineered match or any kind of competition trigger that can malfunction or go out of adjustment is not suitable for a fighting rifle. A Magpul CTR adjustable sear is fitted along with a Hogue pistol grip. Other stock types can be requested for the CA 10 DMR. The Hogue pistol grip's design enables a user to more comfortably wield a CA 10 DMR, especially one handed, without tenderizing your middle finger against the trigger guard. This may not sound that significant and certainly is not an absolute requirement, but anyone who has spent multiple training days with an AR will appreciate the attention to detail.

The CA 10 DMR's theme is evident in terms of minimizing weight. Christensen Arms is more than willing to utilize AR improvements as long as said items contribute to effectiveness. However, the need for full length quad rails adding weight and unbalancing the AR by making it front heavy is resisted. The ability to mount infrared laser designators, night vision devices, or other sorts of tactical hardware is not something most of us require in a fighting rifle. The CA 10 DMR weighs 7.1 pounds and measures 38 inches in length with Magpul stock fully extended. The CA 10 DMR balances performance with handling. Doubters are encouraged to attend a rifle course with a rifle weighing 10+ pounds laden with accessories and compare it to a rifle configured like the CA 10 DMR. There is no doubt which rifle will allow its user to perform more dynamically, especially during cover, movement, barricade, or unorthodox firing position drills.

Hornady 168gr TAP, Federal 168gr Match, and Black Hills Ammunition 168gr and 175gr Match were tested with the CA 10 DMR. No ammunition tested produced over 1.25-inch groups at 100 yards. This is quite the statement. There are many custom precision bolt action rifles chambered in .308Win that do not have this type of accuracy – let alone a factory produced semiautomatic AR. FMJ loads from Winchester were tested as well. This was more for making sure of functionality than for primary use. The CA 10 DMR proved reliable throughout this evaluation with over 350 assorted rounds sent downrange. One DPMS magazine is shipped with the rifle. The CA 10 DMR also accepts Magpul PMag 20-round magazines. Several more of the Magpul magazines were acquired for this evaluation. Magpul's PMag 20LR magazine is quickly becoming the standard .308Win/7.62x51mm AR magazine with several manufacturers setting up their lowers to utilize the Magpul product. Quality magazines are a linchpin for a reliably functioning semiautomatic or select-fire weapon.

The CA 10 DMR's accuracy level justifies mounting a magnified optic such as Weaver Tactical 1.5-5x. This scope selection is certainly not that common or well known to many shooters. Most have no idea what they are missing in terms of rifle scope optics offered by Weaver. Weaver produces one of the most diversified high performing line-ups of rifle scopes on the market. Most in our community hold strongly to preconceived notions regarding rifle scope optics. There are times when one must get past these comfortable set beliefs to truly appreciate what another product may offer. The 1.5x magnification, wide field of view, edge-to-edge clarity and illuminated reticle options allow for extremely fast and accurate target acquisition. This is an ideal scope for when every split second counts and lethal shot placement is a must. The versatile Weaver Tactical 1.5-5x scope can handle close quarter situations on an AR platform and much longer shots depending on the caliber being used and the shooter's proficiency.

Once the CA 10 DMR proved functionally reliable, it was then put through its paces on different rifle courses that were set up for a pending law enforcement competition that was to be held at the Echo Valley Training Center (EVTC) range. Magazine changes, shooting from the non-dominant shoulder and unconventional positions helped to put the CA 10 DMR through its paces. The Christensen CA 10 DMR is not marketed as the least expensive AR option. All of the CA 10 DMR's design features are intended for maximizing effectiveness during a fight or realistic training on the range. The key component in a fighting rifle is reliability. No matter how accurate or powerful chambering a rifle is if it does not work 100% of the time it is a liability.

The 16 inch barreled Christensen AR rifle showed its true promise by performing not only within the multiple 100 yard bays at EVTC firing from barricades and engaging targets, but also back at the prepared firing position line with targets placed out to 300 yards. Numerous drills were run involving magazine changes and moving between barricades simulating cover. A US Palm Multi-Platform chest rig carried five magazines during range evaluations. Several of the more dynamic drills experienced during the T&E showed the CA 10 DMR at its best; unrelenting reliability even when scorching hot after multiple magazines fired consecutively.

As with any personal weapon, and selection of a fighting rifle is as personal as it gets, individual preferences and prejudices will decide interest level in the Christensen Arms CA 10 DMR. What makes up an ideal AR fighting rifle is a hotly debated topic. The CA 10 DMR's near $3,000 price tag is sure to give some pause. There are an overabundance of AR style rifles vying for consumer attention whether individuals, departments, or other entities. The Christensen Arms CA 10 DMR is worthy of consideration based on attention to detail and quality of materials used in its manufacture. The cliché of buy right the first time comes to mind with the CA 10 DMR being a good example.
Sites of Interest
Christensen Arms
www.christensenarms.com

Black Hills Ammunition
www.black-hills.com

ATK/Federal Cartridge Company
www.federalpremium.com

Hornady Mfg. Inc.
www.hornady.com

Echo Valley Training Center
www.echovalleytrainingcenter.com

Magpul Industries Corp.
www.magpul.com

Weaver Optics
www.weaveroptics.com
This article first appeared in Small Arms Review V18N4 (August 2014)