By Michael Janich –
On July 11, 1941, President Franklin D. Roosevelt appointed General William "Wild Bill" Donovan to lead a new organization called the Coordinator of Information (COI). Charged with collecting and analyzing information relevant to national security, the COI was later renamed the Office of Strategic Services (OSS) and became the first independent U.S. intelligence agency. The predecessor of the CIA, it played a critical role in the U.S. war effort during WWII.
One of Donovan's first actions as director of the COI was to establish a training center for the elite operatives that would staff his organization. The man he chose to lead that effort was a confident young U.S. Army lieutenant named Rex Applegate.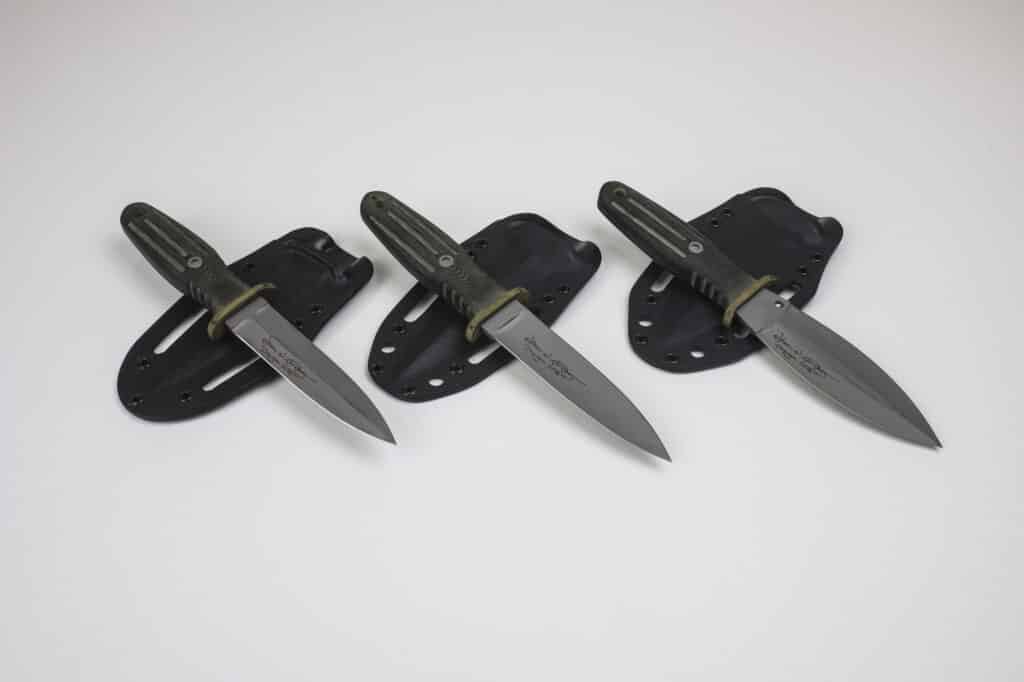 Born in Oregon on June 21, 1914, Applegate's family lineage extended all the way back to the American Revolution and the earliest pioneers of the Oregon Trail. He learned to shoot and hunt from his uncle, Gus Peret, a renowned professional hunter and exhibition shooter for Remington-Peters. After graduating from the University of Oregon in 1940 as a Reserve Officer Training Corps (ROTC) cadet, Applegate entered the Army as a reserve officer in the Military Police. He later competed with 10,000 other reserve officers for one of the 100 regular Army commissions. He finished eleventh and earned a transfer to the Counterintelligence Corps before being hand-picked by Donovan. Donovan handed Applegate a briefcase with $50,000 in it and told him to "learn all there was to know about close combat with and without weapons" and build a facility to train our spies.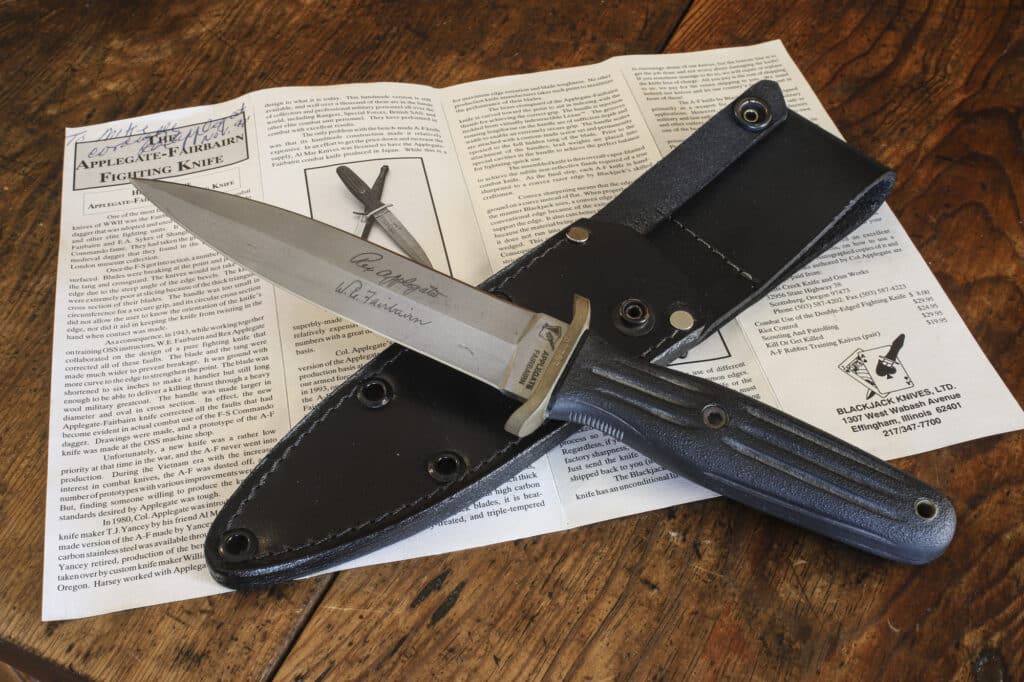 Applegate personally coordinated the establishment of the OSS' Area B training center at what is now the presidential retreat at Camp David. He also cross trained with the British Special Operations Executive (SOE—the British counterpart of the OSS) in Europe and worked closely with W.E. Fairbairn and E.A. Sykes, veterans of the Shanghai Municipal Police and designers of the Fairbairn-Sykes Commando Dagger.
Later in the war, Applegate was transferred to the Military Intelligence Training Center (MITC) at Camp Ritchie, Maryland to train other American intelligence operatives in close-combat skills. He also wrote the book "Kill or Get Killed," one of the definitive works on all aspects of armed and unarmed combat.
Colonel Rex Applegate was a legendary figure who laid the groundwork for modern close-combat training. In addition to his skill at wielding a combat knife, he also had a keen insight into fighting knife design. During his work with W.E. Fairbairn, they realized the Fairbairn-Sykes dagger suffered from some serious shortcomings, and in 1943 collaborated to create an improved design. They also brainstormed an enhanced version of the OSS Smatchet. Although prototypes of both designs were made in the OSS machine shop, the war ended before they could be brought into production. The colonel, however, knew they had merit and decades later used them as the basis for some of the most iconic tactical knives ever produced.
Applegate Connection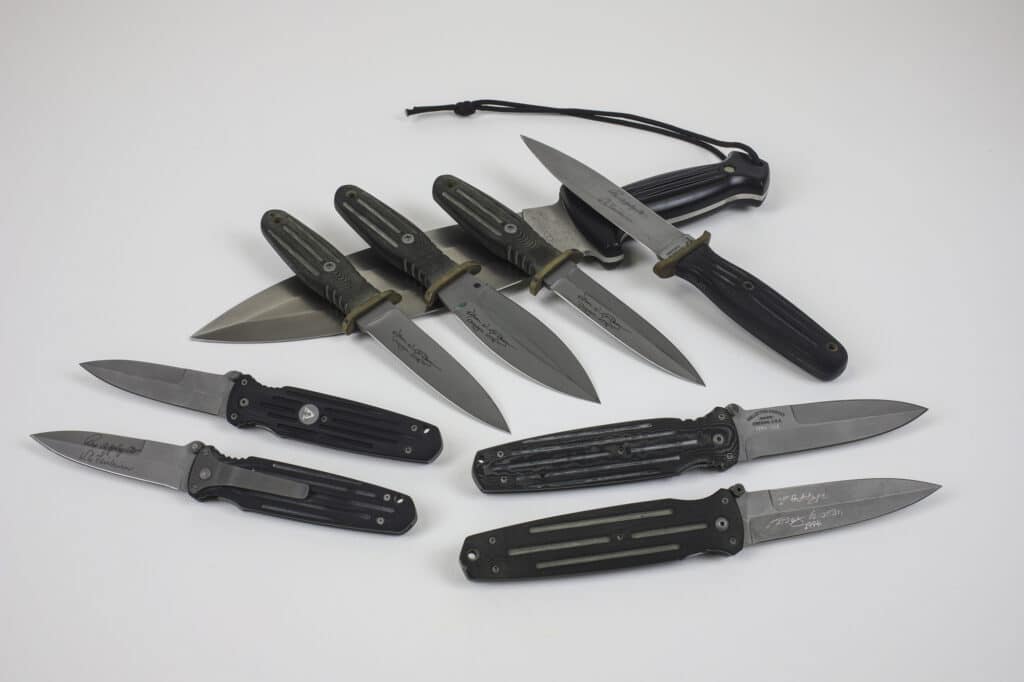 In 1994, I was hired to establish the video production department for Paladin Press, "the world's most dangerous publisher." My first task was to work with Col. Applegate on several video projects documenting his approach to handgun point shooting. The colonel was impressed with my genuine interest in close combat and took me under his wing, mentoring me for several years before his passing in 1998. During this time, he was in the process of finalizing several of his knife designs for commercial production. Some were already being manufactured and still others were in the prototype stage. Knowing I was an avid knife enthusiast, Col. Applegate generously shared his insights on his designs and the development process with me.
The colonel worked closely with custom knifemakers Bill Harsey and the late Butch Vallotton in the development of his designs. Every original prototype he received was serial numbered 001. When Paladin Press founder Peder Lund learned of this, he commissioned Harsey—with the Colonel's permission—to make him a second prototype sample of every design he made for Colonel Applegate. These identical prototypes were serial numbered 002.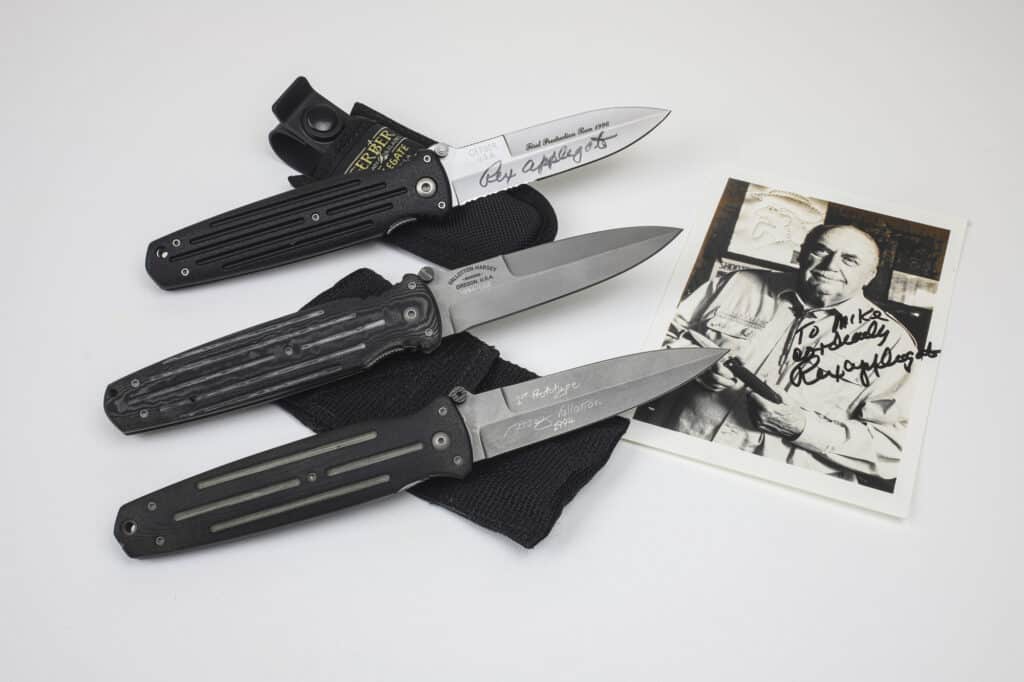 When Col. Applegate passed away, Lund helped his widow auction off his incredible gun and knife collection. He also had "first dibs" on anything he wanted to buy and was kind enough to extend that opportunity to me and a few other Paladin staffers. I was fortunate enough to purchase several guns from the colonel's collection—including one of his personal carry guns—and one rare prototype knife.
Lund took the pick of the litter—the "Fitz Special" revolver that Col. Applegate carried as a sidearm in WWII, and the .38 Smith & Wesson "Lemon Squeezer" he carried in Mexico after the war. Both guns had "notches in their pedigree," and the latter ultimately inspired S&W's Centennial model. Years later, Lund gave me the opportunity to purchase both guns. I told him that I was very interested, but I wasn't sure I could afford them. One day, he walked into my office and handed me a plastic bag containing both guns. When I tried to hand it back, he told me, "I can't think of anyone else on Earth the colonel would rather have these guns go to. You did more than anyone to secure his legacy. If you keep them, they're yours." They remain two of my most prized possessions today.
About a year later, Lund told me he was planning to sell his collection of custom-made 002 prototypes of the Colonel's designs. Again, he asked me if I was interested. Grateful and humbled by his gift of the guns, I was not only interested, but saw it is an opportunity to balance my karma by paying whatever he wanted for them. I paid Lund's asking price without hesitation and added six incredibly rare prototypes of Applegate-designed knives to my collection. All these knives were painstakingly hand crafted by Bill Harsey and/or Butch Vallotton and displayed the same no-nonsense construction theme and finish. The blades were expertly ground from 154CM stainless steel and bead blasted to eliminate reflection. Their handles were crafted from Micarta or G-10 and the fixed blades featured brass guards and custom-molded pancake-style Kydex sheaths with belt slots.
Collectively, these knives laid the groundwork for most of the commercially produced versions of the colonel's knife designs. In addition to these pieces, I was fortunate to add several other knives to my collection to achieve a full representation of his remarkable family of Applegate-Fairbairn designs.
The Applegate-Fairbairn Fighting Knife
When the Fairbairn-Sykes fighting knife was fielded early in WWII, its design shortcomings became immediately apparent. Its fragile tip and squared shoulders at the guard made the blade prone to breakage and its steep edge geometry made for poor cutting performance. Additionally, its round handle was difficult to grip securely and made it difficult to orient the blade by tactile sense.
Applegate and Fairbairn's improved dagger design, dubbed the Applegate-Fairbairn (A-F) Fighting Knife, was dormant from the end of World War II until the 1980's, when Col. Applegate commissioned knifemaker T. J. Yancey to make it on a custom basis. When Yancey retired, Bill Harsey took over the task, crafting custom A-F knives and working with Applegate to refine the design. The Colonel subsequently licensed that design to Al Mar, Blackjack, and Boker, all of whom produced them commercially.
My personal Applegate-Fairbairn is a Blackjack-made version given to me by the colonel during my first visit to his home. It boasts all the features of the improved design, including a broader blade for enhanced strength and cutting performance, a forward-angled brass double guard, and a two-piece injection-molded Lexan handle. The refined handle design not only provided a more secure, hand-filling grip, it was actually filled with lead weights to fine-tune the knife's balance.
The Applegate-Fairbairn Folder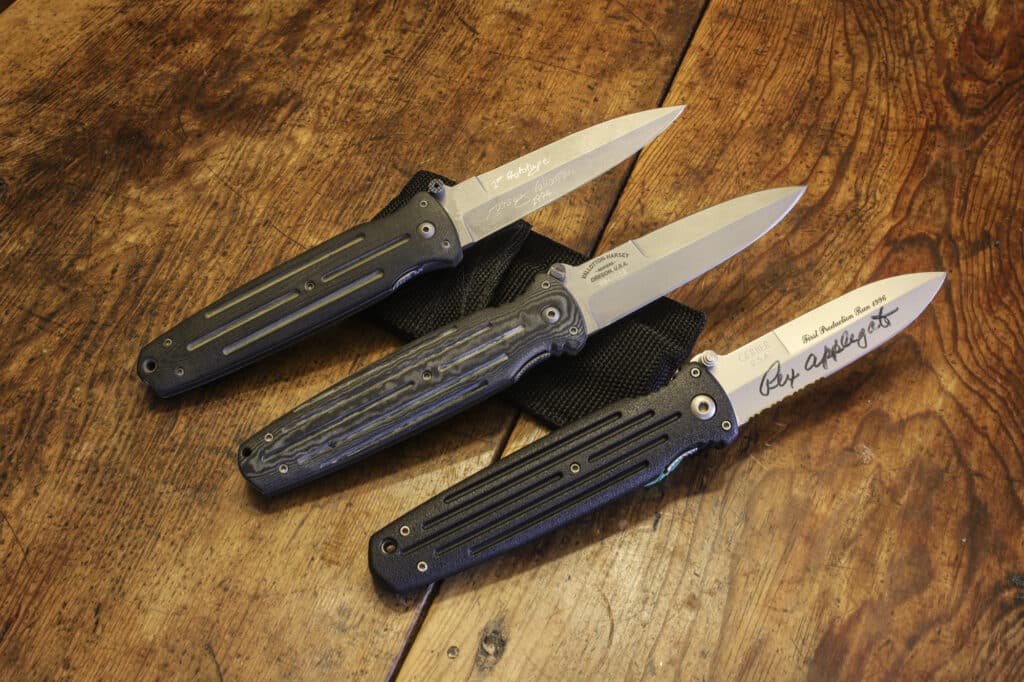 Although the A-F dagger was ideal for military close-combat, the colonel knew it was too large for personal-defense carry. As such, in the mid-1990's, he began adapting it to a folding knife format. He approached custom knifemakers and fellow Oregonians Bill Harsey and Butch Vallotton to help develop the design, and they co-authored the first prototype in 1994. That was the one knife I purchased from the Colonel's collection after his death.
From that prototype, the Colonel refined the design to add more handle texturing and lengthen the thumb ramp. Harsey and Vallotton prototyped that version, as well—of which I have a 002 sample—and it served as the basis for the production version made by Gerber Legendary Blades. Still in production today, this formidable folding knife design features a broad spearpoint expression of the A-F dagger blade that is contained completely in the handle when folded—allowing the back edge to be sharpened if desired. The handle shape is consistent with the A-F dagger and contains a sturdy liner lock mechanism to lock the blade open in use.
When Gerber's production version of the A-F Combat Folder was released, I purchased one from the colonel. It was laser-engraved "First Production Run" and came in a nylon belt pouch that was different than Gerber's thumb-break version. Years later, I added a second example of this knife to my collection through a trade with Bob Taylor, founder of Round Eye Knife and Tool (REKAT). The blade of Taylor's A-F was autographed by the Colonel in Sharpie marker.
The Covert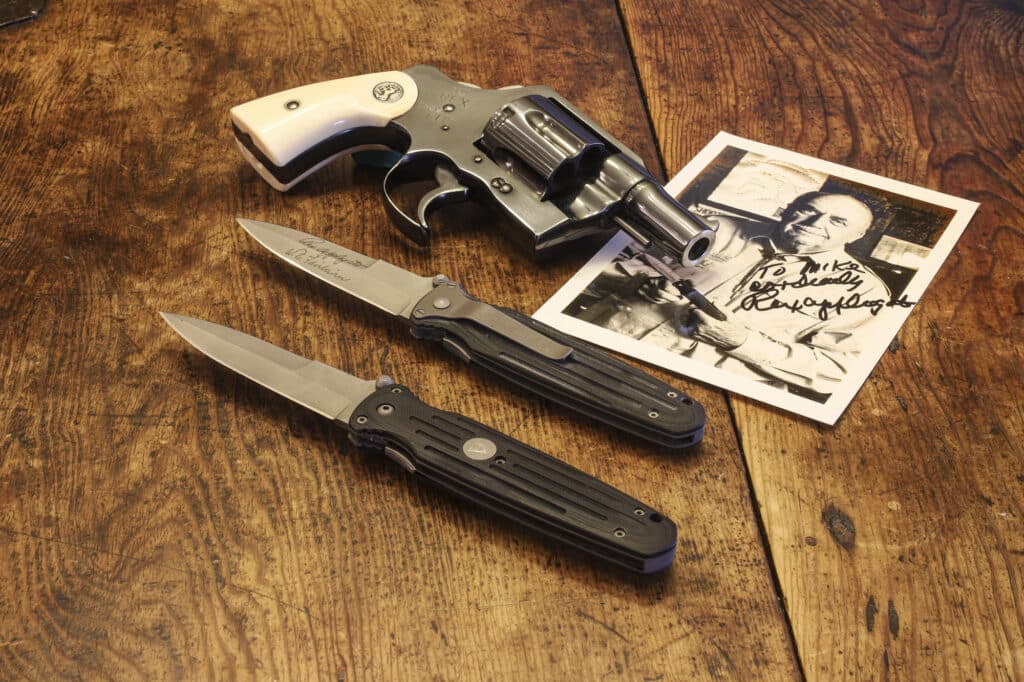 Although the A-F folder was an immediate success, it was a large knife and had to be carried in a belt pouch. To make the design suitable for in-pocket carry, the colonel scaled it down by 14 percent and added a pocket clip, creating the Covert. My 002 prototypes of this model include a manual version crafted by Harsey and Vallotton and a double-action automatic version made by Vallotton. The latter opens both manually and as a true switchblade. This knife was, and still is, manufactured by Gerber.
The A-F Boot Knife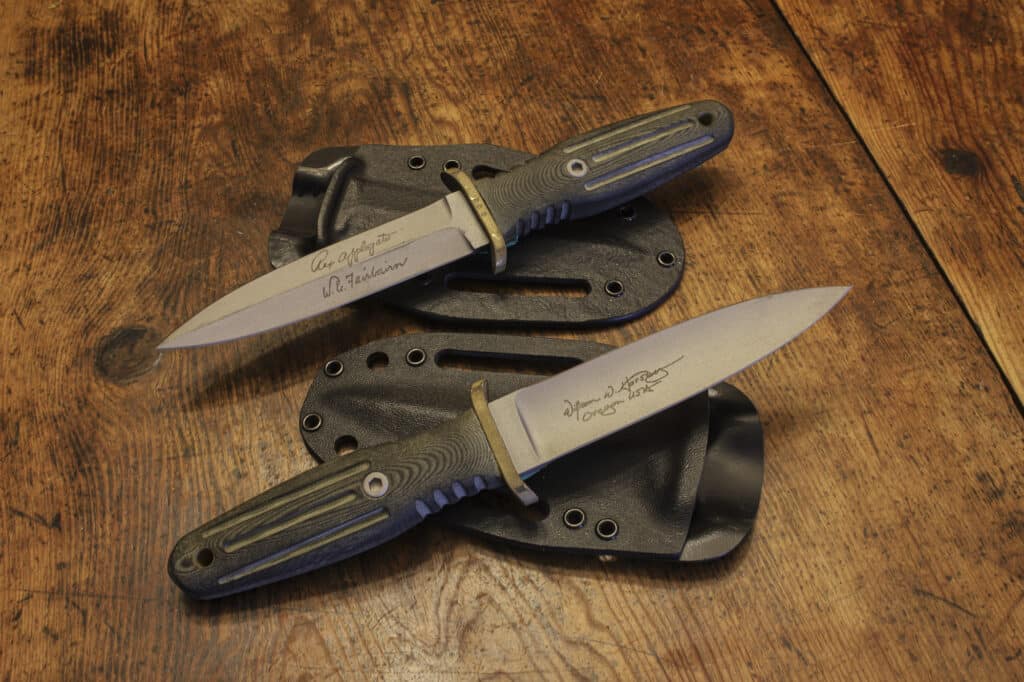 For applications that don't require a full-sized combat knife, Col. Applegate scaled down the A-F design to "boot knife" size. Approximately 16 percent smaller, he designed two versions of it: one with a conventional diamond-cross-sectioned dagger blade and one with a single, deep, hollow grind on one side and two flats on the other. The latter created an undercut edge geometry that cuts amazingly well. Both of these designs were included in the 002 prototype family and were commercially produced by Boker.
The A-F Combat Smatchet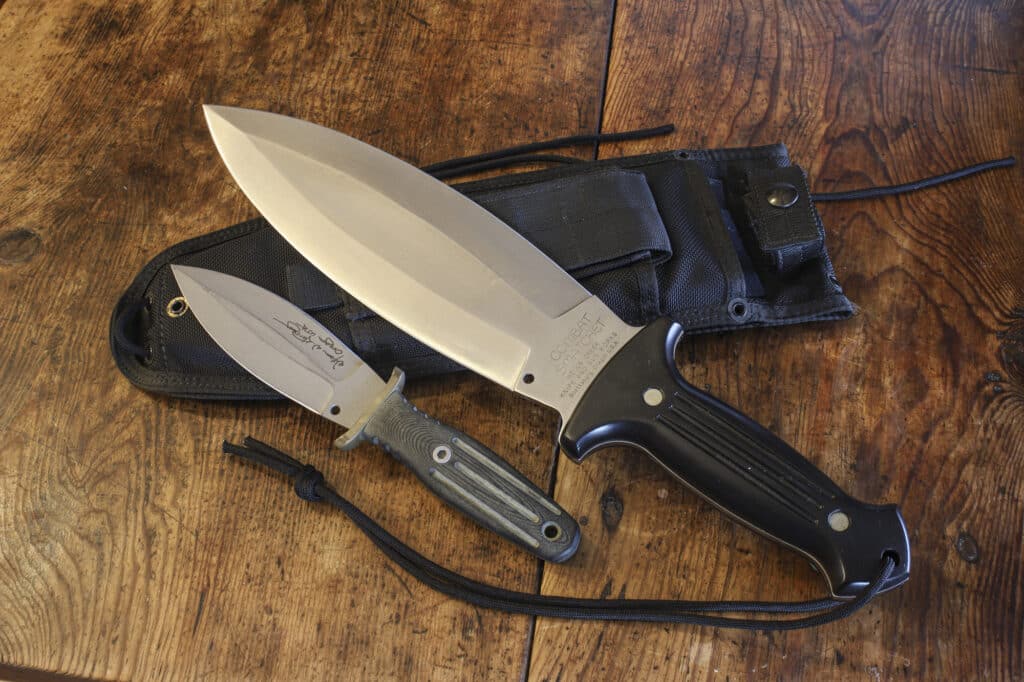 During the war, Applegate and Fairbairn also co-designed an improved version of the Smatchet—a large fixed blade originally based on the Royal Welch Fusiliers Trench Knife of World War I. While Fairbairn's WWII Smatchet design was single edged, the A-F collaboration had two full sharpened edges and a small index hole in the ricasso in case you wanted to use one edge for utilitarian purposes and preserve the other for combat.
Sometime between 1989 and 1990, Col. Applegate commissioned Buck Knives to produce the A-F Smatchet for sale through his business—Wells Creek Knife and Gun Works. Only 750 of this version were produced before Buck Knives decided that making such a purpose-designed weapon was inconsistent with their ethical beliefs. The colonel also licensed the design to Al Mar Knives and Boker, but, to me, the Wells Creek version was the ultimate. It took a long time, but I finally acquired one of these in 2020.
The A-F Mini Smatchet
The A-F Smatchet's leaf-shaped blade gives it extreme cutting power and creates a wide wound channel when used to thrust. To capitalize on these features in a smaller format, Col. Applegate designed a boot-knife-sized Mini Smatchet, which Bill Harsey prototyped. Sized like his other boot knife patterns, it was subsequently manufactured by Boker for the commercial market. Like its larger progenitor, it includes a small index hole in the ricasso.
Col. Applegate was an extraordinary man whose achievements and contributions have had a profound influence on the science of close combat. And when it comes to tactical knife design, few men have left as enduring a legacy.