Above: Firing from field positions crucial for familiarization and getting ready for actual use.
By Todd Burgreen
Crossbows originated as military weapons in China and then Europe. While slower to load and fire, crossbows offered the advantage of easier-to-obtain effectiveness with less training compared to more traditional bows. This aspect remains the same even today. Crossbows maintained the status of premier projectile weapons until the advent of firearms. Crossbows are undergoing rejuvenation thanks to multiple states amending their game laws allowing for crossbows to be used during archery seasons. The expansion of crossbow popularity has driven the industry to bring forth technology and performance increases at a rapid clip.
My first crossbow was the Barnett Commando inspired by a James Bond flick. Needless to say, crossbows have come a long way since my last experience over 30 years ago. Bolt speed, which equates to terminal effect and engagement range, has expanded beyond what I considered possible. In short, crossbows have borrowed archery advancements in cams/cables and turned them sideways. The Barnett TS 390 is the perfect vehicle to explore the current crossbow craze.
Barnett has been a leader in crossbows for more than 50 years; pre-dating many of the other crossbow manufacturers who have emerged in the last 10 to 15 years. The Barnett TS 390 features an adjustable ventilated stock, CNC-machined aluminum flight track and a fiberglass composite Step-Through Riser to produce a light and fast-handling package. The Step-Through Riser design moves the foot stirrup into the riser assembly, eliminating extra bulk and length, while also making the bow more comfortable to shoulder and easier to steady with its balance point shifted slightly to the rear. The Step-Through Riser design allows for two additional inches of draw length, which results in increased power and speed without the need to lengthen or widen the TS 390's limbs. An adjustable buttstock further assists with tailoring TS 390's fit to individual shooters. At 19 inches wide, the TS 390 is one of Barnett's narrowest bows. Weight is 7.6 pounds. Employing a 185-pound draw weight and 14.25-inch power stroke the Barnett accelerates arrows up to a flat-shooting 390 feet per second.
A Complete Package
The TS 390 arrives as a complete package with optic, quiver, bolts and cocking device. With the TS 390 it is important to properly adjust the cocking rope to your individual needs. Hooks are placed on the bow string and run around the back of the bow acting like a pulley to ease drawing rearward. It is best to keep the rope length minimal so as not to have to pull past your shoulder level. Cocking weight is cut in half with the rope cocking device.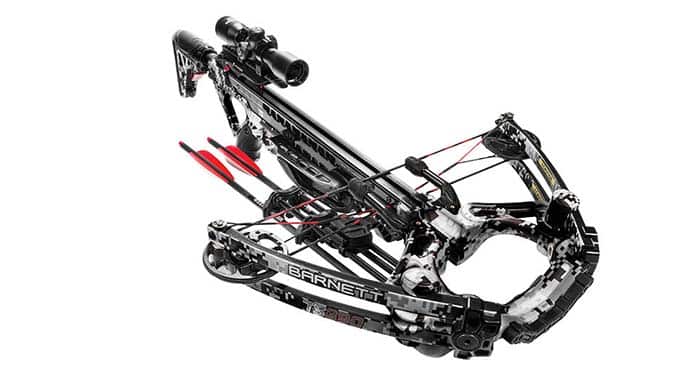 Assembly consisted of mounting the riser to the frame/barrel as well as the quiver and optic. While everything was intuitive, suitable directions guided the way. This eases the customer's experience and allows for instant use. The Barnett TS 390 has a 4×32 illuminated scope with built-in holdover points once sighted in. String dampeners are standard and aid to minimize sound and vibration. Three Picatinny rails are provided to hold a variety of accessories, while a side-mount quiver keeps bolts and broadheads protected and at-the-ready until pressed into duty. An innovative and self-adjusting Soft-Lok Floating Bristle Arrow Retainer securely cradles the arrow once loaded.
Work-Up
I treated initial work-up with the Barnett TS 390 as I would with a firearm. Sighting in of the optics mounted on machined aluminum, 7/8-inch fixed dovetail mounts was the first priority. Once a suitable target was found in the form of the Chunk target from Delta McKenzie, the first one purchased served to only slow down bolts. Barnett test fires their bows and provides a basic zero before leaving the factory. Final zero confirmation was accomplished within five bolts fired. 30 yards served as zero range so that the scope's reticle hash marks would calibrate.
A special treat was gaining access to a 100,000-square-foot warehouse where indoor firing was conducted out to 90 yards with the Barnett TS 390. While firing at game is not encouraged this far away, it was an interesting exercise nonetheless. With no need to account for wind the TS 390 crossbow could be evaluated to its full potential for repeatable accuracy. The Barnett's 4×32 scope's holdover hash marks were also verified in this pristine test environment. The scope's reticle can be illuminated. The importance of correct range estimation was quickly apparent. Once past 40 yards an incorrect range estimate of several yards will result in a miss. A laser range finder is an important accessory, especially until a user's "eye" is perfected afield. Letting a game animal get closer is strongly urged to maximize success.
Chronographing was conducted at this time with a Caldwell Ballistic Chronograph. The Barnett TS 390 clocked in 365 feet-per-second with Carbon Hunter 20-inch bolts with 100-grain tips (415-grain total weight). The TS 390 delivers 120- to 128-foot-pounds of kinetic energy based on bolt/tip combo. Different hunting broadheads were tested. It is important to verify that hunting tips fly with the same zero as practice field prods. Fortunately, each maintained the same zero point. Accuracy at 30 yards was a 1.5-inch spread for three bolts fired.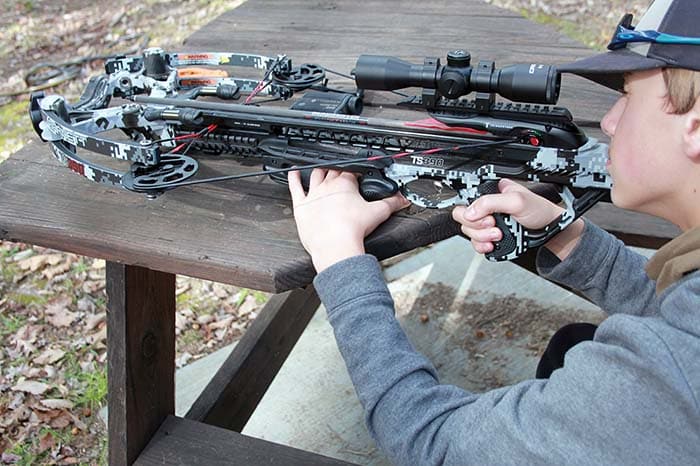 Choosing Broadheads
Just like choosing suitable ammunition, crossbow broadhead decision is important. In short, broadhead types can be divided into fixed and mechanical/expanding. Each has its strong points. I was attracted to the New Archery Products (NAP) Killzone® due to research indicating flight characteristics matching field points while offering devastating performance on game. The Killzone is a 2-blade, rear-deploying mechanical broadhead that packs 2-inch cutting diameter razor blades. The Killzone uses NAP's unique spring-clip design which ensures your blades won't open in flight or in your quiver with no o-rings or rubber bands to worry about.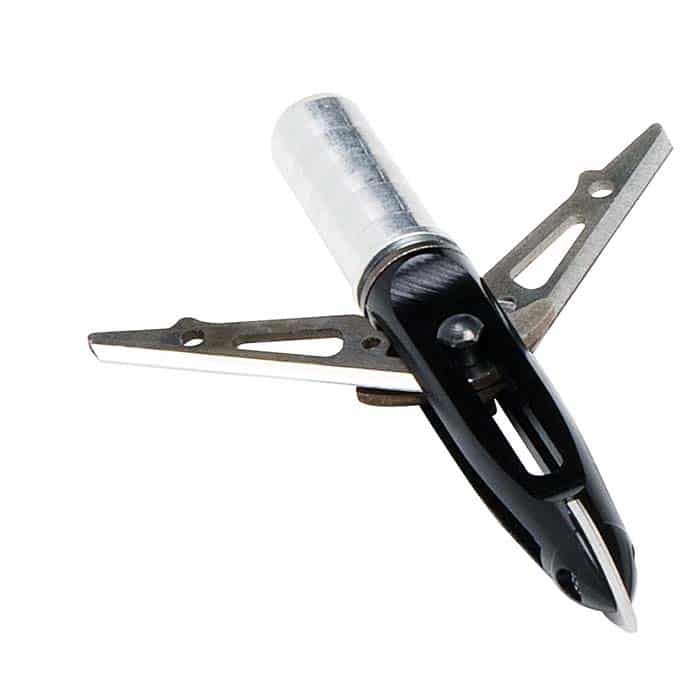 Hands-on experience with the NAP Killzone broadhead involved harvesting two deer during the time of this article's completion. The first was hit at 45 yards and the second at 30 yards with the Barnett TS 390. Each shot produced a sound similar to a baseball bat striking a tree when the Killzone arrived on target. Entry wounds were nearly 3 inches wide as the rotating bolt deployed the 2-inch wide cutting razors. Lungs were shredded as the swirling bolt passed through. Unfortunately, neither the bolt nor Killzone broadhead was recovered in both cases. Most importantly the deer only traveled 70-100 yards before expiring.
A quick review of kinetic energy (KE) requirements illustrates that the Barnett TS 390 crossbow is able to take the largest game with the caveat of proper shot placement. Acceptable KE levels for deer are 40KE, elk/black bear 60KE and buffalo/grizzly 75KE. Remember KE is dependent on velocity thus as the bolt travels downrange velocity, and KE potential is burning off. Velocity figures and KE are normally shown at the "muzzle." Rule of thumb is you can assume a bolt's kinetic energy is reduced by around 3% to 4% for every 10 yards it travels. So if we have 100KE initial energy then at 10 yards you can expect roughly 97KE.
Similar to original impetuous with crossbows, modern crossbows allow for less powerful users to gain advantage of feet per second, i.e., power without having the strength to pull a traditional profile bow string rearward. Crossbows with their three points of contact with a shooter when fired combined with ease of mounting performance-enhancing optics simplify placing arrows accurately. This equates to a more effective tool for taking game. An excellent example of this is my 14-year-old son who quickly seized on the opportunity provided by hunting with crossbows to extend his time in the woods hunting beyond rifle season.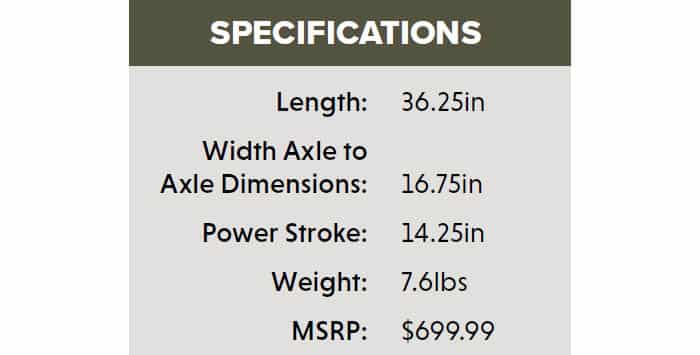 I have spent extensive time in the VA and WV woods exploring what the Barnett crossbow offers. The Barnett TS 390's adjustable buttstock and grip surfaces are ergonomic pluses especially with smaller-framed shooters. The Barnett TriggerTech Frictionless Release Technology™ created by a free-floating roller between the sear and the trigger means a smoother, lighter trigger. One nuance that must be pointed out is the need to fire the crossbow to unload. Thus, it is important to remember to bring along a target and an older used bolt so that when one is done for the day the bow can be released. It is advisable not to keep your crossbow cocked for extended periods.
Too often we fall into the trap of thinking firearms are the only viable projectile weapons for hunting or gaining needed subsistence as situations demand. I offer up something that has been around far longer than firearms for consideration … the crossbow. With the Barnett TS 390 you have a great example of the modern crossbow.
FOR MORE INFORMATION
Barnett Crossbows
barnettcrossbows.com
New Archery Products
newarchery.com
This article first appeared in Small Arms Review V23N4 (April 2019)