By Chris A. Choat
So what do you call a rifle that's part sporting and part tactical? How about a Sportical? That's exactly the rifle that DPMS has come up with in their new Sportical line of rifles. They offer the Sportical rifle in either .223 (5.56×45) or .308 (7.62×51). The .308 rifle is the subject of this article and the test gun from DPMS arrived in its own fitted hard case complete with two magazines and a cleaning kit. Also included was an owner's manual and all accompanying warranty papers. The hard case, second magazine and cleaning kit are noteworthy excellent included items in their "basic" rifle package.
The new Panther Sportical .308 rifle is a gas-operated carbine type AR rifle with collapsible stock and a 16-inch barrel. It features a thick-walled upper receiver that is made from 6066-T6 aluminum and is hard coat anodized per Mil-Spec to a very dark black color. The upper utilizes a snag-free design with a totally smooth side look. It has no dust cover and no shell deflector. It has standard right side ejection with the traditional charging handle located in the expected place at the upper rear. Also absent from the rifle is a forward assist mechanism. The upper features a flat-top design with a built-in Picatinny rail but is slightly different than other A4 uppers. The rail is elevated approximately 1/2 inch higher than other rails. This eliminates the need for a riser mount when using optics of either the magnified or red dot type. The rifle comes with no sights – that is left up to the shooter's preference.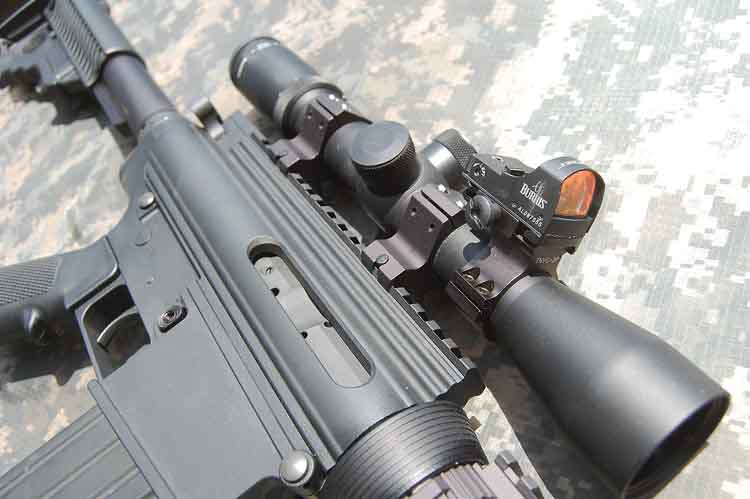 The lower receiver of the new rifle is milled from a solid billet of 6061-T6 aluminum. It is also hard coat Mil-Spec anodized and matches the color of the upper perfectly. The fit between the upper and lower is perfect with absolutely no wobble or play. Whereas the lower is totally machined, the trigger guard is an integral part of the receiver. The rest of the lower is pretty straightforward using a standard AR-15 trigger group, A2 grip and comes standard with the DPMS 6-position Pardus stock. The DPMS Pardus stock is worthy of mention as it includes several very worthwhile features itself. First of all, it is made from almost unbreakable lightweight, fiber-reinforced black Zytel. This space age material has been around for years and provides for a super tough lightweight material that can stand up to abuse for years. The stock has four integral slots for sling attachment that allows the user to carry the rifle in any number of customized ways. The buttplate is curved and has saw-tooth serrations for excellent grip against either a hunting jacket or tactical vest. There is also an ergonomic finger groove release latch. The stock rides on a standard commercial stock tube so any stock that fits a commercial tube (1.170 inch diameter) can be used. Lastly the magazine well of the lower features a very slight bevel that helps guide magazines into place.
As noted, the gun is shipped with two magazines. These are DPMS magazines which will also fit the POF P-308, Knight's SR-25 and the LaRue Tactical Stealth rifle. The magazines have steel bodies and base plates which are parkerized a dark black to match the rest of the gun. While these magazines can be loaded with 20 rounds, only 19 should be inserted. With 20 rounds in the magazine it cannot be locked into the rifle with the bolt in the closed position.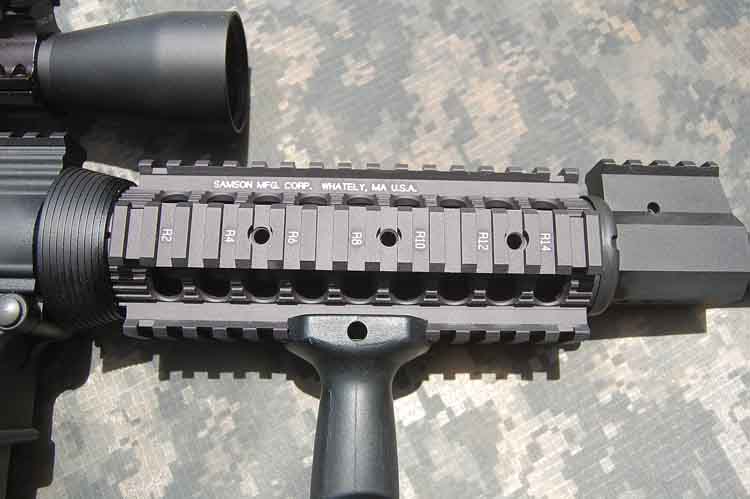 The gun's barrel is 16 inches in length and does not have the M4 grenade launcher "notch" between the gas block and flash hider. It's made from 4140 Chrome Moly steel, features 6 grooves with a right-hand 1 in 10 twist and is button rifled. It is threaded 5/8 x 24 and has an A2 style 5-slot .308 flash hider. It has a Koebl single rail gas block that is held in place with 2 set screws. The short rail on the gas block is not on the same plane as the rail on the upper receiver. The barrel is chambered 7.62 NATO and neither the barrel, chamber or bolt are chromed. The barrel has a diameter of .740 inches from the gas block forward and a beefy .980 inches under the handguards. Surrounding the barrel is a set of DPMS M4 style GlacierGuards. These handguards are made from a fiber reinforced polymer, which has superior strength and rigidity yet weigh just slightly more than standard metal-lined handguards. They feature 15 internal fins instead of the standard aluminum double shield for heat dispersion. The 15 ribs are mirrored on the outside to provide the shooter with an enhanced grip. The temperature resistant polymer is said to withstand temperatures over 500 degrees. This should allow the handguards to resist overheating and meltdown even under rapid fire conditions, up to 200 rounds.
The gun was initially tested for reliability with several kinds of .308 ammunition. The gun ate every type of ammo that we stuffed into it. This included military surplus as well as several brands of commercial hunting ammunition. Bullet types included full metal jacket, hollow point, polymer tipped and soft point. There was not a single hiccup or malfunction of any kind with this rifle.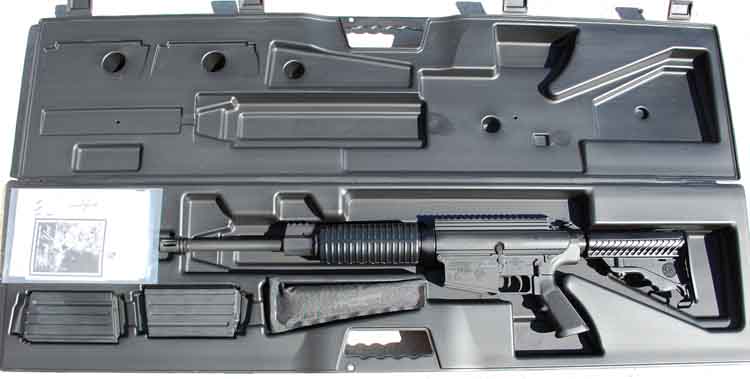 A red dot type sight was first used for rapid CQB drills but a more precise aiming point was needed for the accuracy part of the testing. Burris Optics provided a couple of their newest aiming devices: their Full Field TAC 30mm tactical riflescope as well as one of their new FastFire II red dot reflex sights. The tiny FastFire II was mounted on the Tac 30's 30 mm tube body with an SAR-3 30mm Picatinny ring mount from Tactical Night Vision Company. This relatively new company offers a vast line of night vision optics as well as several high quality mounting devices. This scope accessory ring features a short Picatinny rail that allows a mini red dot scope to be mounted on the 30mm scope tube. This enables the shooter to have both a regular magnified crosshair type scope and with a mere cant of the head a red dot sight as well. By sighting in the scope at an extended range and the FastFire at CQB ranges the shooter has two points of aim available instantly with no twisting knobs or range estimating guesswork. The Burris Full Field is a top quality scope with exceptional clarity and rugged durability. The main tube body is constructed of 6061 T6 aluminum and can stand up to severe duty requirements. Double-spring tension and an oversized ball-joint secures the hand-fitted internal zoom assembly. The adjustment systems are positive and repeatable with audible clicks that you can feel as well as hear. Each scope is moisture-purged before being injected with laboratory-grade nitrogen. The scope features the Burris Tac-2 low profile tactical adjustment knobs. These knobs have radial dials that indicate at which revolution the knob has been rotated. By having four scales of reference, the shooter can always see one of them, whatever his shooting position may be. Once the rifle has been sighted in, TAC-2 knobs can be set to zero by loosening three set screws, rotating the knobs where you want them, and then tightening the set screws. The Tac 30MM scopes are available in powers of 3x-9x all the way up to 6.5x-20x. The 3x-9x scope was chosen for the test because the overall size of the scope didn't overpower the carbine sized gun and for type of shooting planned.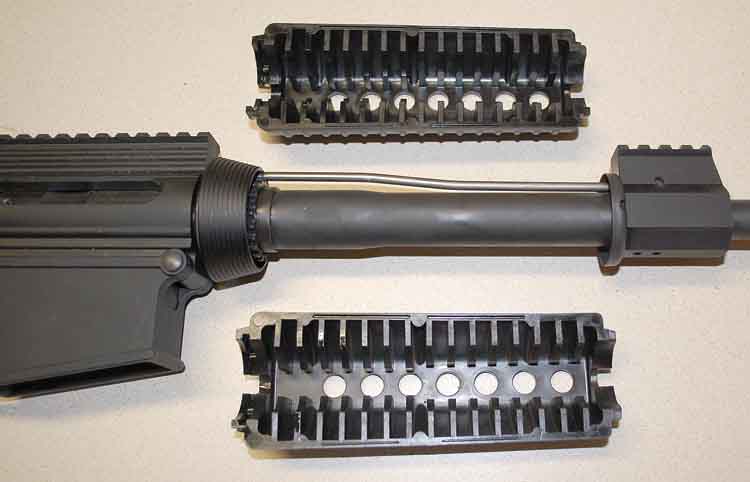 The rifle was sighted in at 100 yards using a variety of ammunition types and brands. From a solid bench with sandbags, the rifle produced 5-shot groups that measured in the 3 inch range. This is plenty good for hunting and most tactical situations. I surmised that gun was capable of better accuracy than that and figured that I was the cause of the larger groups. To test this, the gun was mounted in a Hyskore Dangerous Game Machine Rest. The Dangerous Game Machine Rest will handle any rifle from .22 long rifle up to and including .50 BMG. It uses Nitrogen filled compression dampeners to absorb recoil. It can handle the wide range of calibers by using any one of the three included dampeners. A printed list shows which dampener to use for which caliber rifle you are testing. The rest also uses a hydraulic remote trigger release so that any human induced motion is eliminated. With it bolted to your shooting bench, the rest will return to battery after every shot. The rest has numerous windage and elevation adjustments to zero the rifle on target. Then you simply push the plunger on the remote trigger release to fire the rifle. After each shot you visually check your target through the scope and continue firing your group. With the Sportical mounted in the rest, several 5-shot groups measured slightly under 3/4 inch.
The DPMS Panther Sportical .308 is indeed a quality rifle that is reliable as well as very accurate. No matter if you are hunting game, predators or bad guys this rifle can handle it all. Retailing for just under $1,000, this is a rifle that deserves serious consideration.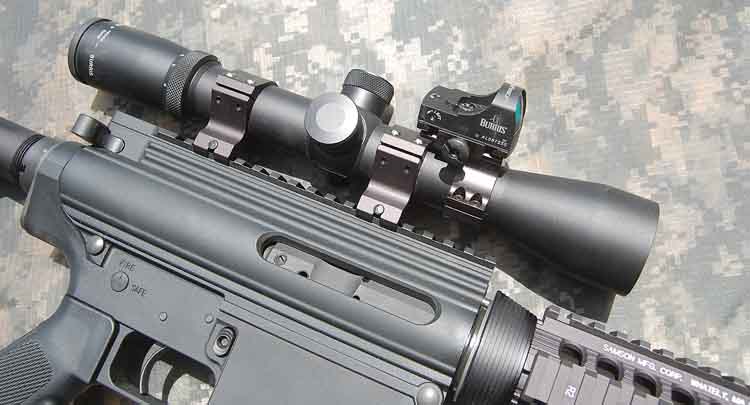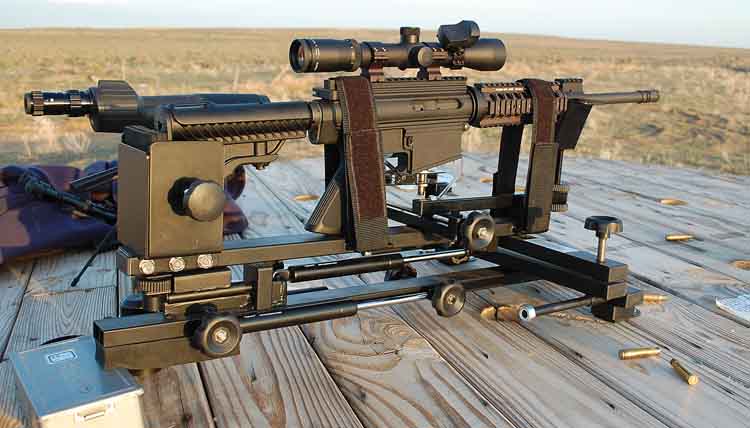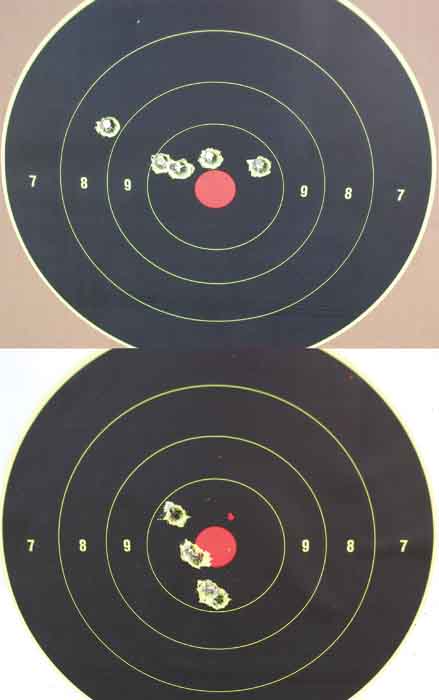 DPMS Firearms LLC
3312 12th Street SE
St. Cloud, MN 56304
Phone: (320) 345-9223
Fax: (320) 345-9249
Website: www.dpmsinc.com
Tactical Night Vision Company
25612 Barton Road #328
Loma Linda, CA 92354
Phone: (909) 659-2842
Website: www.tacticalnightvision.com
Burris Optics Company
331 East 8th Street
Greeley, CO 80631
Phone: (970) 356-1670
Fax: (970) 356-8702
Website: www.burrisoptics.com
Hyskore
193 West Hills Road
Huntington Station, NY 11746
Phone: (631) 673-5975
Fax: (631) 673-5976
Website: www.hyskore.com
This article first appeared in Small Arms Review V13N12 (September 2010)