Small Arms Review Editorial Staff
AMERIGLO
Haven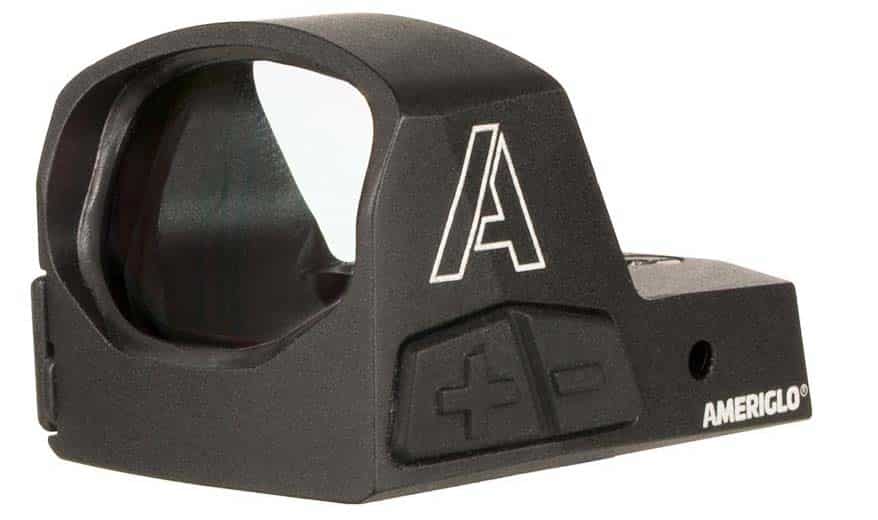 The Haven features a large window, bright red dot, and high-visibility vertical post on the rear deck that creates an immediate aiming point for the shooter. The Haven utilizes the proven Trijicon RMR footprint and is available with a 3.5 or 5.0 MOA dot, or as a Carry-Ready Combo that includes optic-compatible iron sights for the GLOCK MOS system. Battery life is conserved with the Power Protect feature, which offers a 12-hour runtime and a 12-hour, motion-activated auto-on.
MSRP: $379-$439 / ameriglo.com
AMERIGLO
CAP Night Sights

AMERIGLO CAP (Combative Action Pistol) night sights are high visibility night sights created for personal and concealed carry. Fast and highly visible, CAP night sights are a "Cover Point of Impact" sight, allowing the shooter to cover the target they want to hit. T-Cap front sights are also available, offering a thin front post. Sights are currently available for select Smith & Wesson, Springfield Armory, SIG Sauer and Glock pistols.
MSRP: $85c/cameriglo.com
COLUMBIA RIVER KNIFE & TOOL
M16-03DB knife

The new CRKT M16-03DB is a fresh take on a beloved classic. Its razor sharp 3.58-inch spear point blade harkens back to the original M16 design that helped popularize the flipper knife, while this new version incorporates D2 steel, a Deadbolt locking mechanism and assisted opening into its feature set. A lightweight, yet strong aluminum handle provides good grip without added weight and a reversible pocket clip delivers an ambidextrous carry option.
MSRP: $120 / crkt.com
CUTE & COCKY
FRS-1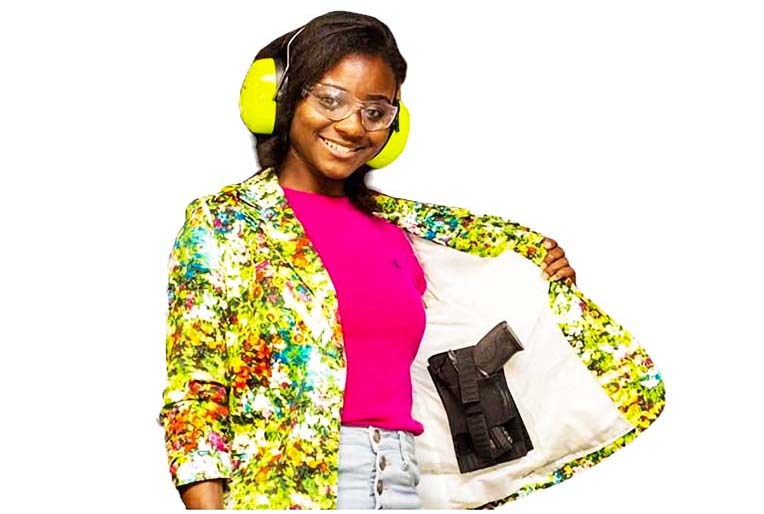 The sew-in Firearm Retention System attaches to apparel with inner lining, tactical gear and furniture with the adhesive backing.
MSRP: $40
CUTE & COCKY
FRS -Hoodie (Concealed Carry)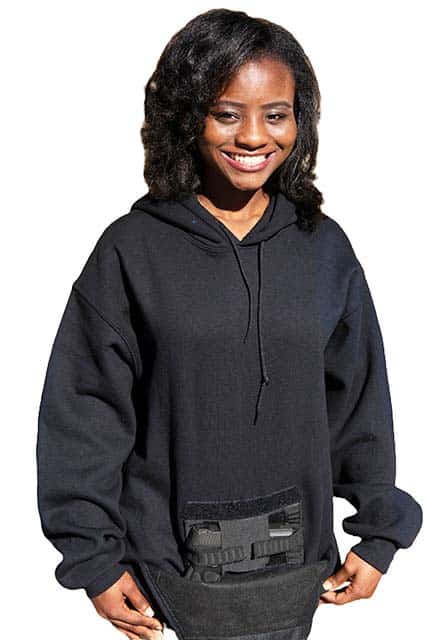 The FRS Hoodie has a permanent built in FRS-1 level II firearm retention system to allow for ambidextrous draw from left or right. The hoodie has a unique pull-down Velcro latch that allows for easy access to the firearm.
MSRP: $130 / cuteandcocky.com
EXOTAC
fireSLEEVE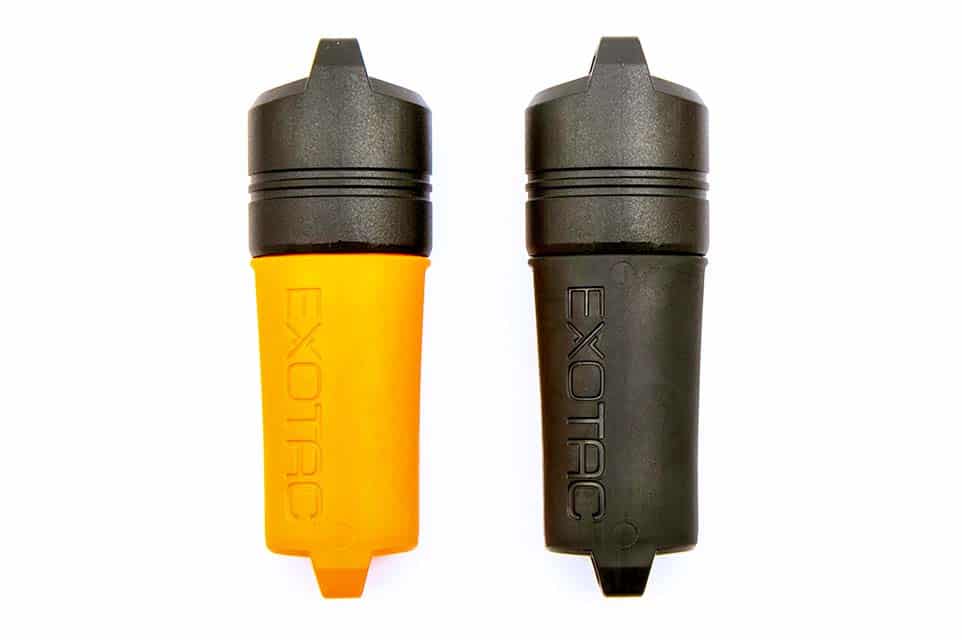 The fireSLEEVE is a fortress for your BIC classic lighter.  It creates a waterproof barrier around the lighter while providing two separate lashing points for cordage.  An integral strap molded into the lighter body allows the gas button to be held down for hands-free use.
MSRP: $18 /exotac.com
EXOTAC
titanLIGHT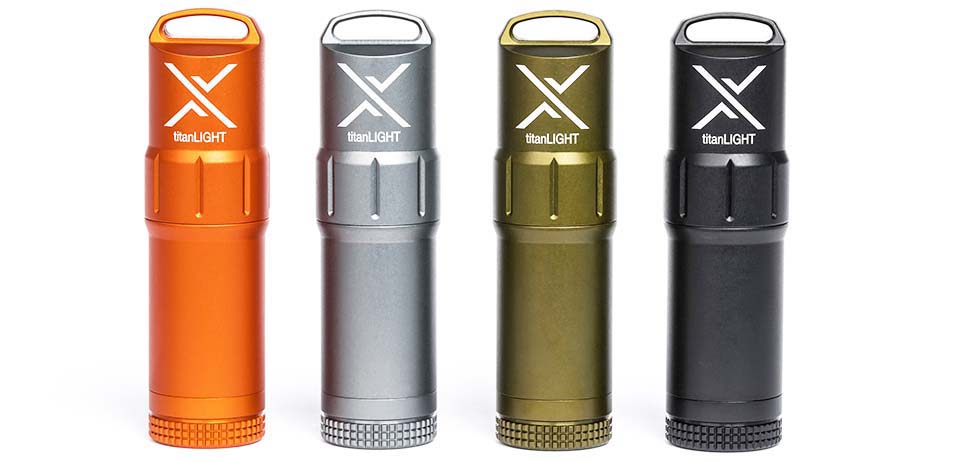 The titanLIGHT is the first rugged, waterproof, refillable lighter on the market that uses readily available liquid fuel. This lighter won't leak, and water is no match for it.  The O-ring seals allow for a longer interval between lighter fluid refills.  Its construction quality is unmatched and represents what Exotac has become known for.  Made in the USA from aircraft grade aluminum, it is designed to provide reliable service for a lifetime.
MSRP: $70 / exotac.com
FAXON FIREARMS
EXOS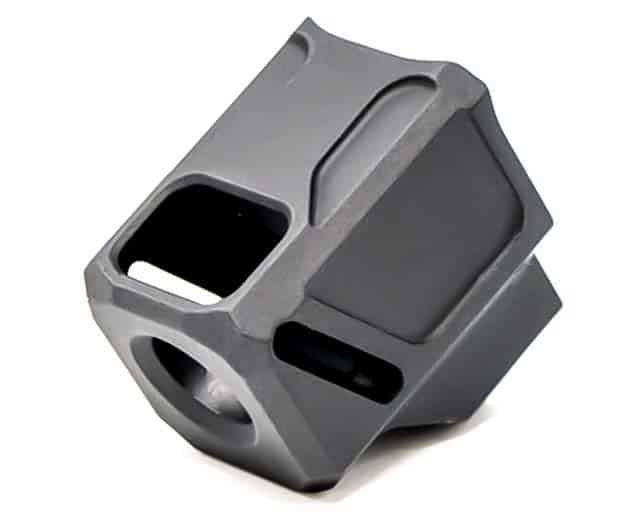 Faxon Firearms continues to grow its pistol product offering with the expansion of its EXOS line of pistol compensators.
In 2021, Faxon launched the line with the 5 Series EXOS comps featuring a unique, angled 3-port design to provide reactional downward torque that reduces muzzle flip and felt recoil. The first comps in the EXOS 5 Series are designed for compact pistols. Now, Faxon has expanded the EXOS 5 Series to include offerings for subcompact handguns.
MSRP: $85 / faxonfirearms.com
FOX FURY
T.E.D.D.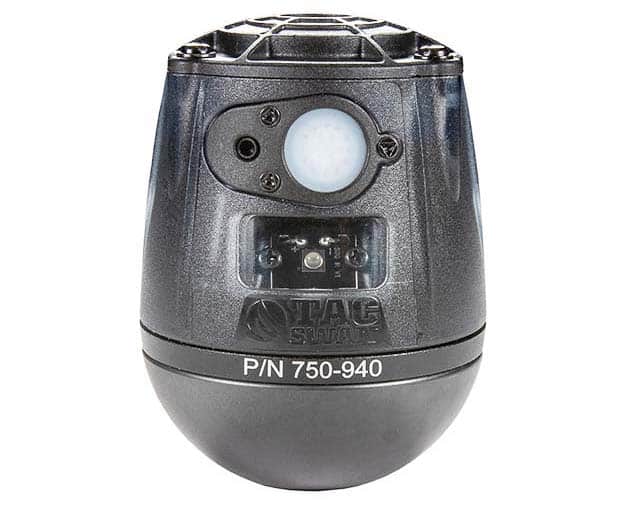 The T.E.D.D. (Tactical Electronic Distraction Device) is a less-lethal distraction device that uses extremely loud sound and bright light to distract a suspect giving officers critical seconds of advantage in a high-risk situation. The T.E.D.D. provides a safer, less-lethal alternative to flashbangs for tactical operations and training. T.E.D.D. is available in both a white light version and a 940nm IR version. Optional accessories include a two-unit carrying case and a USB charging adaptor.
MSRP: $220 ($280, I.R.) / foxfury.com
HOLOSUN
AEMS Core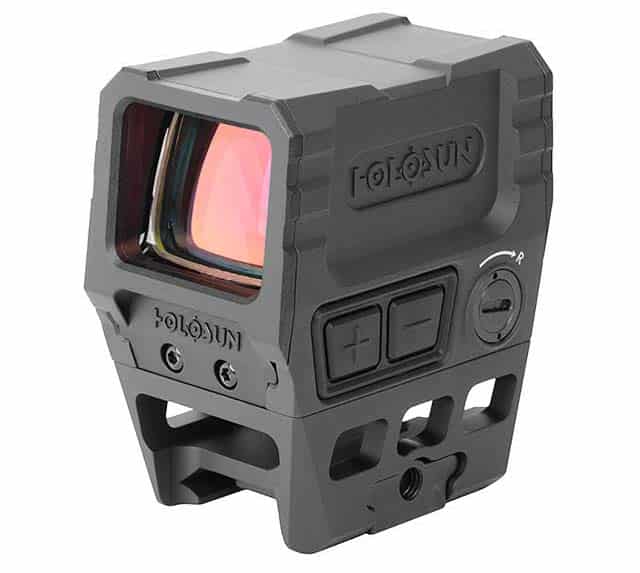 The AEMS Core is constructed with a durable cast aluminum housing offering excellent protection and durability. The sight features a crisp 2 MOA dot with 12 brightness settings, 10 daylight and two night vision-compatible, that are easily controlled by robust buttons located on the left side of the housing opposing a 2023 battery compartment. There is plenty of battery life at up to 50,000 hours of continuous operation at a mid-level setting.   
MSRP: $371 / holosun.com
HOLOSUN
RML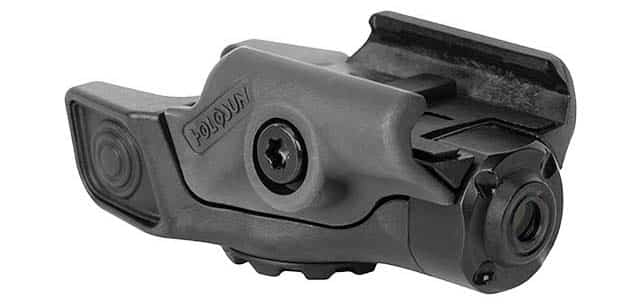 Holosun is known for optics and lasers. This year, Holosun releases the RML (RailMounted Laser). The RML comes in at a very manageable 1.97×1.18×0.91-inch and 1.3 ounces. Made with a durable polymer housing, the RML is IPX8 rated for water and dust resistance. Additionally, Holosun tests each unit to 2,000 G-shock resistance. This guarantees that the RML is suited for use in extreme environments.
MSRP: $112 / holosun.com
MAGPUL
Magpul Frame Lock – Rigger EDC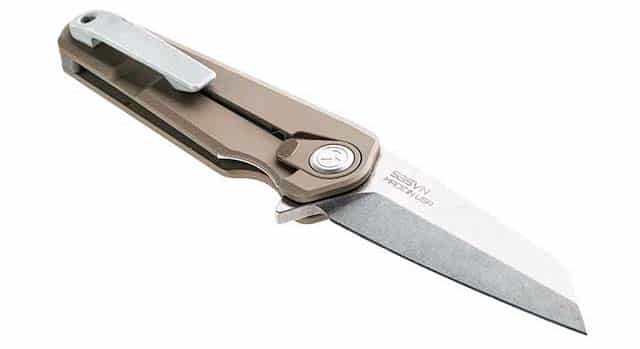 The Rigger EDC is an aluminum-frame locking knife made in the USA. It features a double-locking aluminum frame that's light but strong, creating a slim, agile handle for precise, clean cuts. The blade is a modified Wharncliffe design forged from S35VN for excellent edge retention and corrosion resistance. The end of the blade features an aggressive point for precise work and the body includes a thicker spine for added strength.
MSRP: $240 / magpul.com
MAGPUL
Magpul Tejas Gun Belt 2.0 – "El Original"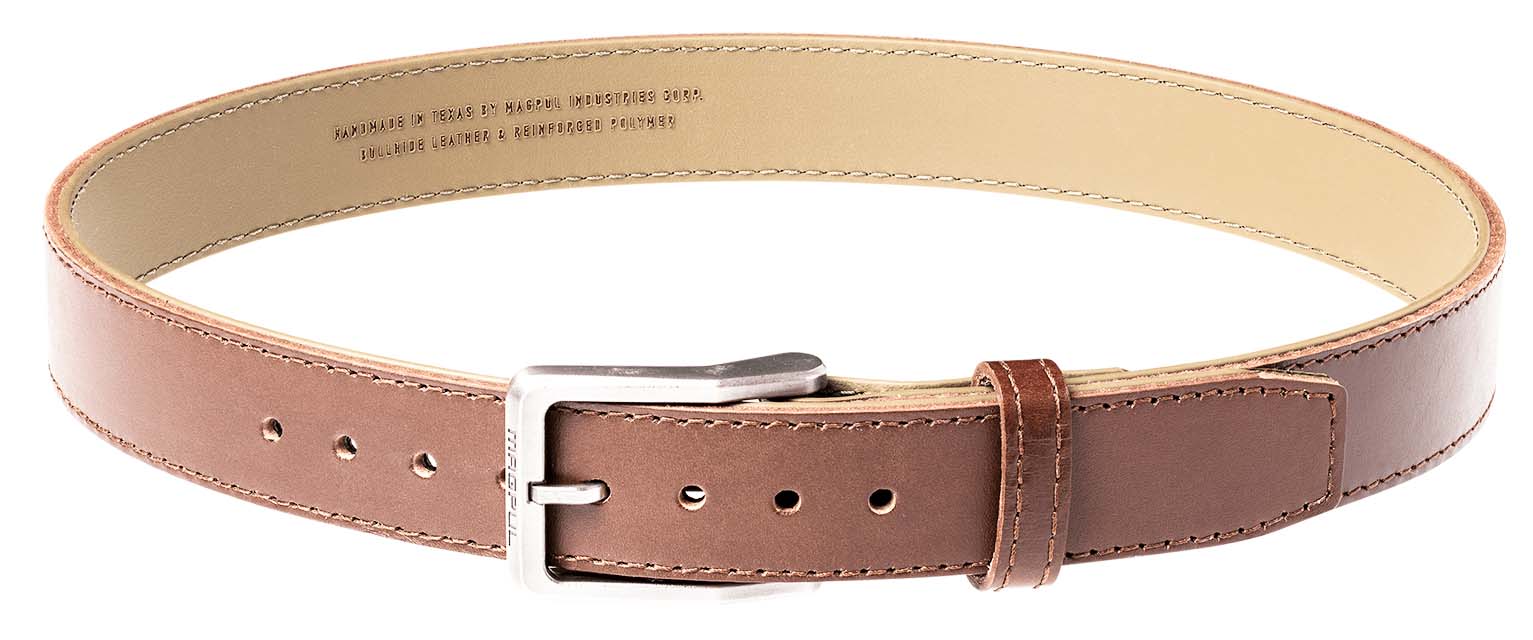 The "El Original" is crafted from 100% North American bull hide. It's sturdy, strong, and backed by a supporting layer of flexible polymer, making it a rugged piece of gear that provides dress belt comfort. It's 1.5-inches wide and .25-inch thick, fitting most belt loops and holsters comfortably. It also sports a new easily removable buckle that's engineered with a sleek profile design that sits flat against the waist and helps reduce printing when you're carrying.
MSRP: $95 / magpul.com
MEPROLIGHT
Mepro Hyper-Bright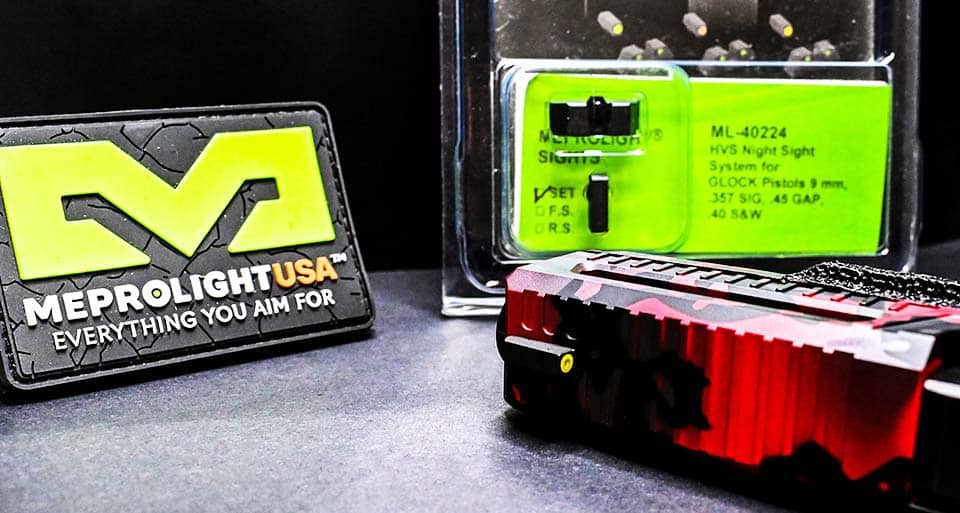 It's the world's brightest handgun sight in any light. With tritium specially formulated to give you industry-first brilliance from broad daylight to midnight. These self-illuminated, fixed tritium sights feature an extremely bright colored-ring front sight in your choice of green, yellow, or orange, delivering supreme visibility as a night sight or day-night sight. Contrasting front and rear sight colors help shooters focus on the front sight quicker for faster target acquisition in all lighting conditions.
MSRP: $XX / meprolight.com
MYSTERY RANCH
Low Viz 3-Way Expandable Briefcase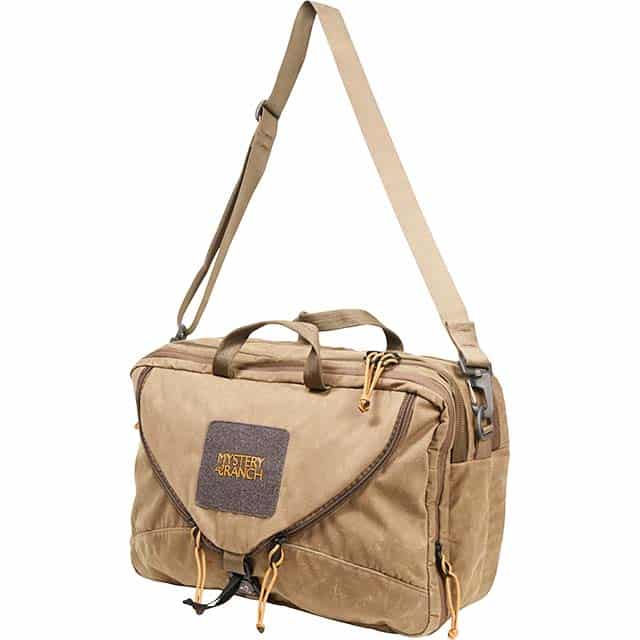 With new design improvements including conceal carry pocketry, this beauty morphs from traditional briefcase, to sophisticated shoulder bag, to utilitarian backpack. As a convertible laptop bag, it's the ultimate in everyday urban carry. And, yes, it expands to fit your overloads.
MSRP: $199 / mysteryranch.com
PRIMARY ARMS
Holosun HE509-RD ACSS Vulcan Reticle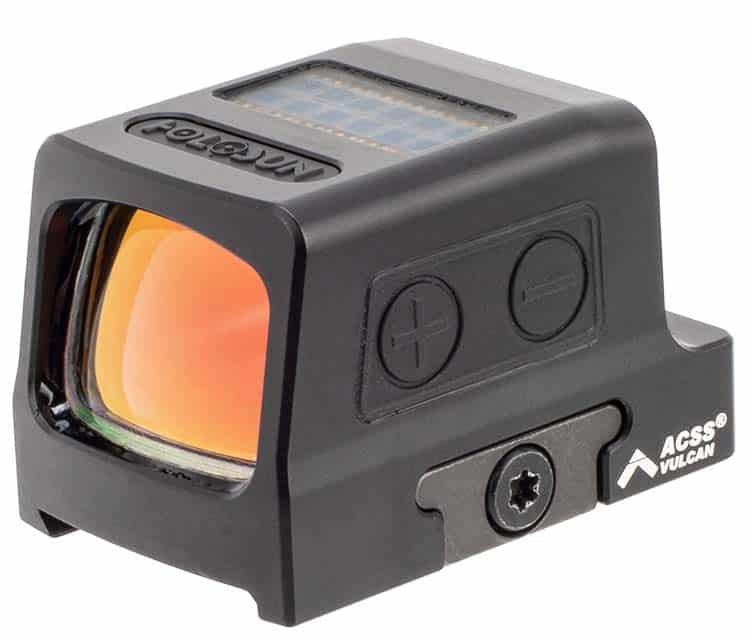 The Holosun HE509 will be the first enclosed reflex sight to feature the Primary Arms Optics patented ACSS Vulcan reticle system. The Vulcan's center aiming point is a 10 MOA chevron, surrounded by a large outer circle. If the user's aim is off target, the edge of the circle acts as a natural guide, bringing their aim back to center. This intuitive approach to target acquisitions makes reflex sights easier to use in high-stress situations.
MSRP: $450 / Primaryarms.com
PRIMARY ARMS
North American Rescue Combat Application Tourniquet
The North American Rescue Combat Application Tourniquet is laboratory tested and combat proven. This true, one-handed tourniquet has been proven to be 100% effective by the U.S. Army's Institute of Surgical Research. Features a durable windlass system with patented free-moving internal band and a unique, dual securing system avoids the use of screws and clips that can be difficult to operate under survival stress or where fine motor skills are compromised.
MSRP: $30 / Primaryarms.com
SPRINGFIELD ARMORY / HEX OPTICS
HEX Wasp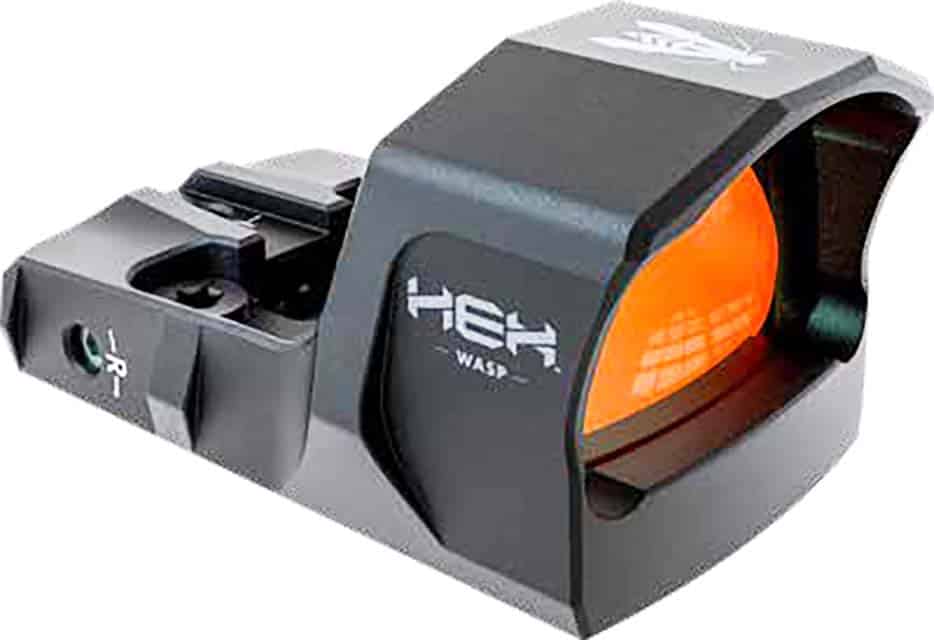 The HEX Wasp is designed for direct mounting to the slides of pistols like the Springfield Armory Hellcat, allowing for a low enough mount to co-witness with the pistol's iron sights. The Wasp is always powered on and features an auto-dimming sensor which regulates proper dot brightness based on ever changing ambient light conditions. It features a machined 6061 T6 aluminum body.
MSRP: $299 / hexoptics.com
SPYDERCO
Spyderco Street Beat Lightweight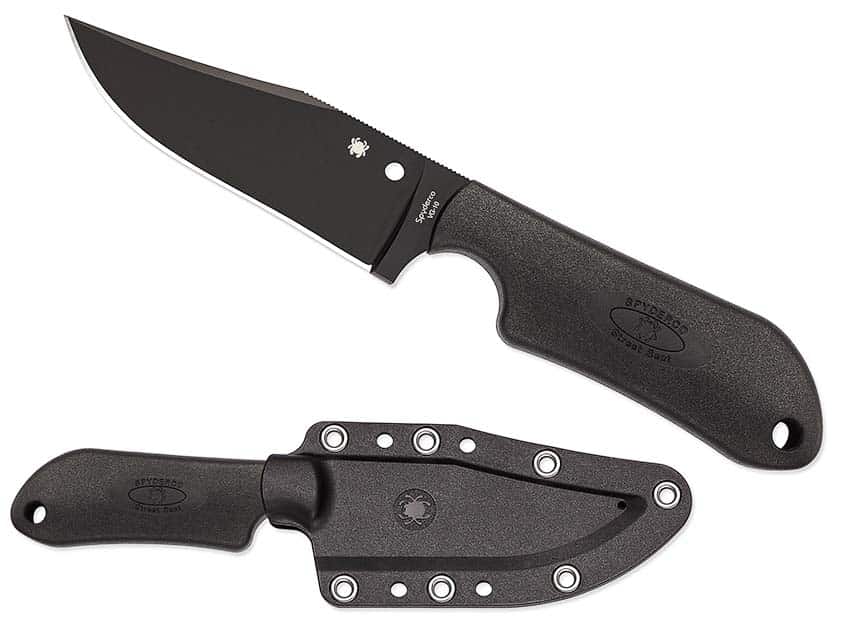 Designed by knifemaker Fred Perrin, Spyderco's Street Beat Lightweight excels at both utilitarian and personal-defense applications. Its full-flat-ground Bowie-styled blade is crafted from VG-10 stainless steel and is cloaked in a non-reflective black ceramic coating. The injection-molded, fiberglass-reinforced nylon handle features Perrin's signature choil (finger groove), which provides a sleek but extremely effective guard. An injection-molded polymer sheath with a G-Clip attachment provides a full spectrum of belt and inside-the-waistband carry positions.
MSRP: $174 / spyderco.com
SPYDERCO
Spyderco Endela Emerson Opener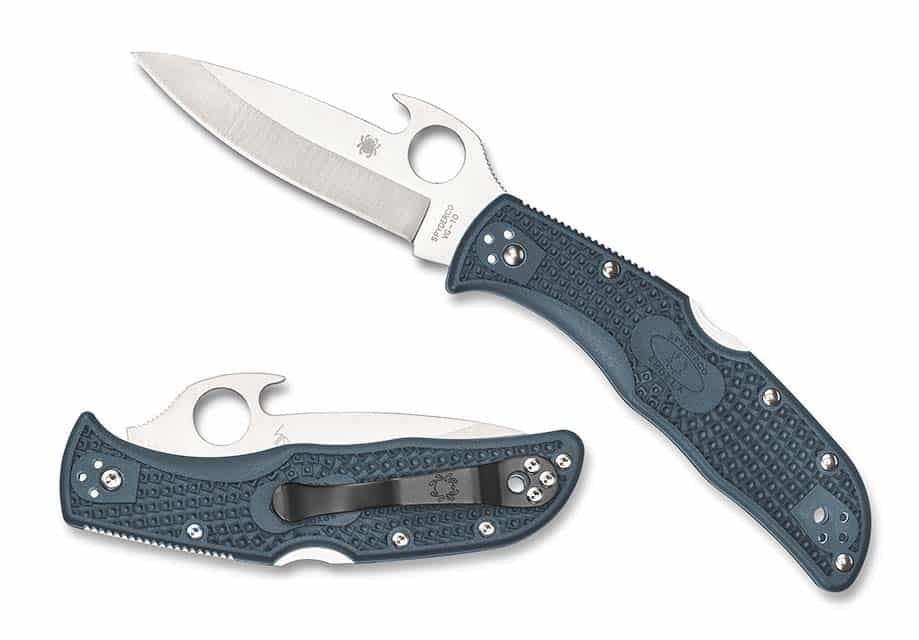 Sized to split the difference between Spyderco's iconic Delica 4 and Endura 4, the Endela is the perfect compromise of carry convenience and cutting performance. For high-speed deployment, it is also available with an Emerson Opener—an integral hook on the blade that opens it automatically as it's drawn. This elite version of the Endela features a saber-ground VG-10 blade, a sturdy back lock mechanism, a blue-gray fiberglass-reinforced-nylon handle, and a four-position pocket clip.
MSRP: $147 / spyderco.com
STREAMLIGHT
Sidewinder Stalk
The Sidewinder Stalk is a multi-function military helmet light system featuring multiple color LEDs, an identification friend or foe (IFF) beacon, a strobe feature, and a flexible stalk for aiming light where it is needed. It features several attachment methods for mounting to helmets or MOLLE gear, and operates from multiple power sources, including a single CR123A lithium, AA alkaline or AA lithium battery. On low, it delivers up to 3+ days of runtime.
MSRP: $185-$215 / streamlight.com
STREAMLIGHT
TLR-7 sub Ultra-Compact for Springfield Armory Hellcat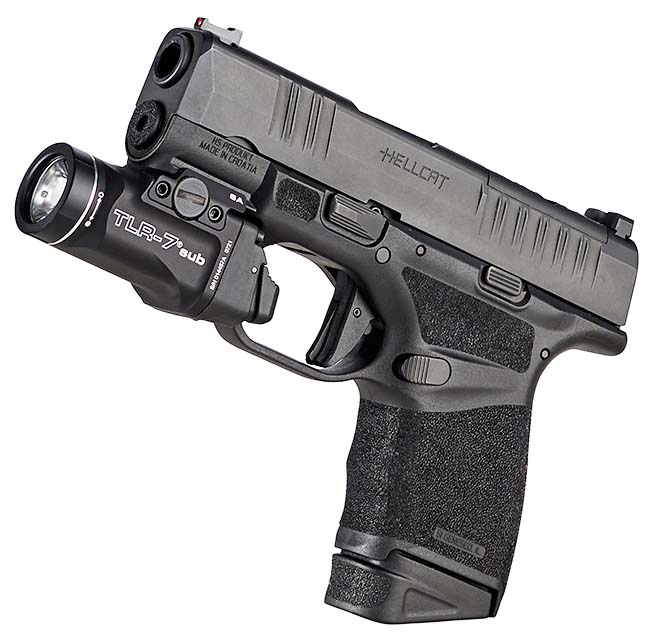 The newest model of Streamlight's TLR-7 sub Ultra-Compact weapon-mounted tactical light series is designed to fit the popular Springfield Armory Hellcat handgun. Offering 500 lumens, it uses a high-power LED that provides extreme brightness for maximizing visibility and targeting capability in tactical situations. Its rear switches on the left and right of the trigger guard allow for ambidextrous operation. Offering a run time of 1.5 hours, it uses a single 3-volt CR123A lithium battery.
MSRP: $226 / streamlight.com
TRIJICON
Trijicon RMR Type 2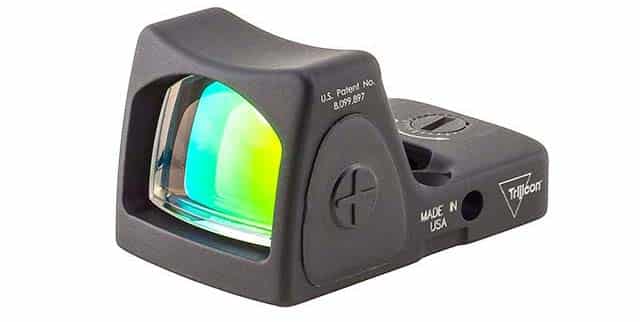 Constructed from 7075-T6 aluminum to MIL-spec standards, Trijicon's legendary RMR Type 2 is one of the most rugged and durable reflex sights on the market. The extremely compact and lightweight RMR, only 1.2 ounces, is specifically designed to withstand the rigors of use on handguns. The CR2032 lithium battery lasts up to two years in the LED version, and up to four years in the adjustable LED model at mid-setting and is available in either a 1.0, 3.25 or 6.5 MOA dot size.
MSRP: $649-$699 / trijicon.com
TRIJICON
Trijicon RMRcc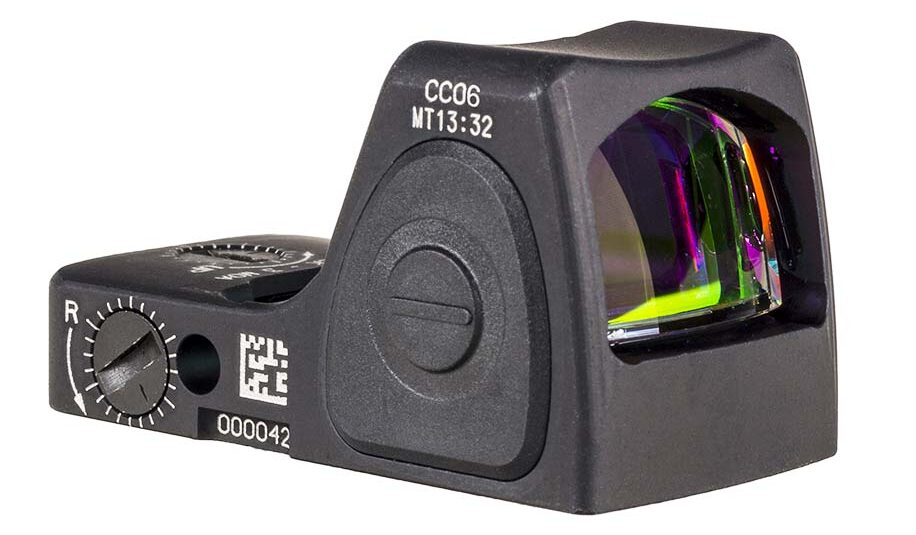 Born from the legendary Trijicon RMR, the thinner, lower profile RMRcc provides fast, both-eyes-open target acquisition, accurate aiming, and proven reliability on handguns. Weighing a mere one ounce with battery installed and measuring less than an inch in width and height, the RMRcc features easy-to-use buttons, a common 2032 battery with up to four years of illumination and is available in either a 3.25 or 6.5 MOA dot size.
MSRP: $699 / trijicon.com
TRUE KNIVES
Fixed Blade Knife

The new Fixed Blade Knife from True Knives presents a stylish shift to a larger, tactical-style knife. Known for delivering well-thought-out pocket knives and micro-tools, the new Fixed Blade Knife brings True Knives' recognizable design and ingenuity to their new, bigger model. From pommel to point, the new Fixed Blade Knife delivers a do-it-all tool for the backyard, worksite, campsite, or everyday carry.
MSRP: $45 / true.acgbrands.com
TRUE KNIVES
Tactical EDC Knife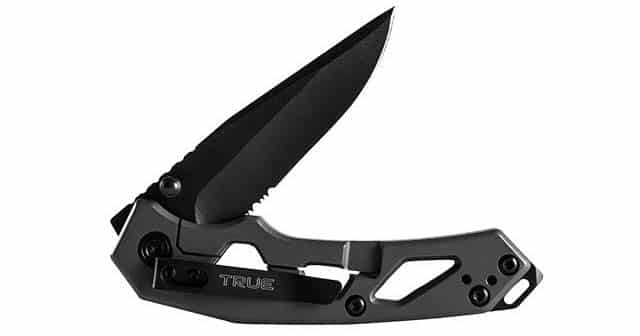 Introducing a Tactical Knife from True Knives – a well-rounded knife designed for a plethora of tasks. The Tactical Knife is the quintessential everyday carry tool that fills a multitude of various roles with ease. Tactical carry is not only about self-defense but easy deployment. Being able to carry and deploy a knife quickly is efficient, no matter if you are defending yourself or trying to open a box. Luckily, True Knives has this covered.
MSRP: $35 / true.acgbrands.com
Walther Arms
Walther Q4 Steel Frame & Q5 Steel Frame Aluminum Grip Panels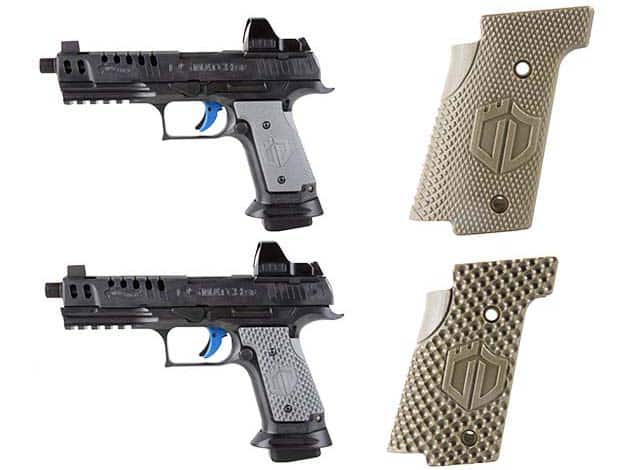 These extremely high-quality aluminum grips for the Q4 Steel Frame and Q5 Steel Frame models provide a slimmer overall circumference and give the shooter a great purchase on the handgun adding to better control while shooting. These grip panels reduce the side profile and rear palm swell of the grip, making it easier to reach the trigger and magazine release. These beautiful grips also add a nice custom look to the Steel Frame series.
MSRP: $120-$125 / waltherarms.com
Walther Arms
Walther Q4 Steel Frame and Q5 Steel Frame G10 Thin Bogie Grips

In collaboration with LOK Grips these G10 Thin Bogies for the Walther Q4 SF and Q5 SF are thinner and smaller than the stock grips. We have reduced the back strap, flattened out the finger grooves, and added a slight relief around the magazine release. They have our aggressive Bogies texture with angled ridges on the back strap to lock your hand in place. They feature the Walther Defense Division logo.
MSRP: $99 / waltherarms.com
WILEY X
Peak with Captivate Lenses

The classic style and lightweight comfort of the WX Peak make it a favorite in its category, providing all the protection and clarity you need to enjoy your journey safely and your view clearly.
MSRP: $180 / wileyx.com
XS SIGHTS
XS R3D Night Sights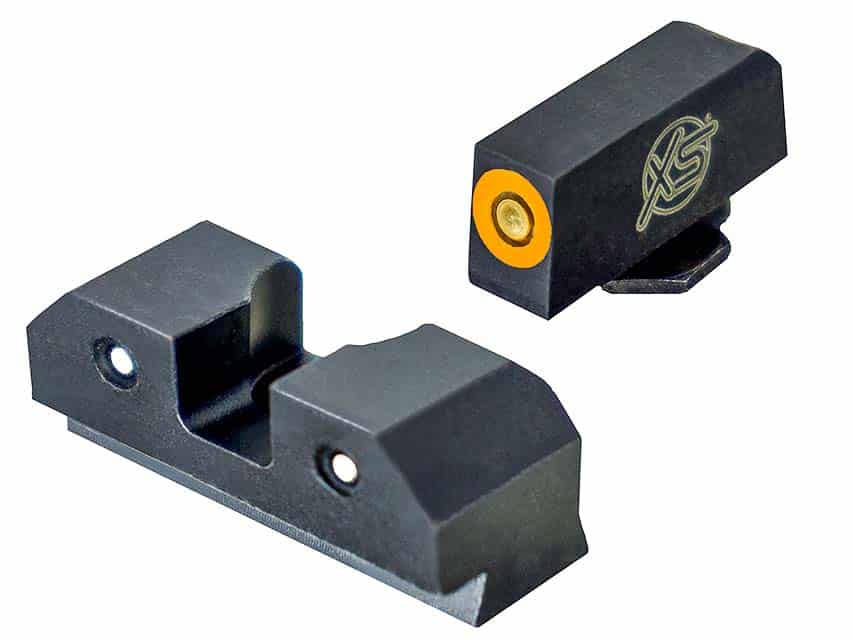 The R3D delivers fast target acquisition in any light. Its traditional three-dot tritium, notch and post sight picture features a notch that is 15 percent wider than the front sight, which allows for extra light around the front sight, resulting in faster and more accurate target acquisition. The rear sight is blacked out to reduce glare and increase contrast against the dual-illuminated front sight which is available with a bright orange or green Glow Dot with tritium center.
MSRP: $116-$127 / xssights.com
XS SIGHTS
XS DXT2 Big Dot Night Sights
The fastest sight in any light, XS' DXT2 Big Dot leads the industry in front sight size and has a self-illuminating tritium center surrounded by XS's photoluminescent Glow Dot technology which drives focus to the front sight. The V-notch rear has a vertical tritium stripe creating a dot-the-"i" sight picture and eliminating the possibility of confusing the front and rear sights in high-stress situations. Available in Optic yellow or Optic orange.
MSRP: $138-$155 / xssights.com
This article first appeared in Small Arms Review V26N6 (JUNE/JULY 2022)