Small Arms Editorial Staff
Armalite
AR-19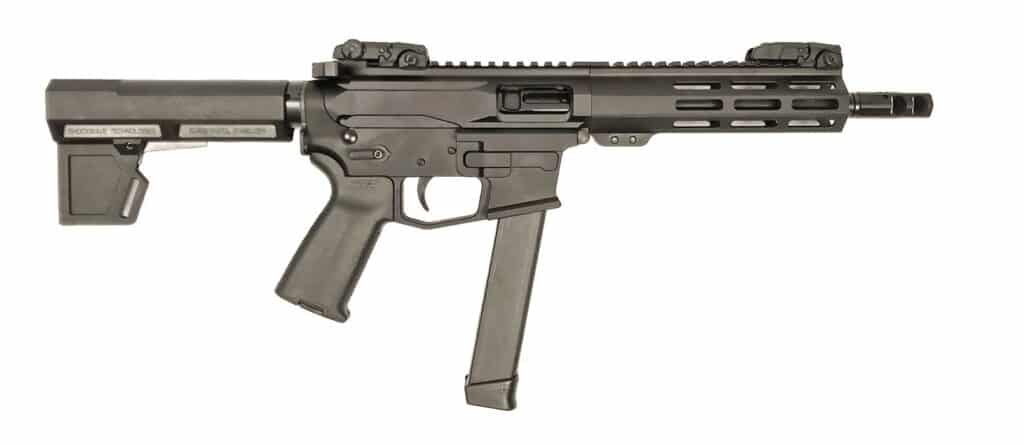 The AR-19 is a lightweight, compact 9mm pistol designed for ultra-maneuverability. It is supplied with flip-up sights, M-LOK handguard, and an adjustable pistol brace for enhanced stability. Additional features include an ambidextrous charging handle and safety selector.
Barrett Firearms
REC7 DI

Compact, precise and trustworthy, the REC7 DI is designed for situations in which there is no room for error. The upper and lower receivers are CNC machined from aluminum, Mil-Spec hardcoat anodized and available in three Cerakote finishes. Internal reliability is increased with a DLC coated bolt carrier and chrome-lined chamber and bore. Every touch point has been refined using Magpul furniture, M-LOK handguard, Radian Weapons charging handle, ALG Defense trigger and Gear Head Works Tailhook.
Beretta USA Corp.
PMX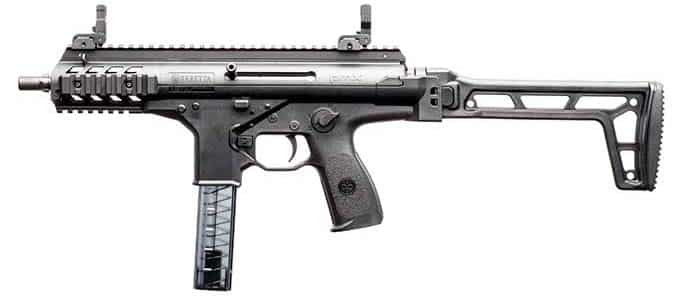 Beretta's next generation PMX PDW was developed specifically for the demanding needs of defense professionals around the world. The extensive use of polymer materials and light alloy metals allowed the design of a compact, lightweight, yet rugged design, one which is versatile and easy to deploy in combat. The operation of the PMX is based on a blow-back system design with closed-bolt firing mode. Reliability, accuracy, and safety are the highlights of the Beretta PMX.
CMMG
Pistol, Banshee 300, Mk9, 9mm Radial Delayed Blowback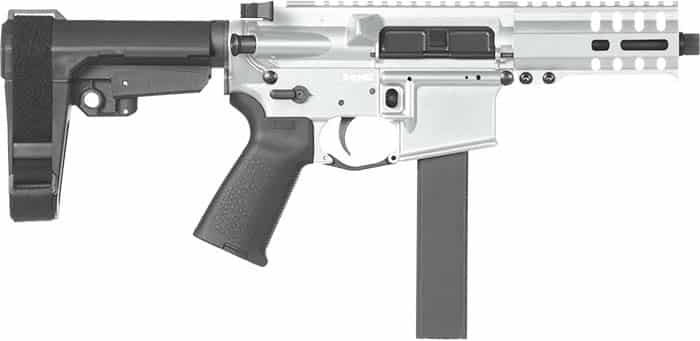 CMMG's oldest 9mm platform, the Mk9, has now been upgraded to utilize their patented Radial Delayed Blowback operating system. Offering significantly less felt-recoil, the Mk9 with Radial Delayed Blowback offers a superior shooting experience in a compact, portable size. CMMG's Mk9 platform features a lower receiver with a dedicated magwell designed to accept Colt SMG-pattern magazines. Offered in BANSHEE and RESOLUTE configurations, with 5-, 8- and 16-inch barrels available. Each complete firearm ships with one 32rd DURAMAG magazine.
CMMG
Pistol, Banshee 300, Mk10, 10mm, NFA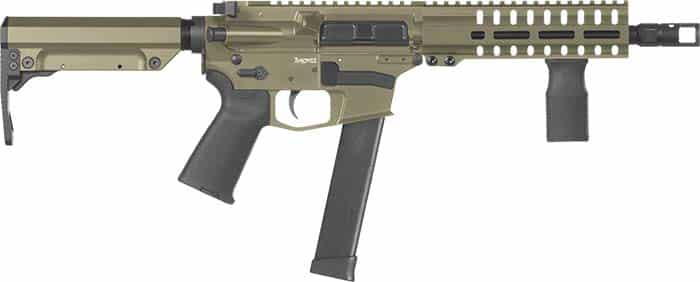 CMMG's Mk10 is a 10mm AR that utilizes CMMG's patented Radial Delayed Blowback operating system and Last-Round Bolt Hold Open, raising the bar as one of the most innovative ARs to handle the powerful 10mm cartridge. The CMMG Mk10 platform features a lower receiver with a dedicated magwell designed to accept GLOCK, Inc.-pattern magazines. It's offered as a pistol or SBR in the BANSHEE configuration, comes standard with an 8-inch barrel and ships with one 30rd SGM magazine.
CZ-USA
CZ Scorpion EVO 3 S2 Pistol Micro w/ Folding Brace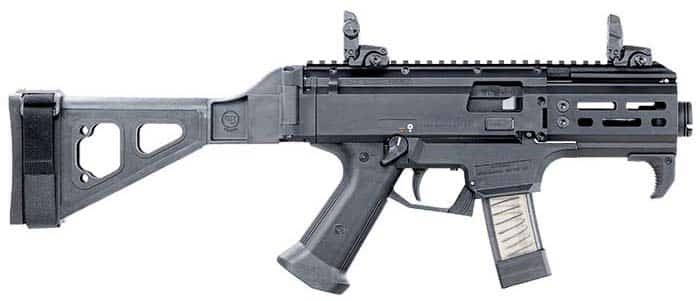 With a 4-inch barrel, HB Industries short handguard and a folding SB Tactical brace, this new variant of the diminutive Scorpion Micro takes into account input from the CZ fan base. Replacing the previous Micro that was equipped with a collapsible brace, this version also gets a more minimal flash can muzzle device and Magpul MBUS back-up iron sights.
Desert Tech
MDRX Micron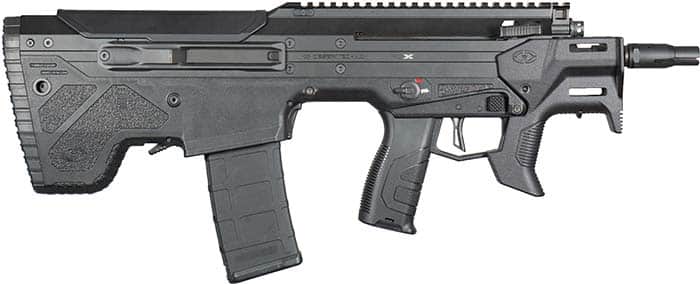 The MDRX Micron is designed for consumers searching for the ultimate concealable personal defense weapon and has an 11.5-inch barrel. The 23.43-inch MDRX Micron offers superior ballistics when compared to traditional 5.56 SBR rifles with similar overall length. The Micron's incredible versatility in close-quarter situations makes it the perfect weapon for personal defense because it can go where you go.
DRD Tactical
Aptus

The Aptus features patented internal recoil technology and quick take-down rifle technology, and is chambered in 5.56mm and .300 Blackout. The patented internal recoil system eliminates the standard buffer tube/spring, allowing it to be fired with stock folded. Constructed with U.S. billet aluminum and finished in either black hard coat type III anodizing or NIB Battleworn finish. This patented quick take-down rifle is designed for compact portability and discrete carry.
DRD Tactical
CDR-15

CDR-15 is a top of the line AR-patterned rifle that's made for duty. Chambered in 5.56mm and .300 Blackout, the CDR-15 is takedown capable with quick change barrels. Constructed with a black hard coat type III anodizing or NIB Battleworn finish, this tactical rifle comes with extraordinary custom detail and outstanding quality. It features a Mil. Spec. safety selector and bolt catch.
Maxim Defense Industries
PDX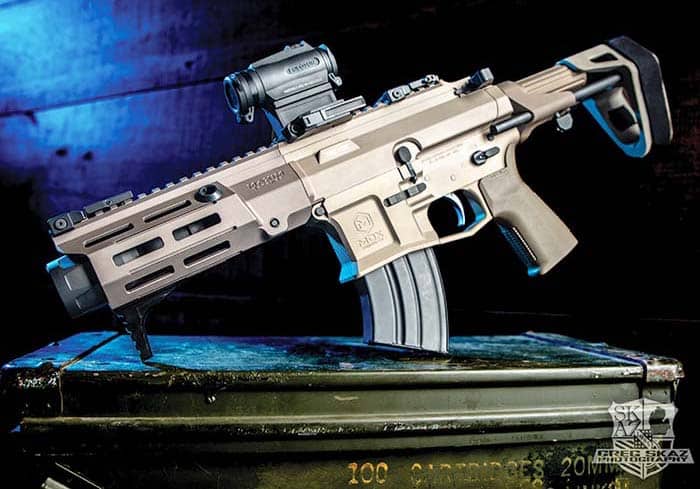 Part of Maxim's MDX line of firearms, the PDX was born from the SOCOM PDW solicitation and designed to fulfill a broad spectrum of needs by today's law enforcement and military operations. At just 18.75in in overall length, the PDX delivers groundbreaking power and performance. At the heart of the award-winning PDX is Maxim's SCW system. This patent-pending system dramatically decreases length by integrating interchangeable buffer weights directly into the BCG, giving you maximum performance and versatility without sacrificing form and functionality.
This article first appeared in Small Arms Review V25N5 (May 2021)