By Robert G. Segel
During the years immediately before the World War I, small hollow off-white china ornaments decorated with civic arms and other crests were popular souvenirs for many people in England who took holidays or daytrips to seaside resorts. Crested china was typically bought from the places on the crest and carefully carried home. During World War I, holidays were still celebrated at most East Coast and South Coast resorts, and the ornament makers began to create designs related to the War.
The ornaments were largely made in the potteries around Stoke-on-Trent by companies such as Arcadian, Carlton, Grafton, Savoy, Shelley, Swan, Willow Art and W.H. Goss. The peacetime ornaments included figurines of everyday objects, local museum antiquities or items such as ring trees, stamp boxes and pin trays.
With the coming of War, new designs were created, such as grenades and mines, ships, airplanes, ambulances and military headdress and tanks. Depicting military subjects accurately was less important than the topicality of the model or its label; therefore, some crests on this china have proven to be "imagined" or are unofficial designs.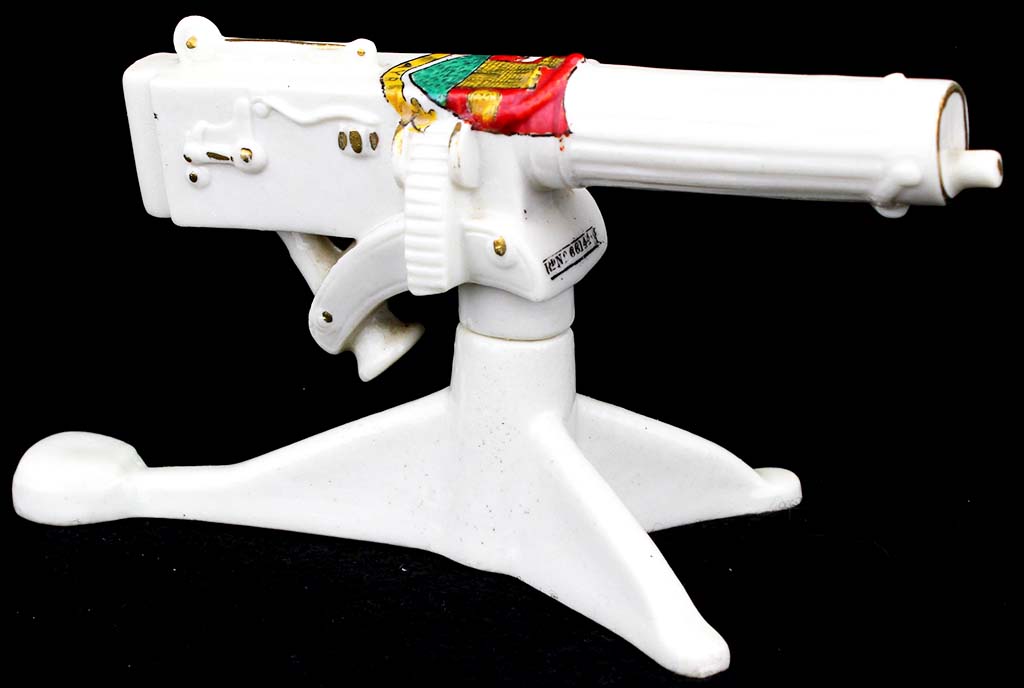 Crested china Vickers machine gun on tripod consisting of two-piece construction. Gun swivels 360 degrees on tripod. Gold high-lights. Crest atop water jacket is of Ayr, Scotland. Front of tripod head marked, "RD No. 66144." ("RD" is "Registered Design" and is a form of copyright to prevent others from copying the style of the image.) Left side of water jacket marked "Model of Machine Gun." Bottom of gun marked "402" and "Savoy China Stoke-on-Trent England" logo.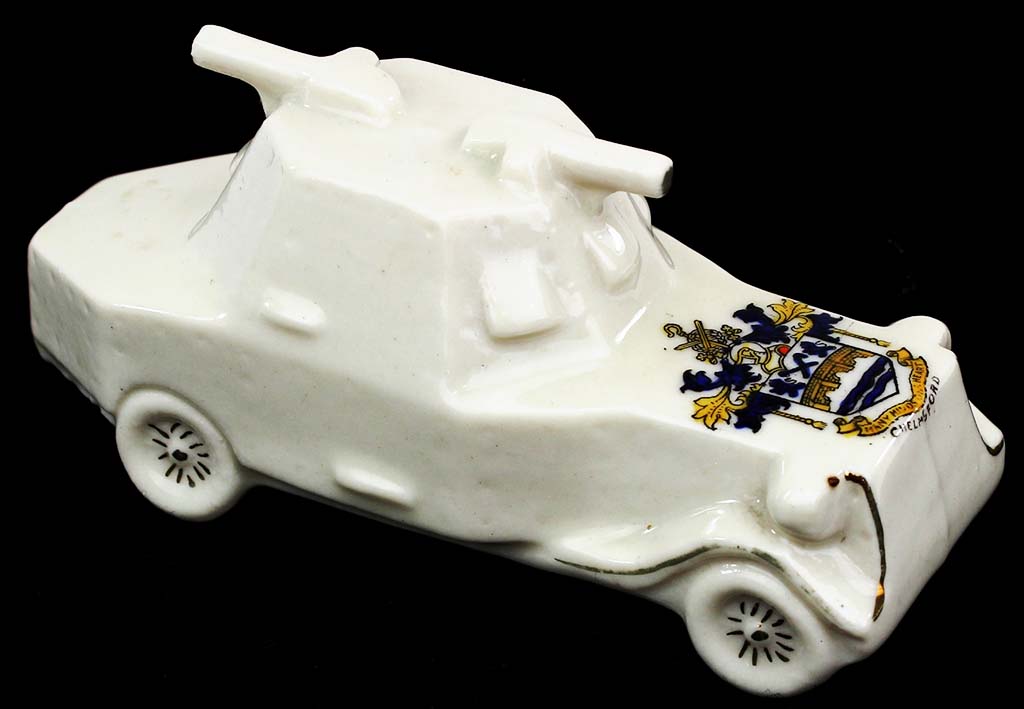 Crested china WWI Talbot armored car with two Vick-ers machine guns mounted fore and aft on the top. Crest of Chelmsford on hood of car under a banner that reads, "Many Minds One Heart." Bottom mak-er-marked "Savoy China (introduced c.1910 until c.1928) Stoke-on-Trent England" for "BR&Co sellers" (Birks Rawlins & Co.).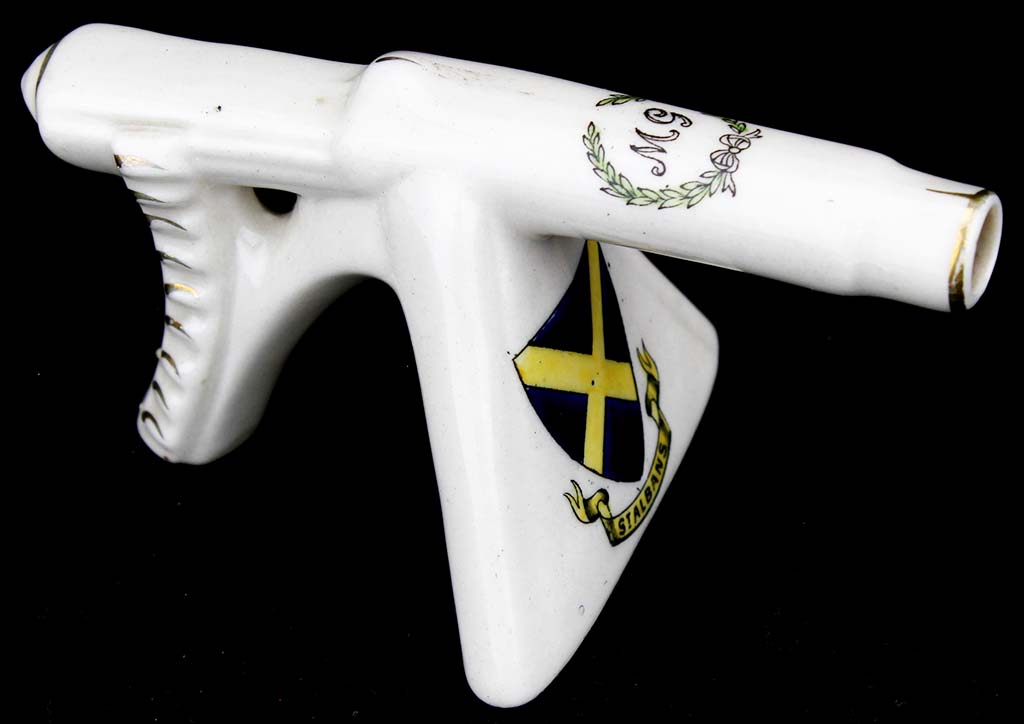 Crested china commemorative World War I Vickers machine gun on tripod. Large crested front has blue and yellow shield of St. Albans. Atop water jacket is the Machine Gun Corps Skill-at-Arms badge of "MG" within wreath. Rear of tripod marked "The Victory of Justice Armistice of the Great War Signed Nov. 11th 1918." Gold highlights around muzzle, rear and ammunition belt. Made by Carlton China with maker's stamp on bottom.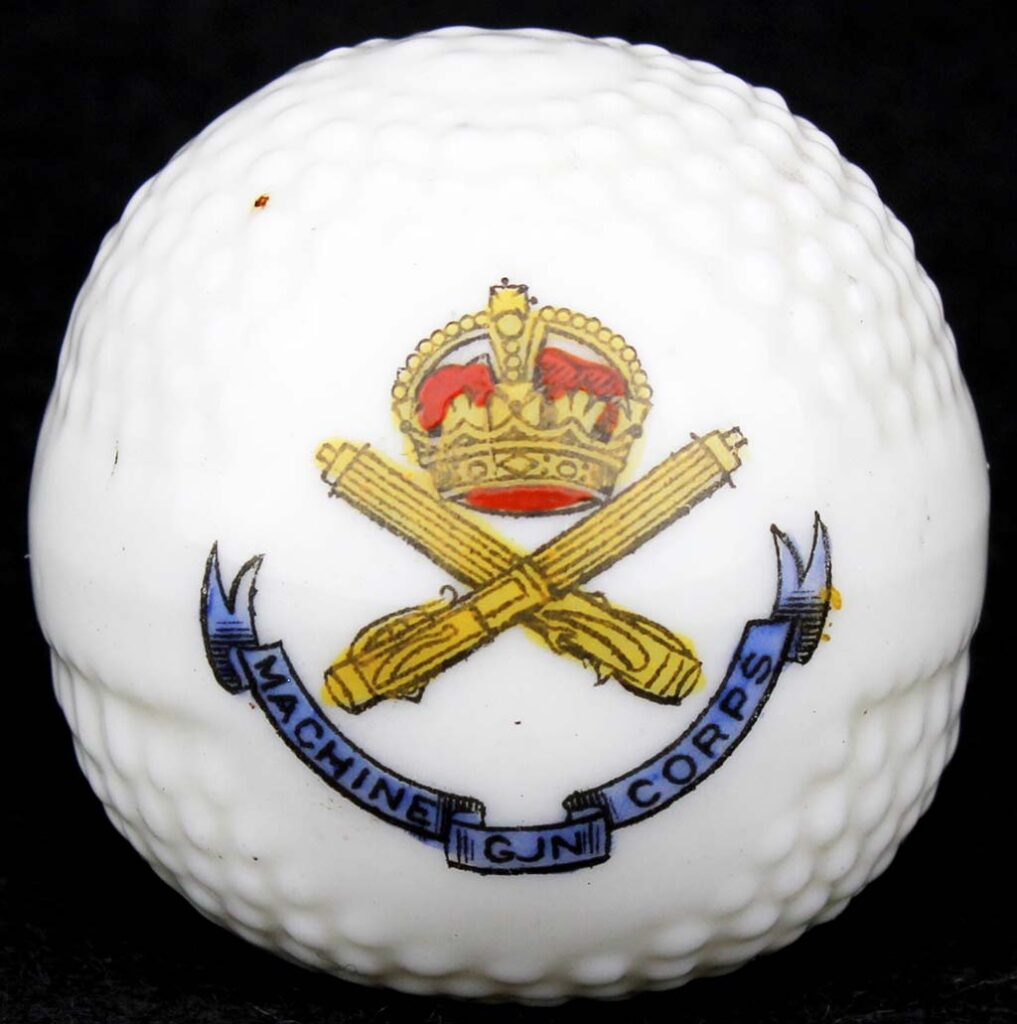 Crested china golf ball with the central image of the king's crown over crossed Vickers over "Machine Gun Corps" banner below.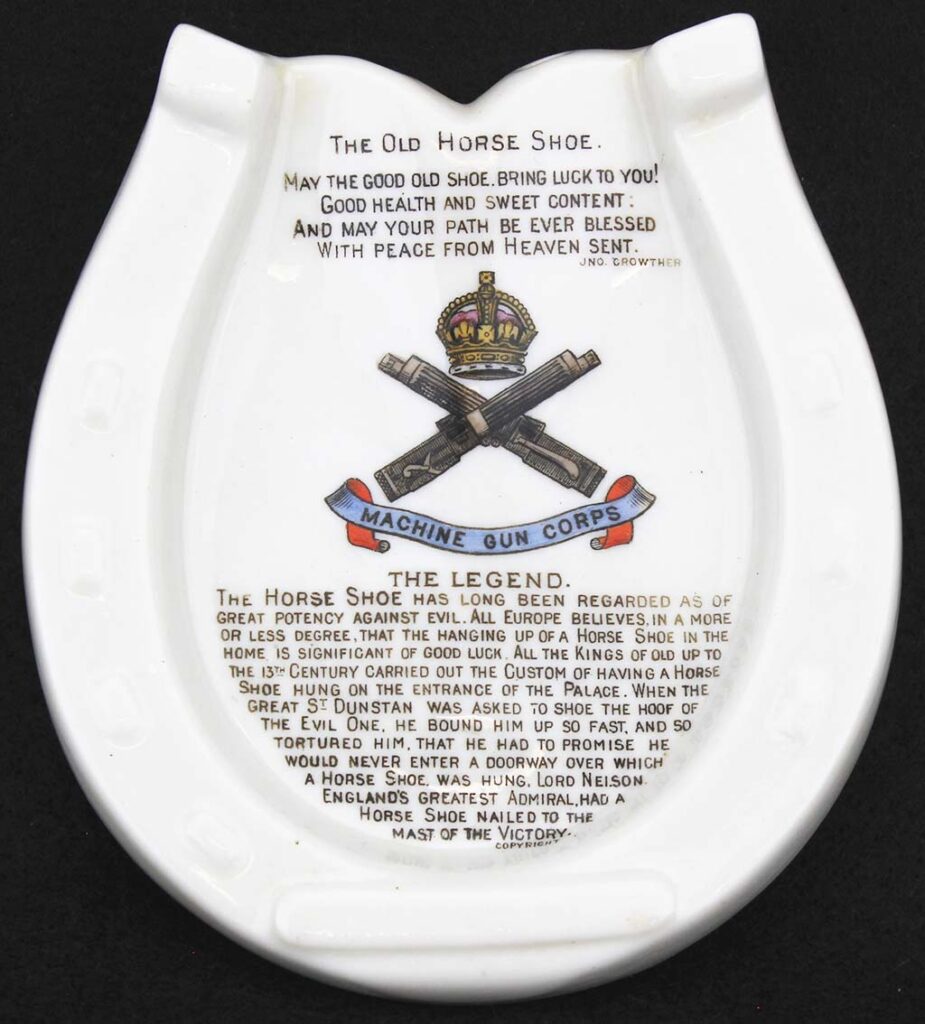 Crested china good luck horseshoe with central mage of king's crown over crossed Vickers over "Machine Gun Corps" banner. Above reads, "The Old Horseshoe" followed by a four-line poem. At bottom is, "The Legend" and a short history of why the horseshoe is considered a good luck symbol. Reverse maker-marked "W.H. Goss."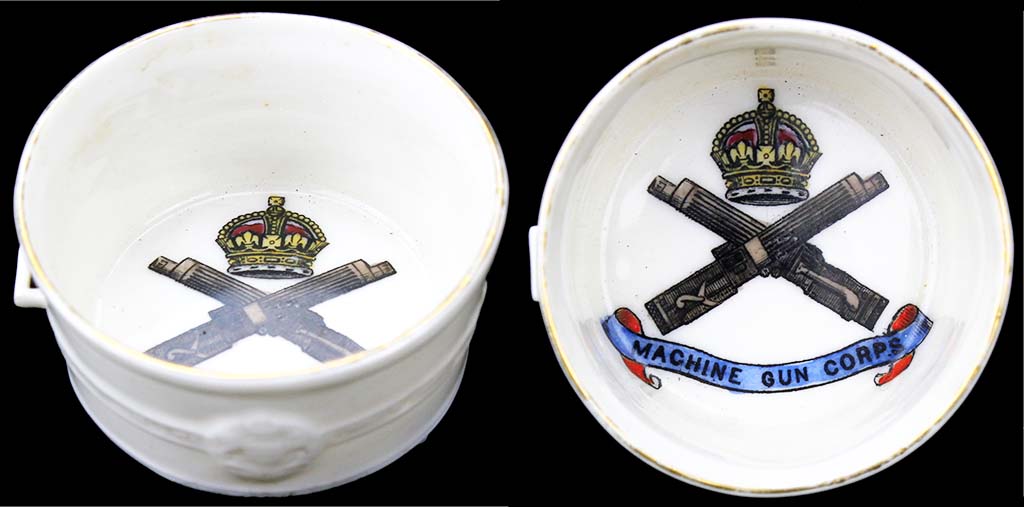 Crested china bushel basket with crest insignia of the Machine Gun Corps in center of bottom of basket. Gold trim to edge highlight. Bottom maker-marked "W.H. Goss Ashbourne Bushel RD No. 450628."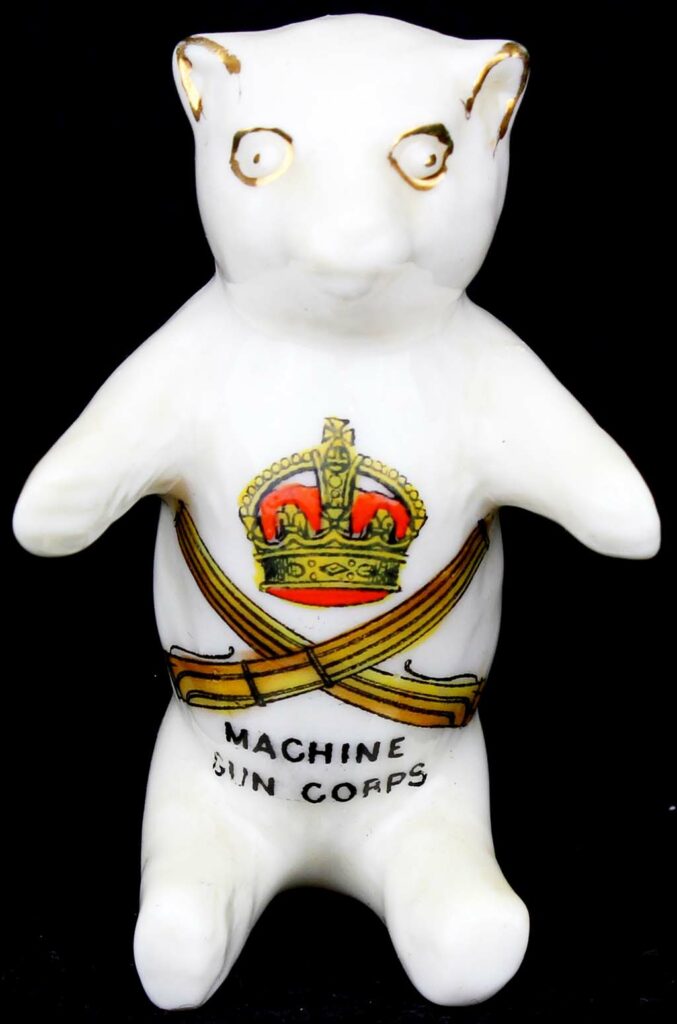 Crested china white porcelain figurine of World War I Machine Gun Corps "Tommy and his gun" firing a Vickers machine gun with gold trim highlights to cap, eyes, machine gun and base. Painted crested front has large coat of arms for Southampton. Bottom mak-er-marked "Arcadian China Stoke-on-Trent."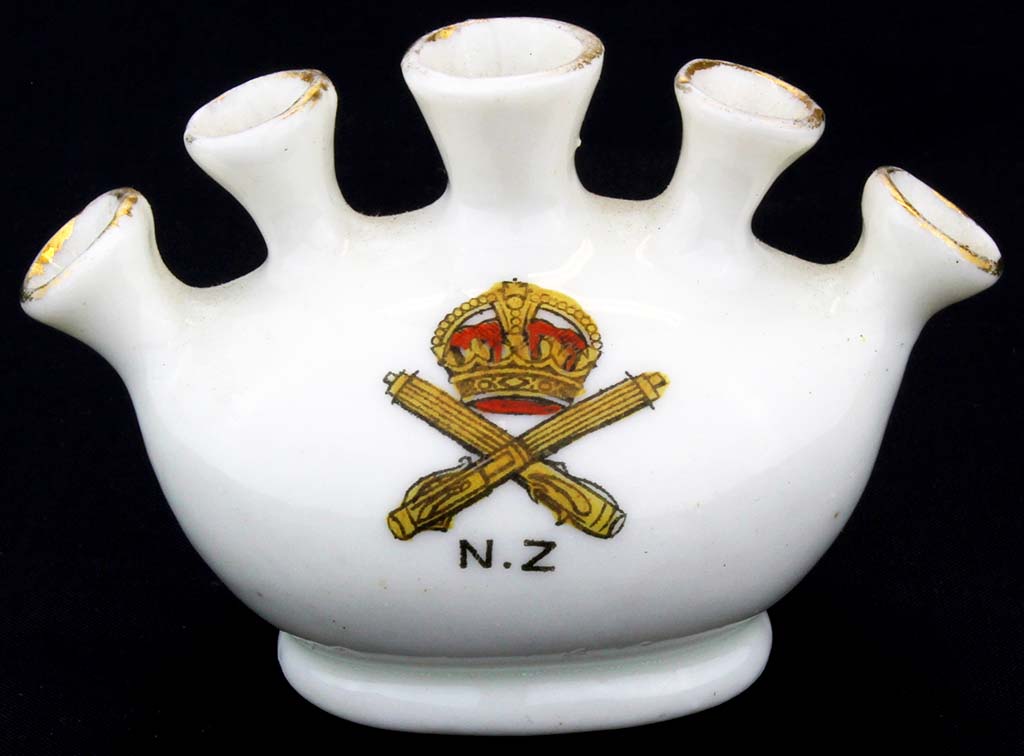 Crested china with five fluted vase positions rimmed in gold. The vase is diminutive in size measuring only 3 inches wide and 2 inches high. Affixed to the front is the New Zealand Machine Gun Corps insignia of king's crown over crossed Vickers with "N.Z" below. There is no maker mark, but it is of the Carlton style of crested china.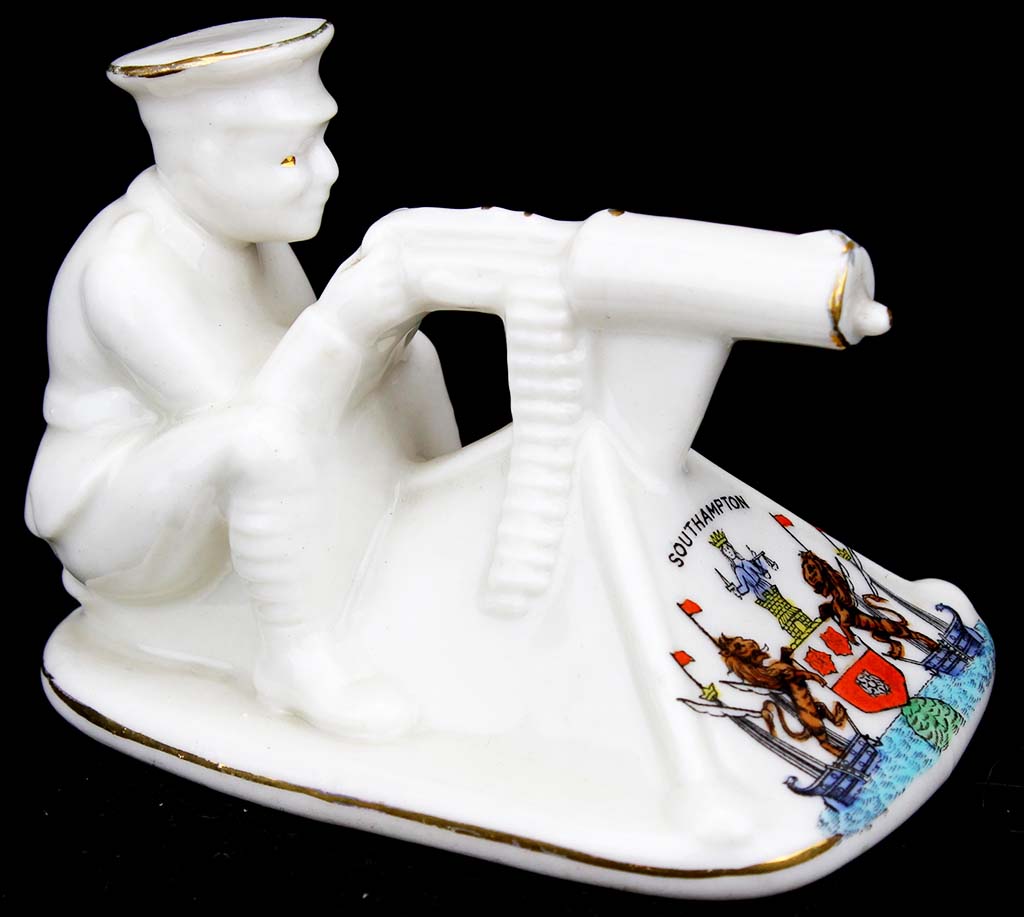 Crested china teddy bear with central image on stomach of the king's crown over crossed Vickers and "Machine Gun Corps" below. Gold accents on ears and eyes. Bot-tom maker-marked "Arcadian China."
This article first appeared in Small Arms Review V25N3 (March 2021)