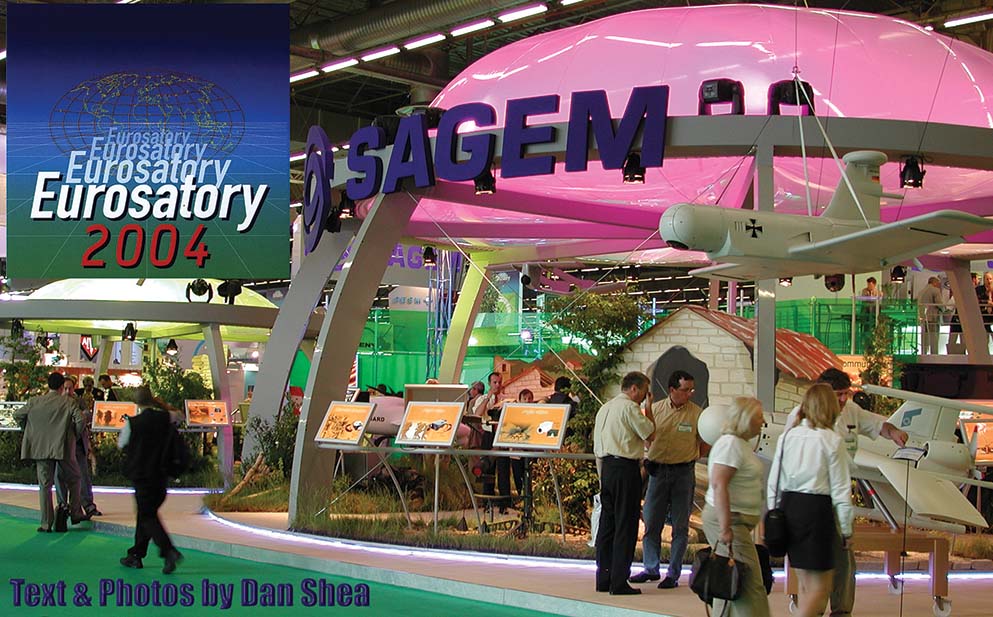 By Dan Shea
Paris Nord- Villepinte, – June 2004: The long anticipated Eurosatory 2004 military show is in full swing. Perhaps the largest show of its kind in the world, Eurosatory is scheduled every two years in Paris. Generally on the first day, there is a protest by the usual suspects from the Left Bank and assorted European dissidents – the same crowd can be seen protesting any military show, World Trade Organization meeting, or what have you. Several hundred people mill about aimlessly until the news cameras show up, then they get rowdy and have an enthusiastic pitched battle with the local police, hurling rocks and bumper sticker slogans with equal abandon. As soon as the cameras stop rolling, it's time to get back to smoking dope and drinking wine on the left bank, content they have saved the world for the day and that the evil oppressors of the military industrial complex have been exposed and put down. Time to honor the heroes of the revolution, those great bringers of peace and harmony; Che, Fidel, Mao, Uncle Ho and Pol Pot. This year was a blow out for the protestors, we barely heard a word. Two years ago, your faithful correspondent accidentally got mixed in with the protestors, dragged in by new found friends who thought my "Press" badge meant I was a fellow traveler. After explaining that I would rather be shooting at communists than helping them, I melted into the police line and watched the fireworks among my recently found friends. Oui, Je suis une journalist… But perhaps not the kind of journalist you seek- Dan
When the protestors are done with their traditionally impotent swan song for the opening day, the exhibitors get down to the business of supplying the good guys with the weapons and technology to protect the innocents from the bad guys. For many in the small arms and in the general arms trade, it comes down to that. Inspired by love of technology and perhaps motivated by politics or simple capitalism, the fruits of many years of labor are on display at these large military shows. Eurosatory is one of the largest and most popular, a "can't miss" show for many in the industry. The major focus of the show is on the larger items; helicopter and heliborne operations, tanks, armor, cannon, field living units, bridges, etc. If you look at the small arms contracts in the world today, and compared them to the contracts for tanks, rockets, and vehicles, the small arms would be the lesser market by far, and that is understandable. However, Eurosatory and similar shows are great places for the small arms industry to show of their latest and greatest products, and Eurosatory 2004 was an exceptionally good hunting ground for the new products in our field.
With 26 country pavilions, hundreds of exhibitors, 72 countries represented, and over 40,000 visitors, Eurosatory 2004 was a huge success. From the dynamic displays outdoors where exhibitors could show off everything from the deployment of unique hydraulic arrangements on 105mm guns to automatic bridge vehicles, to the new items at the displays indoors, the visitor could view almost every aspect of the modern military machine. Since the visitors all had to be qualified to be there, the exhibitors were assured of quality conversations with potential buyers or their industry peers.
Since many subcontractors and parts manufacturers opted to display this year, there was a significant increase in these types of exhibitors from the 2002 Eurosatory. This was good for them, and good for the prime contractors who were shopping for new sources of supply.
SAR noted a lot of our readers and advertisers wandering the show, looking for either new sources of supply or new markets. One of the unfortunate things we saw was the U.S. Ordnance booth was empty due to the lack of their display. It is a manufacturer's nightmare to spend all the time, money and energy to prepare for a large, important international show, and have the shipper not get your product and display to the show on time. SAR had a similar situation at our shared booth. The only thing that showed up was our 2,000 hand out copies of SAR, which were well received by all at the show.
We look forward to Eurosatory 2006, scheduled at the Parc d'Expositions, Paris Nord Villipinte Fairgrounds in June 2006. This is near Roissy and the Charles de Gaulle Airport.
For more information on Eurosatory (and please mention SAR to them):
coges (commissariat général des expositions et salons du gicat)
Tél: 01 44 14 58 10 Fax: 01 42 30 70 88
E-Mail: coges@eurosatory.com
Web: www.eurosatory.com
This article first appeared in Small Arms Review V8N1 (October 2004)