By Rick Cartledge
Photos by Bob Bodron

Wednesday I rolled northward toward Knob Creek on I-24. Tennessee Troopers and the FBI detoured traffic around the bus crash caused by a knife wielding maniac. With his throat slashed, driver Sanford Sims valiantly tried to steer his bus to save his passengers. He ran out of road before he could save them all. Two weeks later on the square in Marietta, Georgia many thanked Mr. Sims for his heroic effort and the many lives that he did save.

As I rolled up to the motel, Forbes Mathews and Doug Hollberg rolled in beside me. Doug said, 'They're confiscating all surplus military equipment.' The reply came, 'They'll take my C-drum from my cold dead hands.' Doug said, 'C-drums weren't used in war.' The reply came, 'Tell that to the Cork Brigade.' When the kidding about a bill in the House that could lead to the possible confiscation or demilling of any prior US military gear subsided, we got some steaks and a good night's sleep. We rolled into Knob Creek Range very early on Thursday morning.

Let Freedom Ring

Doug and Forbes unloaded at the shooting site and set up the black plastic that identified 'The Black Mariah' shooting spot. I bought six Knob Creek shirts and returned to the vehicle to secure them. In the parking lot I ran into Jim Ballou. Jim smiled broadly as he told of the continuing success of his landmark book 'Rock in a Hard Place; The Browning Automatic Rifle'. Jim had brought extra copies to autograph for his many readers. Not far from Jim's parking place I also ran into Folke Myrvang. News from Blake Stephens at Collector Grade Publications states that Mr. Myrvang's much anticipated book on the MG-34 and MG-42 will be on sale as you read this. Check the Long Mountain Outfitters web page or magazine ads for details on both of these fine books.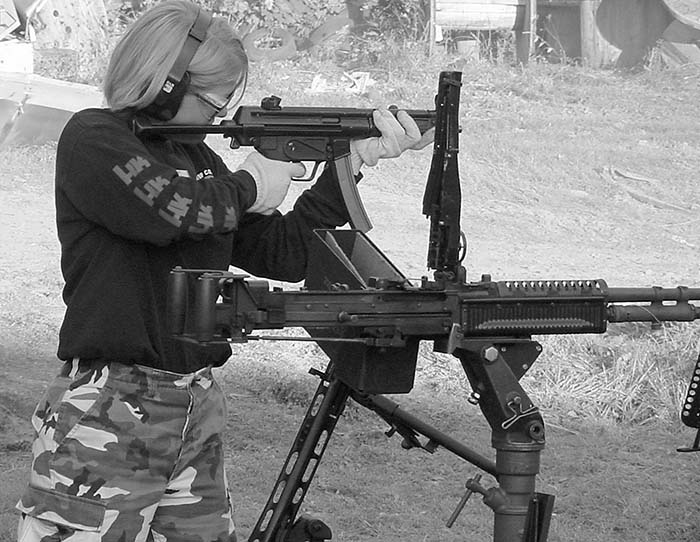 Next, I contacted two prominent national ammunition distributors. First and foremost, a question needed an answer. Two days after September 11, most retail stores listed their supplies of 9mm, 223, 308, and short Russian as 'sold out'. About the 'shortage', both ammunition distributors said the same thing. Ammunition arrives in a constant supply. No shortage existed. September 11 caused a temporary surge in buying. With several more shipments, both the flow and price will returned to normal. One of them stated, 'I could have sold out of 762×39 early last week. I saved some and brought it to the Creek, knowing that the shooters would need it.' This writer picked up some 762×39 from him and a stack of Radway .303 from another. By Sunday, I had put all of the brass on the ground.
Those who have not come to the Creek might think that there would be changes. This writer observed only two. First, each day at 8 o'clock in the morning the loud speaker played The Star Spangled Banner. During the time of its playing, one literally could have heard a pin drop. Second, an impressive number of new faces showed up at Knob Creek. Some of them made serious purchases in the Pole Barn. The world may change. Knob Creek remains Knob Creek.
As additional evidence of how Knob Creek remains constant, we relate the following. Two days after the treacherous attacks on American cities, The History Channel ran an all day marathon of 'Tales of the Gun'. This writer had the privilege of contributing to several of the programs. During the weekend at KCR, literally more than three hundred people thanked me, Lamar Cheatham, Forbes Mathews, Dr. Ed Weitzman, and Doug Hollberg for our contributions to 'Tales of the Gun'. Upon returning home, I telephoned Greystone Productions and spoke with Producer Andrew Nock. I asked him to pass on to Executive Producer Louis Tarantino and Producer/Director Tom Jennings the many kind remarks from KCR. We have always been proud of our work. On those three days, we felt particularly proud of the work and humbled by the heartfelt response.

Pole Barn Adventures with the Usual Suspects…

Before the Pole Barn opened on Friday morning, I dropped by the Little Fat Guy's slot for a steaming cup of coffee and some good conversation. Tom Golik, prominent Title 2 from Jacksonville, FL came by and showed off his new Stoner. He gave an open and instantly accepted invitation to come and put some brass on the ground. Meanwhile, the Little Fat Guy's wife fitted the newest member of their family with small ear muffs and dainty eye protection. When Homer Sailor called the line hot, the Littlest Fat Person sat transfixed in the stroller as the Little Fat Guy emptied a belt for his offspring from his short barreled .50. Some shooters are made, others are born.
At 10 o'clock The Pole Barn opened and people flooded in. We all enjoyed the spectacular show. This fall, as in the recent past, the dealers went 'all out' to serve their customers. First and foremost to my mind comes the Breda 35.

Kent Lomont displayed a truly rare and magnificent gun. This writer test fired a Breda 35 about ten years ago at the Creek. I handled one about three years ago that went to the mid West. Both of these guns came in 6.5. Mr. Lomont displayed a beautiful example of an export model Breda 35 made for the Costa Rican Army. This gun came in 7mm. On Thursday afternoon, Mr. Lomont tore down this fine gun in order that several of us could examine the fine workmanship. Though its magazine loading makes it not a great combat weapon, one will find the Breda 35 as well crafted as any and better than most. I told several collectors about this beautiful piece that carried a comparatively modest price tag. The beautiful Breda carried a sold sign by noon on Friday.

I next went to the tables of Mr. and Mrs. Paul Anagnos, surplus dealers. Weathermen forecast much cooler temperatures on Saturday night. Mrs. Anagnos provided a warm coat from within the huge stacks of camp gear. I then broke out a couple of Tampa cigars. Paul and I smoked these fine cigars in celebration of Cuba's first freedom fighters. Cuba Libre came to be in the cigar factories of Tampa in the 1880's (see SAR July '98). While we talked, Paul introduced Michael Smith of Purvis, MS. Mr. Smith displayed three pistols from his personal collection. I knew someone that all three would interest.
I took the news to an astute collector and dealer on the other side of the range. The collector immediately went into the Pole Barn. He emerged a half an hour later with a smile on his face. He stated. 'The baby Nambu with two magazines and a holster isn't as pretty as the one I already have, but it is a very pretty gun. The pre 357 Magnum (one of 5500 made between 1935 and 1938) appears to be almost unfired. I bought them both.' The preceding proves one of the fine points at Knob Creek Range. Though the automatic guns predominate, one may find other unexpected treasures if one looks hard enough.

While viewing some movie use machine guns at the LMO tables, an interesting encounter took place. Byron Farmer of Milledgeville, GA recognized my North Atlanta accent. When he introduced himself, I recognized his accent from the Fall Line. Mr. Farmer had acquired an Amnesty registered MP-3008 many years ago. The Class 3 dealer brought his early acquisition to Knob Creek Range to find out what it was now worth. I suggested that we wait until Dan Shea could talk with Mr. Farmer. When Dan got free, he examined the weapon. Dan stated, ' The stock looks like it is incorrect, but it is not. The Germans made several stock variations and this is one of them. I have handled three of these in the last two years or so. The last two I sold for $8500 and $9500. This Type 1 MP3008 looks like the one that went for $9500.'

Mr. Farmer and I then went to The Rifleman tables run by Dave and Mark Mann of Macon, GA. Mark enthusiastically showed us part of the large acquisition that they had just made of transferable Title 2s. Then Mark went under the table and brought out their brand new PKM. Now, they hunted ammunition and belts at Knob Creek. Mark manned the tables while Dave took the PKM out for a photograph. He stepped around his DSHK 38/46 and stood for a photograph with their newest acquisition. The preceding offers additional proof to an old adage. At KCR, one never fails to meet new friends and view new things.
Meanwhile, some unloading took place at the front of the Pole Barn. Brian Koskey displayed two cannons that he had restored for Kent Lomont. First off the truck came a Swiss 50mm that looked new. Second came a wonderful piece of history, an American 37mm from World War I. The long barreled cannon sat on a narrower and higher mount than the mounts one is used to viewing on the World War II 37s. Brian pointed out the Bethlehem Steel imprint near the breech. Across at Robert Landies' Ohio Ordnance tables we viewed another unusual piece of heavy ordnance. Mr. Landies proudly showed off the 1918 Maxim 13mm anti tank gun correctly mounted on a Maxim 08/15 bipod. This massive gun looks like an 1898 Mauser that abused a lot of steroids. After the Great War, John Browning would use the 13mm cartridge to invent the American .50 round. He then designed an automatic gun to fire it. Scott McNish, armorer with Ohio Ordnance, set up the photograph that accompanies this article. In the snapshot, Scott holds the 13mm anti tank crossed with a '98 Mauser to give the reader an idea of scale.

Ready On The Firing Line

Before going to the line, I dropped by Jonathan Arthur Ciener's tables. There Jon displayed his much anticipated 'Project X'. This project allows all Thompson owners to shoot .22 rounds. The kit comes with a barrel insert, magazine, and bolt works. Jon makes these kits for the 1921, 28, and M-1/M1-A1s. This writer became one of many who signed up for 'Project X'. Out on the firing line, author James Ballou took 'Project X' for a test drive. Mr. Ballou knows considerably more about the BAR. Jim reported flawless function for 'Project X'.

More than one invention took a test by fire on Friday. Joe Gaddini of SWR Suppressors introduced Scott Prince of R & D on their new Omega 9mm suppressor. Scott reported that much talk arose from the Friday suppressor competition. First, Scott reported that the Omega demonstrated a 40db reduction dry. Second, the Neilson recoil booster device enabled the Glock weapons to function flawlessly with the Omega suppressor. The CNC aluminum constructed suppressor functioned 12db quieter than any other leading suppressor. As often reported in this magazine, the suppressor wars continue in earnest.

Stuart Rueben received the transfer on his cannon and immediately took it to the line. Many counted themselves fortunate to view this historic gun. Mr. Rueben showed off the French cannon, serial number 200, on Knob Creek's main line. America bought these 40mm cannon dated 1892 and converted them from fusee fire to center fire. Mr. Rueben showed off the unusual side breech assembly. He took pleasure in the remarkable condition of this fine gun. Milton Barnes, drum inventor of Metall Werkes and cannoneer of The Bowler Battery, gave some cogent comments about the 40mm. Mr. Barnes stated the gun originally entered service as a true 10lb Parrot. The original shells came as pointed rifle projectiles. Milton then stated the 40mm was, '…a flat shooting, exceptionally nasty piece of ordnance if you happened to be on the receiving end.'

Saturday afternoon I ran into Valerie with Valkyrie Arms. Valerie brought her production De Lisles to Knob Creek Range and took a number of orders. Her company produces these guns twenty at a time. We went to the firing line to test drive the weapons. The beautifully crafted weapon functions extremely well. A Georgia Emma Gee recently placed an order for one having never seen even a picture of a De Lisle. Suffice it to say that this carbine fires as quiet as a whisper and hits like a Mack truck. Look for a comprehensive article on the De Lisle Carbine in a later issue of SAR.

Upon arrival at the Black Mariah on Saturday afternoon I found the occupants extremely happy with an acquisition made that morning. Forbes Mathews and Doug Hollberg told of acquiring the final piece of 'Project 99'. Of the six known kits, a seventh had surfaced. As to whose and where, don't ask. This kit contains the Chinese converted 7.7 barrel that now fires 762 x 39 and the Chinese made tail piece. Another group in the Midwest independently figured out the tail piece. Back in Georgia, Mike Thacker already has received his 762 x 39 converted 99 barrel. As you read this, two versions of the Chinese conversion already are putting brass on the ground.

I then went down to visit some Vickers shooters and put my 1600 rounds of Radway on the ground. (It was a dirty job, but someone had to do it.) When Homer Sailor called a cease fire, I ran into Troy Sellars of In Range out of Kodak, TN. The talented Class 2 does a full range of AK to Krinkov conversions and AK SBRs. He showed off his beautifully crafted AK-74 Krink variant. Troy stated that he really like the AK design and the Krinkov innovation. He chose to specialize in these particular weapons. The fine Krinkov underscored his point.

When Saturday night rolled around, everyone headed toward the main line. Kenny Sumner had added additional viewing stands to give the crowd an even better view of the Night Shoot. Tracer stood as the order of the day. The gunners took the order to heart. The show opened with a helicopter fly over with tracer put down range from an M-60. Then came a tracer burst from the mini-gun. Homer Sailor then called the line hot and the thunder rolled. After each session the crowd broke out in enthusiastic applause. Many viewers moved closer to guns that they wished to view in action. Throughout the evening everything from Gatling guns to a mini-guns poured tracer down range. We all enjoyed a spectacular Saturday night.

Throughout the weekend, I looked for some particular faces. All had gone to serve our country, save one. I ran into him at the Title 2 crossroads of the world, between the Range House and the Pole Barn at Knob Creek Range. I stated, 'I didn't expect to see you here.' He said, 'The got my buddy on Friday. They will call me up when I get back on Monday.' We never said good-bye. We said, 'Until we meet again.' This man has assisted this writer and some others with deep background on armaments. To him, to those that were missing, and to all of the men and women who now put their lives on the line for our country, we dedicate the following.

Seven Spanish Angels

As we write this in late October, we cannot know the events of the coming months. We do know this. When daylight broke on September 11, 2001, our country moved as it had the day before. The events just before 9 o'clock on that day changed everything. The talking heads of network news proclaimed that America had changed forever and entered a new age. As usual they were half correct. In less than a day we threw away 55 years of liberalism. We went back to the generations of those who came before us. We went back to the time of Theodore Roosevelt. The forces of evil mistakenly awakened what Isoroku Yamamoto later called '…the sleeping giant.' We still walk softly but we now carry an awfully large stick. Perhaps the distinguished actor James Woods put it best. On Jay Leno's Tonight Show the actor stated, '…forget political correctness, we are at war!' In that light we offer this, especially for our readers at Campbell, Lejeune, and Bragg.

Early in his Presidency, Theodore Roosevelt returned the captured battle flags to the Confederate States. Now the descendants of those states and all of the other states answer our country's call. Our men and women in the military now go to war for us, and for all of the civilized world. Our soldiers who go into the night must know the following above all else. Our fervent prayers go with you. Some, and perhaps a good many, of you will not return. For you, the best and brightest among us, we offer these last few words. May seven Spanish Angels forever comfort you, and always light your path. Your cause always shall remain undeminished. Your honor shall always be bright.
This article first appeared in Small Arms Review V5N9 (June 2002)