During 2003 Gemtech announced the availability of the upgraded Outback II that had a threaded insert made of titanium, replacing the aluminum insert used in the first design.
By Frank Iannamico
For many years suppressor manufacturers have been offering their customers products that could not be disassembled for servicing. The primarily reason was a concern of the customer possibly incorrectly reassembling the internal components resulting in damage to the unit, or personal injury. During the 1970s the Military Armament Corporation experienced such a problem with their suppressors, and soon began to use a thread locking compound on their endcaps to discourage disassembly. Like many modern companies MAC suggested to their customers that they return their suppressors to the factory for servicing. This protocol is fine as long as the manufacturer is still in business, which in many instances might not be the case, like MAC have been out of business for many years. Generally speaking most companies will not service suppressors made by someone else.
The sound suppressors that require the most attention are those designed for .22 rimfire cartridges, an inherently dirty round. With a lot of use, a .22 caliber suppressor will gradually lose its efficiently, and at the same time get heavier with an accumulation of lead and powder residue. Cleaning suggested by many manufacturers is to immerse their sealed suppressors in a particular chemical solution, which does little or nothing to remove carbon fouling and lead. Previously, the thorough servicing of sealed suppressors had to be performed by the manufacturer, if they offered such a service. Factory servicing usually consisted of removing the old baffles and replacing them with new ones. When extreme fouling was present, and the old baffles could not be removed by normal methods, they often had to be machined out of the tube on a lathe. Baffle replacement is not possible by individual owners, because possession of individual suppressor parts is a felony. Federal laws do not allow the factory replacement of the serial numbered tube, unless the original is defective. Replacing the suppressor tube with a new one would require a second $200.00 transfer tax to be paid.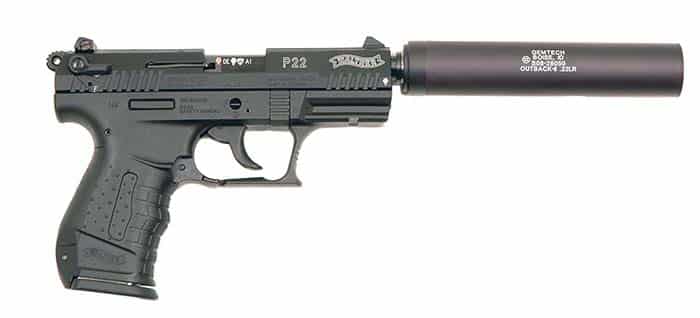 Returning a suppressor to the manufacturer for routine servicing can be inconvenient and time consuming for the customer. If the suppressor manufacturer is no longer in business, a heavily fouled, and increasingly loud suppressor, becomes nothing more than an expensive paperweight. The aforementioned reasons are why customers began to request that manufacturers offer suppressors they could service / clean themselves. As a result, companies have now begun to offer units that could be easily disassembled. The new serviceable suppressors usually come with special tools to remove the endcaps. Some manufacturers offered optional tools to push baffle stacks out of the tubes to minimize the possibility of damaging them. New baffle stack and monocore designs made it less likely that the customer could assemble their suppressors incorrectly.
Owners of older, factory sealed suppressors began to seek ways to upgrade their cans to a user serviceable configuration. Seeing a business opportunity, enterprising Class II manufacturers began to offer a service to open up sealed suppressors, and clean or replace their internal components. This service added a new term "jail break" to the NFA community lexicon, referring to the opening up a formerly sealed suppressor tube, making it user serviceable. Some suppressor manufacturers offer the service on their products, and there are a few independent companies that will perform the work on most suppressors, regardless of the manufacturer.
Now that user serviceable suppressors are common, there are a few caveats. If not disassembled and cleaned on a regular basis, the endcaps may be difficult to loosen and the baffles inside the tube can become extremely hard to remove. Attempting to disassemble a heavily fouled "user serviceable" suppressor can often result in damaged baffles or worse, a permanently damaged tube. There also exists a potential health hazard after exposure to lead and other contaminants present in a suppressor. However, as long as the suppressor owner remains aware of the negative aspects, they should not encounter any problems.

Suppressor Cleaning
After disassembly, there are a number of different methods for cleaning baffles and tubes. The options include chemicals, ultrasonic cleaning or media blasting. The method used on any particular unit depends on what materials were used in its construction. When possible always follow the manufacturer's recommendations. Using the wrong method when cleaning suppressor components can lead to permanent damage. When using chemicals, be aware there can be potential health and environmental concerns when disposing of contaminated liquids.
The Gemtech Outback Suppressor
Gemtech's Outback .22 caliber suppressors, first introduced in 1999, have been very popular among suppressor aficionados. The first Outback models had aluminum baffles inside a non-customer serviceable factory sealed aluminum tube. One concern customers expressed with the original Outback model were the ½-28 threads used to attach the suppressor to a barrel were also aluminum. Some were afraid that the aluminum threads could be easily stripped by over tightening or cross threading. According to the company, of the thousands of Outback suppressors sold, only two were returned to repair their threads. In both cases the threads were still safe and met ANSI standards. However, Gemtech listened to their customers and changed the thread insert to titanium on the new Outback II in 2003. Titanium was chosen over stainless steel because stainless threads have the propensity to gall if the weapon's barrel threads are a few thousands oversize. Galling can make the suppressor very difficult to remove, increasing the chance of damage to both the barrel and suppressor.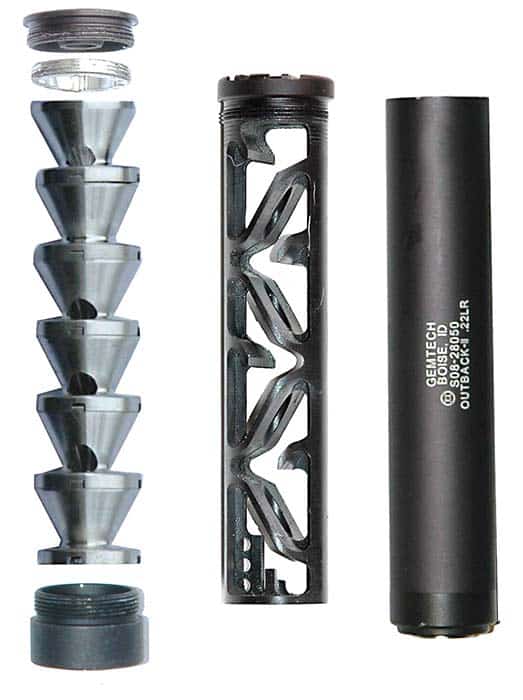 The manual that came with the original Outback stated that the factory "discourages any attempt at disassembly of the unit. Internal parts orientation is critical to the efficient operation of the suppressor, and reassembly requires special tooling and jigs available only at the factory. Any attempt at disassembly will void the warranty".
During 2011, Gemtech began to manufacture the user-serviceable .22 caliber Outback II D with a removable front cap. The rear endcap was secured with Loctite, as removal and replacement could affect alignment and runout. During manufacture, the titanium thread insert is internally threaded after the rear mount has been secured in place with Loctite to guarantee true running. The baffle stack can be pushed out from the rear with a 3/8" wood dowel.
At the same time, the company began to offer a customer program to update older Outback and Outback II suppressors with the latest baffle design and removable endcaps.
For their 20th anniversary in 2013, Gemtech offered their Limited Edition Outback II T model made of lightweight titanium. The tube of the Limited Edition Outback is a silver satin color.
During 2014 Gemtech introduced a new .22 rimfire suppressor, the GM 22. In place of conventional baffles, the new GM 22 features Gemtech's patented G-Core, a one-piece CNC machined 7075 aluminum monocore design. In addition to .22LR, the GM 22 is rated for full-auto fire (.22LR only) and for .22WMR and .17HMR cartridges. The overall length of the GM 22 is 5-inches, with an outside diameter of 1-inch, and a weight of 2.5 ounces. The finish is high temperature MIL-A-8625 hard anodize. The one-piece G-Core design makes disassembly easy with common tools, and simplifies cleaning.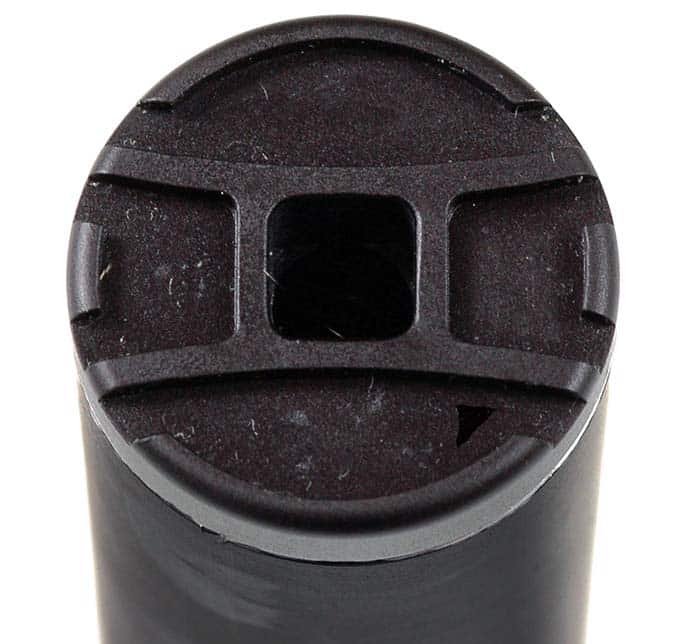 For customers who own older Gemtech Outback, Outback II, Outback II D or Alpine suppressors, the company offers the Improved Outback Upgrade program. The service includes opening up the original tube, removing the old baffles, and installing a new one-piece G-Core. After the upgrade the G-Core Outback is rated for .22WMR and .17 HMR calibers. The G-Core makes disassembly of the Outback for maintenance easy. The upgraded suppressor is returned to the customer in a new box with a manual, Molle pouch and G-Core patch. The G-Core upgrade can also be performed on number of competitor's .22 caliber suppressors.
Gemtech also manufactures a Quick Detach Adapter system that allows the installation or removal of any .22 caliber suppressor in seconds. The adapter, made of high strength aluminum and stainless steel, is a smaller version of Gemtech's popular 3-lug Quick Mount system used on their 5.56 and 7.62 suppressor applications.
To enhance suppressor performance, Gemtech offers their own brand of .22LR caliber ammunition manufactured to their specifications. The Gemtech ammunition features a special 42-grain round nose bullet with a premium lubricant and a cleaner burning powder. The subsonic velocity is 1050 feet per second. The brass case is engraved with the Gemtech logo headstamp.
This article first appeared in Small Arms Review V20N3 (April 2016)