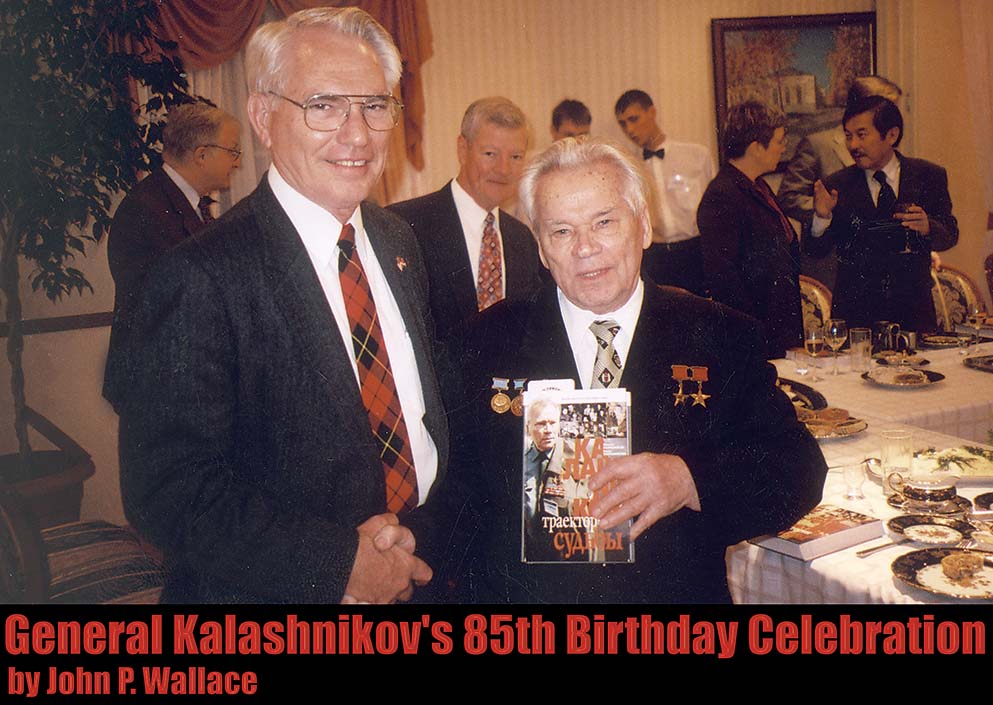 By John P. Wallace
"I can quote from many letters where the soldiers stayed alive in battle and thank me and my machine gun. I understand if someone pulls a trigger and someone's mother is left waiting for her son. It's terrible! But, you are wrong if you think there will be peace in the world without Colt and Makarov, Galili and Dragunov, Stoner and Kalashnikov. Instead of guns, people would find another way to kill. Everything I have made is for the defense of our Homeland. We must blame the politicians if the guns are in the hands of the criminals, terrorists and extremists." – General Mikhail Kalashnikov, interviewed in "Komsomolskaja Pravda"
On November 10, 2004, General Mikhail Kalashnikov, Russian Hero and Outstanding Firearms Designer of the Twentieth Century, celebrated his 85th birthday. In attendance at many of the celebration activities held in Izhevsk, Russia were a handful of overseas friends and visitors. Four members of the Virginia Gun Collectors Association (VGCA), Addison Hurst, Ed Costello, Bill York and the author, John P. Wallace, celebrated with him and spent two weeks touring museums in Moscow, Izhevsk and St. Petersburg. Also in attendance at the celebration activities and part of this group were Virginia Ezell (widow of Dr. Edward Ezell, noted firearms expert and author), Richard Jones (Custodian of the Pattern Room Firearms Collection, Royal Armouries, Leeds, England), Masami Tokoi (noted Defense Weapon Researcher and Writer), Peter Kokalis (Shotgun News) and Peter Van Collem (Shotgun News).
SAR has presented numerous articles on General Kalashnikov and his designs, and previously covered the General's Eightieth Birthday Celebration. Let's hope we can be in attendance at his Ninetieth! This article is presented as a travelogue, covering the experiences the group had on this visit to Mother Russia. There is more interesting historical information on the General coming in future issues of SAR.
The VGCA story began in 1990 when Dr. Ed Ezell, then curator of the Smithsonian Firearms Collection, approached the author and asked if VGCA could fund a trip for General Kalashnikov to come to the United States to be filmed and interviewed by the Smithsonian along with Eugene Stoner, the inventor of the M16 rifle system. The VGCA took on this historic task and brought the General, his daughter and an interpreter to Northern Virginia in May, 1990. They all spent a week at the NORVA (a Virginia shooting club) facilities near the West Virginia border with Dr. Ezell and his crew and Eugene Stoner. Thus began a lasting friendship between the General and Eugene Stoner, and VGCA and NORVA members. He was entertained at their homes, taken hunting and fishing with members, shown the sights of Washington, DC and hosted at the U. S. Marine Corps Base, Quantico, Va. The General made several subsequent trips to the United States over the years and each time was met and hosted by the club members. Several of the members attended his 80th birthday celebration in Russia in 1999.
Highlights of the 2004 visit were the birthday celebration activities and visits to the various firearms related museums. On November 9, at the Technical-Science Conference held at the Izhevsk State Engineering University, General Kalashnikov received an honorary Doctor's Degree and was presented a new hunting carbine, made by Baikal, serial number one. Baikal is among the world's largest manufacturers of sporting and hunting arms. On November 10, the VGCA group and others visited the Kalashnikov Arms Museum, newly opened and funded by the Kalashnikov Foundation. There were great photo and arms displays of the General's life, his designs and inventions. Included were all models of firearms he designed and his old work bench and drawing board. Later the group visited the Baikal Plant, met with the corporate executives and visited the School of Engravers. These were all young male and female apprentices working at their trade of making shotguns from scratch and working through all the polishing and fitting of the metal and the wood. Two rooms were full of young apprentices working diligently at engraving shotgun receivers and pistol slides, all under the watchful eye of the Master Engravers. One large room contained examples of their work along with that of the Master Engravers. Quality workmanship and beautiful pieces of art were displayed in the firearms located there. One particular shotgun had been chosen as the Number One Engraved Shotgun in Russia last year. The group then visited the Mechanical Plant Shooting Range. On display were all of the firearms currently manufactured by Baikal, including shotguns, pistols, air guns, sub-machine guns and a new line of rubber bullet pistols. The group was invited to shoot whatever they wished. The range was set up with electronic targets that showed all hits on a screen. Of note were the following firearms:
. KEDR Sub-machine gun. Chambered in 9mm with a cyclic rate of fire of 1,200 rounds per minute, it is very compact with a folding stock. It has a fluted chamber that causes the casing to expand into the flutes and slow down the rate of fire. Otherwise, the weapon would fire too fast and be uncontrollable. It was fairly easy to control on short bursts, was light weight, collapsible and easy to operate. It was originally designed by Eugene Dragunov and finished by his son, Mikhail Dragunov, who was one of our guides and interpreters. He is currently the leading designer for Baikal. The KEDR is made primarily for use by the Russian Security Forces.
. GRACH, 9mm, military pistol, known as the model GP 35. It is a very large pistol, similar to the Sig P226, but much heavier and bulkier.
. VIKING. It is the same as the GRACH but with a synthetic frame and chambered for the 9mm and the .380 Makarov.
. SKYPF. Named after an ancient tribe on the Baltic Sea, it looks just like the standard Makarov pistol but fires a 9mm rubber bullet. It comes with either a thick frame or a thin frame. This rubber bullet semi-automatic pistol is approved for civilian use.
It is noted that handguns in general and all handgun live ammunition is prohibited for use by civilians in Russia. This SKYPF pistol fills the demand for target shooting and self defense in the civilian market. It was extremely accurate at the seven yard range. The range personnel noted the rubber bullet pistol can chamber and fire a live 9mm round, but it would be disastrous to the shooter as the barrel has a squeeze bore. They did not seem concerned that a live round would ever be considered to be fired in this pistol and that someone could illegally manufacture a barrel for live rounds.
On November 11, the group visited the ISHMASH Museum near the man-made lake and large old armory buildings in Izhevsk. ISHMASH manufactures Russia's military arms. It is said that during World War Two, enough small arms were manufactured each day at this armory to outfit a complete Russian division. The Museum told the history of the arms makers of Izhevsk. A large collection of rifles dating back to 1805 held many specimens of flintlocks, percussion, breech loaders, bolt, semiautomatic and full automatic firearms. There was a nice display of target and air rifles. One room contained machine guns, aircraft machine guns and aircraft cannons. Another room exhibited a large collection of motorcycles manufactured there. There were glass cases full of all the models of the Kalashnikov rifles. There were examples of the new Nikonov series of rifles currently under consideration for adoption by the Russian military. There was a fine display of miniature firearms and a great collection of Dragunov Sniper Rifles.
Birthday activities that evening included a grand Gala Celebration at the Izhevsk Opera House with over 700 invited guests and a small sit-down dinner with over 150 special guests, including Russian Generals, top Russian politicians, executives from the Russian manufacturing companies and the VGCA group. Top executives from Remington were also present and indicated Remington had entered into an agreement with Baikal to import certain Baikal shotguns and sell them under the Remington Logo.
The next day, November 12, found the group at a local gun shop. Well stocked with lots of hunting rifles, clothing and accessories, it also held a nice display of air guns, the rubber bullet pistols, as well as demilled military rifles and machine guns As it is illegal to own a live pistol or live pistol ammunition in Russia, there is quite a demand for the rubber bullet pistols. The next stop was the local liquor store where some of the group purchased a full size AK47 rifle made out of glass and filled with vodka, complete with a military style carrying case. On to the Izhevsk City Museum which also had a small collection of hunting and military firearms from the past two centuries. That evening the group was able to honor General Kalashnikov at a small private dinner party with only his family, the VGCA group and friends present.
The group's time with the General was over and they went their separate ways. The VGCA members returned to Moscow and on November 14, visited the magnificent Great Patriotic War Museum. It is a treasure trove of World War Two artifacts from the Russians, Germans and Americans. It has three floors of exhibits showing artifacts, weapons, equipment, vehicles, photos and huge dioramas of famous Russian battles. Behind the museum is a huge field of military aircraft, artillery, vehicles and tanks, all dating from the 1920's to the present. Next was the Central Armed Forces Museum located several subway stops away. This was a collection of two floors of fantastic military and firearm displays from the 18th century until today, including a great display of the Kalashnikov series of weapons.
On November 15, the members visited the Armory Museum in the Kremlin. Again, a fantastic display of thousands of artifacts, paintings, clothing, suits of armor, armored horses, church ornaments, silver and gold items, jewels, firearms, cannons, furniture and carriages from the past nine centuries.
The following day the group was in St. Petersburg and visited the Hermitage, the Winter Palace of the Czar. It houses 3.5 million items including paintings from all the world's most famous artists, furniture, carriages, jewelry and lots of antique firearms.
November 17 found the members at the Naval Museum housing a tremendous display of items. There were hundreds of large model ships, cannons, paintings and uniforms, all displayed on three floors in a magnificent historical old building. In the lobby, visitors can shoot a live AK74 rifle that has been modified to shoot light rays with the hits being recorded on a computer screen and printed out.
The VGCA members last full day included a visit to the Artillery Museum. Once more a tremendous overwhelming display of items dating back from the 1500's to modern times. There were dozens of artillery pieces, tanks, rocket launchers, trucks, armored personnel carriers and other vehicles parked in the courtyard. Inside were three floors of many huge rooms filled with everything imaginable relating to the military. Rooms were dedicated to the Russian history of each department of the military such as artillery, transportation, infantry, communications, engineers, etc. There were lots of small arms exhibits with many experimental models. Displays showed artifacts from various Russian wars through the ages, especially World War Two. Included were General Poilus' field telephone he used at Stalingrad, many unique weapons such as a revolving wheel containing two dozen horizontal mortar tubes, a 1752 huge siege gun on a carriage, a 1757 iron wrapped barrel cannon, and an 1889 Maxim-Nordenfelt Machine Gun in 10.68mm with serial number 156. Signage indicated this was a very early gun and was used in the Russo-Japanese war. The museum will open a huge Kalashnikov firearms display later this year. There was also a great display of experimental loading devices and extended magazines for early bolt action rifles of all descriptions.
This trip was a unique opportunity to visit with one of the great living firearms designers, pay him just honor for his life's contributions and to enjoy the wonderful and beautiful museums of Russia. Russia is a great repository of firearms and history. It is now accessible to all those truly interested in firearms, their development and ultimate use.
The author, John P. Wallace, is a former U. S. Marine Captain and a retired FBI Agent, having served 25 years as a Special Agent. Wallace was a full time firearms instructor for the FBI for 9 years, and was the principal firearms instructor for the FBI Washington Field Office, and responsible for the training of 600 Special Agents and 14 police agencies in the DC area. His training regimen included New Agent training up to Advanced SWAT training. He is a noted gun collector and can be seen on the History Channel's "Tales of the Gun" segment on the Thompson submachine gun.
This article first appeared in Small Arms Review V8N8 (May 2005)