By Kyle Shea
Firearms of The League of Extraordinary Gentlemen, Part 2: Nemo's Guns
Captain Nemo, or Prince Dakkar, was the fictional son of an Indian Raja of Bundelkund. When he lost his family and his kingdom to the British during the first war for Indian Independence, he devoted the rest of his life to scientific research and built the first real submarine, the Nautilus. He spent most of his life sailing under the sea, taking sunken treasure and occasionally sinking ships, especially British ones. In "The League of Extraordinary Gentlemen," Nemo is a Sikh who agrees to help the British government stop the Fantom from starting a world war.
Nemo's crew carries silver coated Sten Mk II Submachine guns. Plastic movie props cover some parts of the guns, attempting to give them a Victorian feel. There are a few scenes with the crew using them, including fighting against an armor-plated man marching toward them. Nemo mostly uses a sword in his fights, but he does use a Tokarev TT-33 painted silver with an ornate shell on it. The only scene in which he uses it is against the armored man mentioned earlier.

The Sten Submachine Guns were first used during WWII, where the British were trying to come up with a cheap but effective weapon to use in case of a German Invasion. The men who designed it were Major R. V. Shepherd and Mr. Harold John Turpin and as we've noted in SAR before "STEN" reportedly stands for Shepherd, Turpin and Enfield where the Sten was manufactured. It was used throughout WWII and in other conflicts afterward, including the Israeli War for Independence, the Korean War, The Malayan Emergency, the Mau-Mau Uprising, Vietnam, and the Irish Troubles.
The Tokarev TT-33 was designed prior to WWII, it was designed to replace the Nagant M1895 Revolvers, the common pistol in the Russian army. The designer was Fedor Tokarev, who also designed the TT-30 pistol and the SVT-38 and SVT-40 Self-loading rifles. After WWII, it saw action in many other conflicts, including the Chinese Civil War, Vietnam, and the Soviet Invasion of Afghanistan. The Tokarev pistol has been manufactured in many countries including China, Romania, Yugoslavia and Egypt. Perhaps the most famous image of the TT-33 was a photo of a political officer, Alexey Yeremenko, leading a charge against German positions, in which he reportedly died.
As mentioned in a previous article, "The League of Extraordinary Gentlemen" was not a great movie, though it is still worth a watch. Captain Nemo himself is played by Naseeruddin Shah, who is an Indian film and stage actor and director. He has also won a number of film awards and even received the fourth and third highest civilian awards from the Indian Government. He does alright as Captain Nemo, though nothing of high praise. Something worth a look though, is the book Captain Nemo himself is from, 20,000 Leagues Under The Sea.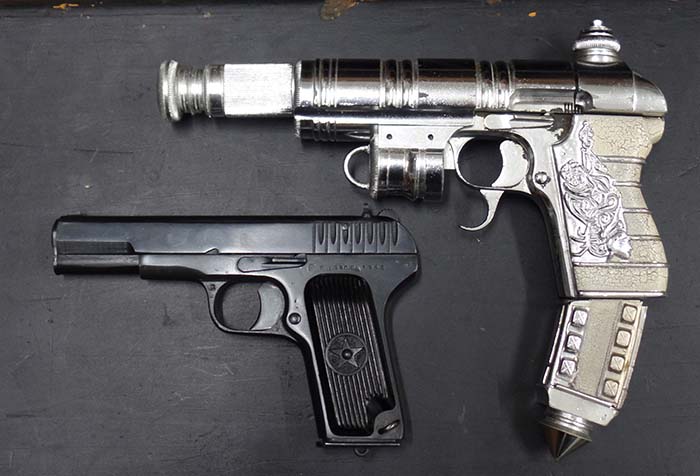 Movie Armoury- Bapty Ltd,
London, England
Sten Serial Number: Unknown.
(It was covered in the clam shell.)
Tokarev TT-33 Serial Number.
(0826: covered in the clam shell)
This article first appeared in Small Arms Review V20N8 (October 2016)