By Kyle Shea
The Guns of the Lara Croft- Tomb Raider: The Cradle of Life
Angelina Jolie as Lara Croft – Tomb Raider came out in June 2001. It did well at the box office, but was received poorly by critics, even getting a Golden Raspberry Award. It was certainly no Casablanca or Avengers, with an okay storyline and somewhat questionable acting. The action scenes were very good but could not save the film in the eyes of critics. Its sequel, Lara Croft – Tomb Raider: The Cradle of Life, did a lot better, though still not usually considered a classic.
The movie was based off of the video game franchise of the same name. The main character, Lara Croft, is a British archaeologist that travels the world looking for ancient relics. With more than fifteen games and two movies, she has become a video game icon and one of the most recognizable characters in that industry.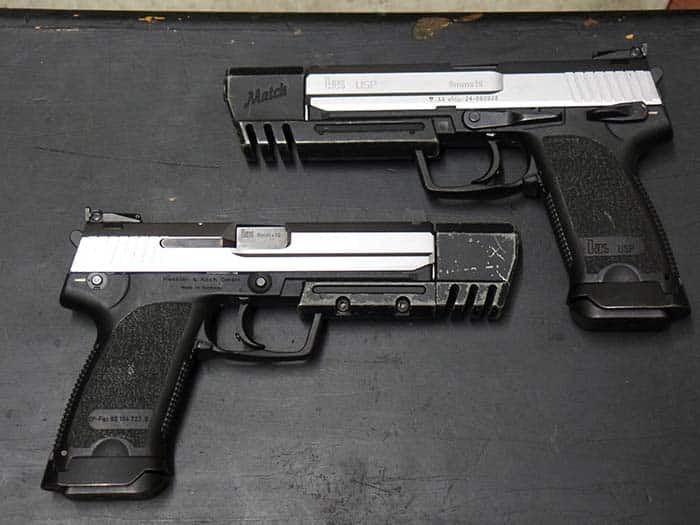 The handguns "Lara Croft" uses in the first movie are a pair of Heckler & Koch USP Match 9mm handguns. The USP Match was made for American markets and is quite well respected and popular. Designed for target shooters, it was discontinued in 1999. It was also used in other movies like Blade 2 and 3, Underworld, and The Transporter 2.
The two pistols made up for the movie are unique, with a custom made ambidextrous slide release for the one she was shooting with her left hand. This was for the scenes where she had to rapidly reload the pistol. Using her thumb, she released the magazine clip, letting it drop to the floor, and then reloading it with custom mag loaders attached to her belt.

The scenes where the USPs were used the most in the movie include the opening scene were Lara Croft is fighting a robot, shooting at it as it runs around her. One memorable scene is when she enters a temple and battles an army of living statues with a sword. After slicing down one statue, she turns to see another statue raising a weapon to attack her, where she promptly smiles, draws one of her pistols and shoots it in the face. Later, in the same temple, a large guardian statue with multiple arms comes to life and starts coming after her. She proceeds to shoot both guns repeatedly in its face, only for its head to turn and reveal another face on the side.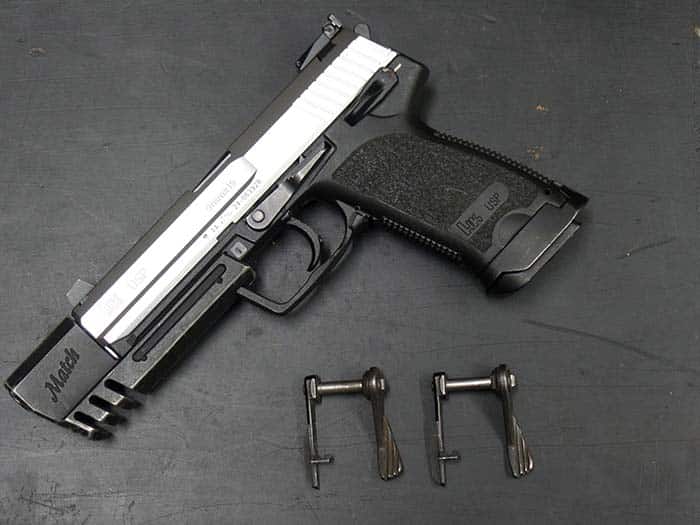 As mentioned before, the film is not considered a classic, but it is a fun to watch film. Angelina Jolie does an excellent job as "Lara Croft," both in the first movie and in the sequel. The main villain is interesting, the special effects are now dated, and the story is nothing special- it's made off of a video game theme. Still, it's a fun movie with humor and good action.
"Lara Croft's" two HK USP Match pistols from Bapty Ltd in London, the company that supplied the armorers and firearms on the set: Serial Numbers- 24063928 and 24063929.
This article first appeared in Small Arms Review V20N4 (May 2016)