By Tracie L. Hill
John's Machine and Stamp Works Company made the first Type C and L drums including the serial numbered C and L drums from the Colt's era. The C drum was quoted for additional production several times but seems to never have been produced again until 1990 by Numrich. This first supply of drums lasted until 1927. The tooling was then sent to Stanley Works Co., New Briton, Connecticut. Why was the tooling moved? Probably so as to keep the production of drums closer to Colt's and the remaining Auto-Ordnance personnel. By this time the Cleveland office had been closed and all work was now done from Colt's South Armory building, third floor.
Stanley used the existing tooling from John's and produced only the Type L drum. However, new dies were produced to mark the face plates. The front face plate now showed the winding information for the Model of 1928. The back face plate still had space for the serial number, with no numerical information. Thus, Stanley produced what we today call the "No" number drum magazine.
Unfortunately, the relationship between Auto-Ordnance and Stanley was not a "good" relationship. Evidently, Stanley was a lot of trouble. Stanley was only doing the forming of the individual parts of the drum magazines. Another company by the name of Fenn Manufacturing was doing the assembly of the L drums. This may explain why collectors do not see many of "No" number drums.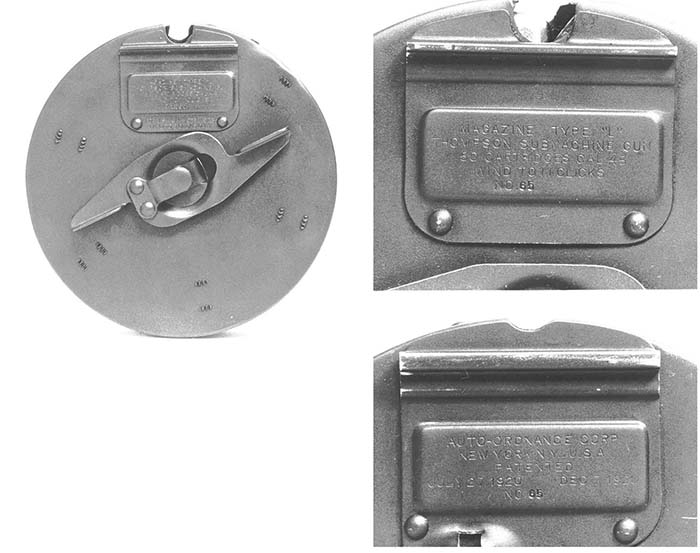 Auto-Ordnance hired Oscar Payne to be a consultant (in his spare time) to help out with the production of new drum magazines. Oscar Payne and Auto-Ordnance next approached Wooster Press Steel Co. (WPS), in Wooster, Massachusetts. Wooster was very enthusiastic about the project and by January 3, 1928, all of the tooling was again moved, this time to WPS and was put under the supervision of Mr. Royal Bongantz of WPS.

New dies were made to change the markings on the rear face plate to completely remove the serial number information. It took WPS several months to get production started, which caused a drum shortage. While the production was at WPS, the drum face plates went through at least four sets of tooling.
The tooling was again moved about 1939 to Mitchell Stamping Co., Philadelphia, Pennsylvania, which later became a division of United Specialties, Chicago, Illinois. The drums may have been made at either of United Specialties Pennsylvania or Illinois factories.
This article first appeared in Small Arms Review V9N3 (December 2005)