By Robert M. Hausman
(Editor's note: Readers who are planning on attending this year's Soldier of Fortune Convention in Las Vegas and have scheduled themselves a little sightseeing time will probably want to visit this museum. The historical cars are of great interest to many of us who cover small arms, as the leaders of the countries involved in many of the conflicts expressed much of their personality in their vehicles.)
While not a firearms museum, the over 750 antique, classic, special interest and military origin vehicles comprising the multi-million dollar Imperial Palace Hotel auto collection in Las Vegas, Nevada holds much of interest to small arms collectors and shooters.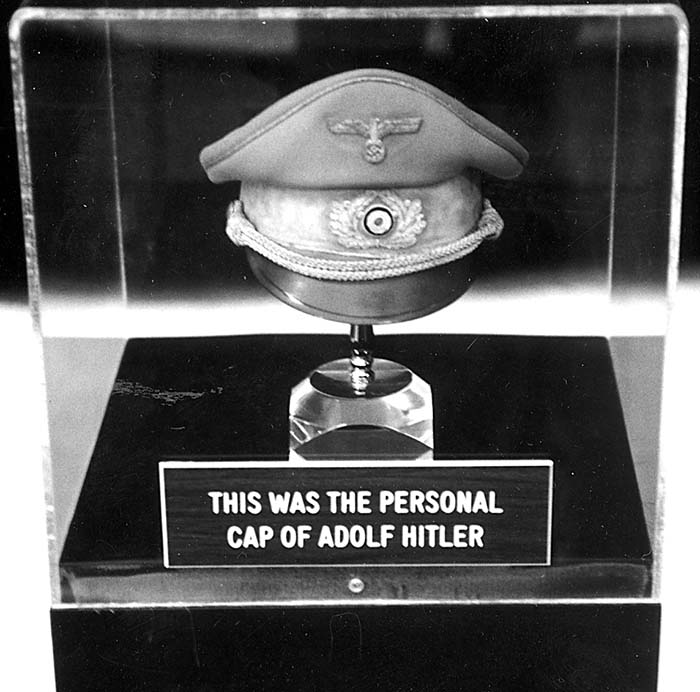 Many gun aficionados started out early in collecting life by restoring old jalopies to running condition. While later moving on to firearms, many still retain an interest in automobiles. One of today's premier firearms manufacturers, William B. Ruger, has an automotive interest as well, and maintains a large car collection. The collection will also be of interest to students of military history.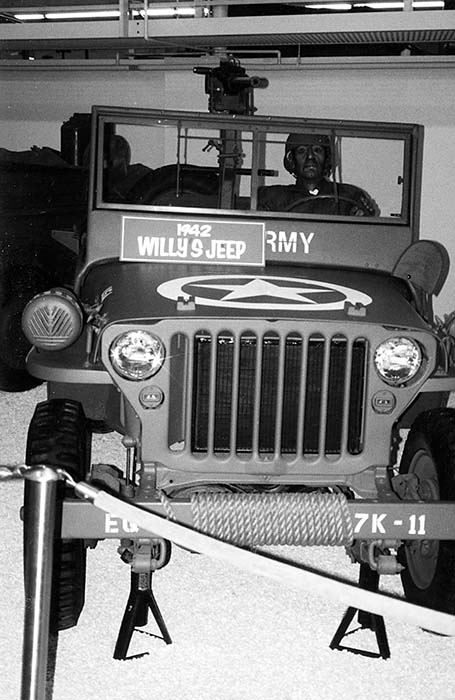 More than 200 vehicles spanning nearly 100 years of automotive history are on display at any given time in a plush, gallery-like setting comprising 65,000-square-feet on the fifth floor of the Imperial Palace's parking facility. While the main focus is on civilian vehicles, there are a number of military origin pieces in the collection. These specimens run the gamut from motorcycles, to trucks, tractors and amphibious vehicles. There is the image of power and simplicity presented by a 1940 Dodge Command Car, to an American paratrooper's lightweight bicycle, to one of the largest military personnel carriers ever built – the German Krausse Maffei.
Hitler's Vehicle
The Leader's Row section of the museum contains a 1939 Mercedes Benz, 770K, one of several bullet-resistant vehicles manufactured for Adolph Hitler. The Mercedes weighs 11,960 pounds and is 20-feet long, 7-feet wide and can carry up to 9 passengers. The car contained solid rubber, bullet-resistant tires as well as bullet-resistant wheels. All of its seven windows are bullet-resistant and two-inches thick. The floor is mine-resistant, while the doors (weighing 900-pounds each) contain one-and-a-half-inch thick armor plate, and the rear is protected by a large shield. While this car was being built, Hitler visited the factory to inspect its workmanship and personally tested the armor plating by firing two pistol rounds into the right rear quarter panel. While he had several armored vehicles, this particular car was the only one built from the ground up specifically for Hitler. This is the same vehicle used on June 18, 1940 that appeared in the famous photographs depicting Hitler and his Italian counterpart, Benito Mussolini, standing and riding in this automobile in Munich, Germany. Hitler also rode in this vehicle during the Berlin victory parade on July 6, 1940. While being a short man, Hitler's front right seat could be folded back to allow him to stand at a higher elevation to appear as if he were much taller. There is also a compartment in front of Hitler's seat where a pistol was stored.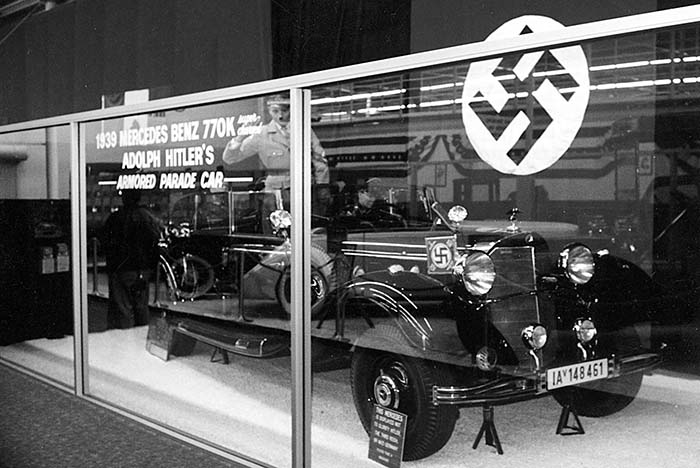 Mussolini's car
Along the same lines, the 1939 Alfa Romeo Tipo 6C 2500S Berlinetta, formerly owned by the Italian dictator, Benito Mussolini, may be seen as well. This car was part of a convoy traveling from Milan in April 1945 when it was stopped by partisan forces just before the town of Dongo, on the western bank of Como Lake. Mussolini's lover, Claretta Petacci, who had been given the car as a gift by Mussolini, was present, as was her brother Marcello, who was driving. Also riding in the vehicle were Zita Ritossa, Marcello's companion, and their two children. Mussolini himself, was found hiding in another convoy vehicle, a German truck. He was wearing the overcoat and helmet of a German Luftwaffe Corporal.
Nearly all the members of the convoy were executed on the spot by the partisans. Marcello Petacci, who tried to flee, was shot at the edge of the lake. Mussolini and Claretta were taken to a small house and kept overnight. This was the first (and last) time they had spent the entire night together. For the next morning, the pair were taken outside and executed by Communist partisans. The identity of those who fired the rounds is still a mystery. After the executions, the two bodies were taken to Milan and exposed in Loreto Square, hanging by their heels.
The Alfa Romeo was kept in impoundment by the local Italian police until an American soldier brought it to the U.S.
Other historical vehicles in the collection include Japanese Emperor Hirohito's 1935 Packard, the last Russian Czar Nicholas II's 1914 Rolls-Royce Silver Ghost, the former Argentine strongman Juan Peron's 1939 Straight-8 Packard and former Mexican President Lazaro Cardenas' armor-plated 1939 V-12 Packard. Al Capone's 1930 V-16 Cadillac is one of the museum's biggest attractions.
Contact Info.
To keep the collection interesting for repeat visitors, several vehicles are rotated from storage to the display area each month. Open daily from 9:30 a.m. to 11:30 p.m., admission is $6.95 for adults and $3. for children. Nearly 50,000 visitors come in every year. For more information contact the 2,700-room Imperial Palace Hotel & Casino, 3535 Las Vegas Blvd.So., Las Vegas, Nevada 89109. Telephone: (702) 731-3311 or toll free (800) 634-6441.
This article first appeared in Small Arms Review V1N12 (September 1998)