By Matt Smith
In Memoriam
John Ross Weaver, Jr.
June 29, 1958 – October 23,1999
Just as this article was going to press, John Weaver was involved in a traffic accident which led to his untimely death. John is survived by his wife Debbie and sons Daniel, 9, and John, 13. Business associates will continue to operate JRW Sports to take care of pending transfers, repairs, and product orders. Contact the shop if you have any questions. Cards and donations should be sent to the family c/o JRW Sports, 1401 South Ridgewood #4, Edgewater, FL 32132
John Weaver is one of a handful of Class II manufacturers who can do it all. While many manufacturers concentrate their efforts in one or two areas, John is able to provide goods and services to the Class III world in almost every facet imaginable. JRW Sports, based in Edgewater, Florida, manufactures silencers, machineguns, full auto conversions, Glock stocks, M60 parts, H&K modifications, caliber conversions, magazine upgrades, firearm refinishing, custom knives, and gunsmithing.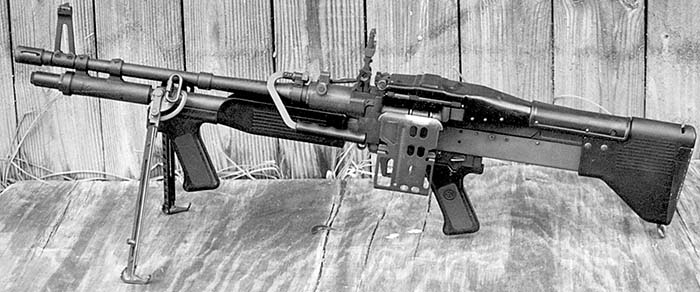 John bought his first two machineguns in 1988, which included an M16 and an HK auto sear. The following year, he obtained his first Federal Firearms License, and in 1991 started paying his Special Occupational Tax as a manufacturer. The first items he manufactured were AOW shotguns, post sample machineguns, and then suppressors. John had limited experience with suppressors until he obtained some for customers, as well as for himself, through trades. Other trades netted Sten tubes and an M60, which gave John a chance to work on his welding skills. In the beginning, John's Class II manufacturing was done on a part time basis, but as customer requests kept building, the business quickly turned full time in 1995.
Different suppressor details and features were studied and modified by John in his early efforts, until he arrived at a totally unique and efficient baffle design. He now has a full line of effective silencers from .22 to .50 caliber. In 1992, the semi auto M60 became a serious project, as well as HK modifications. HK work includes installing barrels, flapper magazine release levers, cutting down full size rifles to the shorter 51's and 53's, refinishing and building the integrally suppressed SD's. In 1995, John sold the bulk of his transferable machineguns and put the money into manufacturing equipment. He started manufacturing his own M60 components because of the limited availability of good parts in the marketplace. A year later, he started manufacturing folding Glock stocks, and designed a custom knife. Until 1998, much of the machining work was subcontracted out to others. John then obtained Computer Numerically Controlled (CNC) equipment, including a lathe and mill, and now manufactures all of his own parts, with the help of three additional machinists. CNC manufactured parts include the TEK 10/22 full auto parts, Colt magazine followers, magazine well blocks, and barrels (all of which are manufactured with permission), M60 rails and trunions, and HK MP5 standard and SD barrels.
Last year, John got serious with the .223 caliber conversion for the M60 machinegun. He now manufactures complete conversion kits, which are available through Vic's Gun Corporation in Missouri. The manufacturing business is now at the point where John can concentrate on research and development and turn over mass production to his machine shop employees.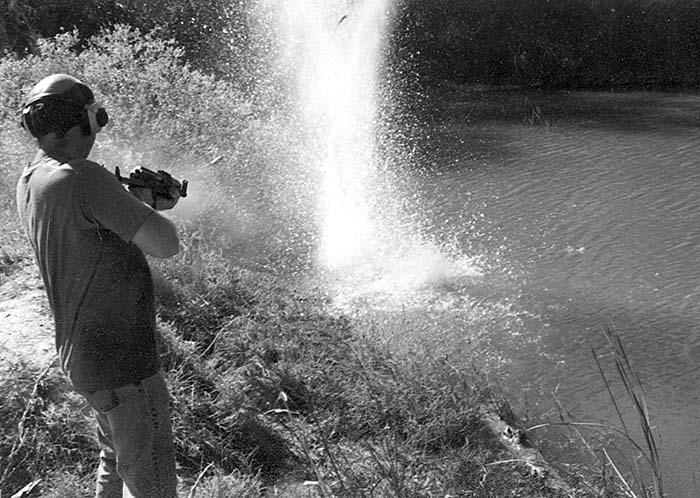 One of John's latest efforts has been to open up an outside firing range on 100 acres of land close to Orlando. The range includes a 1000-yard rifle range, as well as 100 and 200 yard ranges for machinegun rentals. Rental guns include beltfeds, such as the standard M60, .223 M60, RPD, M1919, PKM, Minigun and MG74, and other machineguns including HK MP5, HK 53, G3, Colt M16 in 9mm and .223, Swedish K, Glock 18, Greasegun, Scorpion, and a select fire Remington 1100 shotgun. Other plans for the range include high explosive and pyrotechnic demonstrations in the future. Scott Quinn is a partner in the outside range. Scott owns Mid-Florida Gun Sales, an indoor shooting range and gun shop including Class III firearms.
When you ask John why he started building his own M60's, he will tell you that it's because many of the M60's built by others have quality, dimensional, and functioning problems. He started by first building parts for repairs and for sale to others. After seeing so many poorly made M60's, John decided to start building entire guns using the parts he was now manufacturing. John gained quite a reputation as a manufacturer of quality parts and firearms. JRW Sports likely manufactured many of the parts and guns you see for sale by others. The M60 is a very reliable and simple gun to work on. Most of the problems with the M60 stem from soft or out of tolerance parts.
When John first got into manufacturing M60 parts, he was on a limited budget. He took the money he had available and contracted out the parts. His plan was to complete one item, sell them, and roll the money back into the business to continue manufacturing more of the needed parts. The first item manufactured were M60 trunions. The money from the sale of the trunions was then used for the manufacturing of M60 rails. Following the M60 rails were the semi-auto M60 rails, which then allowed for the manufacturing of the numerous small components required to assemble complete weapons. Within a year from the start of this process, JRW Sports was manufacturing complete semi-auto M60 receivers for sale. Production of complete receivers started at about 20 per year, with many more do-it-yourself kits sold to others. An even greater number of post sample receivers and full-auto M60 machineguns sold to law enforcement and for export have been made in comparison to the semi-auto M60's.
The .223 caliber conversion kit for the M60 is finally in production. John has been working on this for a couple of years and has delivered the first units to the marketplace. The kit includes a brand new barrel assembly in either the E-3 Shorty or standard length. Right now, the customer must supply the gas system for the E-3 Shorty, but JRW Sports will be manufacturing their own gas system in the near future. The new variable gas system will eliminate the problem-prone operating rod tube. Other kit components include the bolt assembly, feed tray, and top cover parts. Customers who supply bolts, feed trays, and top covers for the conversion receive a discount. John's test gun has been shot so much that there's no rifling left in the barrel, the bolt is chipped, and the gun still runs flawlessly. This gun is used to give demonstrations with 300-400 round belts typically fired, but has also been used with up to 800 rounds fired in a single demonstration. The gun will get so hot that you are unable to hold on to it. This system uses the standard Minimi links and the smaller caliber reduces wear to components of the gun.
The lightweight .308 M60 is currently being developed by JRW Sports. This system will use composite parts for the top cover, receiver, and barrel with the target goal of 14 pounds for the complete system. The .308 round has a lower cyclic rate and superior ballistics in combat as compared to the .223 Minimi. If John is successful in reaching this weight goal with parts that are durable and reliable, this could be a rebirth for the venerable M60 machinegun.
Another manufacturing project is the Colt 9mm magazine well adaptor. These adaptors allow .223 weapons to be converted to 9mm without permanent modifications to the host weapons. The blocks are held in place with setscrews rather than drilled roll pins as found on factory Colt 9mm firearms. You simply install these, put on your 9mm upper, and you're ready to shoot. John is now working on a one-piece design, rather than a two-piece design, for even better alignment in the weapon.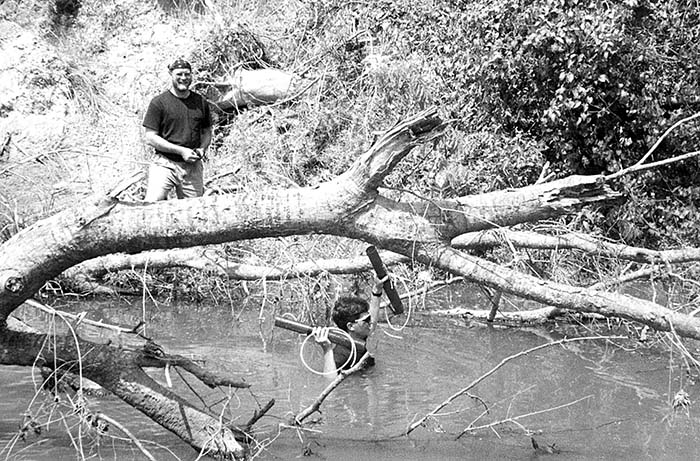 The folding Glock stock has been a very successful project for JRW Sports. John got the original idea from a similar stock made by Rikert, which was owned by Charlie Allen of University Gun. These stocks were crudely made, and John knew he could take this basic idea and improve it using CNC manufacturing. Charlie brought the stock over to John's shop where it was examined and improvements made. Sixty units were produced in about three weeks. During the same time, two additional improvements were made, including the lock mechanism. Then an additional 750 units were manufactured in two different production runs. Enough effort was put into this stock that it was patented with eleven separate claims. Interest in the stocks has been as great in Europe as it has been here in the United States. John furnished some of the stocks to the GSG-9 German Special Forces and Austrian Army personnel at a recent SWAT Round Up in Orlando, as well as to an FBI field team. The success of the stock has mainly been attributed to word of mouth and some limited advertising. Adaptors are available so that it will fit on most sizes of Glocks, including the 26, 19, and 17 models.
John started working with Joe Gaddini on 9mm suppressor designs a couple of years ago and together their work has become state of the art. They now offer a Colt 9mm SD ported, integral suppressor, as well as an HK MP5SD suppressor using John's CNC manufactured baffles and barrels. The newest prototype can is amazingly quiet. John's .308 suppressor is in the hands of the Navy Seals for evaluation. A new slip-on suppressor for the AR-10T has been developed, as well as a .50 caliber suppressor, which was recently demonstrated at Knob Creek, Kentucky. The TEK 10/22 full-auto conversion parts are now in production, with improvements over the original design. The new parts are more reliable with better springs. A new trigger is being developed, which would retrofit to any full-auto 10/22, where the safety would become the selector. John's goal is to offer the best quality products with reliability, durability, and accuracy.
There are currently two facilities in use by JRW Sports. One shop is set up for manual operations and assembly, and includes lathes, a Bridgeport mill, Parkerizing center, test-firing apparatus with bullet trap, bead blaster, and welding equipment. The office and display area are in the front of this facility, as well. A separate 1600 square foot facility is located a few blocks away in an industrial park. This is where the CNC Daewoo Puma extended bed lathe and FADAL 10,000-RPM mill are set up for quantity production runs.
Future plans include consolidating these two indoor facilities with the outdoor range, which is located north of Titusville, just off Interstate 95, approximately one hour east of Orlando. This consolidation will reduce travel time and allow for machinegun rentals, sales, manufacturing, and repairs to all be in one location. John is obtaining state and federal explosives licenses to allow customers to handle and set up various explosives in a safe environment on a separate portion of the range. The range facilities will be open to law enforcement for training and to the general public. With such a convenient location, a family could enjoy the beach only a mile away, shoot some machineguns or detonate explosives, and go to Disney World all in the same day.
JRW Sports
1401 South Ridgewood, #4
Edgewater, Florida 32132
Phone: (904) 423-9914
Mid-Florida Gun Sales and Range
2911 West 39th Street, #800
Orlando, Florida 32839
Phone: (407) 428-6225

Vic's Gun Corporation
P.O. Box 17
Ellsberry, MO 63343
Phone: (573) 898-3132
This article first appeared in Small Arms Review V3N3 (December 1999)