Shown is the author firing the Battle Arms Development lightweight rifle. Notice the Fortis rail and SHIFT™ vertical grip. Also the Israeli made Ultimag polymer magazine.
By Christopher R. Bartocci
Throughout the industry, many companies have come up offering "enhanced" components for the AR15/M16 family of weapons. One such company has experienced rapid popularity and growth is Battle Arms Development, Inc. or commonly referred to as BAD or Battle Arms. The company was officially launched on Independence Day, July 4th, 2009 as an online retail store. This 100% made American product company was founded by George Huang and Roger Wang. George has multiple patents either granted or pending. George's background is really not what you would think of when you think about a firearms or firearms component designer. His degree in Architectural Engineering from Penn State University is not strange but the fact that he worked for twenty years on projects such as Disney's Studio Paris, Disney's California Adventure, LEGOLAND, Universal Studios Island of Adventure, Galaxy Casino Macau and Thunder Valley Casino is a bit odd in this industry. As it would be, George wound up designing lightweight carbines and other advanced small arms components because George was an avid firearms enthusiast. One particular pet peeve of George's was not being able to find adequate firearms tools or components that suited his needs, so he went on to design his own. In 2013 George retired from the entertainment industry and went to work full time on BAD. He now spends full time designing the next level of AR components and other small arms products. One of George's short term goals is to build a factory rifle with 95% of its components designed and manufactured by BAD, Inc. He is
well on his way.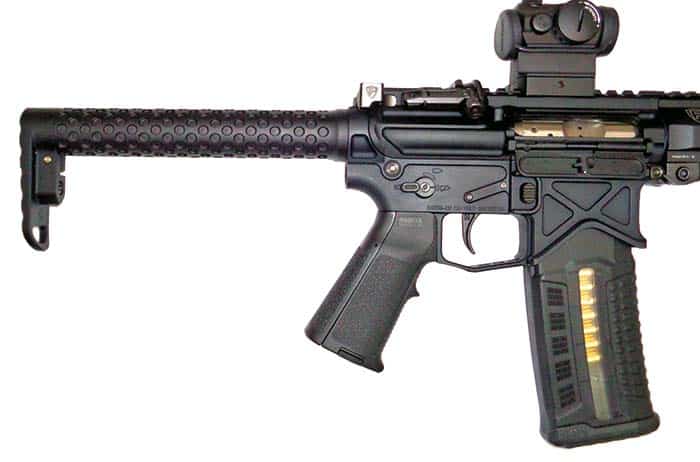 The first product introduced by the newly formed Battle Arms Development Company was the BAD-T1 "The Armorer" multi-tool and gauge for the M14/M1A/M1 rifle. This multi tool is manufactured from 41L40 chrome-moly steel and brass and weighs .42 pounds. It actually fits in the storage compartment in the USGI M14 buttstock and commercial M1A rifles. This is truly a multi-tool which includes: trigger guard take down, .30 cal muzzle wear gauge, throat erosion gauge, M1 Garand throat erosion gauge, trigger group takedown tool, extractor removal tool, 3/8" hex gas nut wrench, bolt roller greaser, 1/4" hex socket for standard bits, gas piston holder, rear sight screw driver with torque handle, large flat head screw driver and flash hider alignment gauge, to just name a few of its functions. This product was quickly followed up by the BAD-T3 & BAD-T4 Gas Cylinder Lock Wrench for the M14/M1A/M1 Garand and Smith Enterprises Gas Lock Front Sight.
The next and perhaps the flagship product for Battle Arms Development, Inc. is the Ambidextrous Safety Selector BAD-ASS and the Combat Ambidextrous Safety Selector or BAD-CASS that is available in selective fire version. These are made in the traditional 0°-90° throw or the 0°- 50° short-throw variations. In recent years the short-throw lever has gained popularity. Lower receivers come marked for the use with this lever. These high quality components are manufactured from billet steel bars on a CNC Swiss machine. Some models are finished with manganese phosphate. The material was recently upgraded to 416 stainless steel for the center of the safety. Although this costs two times more than previously, it is worth the cost. This is coated in a PVD (Physical Vapor Deposition) ZrN process with a gold finish which is ultra hard and lubricious to give the safety its buttery smooth operation. The levers are held on each side by a T10 torx screw. The levers can be changed to one of nine that are offered by BAD including shorter levers, crank levers and also different color levers. This popular accessory has been offered by Original Equipment Manufacturers such as War Sports Industries, Rainer Arms, Spike's Tactical, San Tan Tactical, Remington Arms, Wilson Combat, Adams Arms, Aero Precision, Seekins Precision and Midwest Industries.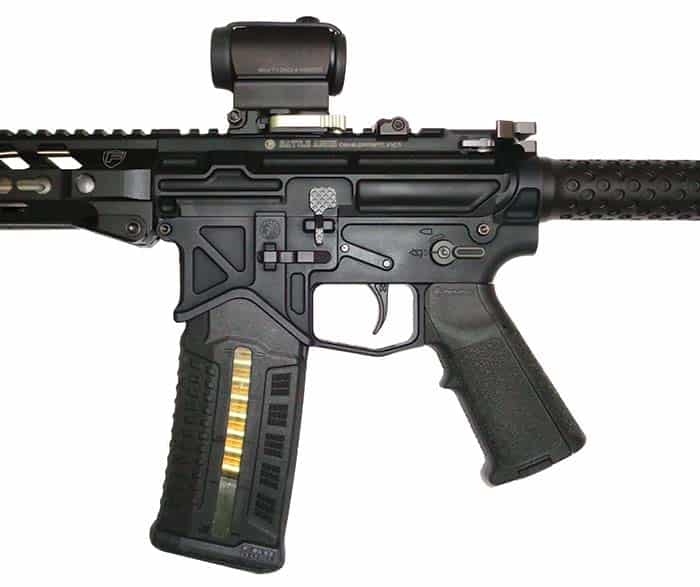 The BAD-EPP (Enhanced Pivot Pin) and BAD-ETP (Enhanced Takedown Pin or collectively called the BAD-EPS (Enhanced Pin Set) are another popular offering. These pins fit all mil-spec lower receivers and have a patent pending pivot pin and takedown pin design, improved gripping surface and pull strength without the use of oversized heads. The low profile pin heads have low drag and have a lower profile than mil-spec pin heads. The pin tips are extended +0.030 over the mil spec pins which noticeably aids in pushing/pulling the pins, without any undue protrusion. There are bullet tip guides on the left side of the pins to aid in pushing out tight pins. These pins come with KNS hardened stainless steel detents, 17-7 nickel plated stainless steel springs and one high strength neodymium magnet for hassle free magnet assisted installation of the Enhanced Pivot Pin. These pins are also offered in Titanium and come in raw finish as well as matte black IONBOND PVD finish.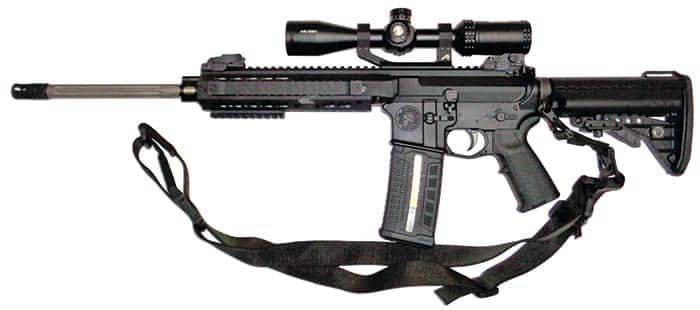 In August of 2014, Battle Arms Development Company entered the AR-receiver market with the introduction of their BAD-15 forged lower receiver. BAD did not want to come out with just another copy of the lower, only if they could present an improved one. The receiver is made from high quality aerospace grade 7075 T6 aluminum raw forging. No seconds or improperly heat treated forgings accepted. The magazine well is cut by way of ultra precise wire EDM process for consistency and reliability rather than traditional broach or CNC cut. This is an expensive enhancement which is usually a 30 minute process on a wire EDM machine that bills at $100 to $120 per hour. This costs more than some finished receivers on the market. The magazine well consistency will be identical from receiver number 1 to receiver number 10,000. Precision reamed-to-size holes for the pivot pin, takedown pin, hammer pin, trigger pin and safety selector holes, these are not simply drilled to size. The receiver extension threads are machined with high precision and low stress helical threading rather than drilled and tapped. The logo is 3D high power, deep laser engraved on a $150,000 German laser engraving machine that truly engraves, not superficially etches or burns only through the anodizing. Text and fire markings are engraved prior to anodizing and are razor sharp image quality. The caliber is marked "Multi" for build versatility. Legacy selector stops are removed. Pictogram selector markings are done for both 90° or 50° short-throw safeties. The receiver has a deep beveled magazine well and all sharp edges are de-burred by hand. The receiver is definitely a step above the rest in both fit and finish.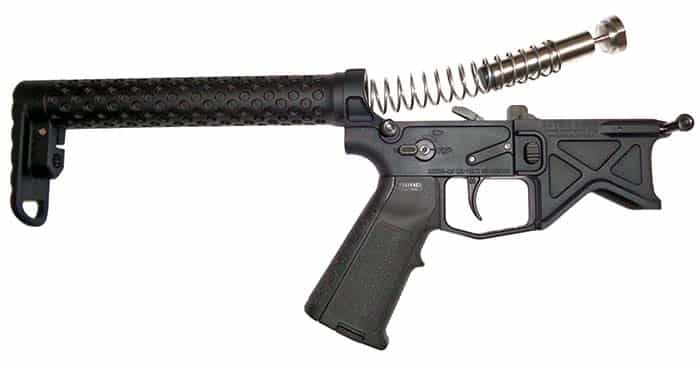 Battle Arms Development also offers a lightweight receiver set, the BAD556-LW. This comes with matching upper and lower receivers. Both are precision machined via CNC from solid billets of 7075 T6 aircraft grade aluminum. The lower receiver weighs just 6.84 ounces and the upper 6.31 ounces. Both receivers are patent pending. Both receivers have a MIL-A-8625F, Type III, Class 2, hard anodized flat black finish and laser engraved logos. Both receivers are compatible with any industry standard upper or lower receiver. All sharp edges are de-burred by hand. The lower receivers use pictograms for safety/selector markings and are set up for both 90° and 50° BAD-ASS/BAD-CASS selector levers. The magazine well is flared and beveled for easy magazine changing. The bolt catch has a screw instead of a pin, making for easier, non-marring installation. The rear takedown pin is held by a screw as well. The detent pin spring is trimmed down, inserted and the screw holds it in the receiver. The trigger guard is integral with the lower receiver. The upper receiver has machined T-marks and M4 extended feed ramp cuts. To save on weight, the upper receiver does not accept a forward assist. Not only is this good for weight reduction but a forward assist is not necessary on the rifle. Gene Stoner himself testified in front of a congressional defense subcommittee (Ichord Hearings) in 1968 to the fact it was not necessary nor desirable. If the bolt does not lock, a round should never be forced into the chamber. It should be removed. By forcing it into the chamber you are asking for bigger problems.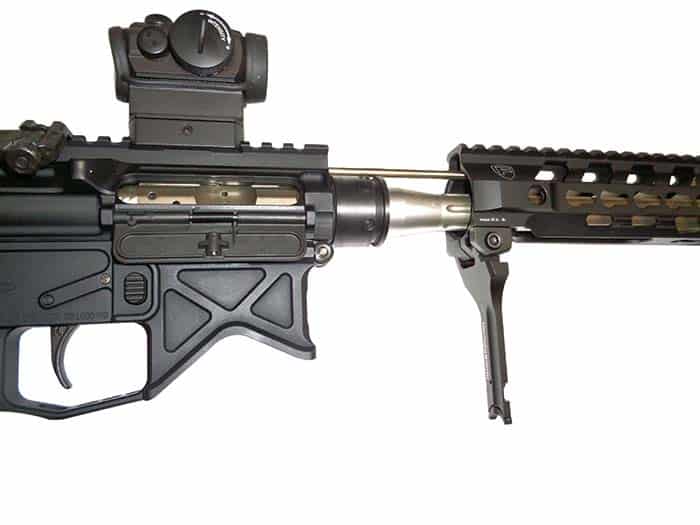 Along the same lines with the concept for a lightweight rifle, BAD introduced a new concept in a stock for the AR platform. It is the BAD-LBS-MIL or Lightweight Butt Stock – military specification receiver extension. This is the first of its kind. It's such a simple idea to have a "Fixed" stock to attach to the standard carbine 2, 4 or 6 position receiver extension (buffer tube). The BAD-LBS-MIL uses an available component and allows the end user to switch out their heavier stock for a lightweight 3.0 oz butt plate (probably at least half the weight of a standard stock) for specific needs and to have the ability to return to a telescopic stock. With the use of heavy body armor, the extended stock is less practical. The LBS can even be placed on a longer A5 length receiver extension. The BAD-LBS-MIL is patent pending.
To go along with the BAD-LBS is the optional SABERTUBE™ receiver extension which is thicker in diameter than the Mil-Spec receiver extension for added strength and is dimpled to help reduce the weight. On average the SABERTUBE™ is .2 oz lighter than the Mil-Spec receiver extension. The SABERTUBE™ does not require a heavy steel receiver extension nut nor receiver extension end plate. It is also 1-inch longer than the Mil-Spec receiver extension but has better length of pull. BAD calls it a mid-length and a one size fits "most". The SABERTUBE™ and the BAD-LBS are also sold as a kit.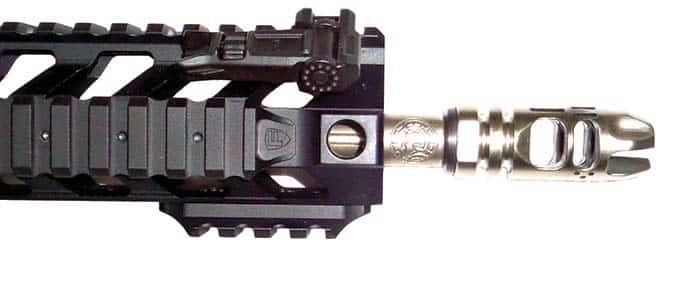 Along with the lightweight, there is a really nice Titanium gas block, the BAD-LGB-Ti-625. Based on research, this 0.48 oz gas block is the lightest in the industry. This is actually lighter than the gas tube. The gas block is .625 inch diameter and is held in place by two hex screws. The one sent for test and evaluation is raw titanium.
As far as accessories go, another interesting gadget is the BAD-EMR or the Enhanced Magazine Release button. These are CNC milled from a billet of 7075 T6 aluminum. It is offered in anodized black, red, OD green, silver/clear, yellow lime, blue and light bronze finish. Also offered are Cerakote coated options in Magpul FDE and Smith & Wesson Red.
Battle Arms Development in collaborative efforts with Northtech Defense (NTD) have produced the LIGHTRIGID™ line of barrels. These are .223 Wylde chambered barrels (1 turn in 8 inch Right Twist) manufactured with a manufacturing process developed by BAD and NTD from tooling, gun drilling, contouring, reaming, etc. Every BAD barrel is double heat-treated/stress relieved, cryogenically treated and is meant to be a competition grade barrel. The barrels are dimpled to assist in location of the gas port, with the port on the gas block. The LIGHTRIGID™ line of barrels have a .625" diameter gas block journal and a mid length gas system designed around the BAD light rifle concept. As of this writing the barrels are offered in 14.5 and 16 inches. Soon to be released are 10.5 and 18 inch versions. Currently on the drawing board are .750 inch diameter gas block journal barrels with both rifle and carbine gas systems. Other calibers are in the works as well, including .308 Win, .300 Blackout and 6.8mm SPC II. BAD guarantees the sub-MOA accuracy capability of the barrel. Of course you cannot guarantee the shooter's skill, proper installation and proper ammunition. BAD achieves consistent dime size accuracy at 100 yards, according to Huang.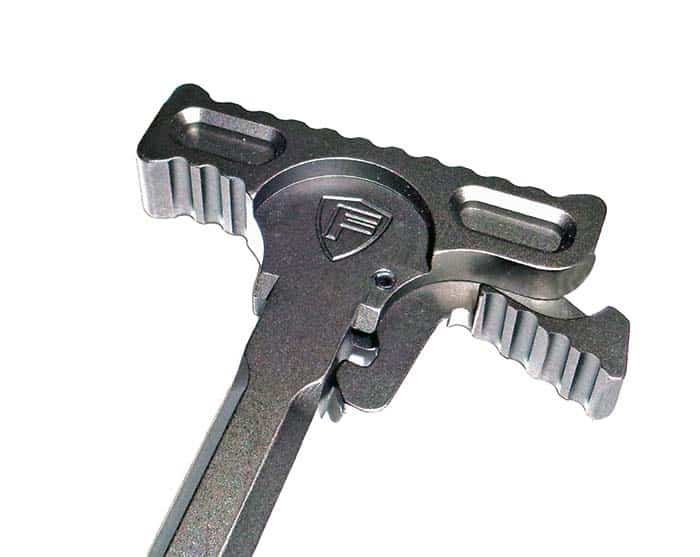 Two rifles were built using Battle Arms Development components. One was based on the BAD lightweight rifle concept which utilized the billet receiver set, barrel and every component in the BAD Product line. The second was built on the forged lower receiver with BAD components.
Beginning from the rear of the Lightweight BAD build is the SABERTUBE™ pistol receiver extension tube with QD Endplate and BAD LBS Lightweight Buttstock. This was a very lightweight setup compared to the norm. Inside is a standard carbine buffer with a Blitzkrieg KynSHOT hydraulic buffer (P/N RB5000). This author has been testing these buffers for quite some time and has had very good experience with them. They do slightly lighten the field recoil impulse. Due to the light weight of the rifle this appeared to be a good fit. The BAD-EPS (Enhanced Pin Set) was used on the lower receiver. Both the rear takedown pin as well as the front pivot pin are black and well made. The Magpul MIAD pistol grip is this author's pistol grip of choice. Normally the backstrap has the beavertail on it but due to the shape of the receiver the straight backstrap insert had to be used. The Norgon ambidextrous magazine is used along with the BAD-EMR (Enhanced Magazine Release) button in the Black variation. On the other side of the receiver is the Seekins Precision Enhanced Bolt Catch. This had a larger surface with dimples making for better no-slip surface. The trigger chosen for this rifle is the Hipertouch® EDT. This trigger is their Enhanced Duty Trigger. It has 2-user adjustable trigger weights which are changed by replacing the hammer spring. They are 4 1/2 and 5 1/2 pound trigger springs. There is a "hint" of creep, slightly shorter travel to break at the moment of reset with a very clean break. The trigger also has 25 to 50% faster hammer lock-up, Mil-Spec strike energy. This trigger is US Patent pending.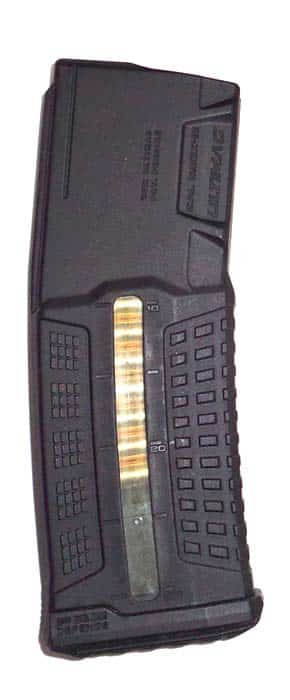 The charging handle is the FORTIS HAMMER™ charging handle which manufactured from a billet of 7075 T6 aluminum. This particular one is black Teflon. This is a robust charging handle designed to be used with and without gloves. There are grooves that work great with gloves yet do not cut up your hand. The charging handle has a roll pin/latch design key to stop the stress on the roll pin. The bolt carrier group is from WMD and is NiB-X coated. The carrier is polished prior to coating for a very smooth and slippery feeling.
The upper receiver has the BAD lightweight upper with the 16" BAD ULTRAMATCH LIGHTRIGID™ barrel chambered in .223 Wylde. This barrel is manufactured from 416R stainless steel with a 1 turn in 8 inch twist and a .625" gas block diameter which is dimpled for the BAD titanium gas block. This barrel uses a midlength gas system. It is cryogenically treated, double heat treat stress relieved, magnetic particle inspected and weights 24.6 ounces. The muzzle brake is the VG6 Epsilon stainless steel muzzle break. The handguard is the Fortis Manufacturing SWITCH system released in 2014. This 14.75 inch, 9.8 ounce rail was designed to have ease of switching from one configuration to another without a complete upper. One rail could be configured with an optic and bipod and another just with an optic and flashlight. This also makes for ease of cleaning and easy access to an adjustable gas block. Having multiple handguards eliminated the need for multiple uppers. This handguard is manufactured from 6061 T6 aluminum and is a truly unique handguard.
Also added to the rifle is an Aimpoint Micro T-1 2 MOA red dot sight and Magpul MBUS PRO Offset front and rear sights. At the same time this rifle was being tested, a new magazine was received. The Israeli Ultimag polymer magazine which is imported by FAB Defense. Very similar to the Magpul Maglevel magazine, but in its own way different. The texture and feel are quite different. The window on both sides is larger. The magazine holds 30 rounds and is Patent Pending. This magazine is very high quality and very durable.
The second rifle uses the Battle Arms Development forged lower receiver. This receiver is also equipped with the BAD-EMR, BAD-EPS, BAD-ASS, Norgon ambidextrous magazine release and Seekins Precision Enhanced bolt catch. Added to this is the VLTOR receiver extension and buffer and Modstock. Then a Magpul MIAD pistol grip and Geissele High Speed National Match trigger group complete the setup. This trigger is designed for high power match rifle competition. The trigger's adjustability, lighter 1st and 2nd stage pull weights and fast lock-up time enhances the trigger control and accuracy while the hammer spring provides uniform primer ignition for more consistent bullet velocity.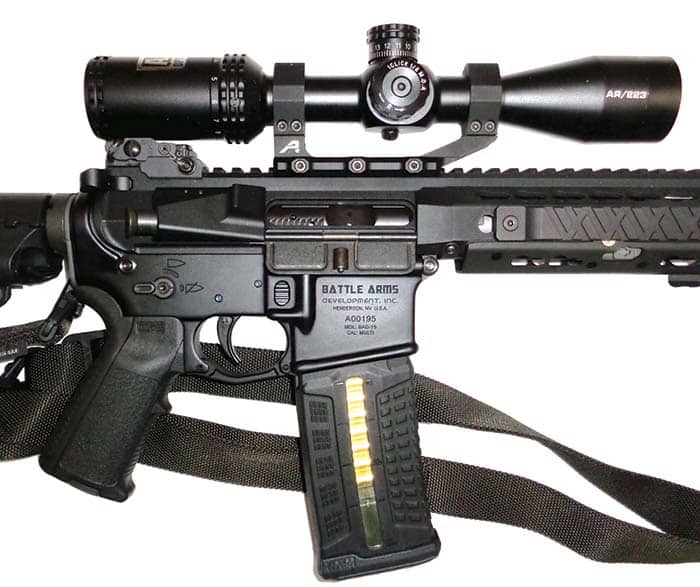 The upper receiver on this rifle is the VLTOR VIS-KM9 with Keymod. The upper with integral rail weighs 21.4 oz with a handguard length of 8.82 inches. The overall length is 16.49 inches with an interior diameter of 1.25 inches. The upper has a forward assist, fired cartridge case deflector and ejection port dust cover. The lower handguard is removable for cleaning and also an M203 grenade can be attached. Any Keymod rail panel may be used. The receiver is manufactured from 6061 T6 forging and the handguard is made from the same material but is an extrusion. They upper receiver assembly is hard coat anodized, black per MIL-A,8625 TYPE III Class 2. The charging handle, also manufactured by VLTOR, is the Gunfighter ambidextrous charging handle which is manufactured from a forging of 7075 T6 aluminum. The extended latches are internally redesigned to direct the force off the roll pin and into the body of the charging handle during "support hand only" manipulations, making the charging handle stronger and less prone to breakage. The bolt carrier group is a standard LMT bolt carrier group.
The barrel is manufactured by Faxon Firearms. This 2 pound, 18 inch heavy fluted barrel is chambered in 5.56mm with a 1 turn in 8 inch twist and utilizes a midlength gas system. The barrel is manufactured from 416R stainless steel and button rifled. The inside of the barrel is raw stainless with the outside being matte blasted. The gas block has a diameter of .750 inches. The barrel features M4 extended feed ramps on the barrel extension and an 11-degree target crown. Quality control testing includes magnetic particle inspection and air-gauge testing. These barrels are manufactured in-house at the Faxon Firearms plant in Cincinnati, Ohio. Attached to the muzzle is a VLTOR flash supressor.
Both rifles were test fired with IMI 5.56x45mm M193 ammunition. This is Israeli made 55gr full metal jacket ammunition. Each was tested with 200 rounds of this ammunition with no malfunctions. The Lightweight rifle was tested at 25 yards off hand, due to the Aimpoint optic, which was designed for close range. With the combination of VG6 muzzle brake and the hydraulic buffer the rifle did not move off target. Quick and accurate follow up shots were easy. Off-hand groups were consistently under 1 inch. The second rifle with the heavy barrel was tested for accuracy with Black Hills Ammunition Mk262 Mod1 ammunition, this 77gr OTM is the standard which any 5.56mm/.223 Rem cartridge is compared for accuracy. At 100 yards all groups were sub MOA.
Battle Arms Development is without at doubt one of the industry leaders in high quality enhanced components and is very quickly becoming a respected manufacturer of complete firearms. As of this writing, short of a bolt carrier group, BAD manufactures enough components to build a complete rifle. BAD President George Huang assures SAR that many new products are on the way. This author will be anxiously waiting to see what comes next.
This article first appeared in Small Arms Review V20N1 (January 2016)