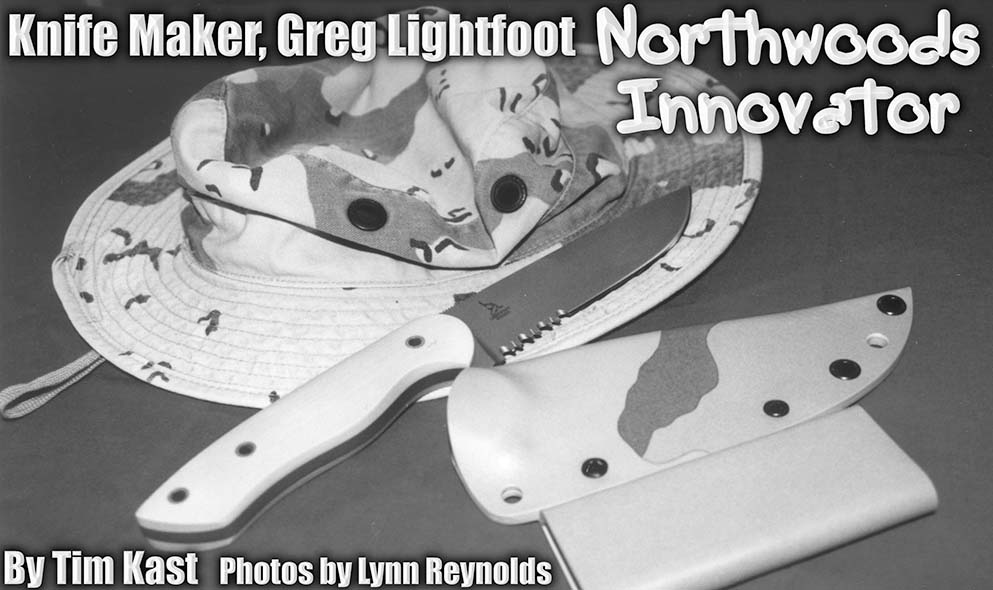 By Tim Kast
Editor's note – SAR has been hearing of many end users in the military arena who have chosen these tactical knives, so we decided to bring you the background story on them. If you have information on other brands and types of small arms related gear that are gaining end user popularity with our combat troops, please let us know. – RGS
Greg Lightfoot is one of the world's premier custom knife makers and his designs are in great demand among production knife manufacturers. Besides his own custom knife business in Canada, Greg fields designs for several of the nation's leading manufacturers in the United States.
The big news, however, for Small Arms Review readers is that Greg has been making special order knives for Special Operations personnel for quite some time. The different designs that he fields speaks volumes about his abilities not only as a maker, but as a designer as well. Within the pages of Blade magazine, Lightfoot has been named one of the Top Ten Tactical knifemakers in the world.
I found a good representative cross section of Greg Lightfoot's knives in selections available from Timberline Knives, Columbia River Knife and Tool Company (CRK&T), and Special Mission Outfitters. Timberline Knives has two fixed blade models and one new entry, a folder designed as a back up for the largest fixed blade. CRK&T sells a tactical folder with extreme hard usage in mind, while Special Mission Outfitters builds a heavy duty fixed blade designed with input from a Special Operations cadre soliciting bladeware.
Timberline Knives markets the Zambezi, a fixed blade originally designed to be used in a tactical role in a wet-ops environment. This is a stout piece with a body-hugging Kydex sheath that can be worn SAS style with the drop-leg webbing or mounted upside down on the forward strap of your "H" harness. Starting with a full tapered tang of .250-thick bar stock of 440C Stainless Steel and a 6-inch blade length, it carries a Lightfoot swedge grind to reduce weight and lend quickness to the overall maneuverability of the knife. An added benefit of this grind is that it reduces resistance of penetration in heavy fabrics or leather, as well as adding to the effectiveness against body armor.
Lightfoot applies the edge grind to the right hand side of the blade. In theory and in practice, this allows the knife to cut straight, as well as giving the owner a 100% sharpenable blade. In many cases, a smooth application of the knife to a good Arkansas stone will snap the edge right back to its previous sharpness. Even if you prefer the partial serrated edge model, it can be resharpened easily with some attention to that versatile right hand edge.
Like most good tactical knives of this era, Timberline powder coats the blades in a black non-glare finish to reduce a light signature on an operation. This is a theme that is carried over to the olive drab Zytel handles that are bolted in place by blackened button head allen bolts.
The choil and the finger rest of the blade's haft and handle allows alternate grips for dissimilar tasks that would otherwise require two or more knives or tools. With the combination of this versatile handle and Lightfoot's unique wedge style piercing blade, this becomes a knife that will provide Spec-Ops cadre with a tremendous advantage over an opponent's defenses in close quarter combat.
Timberline's other Lightfoot design is their Lightfoot Mini Pitbull fixed blade. This is a little fixed blade meant to be worn on a blackened bead chain around the neck, clipped inside as a boot knife, mounted on a conventional trouser belt, or inside the waistband carry. It has a nice lightweight feel to it, but has that rigidity that only a fixed blade knife can yield. The blades are available in serrated combo or non-serrated plain edge configuration. They, too, feature Lightfoot's trademark swedge cut treatment for the false edge of the blade for ease of penetration. The multi-carry sheath can accommodate any type of weather or apparel, while it always seems comfortable. Its primary function will always be self defense, but it doubles as a utility knife, paring knife, and field blade in an instant.
Columbia River Knife and Tool sponsors the Lightfoot M1 Series of tactical folding knives. This knife fills the need for a tactical work knife that folds to fit the pocket or gear pouch. Fashioned from AUS8 Stainless Steel with a black titanium nitride non-reflective coating, Lightfoot's folder design becomes a virtual fixed blade once the patented Lake and Walker Knife Safety (LAWKS) is slid into position. Greg calls this blade type his "Millennium Tanto". He states that, "it is a refined Tanto shape with a custom-style hollow grind, slight belly and recurve and with a hint of a drop-point. The false edge on the spine improves penetration while maintaining strength." At the bottom of the blade, below the pivot pin is an extension which Lightfoot terms a "Mako Flipper"'. This allows fast opening with either hand, plus it acts as a finger guard once the blade is fully extended.
The Zytel scales are textured with a special "operator's grip," a hexagonal indented pattern meant for exceptional security. Inside the Zytel scales are 420J2 Stainless Steel liners and stainless spacers and Torx fasteners, all blackened with titanium nitride coating; like the blade.
Greg also builds a knife with Steve Siderias at Special Mission Outfitters in Jacksonville, North Carolina. Their latest fixed blade is called the Night Strike 6, a bare-bones fighter tailor-crafted for rough and tumble night operations. Starting with a full-tang blank constructed from 440C Stainless, he includes a projected tip on the pommel for pressure point impact strikes. The spine is extra strong for prying and digging, and that provides the tip with extra power for full penetration and heavy cutting chores. The 5-3/4 inch blade comes with plenty of belly and a 1-1/8 inch partial serrated edge.
This last Lightfoot knife is one of his customs. I collaborated with Greg in designing this knife several years ago. We designed this as a Special Operations private purchase carry knife, and it reflects that heritage in its sand colored Micarta handles and Desert Camo Concealex sheath. It was engineered for the harsh desert environment and meant to endure the mistreatment one might encounter in a Middle Eastern conflict. The scales are secured to the blade with industrial adhesives, and then pinned into place with hollow rivets. Constructed from a 5-inch slab of 3/16 inch thick BG42 Tool Steel, the Hammerhead is a solid no-flex tactical blade for hard usage. The Concealex sheath is hand-formed to give this knife a firm, but abbreviated sheath for belt, harness or rucksack.
Greg Lightfoot has worked hard over the years to create not only a name for himself, but also to build knives that uphold that sterling reputation. If you have been searching for a knife set apart from all the others, which you will use in constant service, take a look at some of the knives of Greg Lightfoot; you're sure to find one that fits your needs.
Greg Lightfoot
Lightfoot Knives
RR#2
Kitscoty, Alberta
Canada T0B 2P0
Phone: (780) 846-2812
Fax: (780) 846-2813
www.lightfootknives.com
Timberline Knives
The Great American
Tool Company, Inc.
P.O. Box 600
Getzville, New York 14068-0600
(800) LIV-SHARP
www.timberlineknives.com
Columbia River Knife & Tool
9720 SW Hillman Court
Suite 805
Wilsonville, Oregon 97070
(800) 891-3100
www.crkt.com.
Special Mission Outfitters
2804 Commerce Road
Suite D
Jacksonville, North Carolina 28546
(910) 347-2924
www.specialmissionknives.com
This article first appeared in Small Arms Review V8N7 (April 2005)