By The Small Arms Review Editorial Staff
SOG
Zoom S30V: The Zoom S30V is a lightweight, compact folder that is quick to open and durable. Utilizing SOG's patented assisted opening technology, the blade opens quickly with a simple push of your thumb. The contoured, anodized aluminum handle w/ carbon fiber inserts and stainless steel liners make the knife balanced and strong. Its thin profile and a reversible pocket clip make it a perfect choice for an everyday carry.

Model: Zoom S30V
Species: Assisted Folding Knife
Manufacturer: SOG Knives & Tools
Website: http://www.sogknives.com/zoom-s30v.html
Lock Type: Button Lock
Blade Length: 3.6"
Length Open: 8.3"
Length Folded: 4.7"
Grind: Drop Point
Blade Steel: S30V
Blade Thickness: 0.100"
Weight: 4.5 oz.
Handle: Aluminum w/ Carbon Fiber Inserts
Special Features/
Designations: Assisted opening
MSRP: $229
Quake: Just by opening this knife, you'll know how it got its name. With just a push of a thumb, the thick blade propels open powerfully. Instead of a thumb stud, the cross guard folds in when closing the knife and is used as the lever to assist with the opening motion. Combined with a dual-tone VG-10 blade, forged aluminum handles, full length stainless steel liners, the Quake is one formidable knife that packs a punch.

Model: Quake
Species: Assisted Folding Knife
Manufacturer: SOG Knives & Tools
Website: http://www.sogknives.com/quake.html
Lock Type: Button Lock
Blade Length: 3.5"
Length Open: 8.5"
Length Folded: 4.8"
Grind: Clip Point
Blade Steel: VG-10
Blade Thickness: 0.126"
Weight: 5.8 oz.
Handle: Aluminum
Special Features/
Designations: Rotating cross guard, Assisted opening
MSRP: $191
CRKT
CRKT cares deeply about our returning veterans and saw a way to give back to the community. These are mission ready tools, designed by veterans, with 10% of the CRKT net profits of the program donated to the veterans' charity of choice.
The Clever Girl tactical knife features a black, powder coated upswept blade with an injection molded, glass-reinforced nylon handle that sits comfortably in a sheath that's MOLLE-compatible for multiple carry options. Austin's charity is The Green Beret Foundation.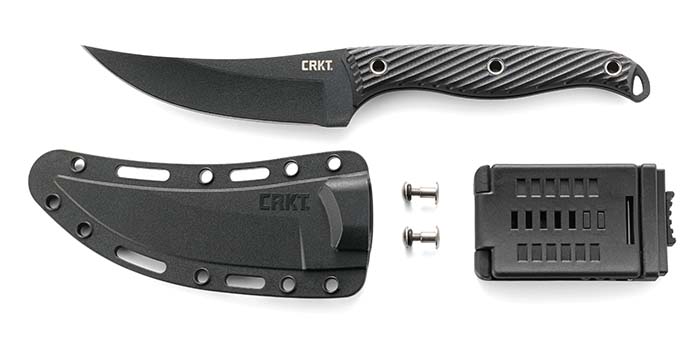 Model: Clever Girl (model # 2709)
Species: Fixed
Manufacturer: CRKT
Website: www.crkt.com
Lock Type: N/A
Blade Length: 4.600"
Length open: 10.125"
Length Folded: N/A
Grind: Hollow
Blade Steel SK5, 54-56 HRC
Blade Thickness: 0.158"
Weight: 6.3 oz.
Handle: G10
Special Features/ Designations: Gear Compatible Sheath w/ MOLLE Compatible Gear Clip
MSRP: $125.00
Gerber
Proudly built in Portland, Oregon, the Propel has proven automatic action that is unmatched. With its premium-grade S30V steel construction, you can count on it for all its intended uses and then some—like opening that crate, now—without compromising its integrity. The reliable plunge lock and safety switch keep the blade locked while in use and safely closed when stowed.
The partially serrated tanto-style blade with black oxide coating takes on stubborn materials and adverse conditions like a good soldier, while the composite G-10 handle balances the knife's handling and provides all-conditions security. You can even customize the belt clip to meet your carrying preference.

Model: Propel Downrange Auto
Species: Automatic Folding Knife
Manufacturer: Gerber
Website: Gerbergear.com
Lock Type: Plunge Lock
Blade Length: 3.5"
Length Open: 8.52"
Length Folded: 5"
Grind: Tanto
Blade Steel: CPM-S30V with black oxide Coating
Weight: 4.28oz
Handle: G10
Special
Features/
Designations: Automatic
MSRP: $194
DPx Gear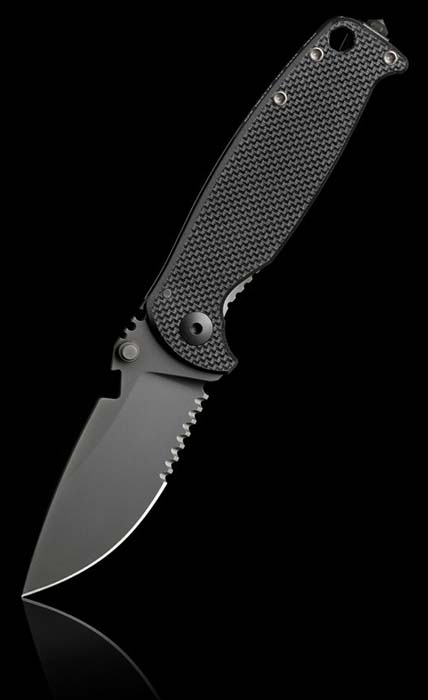 In 2012 DPx Gear released a limited run of 500 of the HEST/F 2.0 Triple Black Special Edition which went on to win that year's Blade Show's Most Innovative Imported Design award. The limited run came with a unique skull tool constructed with an embedded, handmade Pyser SAS compass. Due to the overwhelming demand for that knife, DPx Gear has now added the HEST/F Triple Black to its production line of knives but this time around, the knife requires no special tool for adjustment. Not only does this allow for easier field adjustment, it reduces the cost of the knife so this unique hard use folder is accessible to even more customers.
The HEST/F Triple Black is an extremely low-profile knife designed for law enforcement and military use where a superior cutting edge and low visual signature are priorities. The 3.14" German Niolox corrosion resistant blade is matte black TiCN PVD coated to increase hardness and concealability. One side of the frame is scaled in grip textured black American G10 polymer. The other slab is 6Al4V titanium alloy that is black TiCN PVD coated.
Like the other DPx HEST/F models, the Triple Black comes with the patented RotoBlock to lock the folder open. Three sizes of wire strippers serve as unique and slip-proof jimping. A removable glass breaker screws into the butt of the knife, and the hex driver in the handle may be used with the knife open or closed.
Model: DPx HEST/F Triple Black Serrated
Species: FOLDING
Manufacturer: Lionsteel Italy
Website: https://www.dpxgear.com/shop/knives/dpx-hest/hest-f/hest-f-triple-black-serrated-edge.html
Lock Type: liner
Blade Length: 3.14"
Length open: 7.63"
Length Folded: 4.38"
Grind: convex
Blade Steel: Niolox
Blade Thickness: 0.19"
Weight: 4.85oz
Handle: Black G10
Special Features/
Designations: low profile blade with TiCn PVD black Coating on blade, hex driver, serrated blade, wire stripper jumping, titanium handle
MSRP: $250
U.S. Patents: http://www.dpxgear.com/patents
Features:
Black TiCN PVD Coated Sterile German Niolox steel blade in either plain edge or serrated edge options
Sterile design – no visible logos on blade
Sandblasted, gunmetal black TiCN PVD coated 6Al4V Grade 5 titanium alloy frame lock
Black TiCN PVD coated combat pocket clip with Mr. DP logo
7/64" sockets in RotoBlock and pivot screw so no special tool is required
Tungsten carbide glass breaker with hex base and round replacement screw if needed
Patented LionSTEEL RotoBlock system with new single spoke design and 7/64" hex socket
American heavy grip black G10 scale
1/4" hex socket driver
Wire strippers jimping
Thumb grip/bottle opener on blade
Raven Crest Tactical
At Raven Crest Tactical, we take a three tier approach to our business. Our goal is to "wow" every RCT customer and we do that by staying focused on product quality, product innovation and customer service. Raven Crest Tactical has become a leader in offering affordable highly functional OTF knives that continue to be used by operators and civilians alike.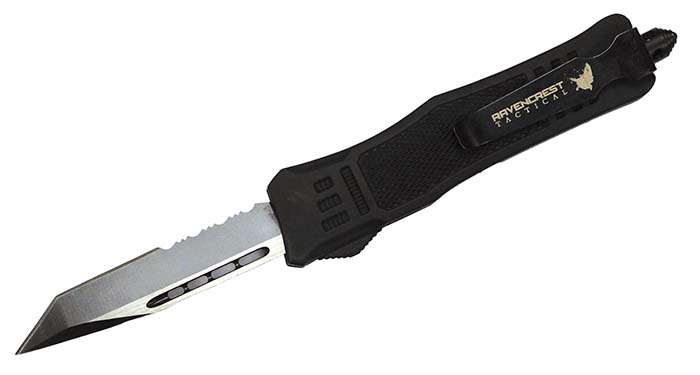 Model: mini Raven
Species: OTF
Manufacturer: Raven Crest Tactical
Website: Ravencresttactical@gmail.com
Blake Length: 2.75 inches
Length open: 17.78cm / 7 inches
Length Folded: 4.25 inches
Blade Steel: 440c
Blake Thickness: .11 inches
Weight: 5.17oz
Handle: Zinc Alloy
Special Features /
Designations: Safety feature when blade hits something as it's expanding or deploying blade will free float
MSRP: $169.00
Spyderco
PATTADA – A member of Spyderco's elite Ethnic Series, the Pattada is a modern expression of the classic Sardinian resolza folding knife made with state-of-the-art materials. It features a full-flat-ground blade crafted from premium N690Co stainless steel. The handle's full stainless steel liners form the foundation of a sturdy LinerLock mechanism and are capped by meticulously machined G-10 scales. A deep-pocket wire clip provides convenient tip-up access and is reversible for left or right-side carry.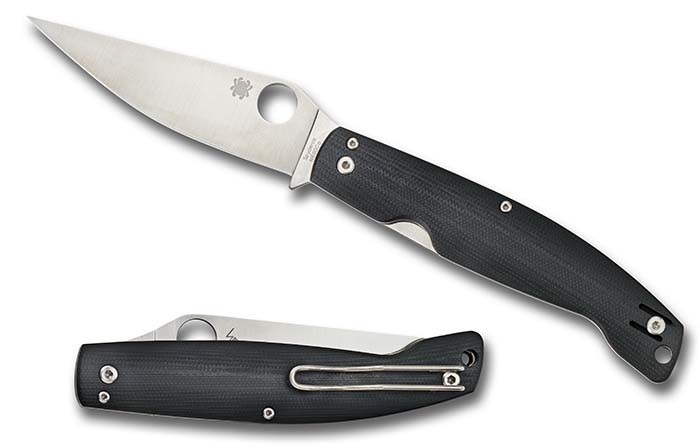 Model: Pattada
Species: Folding
Manufacturer: Spyderco
Website: www.spyderco.com
Lock Type: LinerLock
Blade Length: 3.92"/100mm
Length open: 8.69"/221mm
Length Folded 4.77"/121mm
Grind: Full-flat
Blade Steel: N690Co
Blade Thickness: .138"/3.5mm
Weight: 4.2oz/119g
Handle: G-10
Special Features/
Designations: Ambidextrous tip-tip carry
MSRP: $289.95
SOUTHARD FOLDER BLACK BLADE – The Southard Folder Black Blade is a stealthy, non-reflective version of Spyderco's first flipper-style opener. Its hollow-ground CTS 204P blade rides on ball-bearing pivot washers for an ultra-smooth action. The handle combines a textured G-10 scale and titanium liner on one side with a solid titanium scale on the other that serves as the basis of the knife's stout Reeve Integral Lock mechanism. All metal parts are cloaked in a durable black titanium carbonitride coating.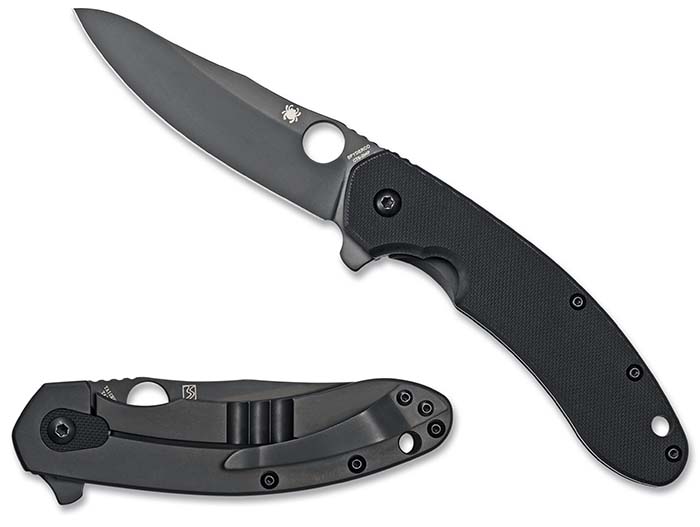 Model: Southard Folder Black Blade
Species: Folding
Manufacturer: Spyderco
Website: www.spyderco.com
Lock Type: Reeve Integral Lock (aka Frame Lock)
Blade Length: 3.46"/88mm
Length open: 7.96"/202mm
Length Folded: 4.50"/114mm
Grind: Hollow
Blade Steel: CTS 204P
Blade Thickness: .157"/4.0mm
Weight: 4.1oz/116g
Handle: G-10
Special Features/
Designations: Flipper opener, TiCN blade
and handle coating
MSRP: $439.95
5.11
Designed in collaboration with Kyle Lamb, highly decorated U.S. Army Special Operations veteran, sought–after shooting and tactical instructor, and accomplished hunter, 5.11's new Game Stalker Folder provides outstanding versatility for outdoor and tactical users. The Game Stalker Folder features a satin finish AUS8 steel blade and textured Fiberglass Reinforced Nylon (FRN) handle for improved grip. IWB sheath sold separately.

Species: Folding
Manufacturer: 5.11
Website: http://www.511tactical.com/game-stalker-folder.html
Lock Type: Liner lock
Blade Length: 3.8"
Length open: 8.7"
Length Folded: 4.9"
Grind: Flat (Compound double bevel)
Blade Steel: AUS8 Stainless steel hardened to HRC 57-59
Blade Thickness: 3mm
Weight: 5.6 oz/159 gm
Handle: FRN
Special Features/
Designations: -Unique thumb rest adds comfort and aids precision
-Textured for a secure grip in all environments
-Hexagonal lanyard hole accommodates 1/4" hex bits
-Additional jimping on the front spine of the blade
provides superior control
-Compatible with Game Stalker fixed blade sheath
MSRP: $94.99
Microtech
A favorite of law enforcement, military personnel, and first responders, the Combat Troodon is built for a broad spectrum of utility and close quarter combat situations. With a contoured shape and radical design elements, this piece feels substantial, yet is suitable for every day carry.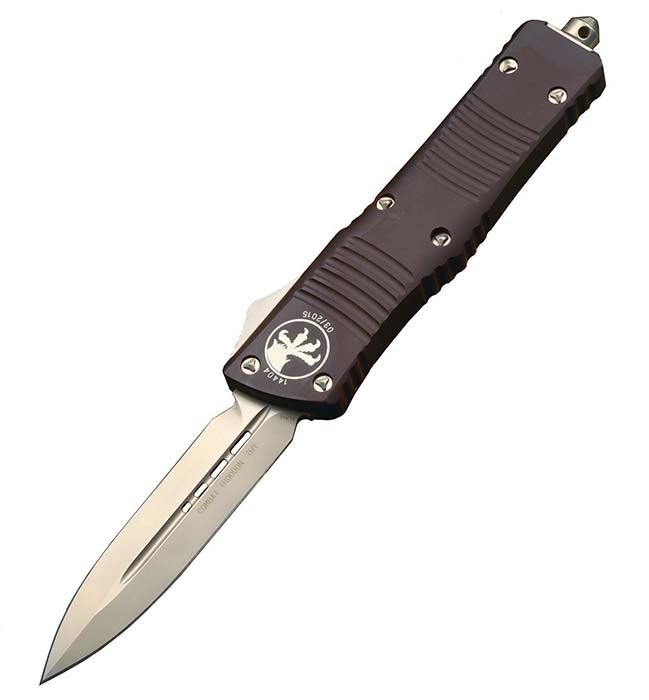 Model: Combat Troodon D/E
Species: double action OTF
Manufacturer: Microtech Knives
Website: Microtechknives.com
Lock Type: NA
Blade Length: 3.75"
Length Open: 9"
Length Folded: 4.25"
Grind: Double Edge symmetrical
Blade Steel: Bohler ELMAX
Weight: 5.50 oz
Handle: 6061-T6
Special Designations: "best knife ever"
MSRP: $460
This article first appeared in Small Arms Review V20N5 (June 2016)