By Chris A. Choat
STREAMLIGHT INTRODUCES TLR-6 UNIVERSAL KIT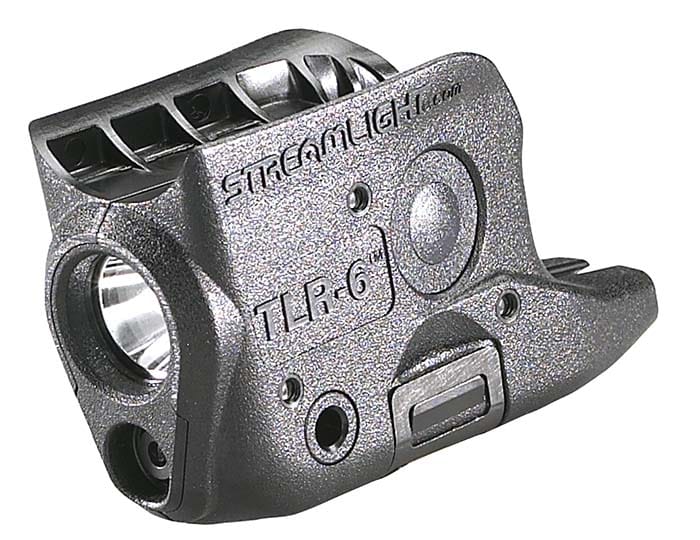 Streamlight® Inc., a leading provider of high-performance lighting and weapon light/laser sighting devices, has just introduced a Universal Weapon Kit for its TLR-6® handgun light that includes a light/laser module and six interchangeable housings to fit a variety of sub-compact handguns. The housings are designed for use with more than 18 different models of Glock®, M&P Shield™, KAHR®, SIG SAUER® and Kimber® handguns. The TLR-6, the first light with an integrated red aiming laser for sub-compact handguns, is designed to maximize visibility and targeting capability in a variety of home defense and tactical applications. Streamlight introduced the light, an industry first, 2015 with a housing designed to fit the trigger guard of Glock® 42 and Glock® 43 handguns. They now have expanded the versatility of the TLR-6, with additional body housings that quickly and securely attach to the trigger guard of additional types of sub-compact handguns. Now even more tactical and home defense users can attach this light/laser module to their sub-compact handgun of choice and benefit from its targeted bright light, as well as its powerful red aiming laser. Importantly, with the light and laser combination attached, users can more readily identify a potential threat before taking any action. The TLR-6 uses the latest in C4® LED technology to deliver 100 lumens, 2,000 candela and a beam distance of 89 meters. Its parabolic reflector produces a balance of beam and peripheral illumination. The light features three lighting modes: LED Only, LED/Laser, and Laser Only, with operating run times of one hour for the LED Only or LED/Laser modes, and 11 hours for the Laser Only mode. All modes automatically shut off after ten minutes to conserve batteries. The light also uses an integrated 640-660 nm red laser which has an operating temperature range of -20°F to +120°F, permitting usage under a wide variety of weather conditions. The TLR-6 is powered by two 3 Volt CR-1/3N lithium coin batteries. It features an integrated battery door that permits batteries to be replaced while the light remains mounted on the gun, and eliminates the need to re-sight the laser after a battery change. The TLR-6 Universal Kit is available at a price of $210.00. It includes one LED/laser module and six interchangeable body housings. Visit them at www.streamlight.com.
NEW FIX IT STICKS FOR FIREARMS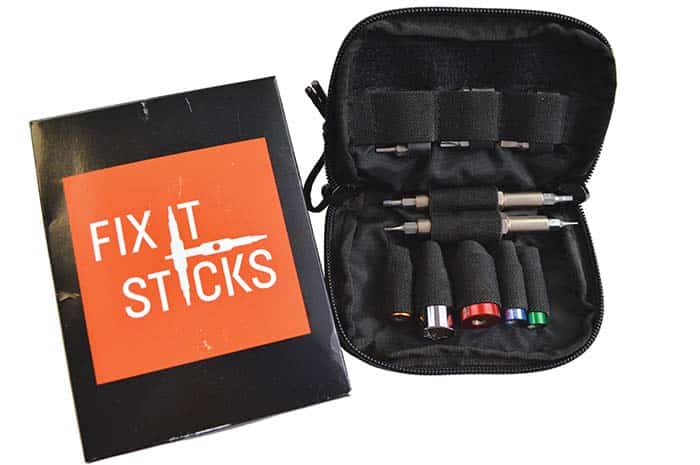 Fix It Sticks were originally introduced for cyclists who wanted quality tools that could be carried with them on the bikes. The company has now introduced their products into the world of firearms and these are tools that you just cannot be without. If you have ever tightened a scope ring screw just a little too tight and heard that sickening "snap" of the screw breaking you will definitely want a set of these high grade tools. The tools are available individually or as a complete set. The complete set includes sixteen replaceable bits in various sizes of Torx, Hex, Square and Screwdrivers bits, 2 double ended bit drivers that can be locked together to form a "T" handle, a ½ inch socket for tightening scope mounting nuts and 4 torque limiters. Torque limiters are basically very small torque wrenches. They are each specifically made for a set number of inch pounds for the shooters specific need. You can get them in 15, 25, 45 and 65 inch pound settings. In the future, they are also bringing out limiters in 70 and 80 inch pounds setting for installing and removing barrels such as in the Bren 805, SCAR and Desert guns. All this comes in a zippered pouch with Velcro on one side and Molle clips on the other so that you can attach it to your gear and always have it with you. The bits are held in the driver handles by Neodymium magnets. The bits are all replaceable and come in sizes to fit and screw whether it is metric or SAE. For more information on these "must have" tools contact them at www.fixitsticks.com.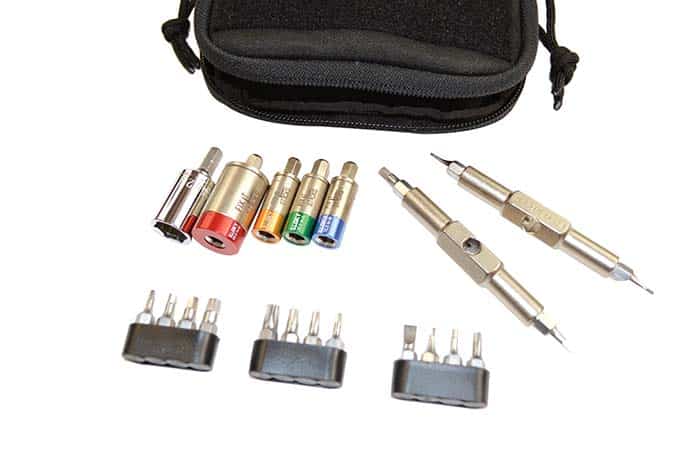 ATN ANNOUNCESNEW SMART HD OPTICS ACCESSORIES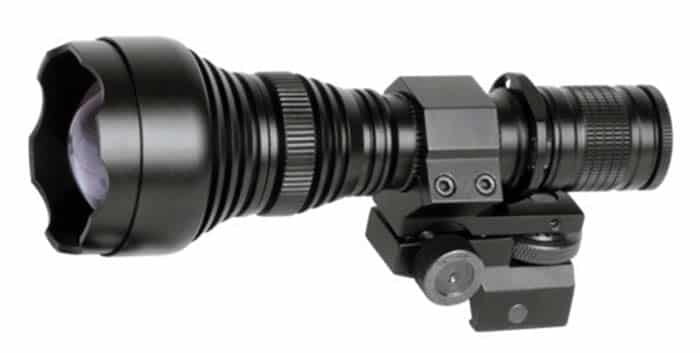 ATN, innovators of advanced night vision, thermal imaging and digital Smart HD optics for hunters, outdoor enthusiasts, military and law enforcement, is pleased to introduce their new Smart HD accessories line, compatible with ATN Smart HD Devices. The first products to roll out from the Smart HD accessories line are the ATN IR850 Pro and the ATN Power Weapon Kit. With the new high powered ATN IR850 Pro infrared illuminator, the user will have 300 meters of effective range aiming in total darkness. It includes an adjustable windage and elevation mount, an 18650 rechargeable battery and an 18650 rapid wall charger. Retail price is $149.00. The ATN Power Weapon Kit provides the user with plenty of juice whenever and wherever it is needed. The kit provides up to 22 hours of continuous use and is easy to recharge. It can also power other devices. It comes with a 16,000 mAh battery pack, USB to Micro USB with L shaped connector, a water resistant rubber seal and an adjustable buttstock pouch. The price of it is just $99.00. To see ATN's full line of accessories, visit ATN's Accessories and Kits webpage at www.atncorp.com.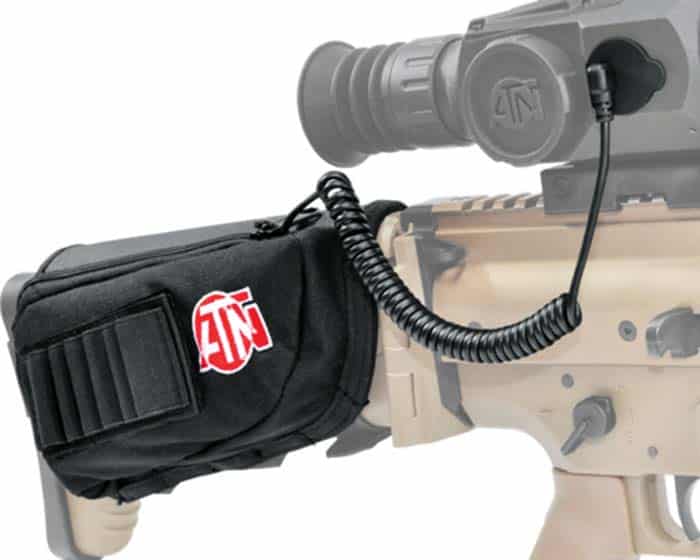 LARUE TACTICAL ANNOUNCES THEIR MBT-2S AR TRIGGER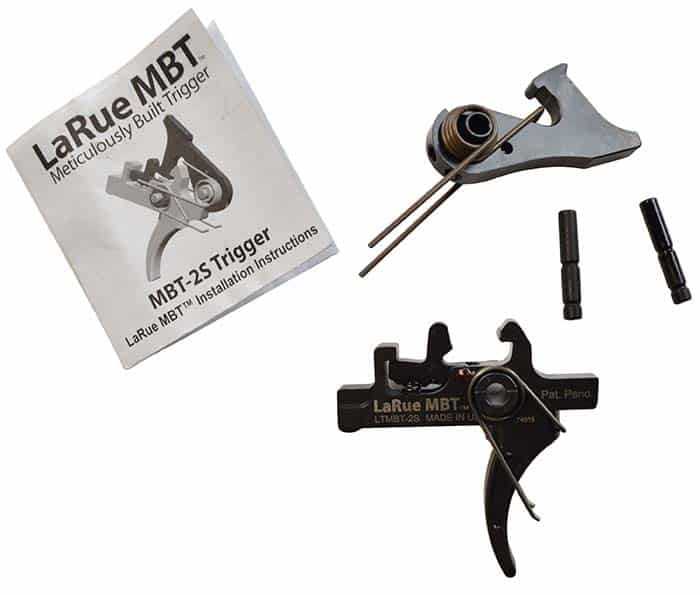 LaRue Tactical has introduced their new MBT (Meticulously Built Trigger) 2S (two stage) trigger. This new trigger is made from S7 tool steel plates that have been machined to almost a mirror finish. The trigger has a 4.5 pound trigger pull (a 2.5 pound first stage followed by a 2 pound 2nd stage. The trigger breaks like a glass rod and is perfectly consistent. The trigger is perfect for competitors as well as being battlefield rugged. The unit comes complete with trigger, disconnector, hammer, springs and pins. In short, everything that you need for a drop-in installation. The new trigger fits any mil-spec AR lower receiver and will make any "off the shelf" AR-15 shoot even better. For more information contact them at www.larue.com.
AUTO ORDNANCE NOW HAS GOLD AND CHROME "CHICAGO TYPEWRITERS"

Auto Ordnance is proud to introduce an exciting and classy look to their century-old Thompson, historically referred to as the "Chicago Typewriter". The Thompson 1927A-1 semi-automatic carbine is now offered in a Titanium Gold finish and also a Polished Chrome. Either of these time-honored reproduction semi-auto carbines will undoubtedly impress your friends when you take it out to the shooting range. These guns are offered in .45 ACP and have a 16.5" finned barrel (18" with compensator), with a 1 in 16 right-hand twist. The frame is constructed in steel with either a Titanium Gold finish or a Polished Chrome finish. The gun weighs 13 lbs. and has an overall length of 41". Other features include a pinned in front blade and an open rear adjustable sight. The stock is fixed and is made from luxurious American Walnut and has a vertical foregrip. These two new models each ship with one 50-round drum and one 20-round stick magazine. The magazines are also plated in either polished gold or chrome. The uniquely iconic look, combined with the history of the 'Tommy Gun' has always had an extremely strong appeal among gun owners. Both the Titanium Gold (Model Number T150DTG) and the Polished Chrome (model number T150DCR) carbines are shipped in a protective hard case which features both the distinctive Thompson logo and the words, "Chicago Typewriter". To truly capture the 1920s gangster era, an aftermarket violin case can be ordered for the Gold or Polished Chrome Tommy Gun. For a limited time only, the introductory MSRP is $2963 for either the Polished Chrome or the Titanium Gold. The cost of the violin case is an additional $221.00. Find out more at www.auto-ordnance.com.
MID-EVIL INDUSTRIES 360 VFG (Vertical Fore Grip)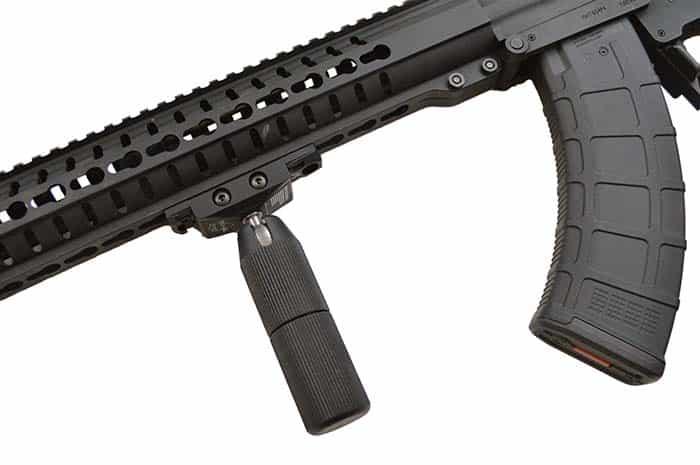 The 360° VFG is a brand new evolutionary product which gives the shooter the ability to adjust their vertical foregrip 360 degrees, at any angle with a simple locking handle. It is capable of mounting on bottom or side rails – giving the shooter more versatility and ergonomic positioning for optimum user comfort and control. It can be angled forward, to the rear or any position in between. This is great for weapons with a drum magazine. The 360° VFG is available in three models; one for the 1913 Picatinny rail, one for M-Lock forearms and one for Key-Mod forearms and has been precisely engineered with the male extensions necessary to ensure that the grip locks into place and will not come loose. Although this benefits all Picatinny applications, this modification is especially important to accommodate the plastic Picatinny rail systems for the Kel-Tec KSG and DP-12 shotguns. The foregrip offers ergonomic "on the fly" adjustability and has a storage compartment in the handle. The 360 VFG is also available in Cerakote colors. You can contact them at www.mid-evilindustries.com.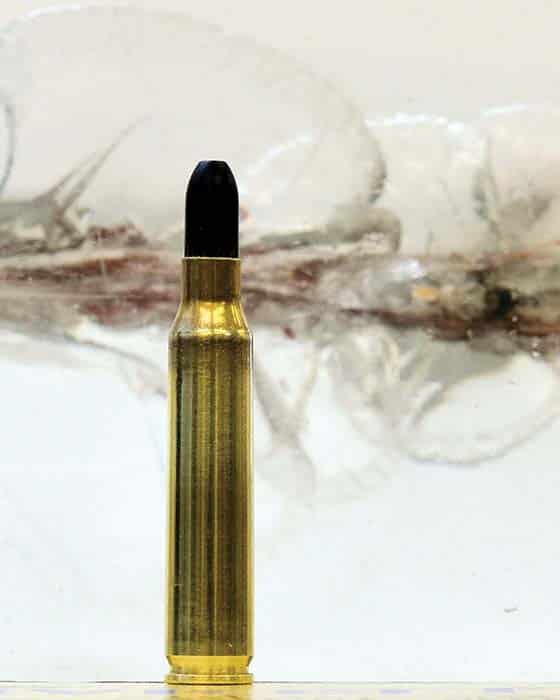 ALLEGIANCE INC. ANNOUNCES NEW SILENTSTRIKE SUBSONIC 223 AMMUNITION
Allegiance Inc. has now introduced their new 223 subsonic ammunition that is the world's only lead free frangible full functioning subsonic round that functions in the AR-15/M-16, M-4 and the H&K 416 series of firearms. The new round fires at a very quiet 975 feet per second and does not require any modifications to the weapon that its used in. The ammunition uses lead free frangible 110 grain bullets and it will work in semi as well as full auto modes. Allegiance uses powder metal technology to achieve what others said couldn't be done. Excellent for hunters or operators needing maximum performance in a stealth required situation. You can take the shot without giving up your position with full function of your select-fire weapon. Tungsten powder metal gives you the ability to penetrate at lower velocity to reach the vitals. To find out more or to place an order go to www.allegianceammo.com.
This article first appeared in Small Arms Review V20N5 (June 2016)