By M.W. Silvet

A great variety of blades were carried by troops in the field in Vietnam. In fact, there is ample opportunity for the collector to spend years chasing after the knives of the Vietnam War. There are a large and interesting variety of knives issued by the different branches of service. Then there are knives from the PX and other private purchase factory knives. Finally there are the custom knives, handmade knives, based on an individual's order.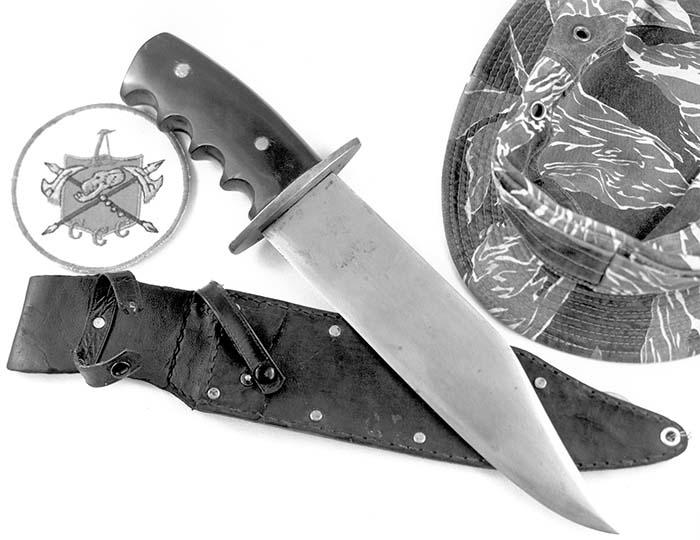 (Fig. 1) shows a number of the common issue knives. On the left and right of the picture are a couple of World War II items returned to service in Vietnam. The USN Mark 2 on the left is a guard marked version made by Camillus with its plastic sheath. On the right is another Navy knife, a Mark 1 by Pal. I have tried to determine if any other Mark 1 's saw service in Vietnam and have spoken with a few veterans who were issued the Pal Mark 1 and recall seeing it being carried others but have no recollection of seeing other Mark 1 's in use. The Mark 2 second from the left is typical of the Vietnam period with it coated leather handle and sheath. This one is made by Conetta but Camillus and Utica also made these knives. The Jet Pilot's Survival Knives are in the center. The early six inch version was a more practical knife for field use but was redesigned in 1962 and shortened to five inches because of cockpit space requirements. This was a popular knife in Vietnam and was seen in use by ground forces as well as by pilots and air crews. This was also the first knife to sport saw teeth on the back and started a whole generation of survival knives with teeth. The original Jet Pilot's Survival Knife was made by Marble's and is quite rare. Camillus, Milpar, Ontario, and Utica also made these knives. The Milpar and Utica varieties are seldom seen and one aluminum handled Milpar made knife is quite rare. Starting around 1967 the knives were marked w1th the makers name and date on the pommel.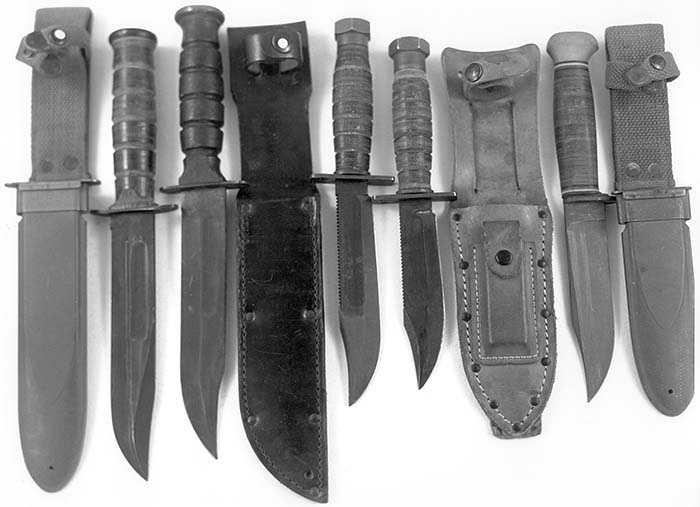 Another issue knife is the all-metal four-blade pocket knife. Like the Jet Pilot's Survival Knife these were also dated and provide an area of interest for collectors. There were TL-29's, electrician's pocket knives. Finally, there were a large variety of knives issued to the Special Forces that draw keen interest from collectors and these include machetes, bolos and SOG knives, (Fig. 4).

The PX (Post Exchange) was a place where GI's could purchase knives for their own use. (Fig. 2) shows a pair of six inch Kabar made knives. The top knife is all black and has resin impregnated wood handles and a parkerized blade. The bottom knife has a stacked leather washer handle and a bright blade. Kabar's history with the U.S. Military is a proud one and during WWII they supplied hundreds of thousands of Mark 1 's, Mark 2's and pocket knives. During this period they also produced a pair of knives quite similar to the PX knives described above. One was named the Parkerized Commando and the other, with a bright blade was known as the Polished Commando.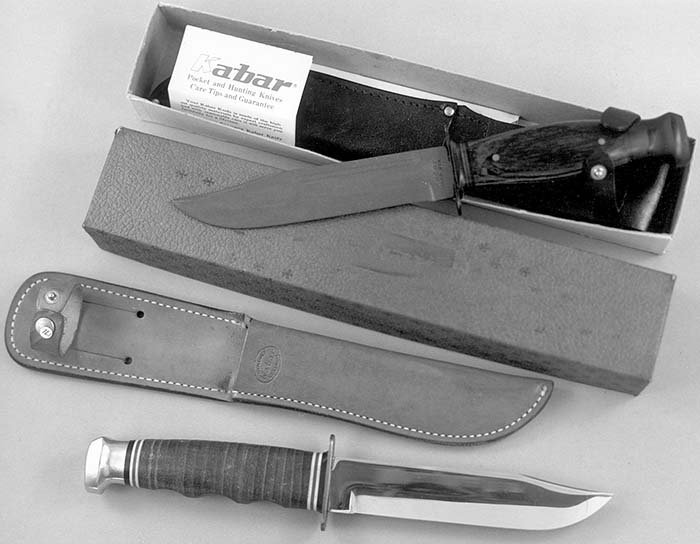 Another proud supplier of WWII knives was Western Cutlery Co. and they were there in Vietnam as well. (Fig. 3) shows a couple of popular Western offerings. The Western Bowie at the top was offered stateside as well as in Vietnam. Some of these knives were also used by the Special Forces in Vietnam as presentation pieces. The Western eight inch fighting knife, second from the top, served well as a survival knife as did the eight inch Buck shown below it. Buck knives made before 1968 were marked "BUCK" on the reverse side of the blade. Those made after 1968 were marked, "BUCK/U.S.A.'". The knife below the Buck was is a Garcia Survival Knife. This knife was designed by Ken Warner and Pete Dickey and was built by Hackman of Finland. Later, the knife was manufactured for Garcia in Brazil and at that time the knife was lightened quite a bit. The first batch of knives, i.e. those by Hackman, were very well made of 1/4 inch stainless steel. The handle is a hollow metal tube covered by stacked leather washers. The tube is kept water tight by a screw cap and "0" ring. Custom knifemaker, Bill Moran, could not keep up with orders during the war, so he bought 100 of these knives by Hackman, provided his own sheath and sold them to his customers who needed a knife right away. The bottom knife in Fig. 3 is a Randall model 18 Survival. Like the previous knife, it too has saw teeth and a hollow handle for storing survival items. This knife was popular with career soldiers who thought it worthwhile to spend a substantial amount ($35 to $44 in 1968) on a quality handmade knife.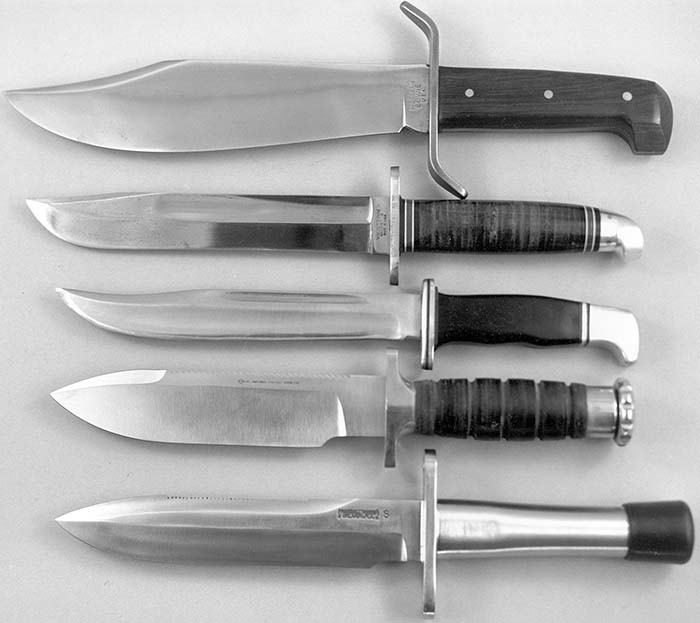 Three other Randall knives are shown in (Fig. 4). A model 14 Attack is shown on the left, the center knife is a model #2 and a model #1 is on the far right. The knife second from the left is a Ruana model 29 Junior Bowie. Ruana knives of the Vietnam period are marked "R.H. Ruana/Bonner/Montana M". Later Ruana's do not have the final .'M". The knife second from right is an issued SOG knife. This particular one is numbered and has a plum colored blade. These SOG knives are quite rare and much sought after by collectors.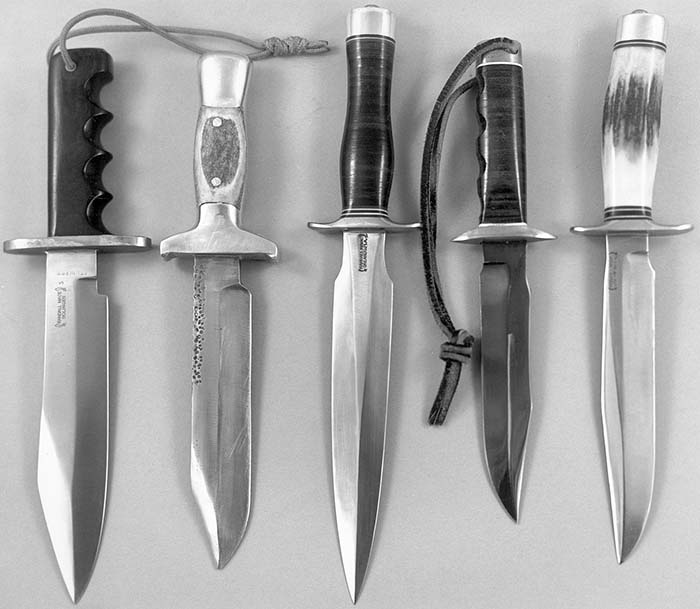 Stiletto type blades of the Vietnam period include the Gerber Mark II Combat Knife shown at the top of (Fig. 5). This knife was available for about $25 and was quite popular. Like the other knives shown with it, it was primarily a weapon and did not serve well when used for more common chores. The Fairbairn/Sykes type commando dagger in the middle was purchased through Randall Made Knives in the states. The knives could be obtained in one of Randall's well made leather sheaths ($6 for the knife and $5 for the sheath). The bottom knife is a John Ek Knife Model 3 made in Miami, Florida. John Ek knives became legendary in World War II and these are marked "John Ek Knives/Hamden, Conn.". His knives with the Miami mark are rare and quite desirable among Vietnam collectors.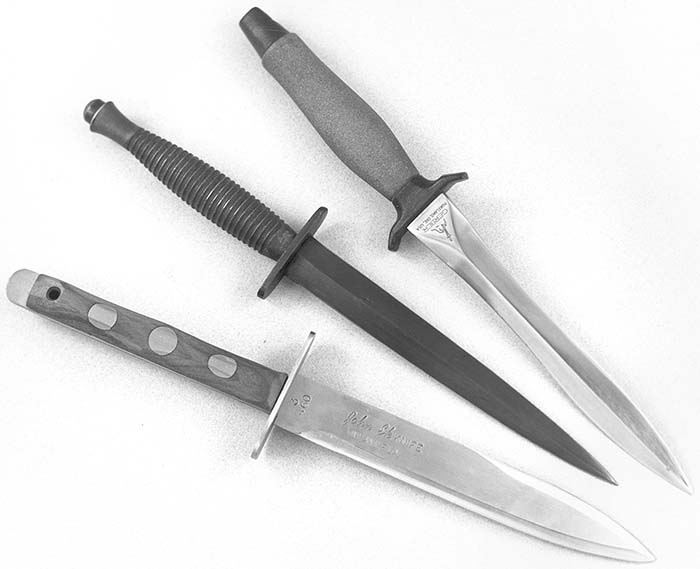 Knuckle knives were not as popular during the Vietnam War as they were in WWII but at least two new variations appeared on the scene. (Fig. 6) shows as custom made knife by Jim Pugh of Azle, Texas. Pugh made about 20 of these in 1971 and 1972. They are serially numbered 1000 through 1019 and also show a "10" stamped on thestainless440C blade which represents the blade model #. The sheath is by Johnson Leather Company in Castleberry, Florida. It is no coincidence that it looks like a Randall sheath of the same period …Johnson also made sheaths for Randall. The bottom knife was also made in the early 1970's. Kevin Parsons made about 1,000 knuckle knives. About 250 of the variety shown in this photograph were made. Some 750 were fitted with F/S type blades and a number were made with M7 bayonet type blades. The leather was supplied by Krasne's Triple K of San Diego, California who manufactured a variety of holsters and sheaths. The scabbard supplied was their Style 139 with a basket weave finish.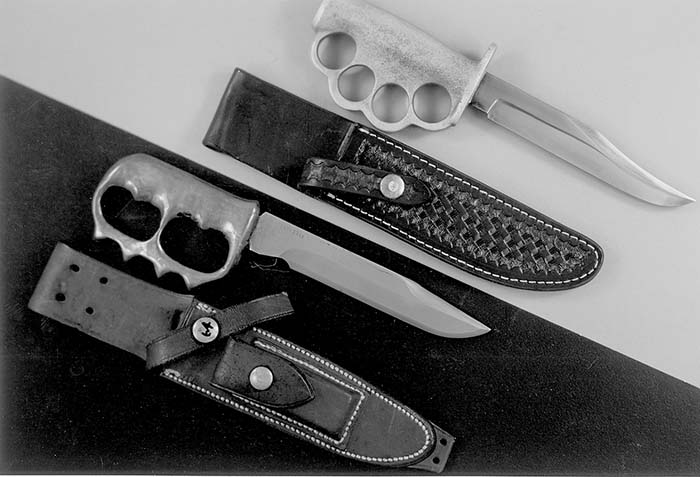 Tru-Balance throwing knives also showed up in Vietnam, (Fig. 7). Harry (Mac) McEvoy, who died a few years ago, was a journalist and maker of throwing knives. He made a variety of knives but the ones that were popular with those bound for Vietnam were the Bowie Ax (top) and the Battle Blade (center). These were made of rather soft spring steel and could be re-sharpened on a handy rock or other abrasive material. The knives, which were just about indestructible, served for clearing brush, opening 55 gallon drums or ration cans, or as a defensive last ditch weapon. Mac's son Stephen carried one of his dad's knives in Vietnam. Tru-Bal knives were well regarded and even Randall Made Knives of Orlando, Florida carried his line during the Vietnam War years.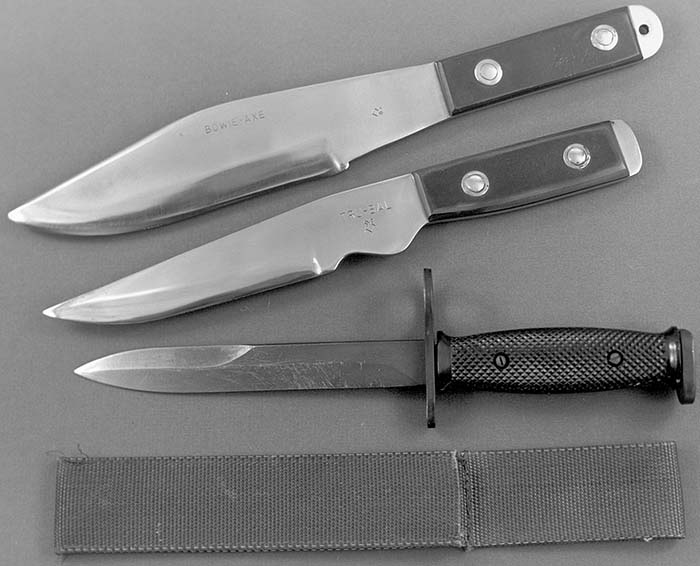 The bottom knife in (Fig. 7) is a Milpar bayonet knife. It is made from a U.S. M7 bayonet, however, the latching mechanism has been replaced with a plain steel disc pommel. The sheath is made from nylon webbing. The whole package provides an inexpensive yet somewhat functional knife.

These are but a few of the knives of the Vietnam War. There are many more: issue, factory, and custom knives, all waiting for the tender loving care that only a passionate collector can give them.
This article first appeared in Small Arms Review V5N7 (April 2002)