More shot-calling precision. Less juggling devices. Whether setting your sights on a Western trophy or ringing steel out to 4000 yards, the Razor HD 4000 GB delivers all the range, ballistic, and environmental data you need for absolute accuracy when opportunity happens.
At the range and especially in the mountains, keeping your pack-out simple is huge. Opportunities to fill your tag can come quickly, but advanced ballistic solutions often require a lot of scrambling between pieces of gear.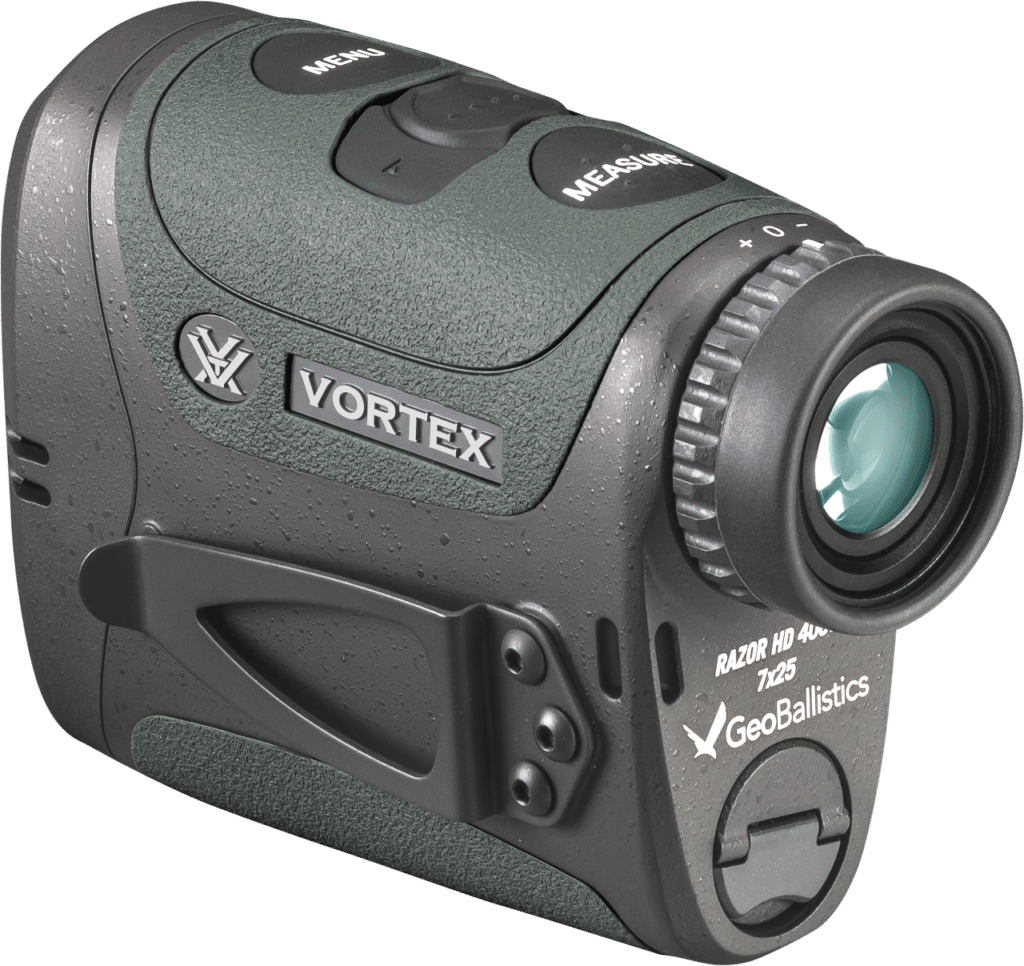 Vortex has solved this problem for Western hunters, long-range, and competition shooters by taking its top-tier laser rangefinder and building in an on-board GeoBallistics solver. The ballistic app made popular by serious long-range shooters, GeoBallistics lets you create custom rifle profiles and more.
Heads-up display. Ballistic references charts. Interactive mapping features and a Comp tab to build and save range cards. This highly advanced solver inside the Razor HD 4000 GB lets you create accurate shooting solutions with ease. Combine all this with the Razor HD 4000 GB's superior optical quality, plus Bluetooth connection capability with Kestrel devices (via the GeoBallisticsApp), and you get an unparalleled level of shot-calling precision in a device that can fit in your pocket.
Weighing just 10.1 oz., the rugged and fully loaded Razor HD 4000 GB delivers the same four target modes (Normal, First, Last, and ELR) and two range modes — Horizontal Component Distance (HCD) and Ballistics Mode (BAL) —high-level shooters and hunters have come to rely on. Built-in environmental sensors (temp, pressure, humidity) in conjunction with the GeoBallistics solver, two wind modes, patented Vortex Wind Bearing Capture Mode, and Full Crosswind Mode make solving ballistic problems fast and easy in any environment or shooting scenario.
Tripod adaptable. Water, fog, and shockproof. Intuitive, easy-to-use menus feature a simple, red, illuminated display that delivers the data you need without a single, unnecessary click. The Razor HD 4000 GB (MSRP: $1199.99 / MAP: $799.99) also comes with a premium carry case, utility clip, and CR2 battery.
To learn more about the Razor HD 4000 GB and the growing family of Vortex laser rangefinders, click here. To learn more about GeoBallistics visit the website.