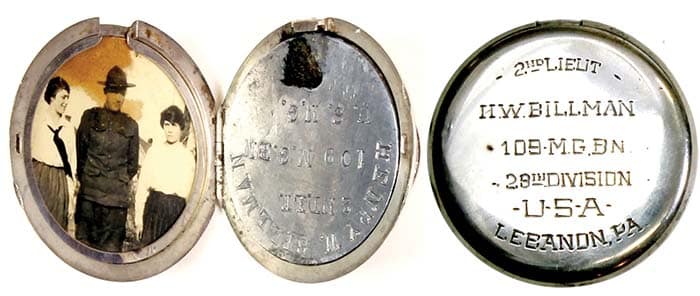 Sterling silver U.S. doughboy dog tag holder and locket. The outside of the holder is engraved "2nd Lieut. H.W. Billman 109 M.G. BN. 28th Division USA Lebanon, PA." Upon opening, the bottom contains the actual aluminum dog tag reading "Henry W. Billman 2nd Lt. 109 M.G.B.N. U.S. N.G." with remnants of the hanging cord that would pass through a hole in the top of the locket so it could be worn around the neck. The other side shows a period photograph of Lt. Billman and two women—possibly sisters.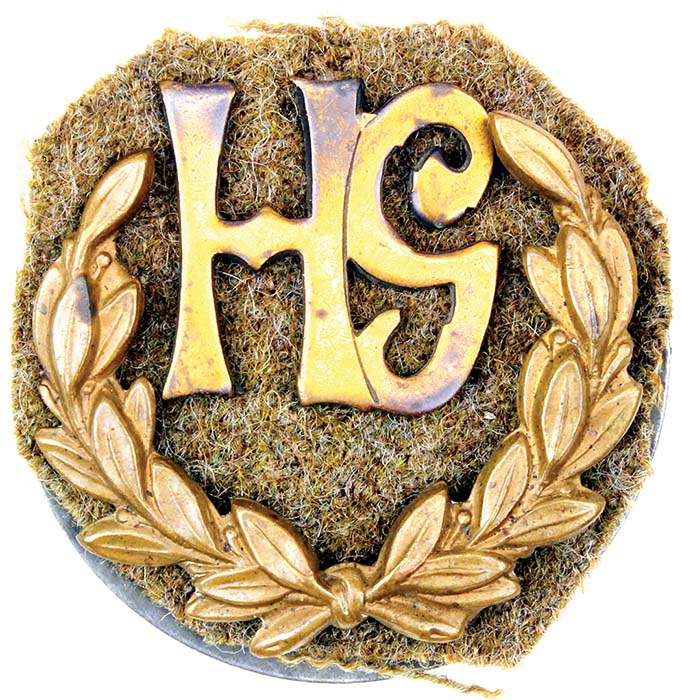 British World War I skill-at-arms sleeve badge for the Hotchkiss Gunner. Two pieces with wreath and "HG" with backing plate and original uniform fabric.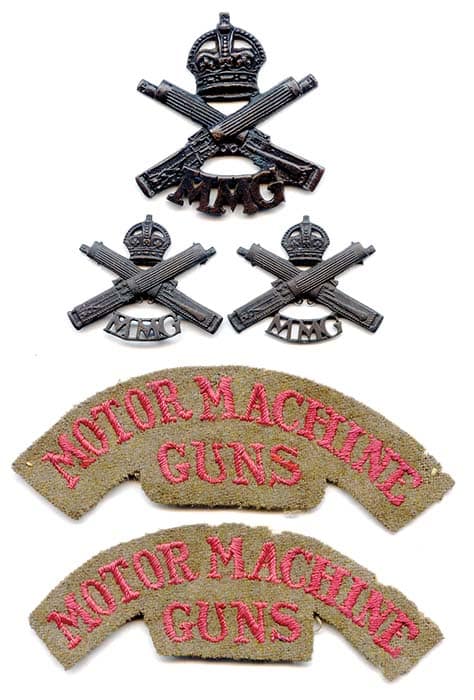 World War I British Motor Machine Gun Service officers bronze cap and collar insignia and cloth shoulder titles. Worn 1914–1915 only. The Motor Machine Guns Service used Clyno motorcycles with a sidecar mounted Vickers machine gun.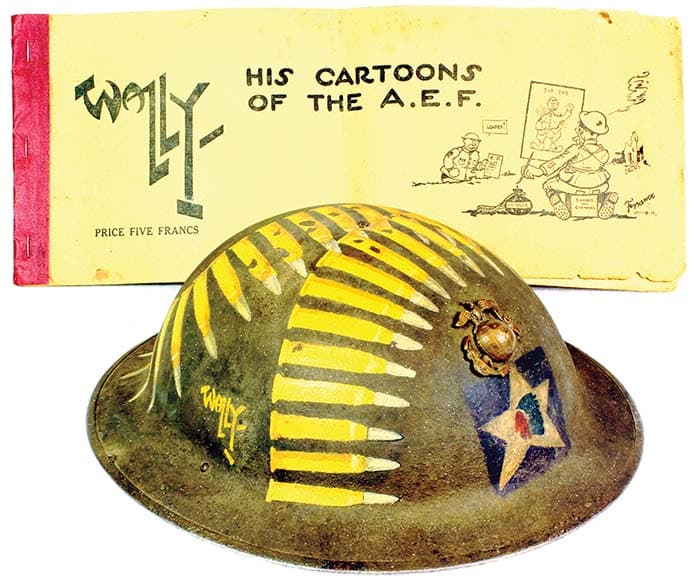 World War I helmet belonging to Private Abian A. "Wally" Wallgren (1891-1948) of the U.S. Marine Corps, 2nd Division, 5th Marine Machine Gun Company. Insignia of that unit is a purple square denoting the 5th Marine Machine Gun Company with the 2nd Division Indian head in white star hand-painted to the front of the helmet with an applied period USMC EGA (Eagle, Globe, Anchor) collar device affixed above. Also hand-painted all around the helmet is a belt of machine gun bullets and the name of the artist and owner: "Wally." Behind the helmet is a booklet of hundreds of humorous cartoon drawings featuring events during World War I by famous U.S. Marine Corps private Abian A. Wallgren, known as Wally. He was the staff cartoonist for Stars and Stripes, the official newspaper of the A.E.F. (American Expeditionary Forces). This collection of his favorites was published after the war by Stars and Stripes in 1919 and sold for 5 francs. The profits from the original sale of this book went to aid the Stars and Stripes French War Orphans Fund. Enlisting in the Marines in 1917, Wallgren was among the first to see service in France as a buck private and regimental sign painter, a post which army logic assigned him on his "professional" record. For nine months he painted "Latrine" and "Officers Only" signs up and down France. His great opportunity came when the Stars and Stripes was started as the official newspaper of the A.E.F. in 1918 and Wally was placed on the staff as cartoonist; he drew cartoons for this doughboy newspaper throughout the war until the final issue in June 1919.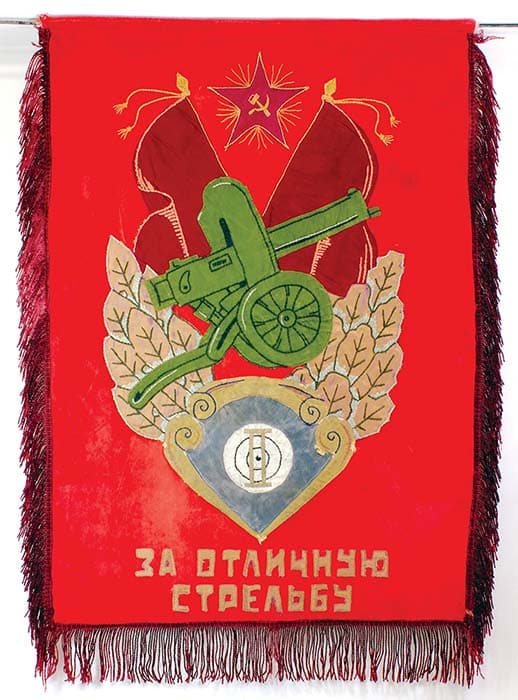 Russian late 1920s or early 1930s marksmanship competition trophy banner between Soviet regiments. All hand-stitched and embroidered, it is made with cotton applications on a velvet background. The center exhibits a large Russian M1910 Maxim on a wheeled Sokolov field mount. This banner itself is the "trophy" awarded to the winning regiment at the Second Regimental Machine Gun Competition—to be hung with pride at their regimental headquarters for all to see. The verbiage in Cyrillic below roughly translates to "Top Prize." With fringe it measures approximately 37 inches high by 30 inches wide.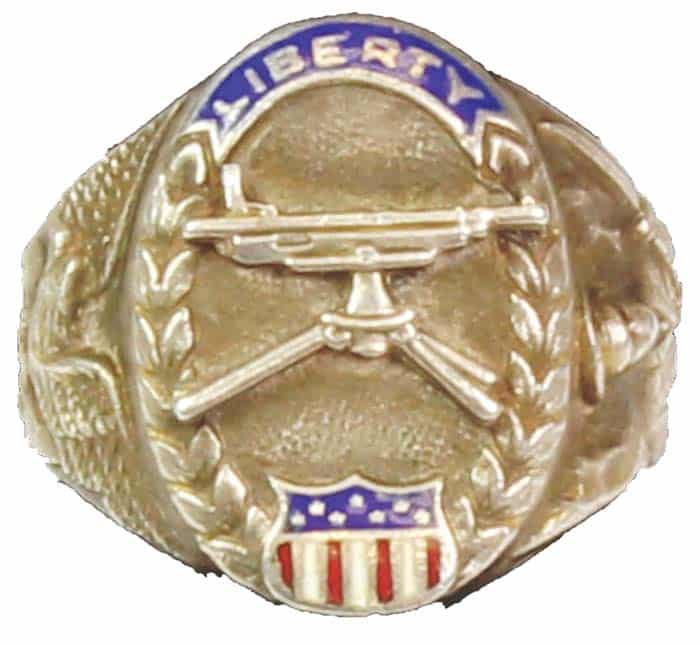 U.S. World War I era sterling silver, machine-gun-themed finger ring. Blue enamel "liberty" to the top and red, white and blue enameled federal shield to the bottom. The center has a Colt Model of 1914 Automatic Gun (Potato Digger) machine gun on tripod in high relief. One side of shank has eagle, U.S.A. sword and Latin motto banner. The other side of shank has image of a soldier at attention with rifle and bayonet at "present arms." Inside marked "Sterling" and "Reg. U.S. Pat. Off."
This article first appeared in Small Arms Review V23N3 (March 2019)