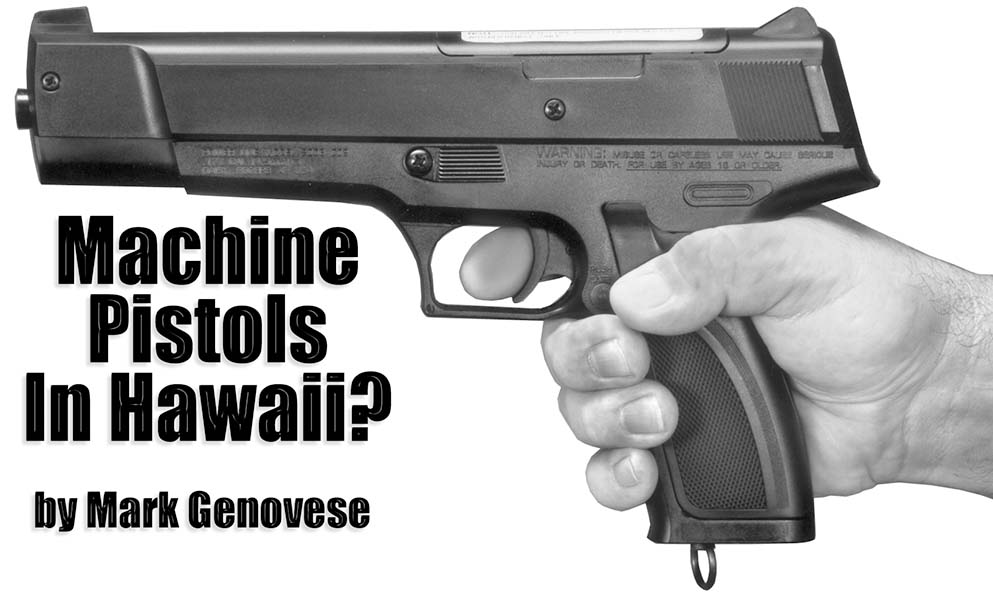 by Mark Genovese
Yes, you heard it right. Over here in the land of swaying palm trees, white sand beaches, balmy year round weather and home to the most pathetic gun laws ever, we can own this 1,400 rpm open bolt, light weight handsomely styled machine pistol that will discharge its thirty-five round magazine like a laser beam in the blink of an eye. On top of all that, the ammo is a steal at five bucks for fifteen hundred rounds. You can have one of these black beauties for about sixty dollars with absolutely no BATF paperwork, delivered via US Mail to your door. The Daisy 2003 was America's first thirty-five shot helical magazine fed, true open bolt CO2 powered blow-back pistol. Since the gun functions like a legitimate semi-auto, it can easily be converted to full auto only.
The down and dirty method I would suggest is to carefully disassemble the gun down to the trigger group internals. Remove the side cover and behind the trigger is a triangular shaped sear with an oblong sear pinhole. By placing a .062 inch diameter by .178 inch long shim directly in front of the sear pin, it will prevent the hammer from engaging the sear as long as the trigger is being pulled. Then gently file the bottom of the feed release and remove the disconnector completely. This entire procedure should take you less than an hour. There are several other methods easily found on the internet as well. Please check your state and local laws regarding the legality of air guns before attempting this conversion. The gun was originally designed for .177 caliber lead pellets but they will jam frequently. Stick with steel BBs and make sure you take your time when you are loading the magazine. I found you will get the best results with one 12 gram CO2 cylinder per thirty round magazine. If you try to get a second full magazine from the same cylinder you will be disappointed. At about 500 fsp the BBs will fully penetrate a hollow core door or dispatch any small rodent or pest inadvertently crossing your property. Be advised that any modifications such as this will void all warranties you previously had on the pistol.
Due to strict firearm laws in Hawaii, I have always had a keen interest in pseudo machine gun ownership. Through the years I've owned and fired most everything I could find including the Collectors Armory Uzi, M2 carbine, Mauser 712, S&W 76 and the MP40 all using their brass three piece plug-fire cartridge and a cap. The caps were corrosive which made the cartridge very hard to clean as was the gun itself. They cycled violently and tended to self-destruct, but looked great with smoke, fire and noise. My favorite was the Mac-10 styled Para-Ordnance M-85 full-auto paint gun made in Scarborough, Ontario Canada. I heard about this 1,200 rpm little gem from the now defunct Machine Gun News, February 1990 issue. Regrettably, that company is no longer in business and cannot supply any spare parts and .38 caliber ammunition. For all you folks in restrictive states, this Daisy 2003, with modifications, should satisfy your full-auto desires. Aloha from sunny Maui.
This article first appeared in Small Arms Review V8N2 (November 2004)